My ambitious plan to see four cities in a day.
This is the follow up of Arunachaleswara temple and Tiruchirapalli (Trichi).
I have a very ambitious plan for today: travel a little 200km circle: Thanjavur – Kumbakonam – Gangakondacholapuram – Trichi. All of these places are full of temples and history and theoretically it is possible to hop from one to the other by bus in a day. I'm thinking to limit myself to only one or two attractions in each town (to be able to complete the circle). How naïve of me!
I start quite well – the early bus to Thanjavur takes an hour and a half, but then there is a long rickshaw ride to the palace. The palace is a mistake, I am there at 9am and it opens at 9.30am. It's too late now to go to the temple. I kill the time chatting with two school boys, who are eager to practice their English. I learn that their school starts in the afternoon and that today they have an exam. I wish them good luck.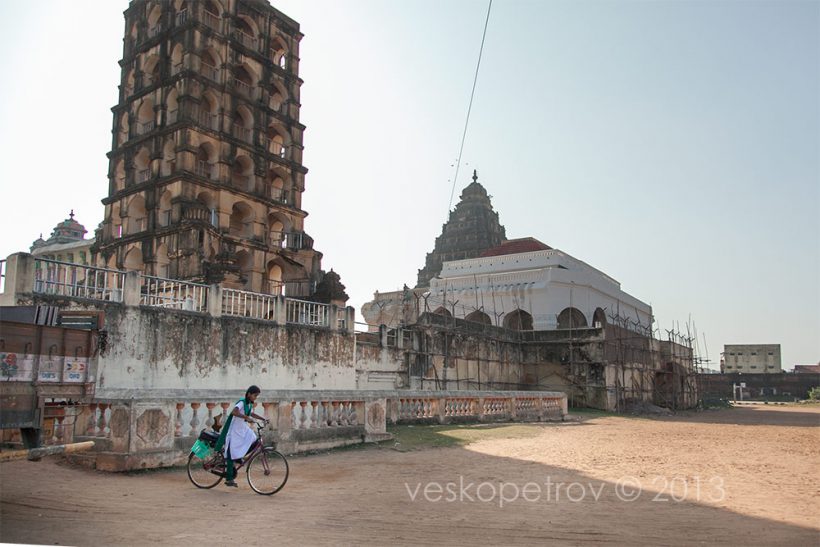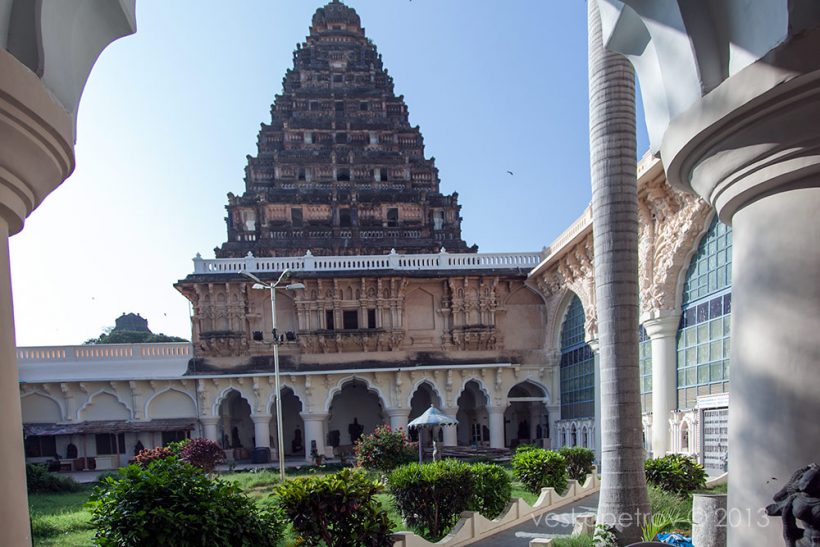 The dusty museum and gallery at the palace are disappointing. This disappointment serves me well: I was expecting something like the palaces in Rajasthan. Now I lower my expectations. Still, I see the beautiful 12th – 14th century bronze statues. Some of them are very sensual (wouldn't be wrong saying sexy), especially the images of Parvati.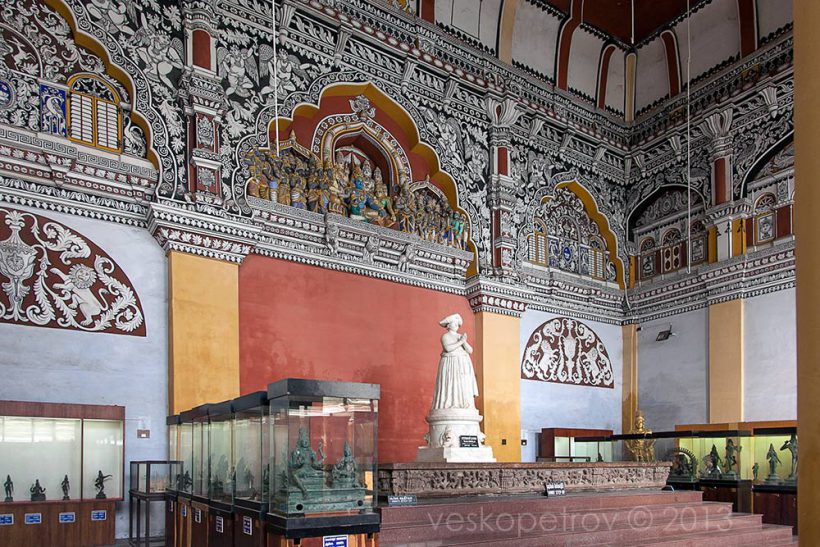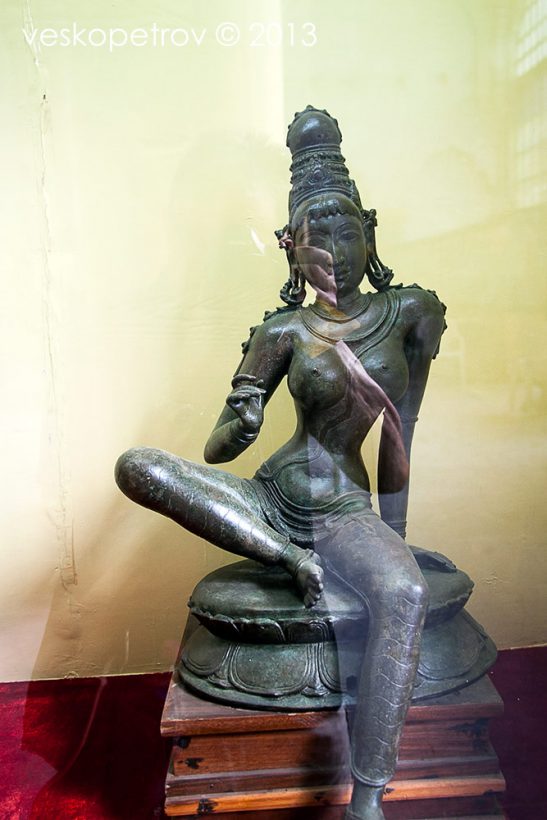 Next I go to Brihadishwara Temple. It's very hot, the blazing stones burn my bare feet and I try to walk in the shade of the epic buildings. In this temple I offer the flowers I was gifted yesterday at the market. I put them in front of some gods and bull creatures. I really don't know what I am doing, but the Hindus worshipers who see me do it, smile approvingly.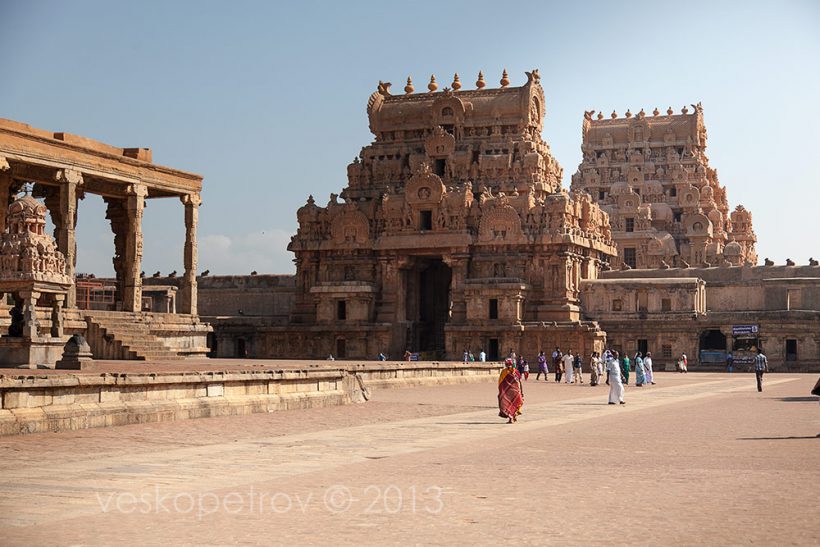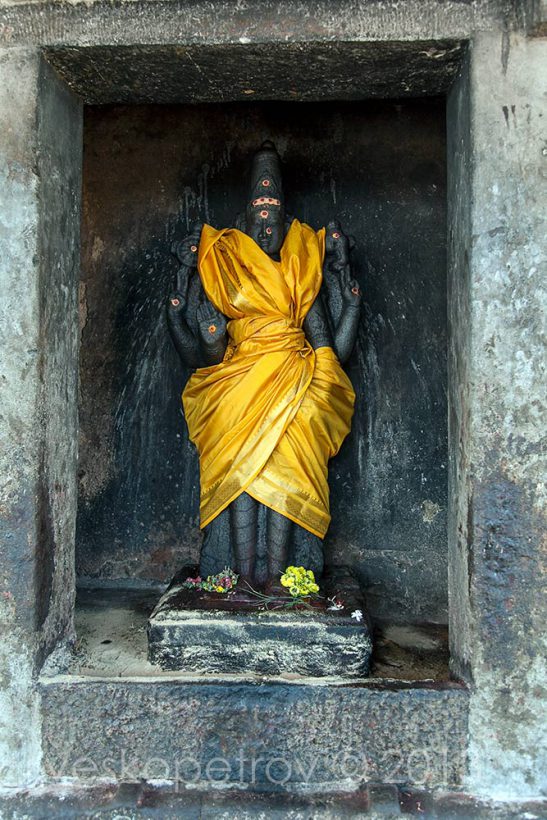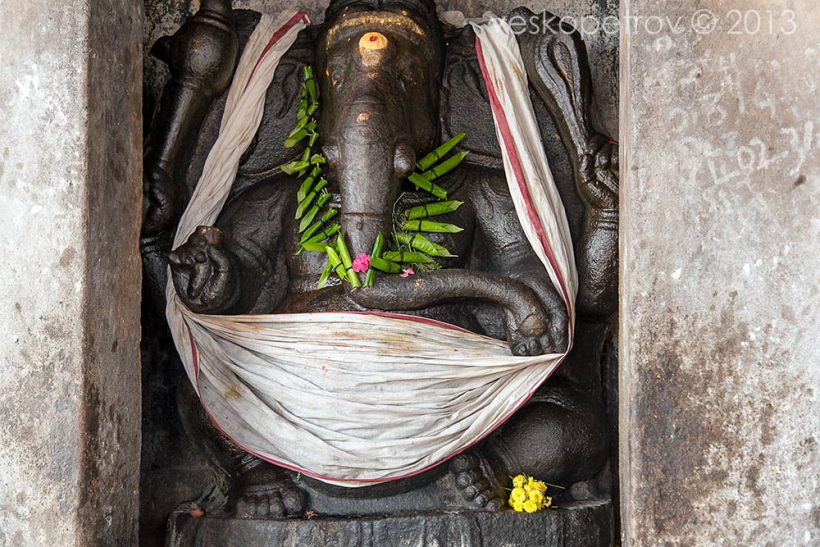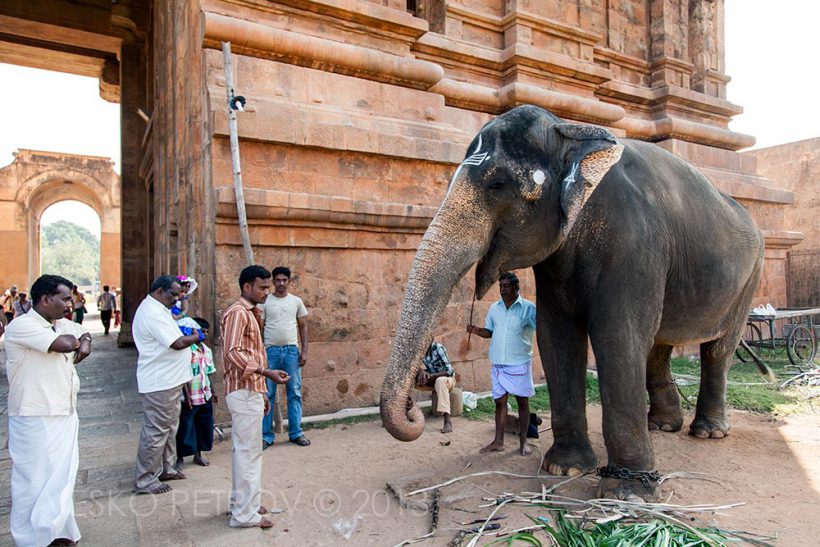 At 11am I'm ready to depart for Kumbakonam. During the long ride back to the bus station however, I realise how foolish my plan is: If I go to Kumbakonam now, I'll get there right for the closing of the temples at noon, and then I have to wait til 4pm, when they open them again. At least one hour for a temple and one hour for the trip to Gangakondacholapuram… I'll be in Trichi around nine or ten. This doesn't appeal to me, so I change the plan. Back to Trichi now and visiting Sri Ranganathaswamy Temple in the afternoon.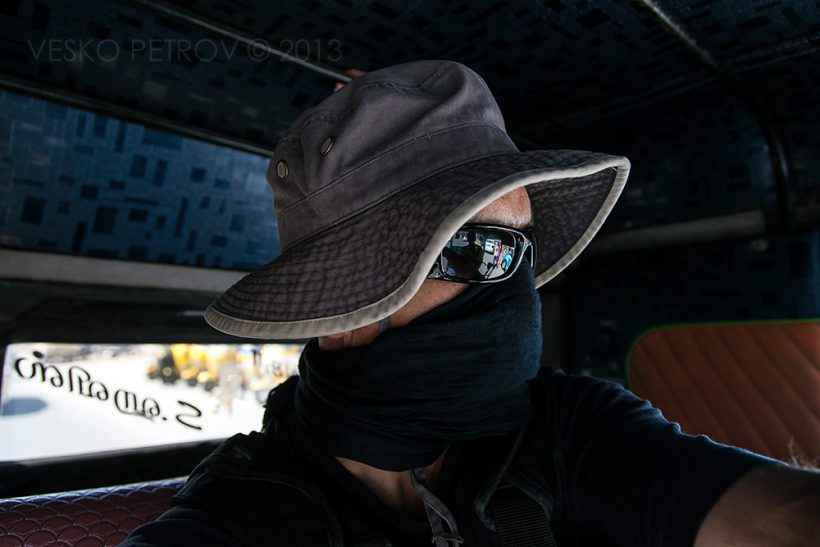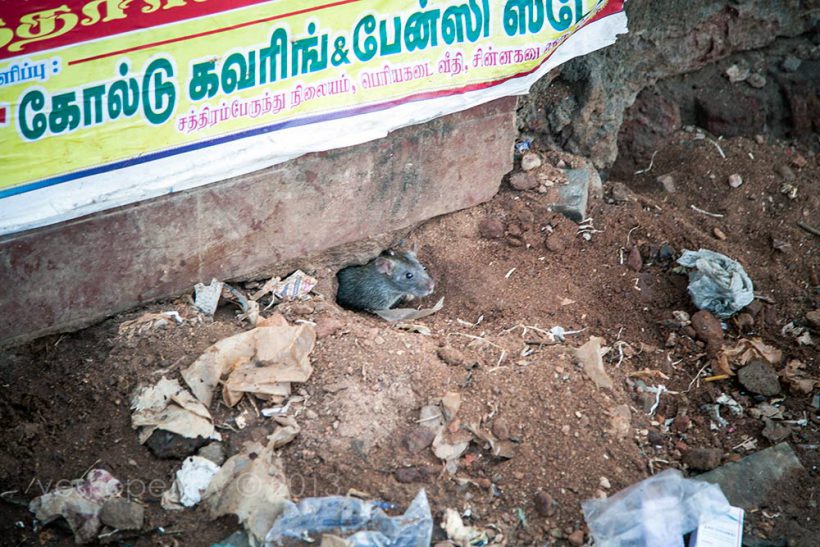 I am tired and frustrated with the failure of my grand plan, and to pacify myself, I am thinking: well, the temples are not exactly my thing. I've seen a few and they start to look pretty much the same. This ignorance helps me feel a bit better about giving up Kumbakonam and Gangakondacholapuram.
It's actually the right decision, because Sri Ranganathaswamy Temple back in Trichi is really impressive. I have pleasant time there, mostly because there are deep shaded areas for resting worshipers. I walk around, snap interesting people and meet the temple elephant – a poor spiritless animal.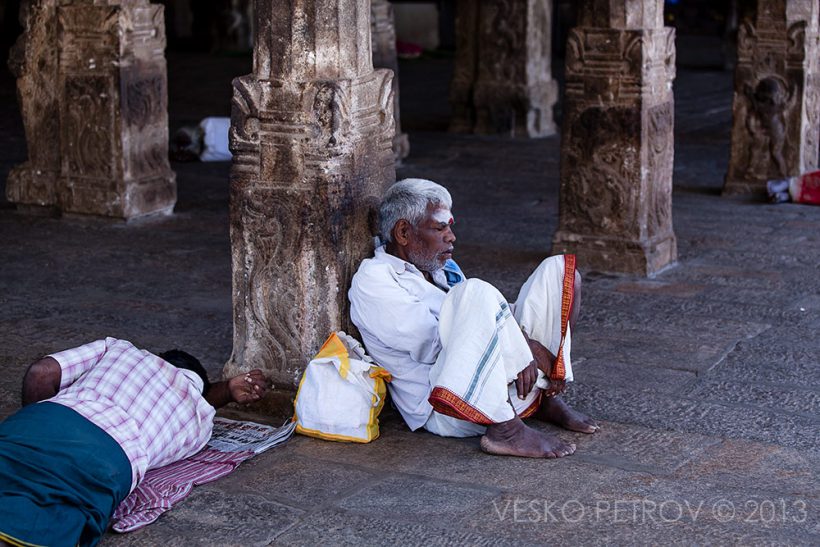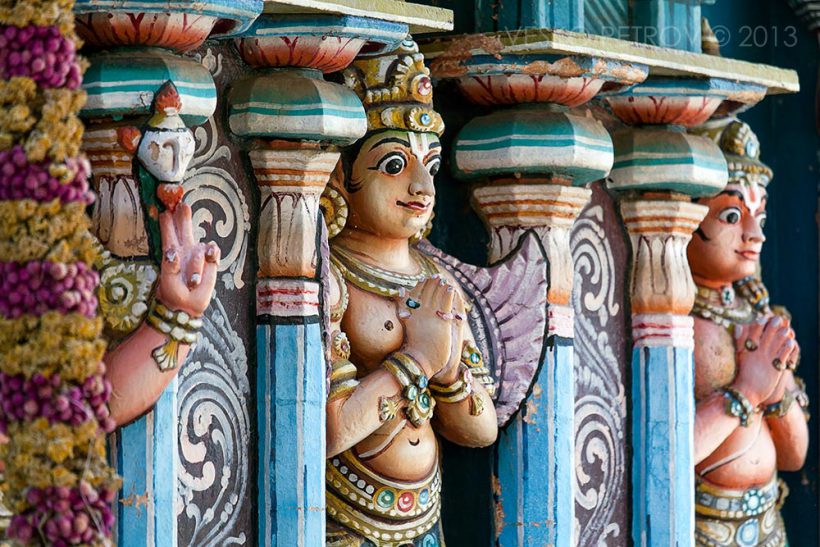 Without much purpose, I follow a bunch of people who walk through a golden gate and enter darker hall with long metal cages full of impossibly squashed people, similar to what I saw in Arunachaleshvara temple. It is mesmerising to watch their slow progress. I snap a few interesting faces and soon everyone in the queue wants to be photographed. I am happy to oblige. There is no other country in the world, where people thank you for taking their photo. India is wonderful.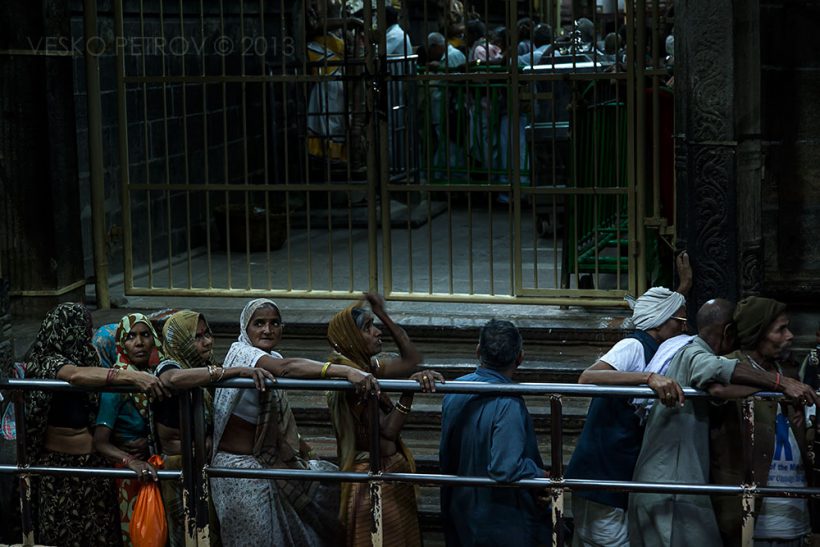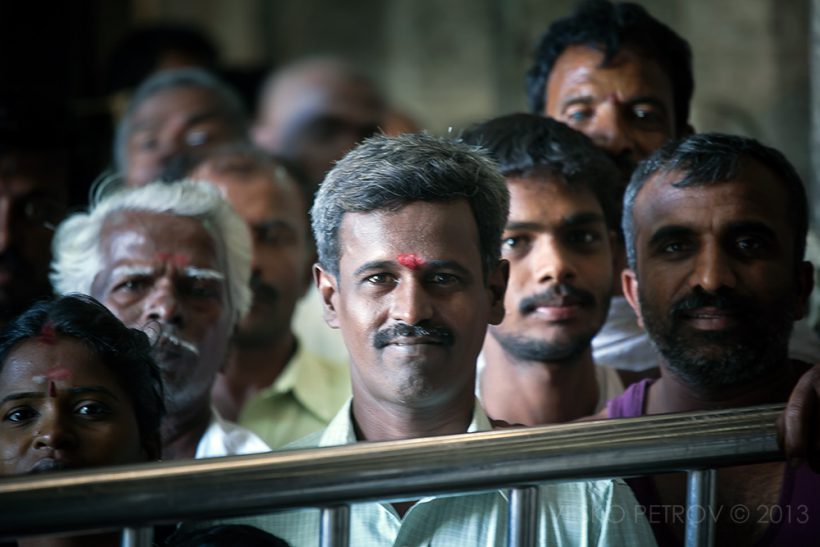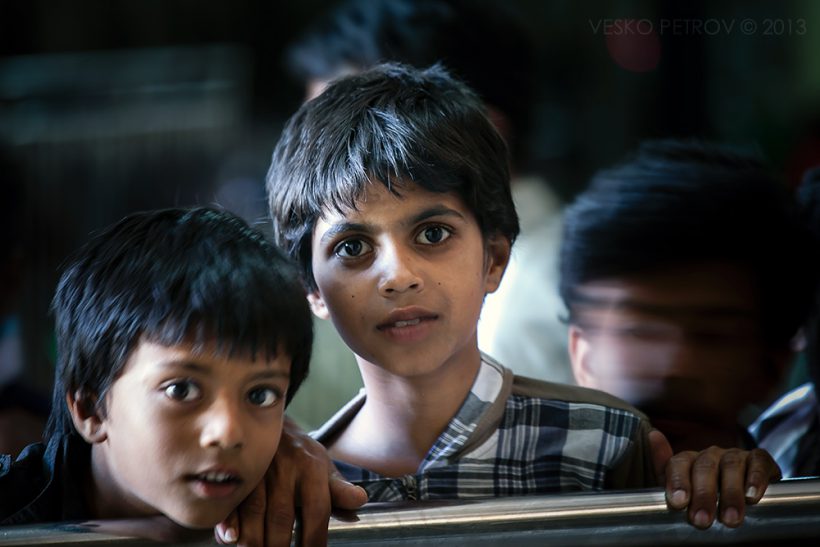 This photography bonanza however does not last long. One real angry Brahmin comes to scold me and then escorts me out. Unknowingly, I have entered the sacred area allowed only for Hindu (through that golden gate). When I come out, some European tourists watch me in owe. They've just been told about the sacred thing and they are not allowed in.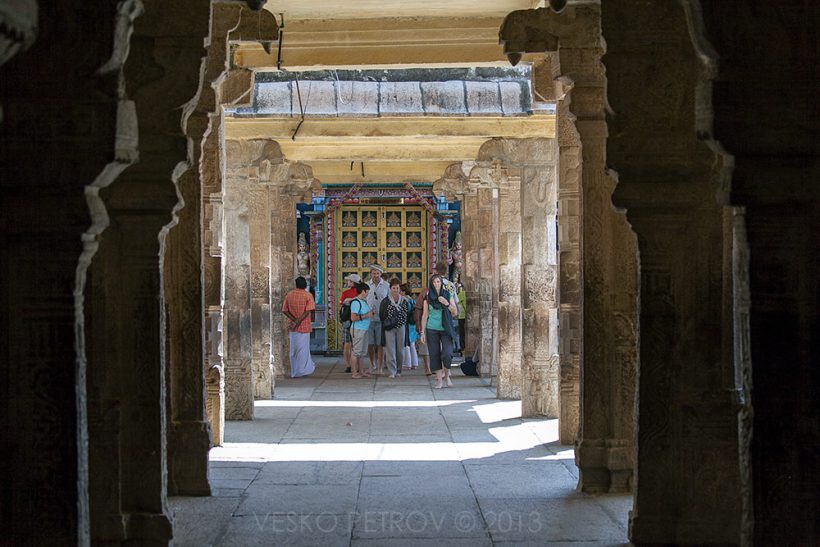 I have real good time; I even buy the worshipers meal for 10 rupees – rice on a piece of banana leaf and sit down like the worshipers to eat it with my right hand (cleaning my hands with wet towels). The rice is tasty.
When I emerge from Sri Ranganathaswamy Temple, it's already dark. Back to the Cantonment, I search for a good place to continue with my dinner. Around the bus station I never go wrong. The place I find is crowded and I order a mushroom biryani, then pea's masala with naan bread. The restaurant staffs are admiring my enormous appetite.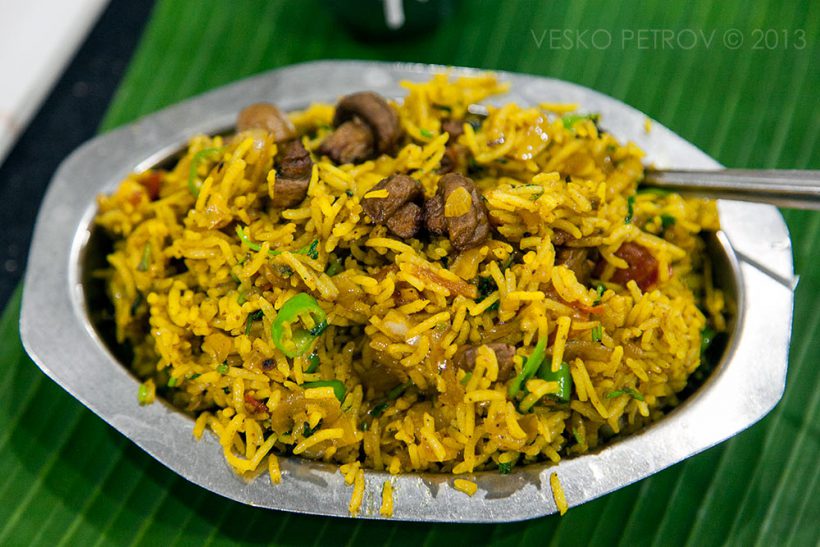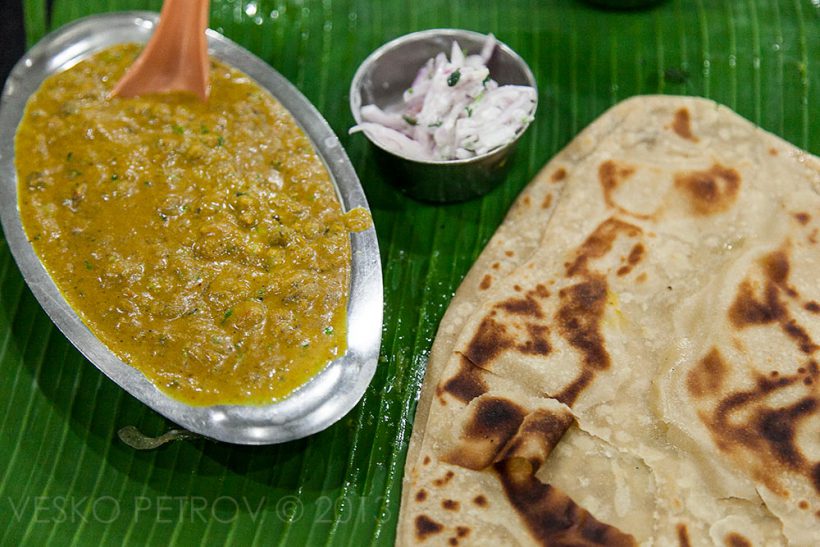 On the way back to the hotel what else will I encounter but a wedding. It makes me happy to see the newly wed. I will have a good night sleep.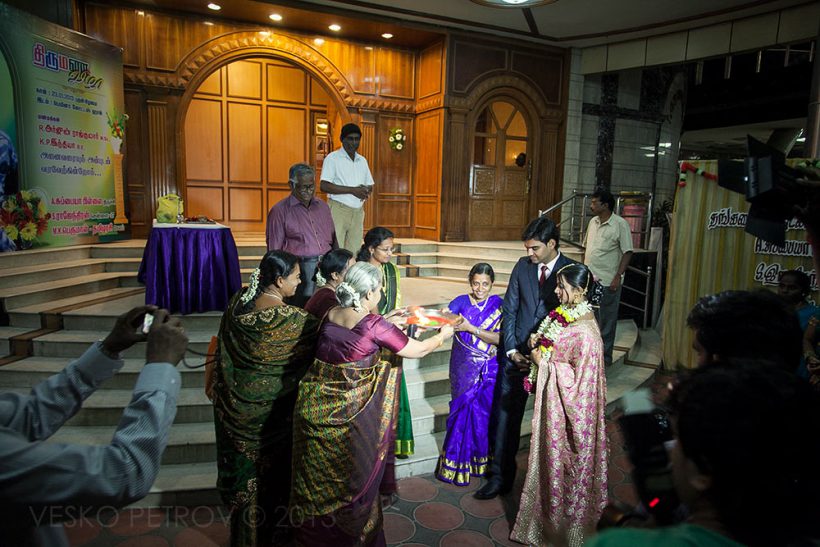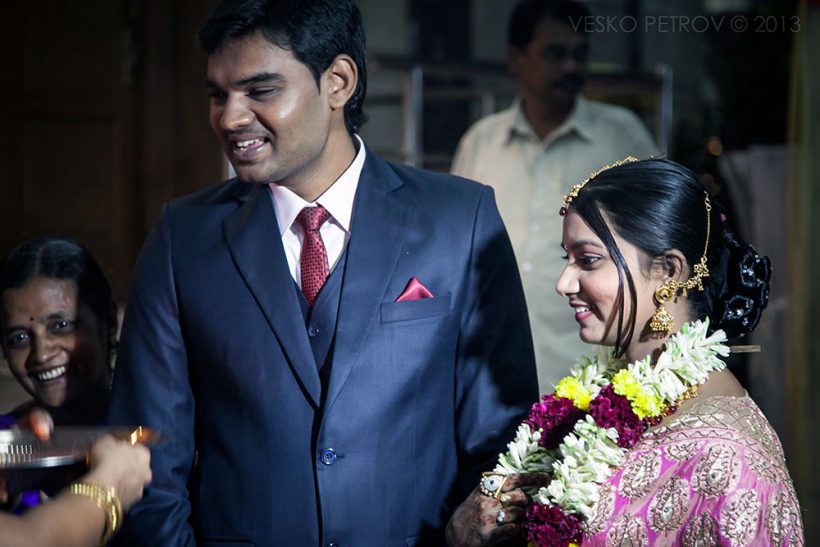 Stay with me friends, tomorrow I will travel to Madurai.
Did you like my post? Please share it with your friends and don't forget to leave a message. To have some feedback would be lovely. Thank you.