Dear friends, this is a story I started a while ago and haven't finished. I think now is the time to continue.
This is the follow up of Tamil Nadu Adventure 7 – Ambitious Plan.
I have grown to respect the bus system in Tamil Nadu. The busses here are very run down and dirty by western standarts, but they are always convenient and prompt. For me it's now very usual that the bus I need to reach my next destination departs from the station within a few minutes. There are so many buses to Madurai, that I will regret later not choosing one with better seats. I am at the back and the driver never slow down on the many bumps around exits and entries of the highway. The back of the bus constantly gets unpleasant hits. The trip is uneventful except for the aftermath of an accident we see on the road. We pass a large lorry that has flipped on its side, with the load spilled around. I hope the driver isn't hurt. The violent sight of the accident gives me very uncomfortable feeling and makes me sad. I always wondered how on earth these overloaded trucks survive. It's obvious they don't.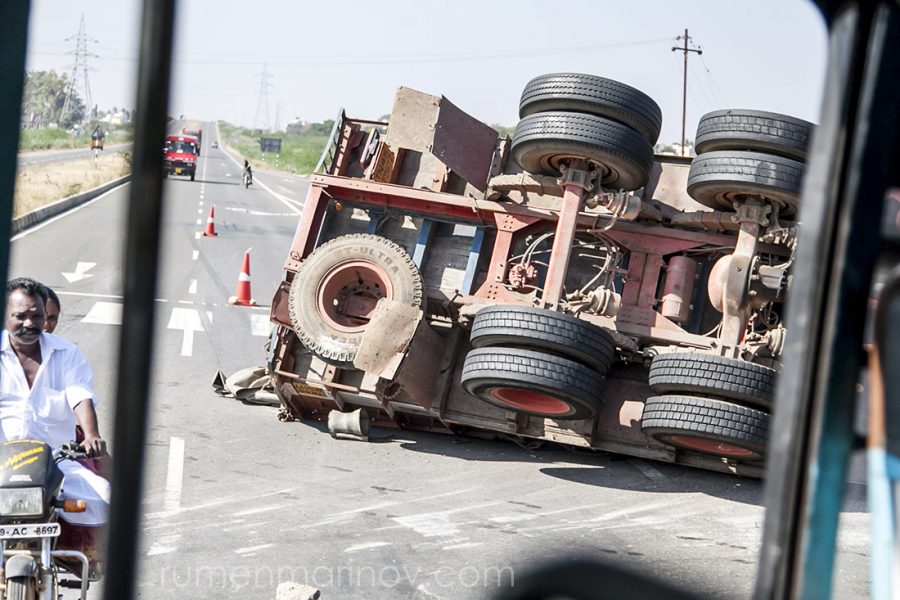 Some people in uniforms similar to the conductors are waiting for me at the final bus stop, several kilometres away from Madurai town centre. One of them tells me to go with him. For a moment I'm confused and follow automatically, but then I stop and ask him who the hell are you? I am a rickshaw driver the man says and confirms that he will take me to the hotel I booked online yesterday (Madurai Residency) for 200 rupees. 200 rupees seems a fair deal to me and I agree. He is very chatty and friendly, but once I am in the rickshaw and we start moving, the 200 suddenly become 300 rupees. That prompts me to shout STOP HERE! STOP RIGHT HERE, which makes the driver quickly to agree, ok, ok, 200, and we continue. For a good measure I grip his shoulders from behind and say in his ear: "Don't you do this, you are a good man. Lord Vishnu is watching you." This has a profound effect on the driver. He stops his chatter and doesn't say a word until we get to the hotel. I pay him the agreed 200 and there is no more drama.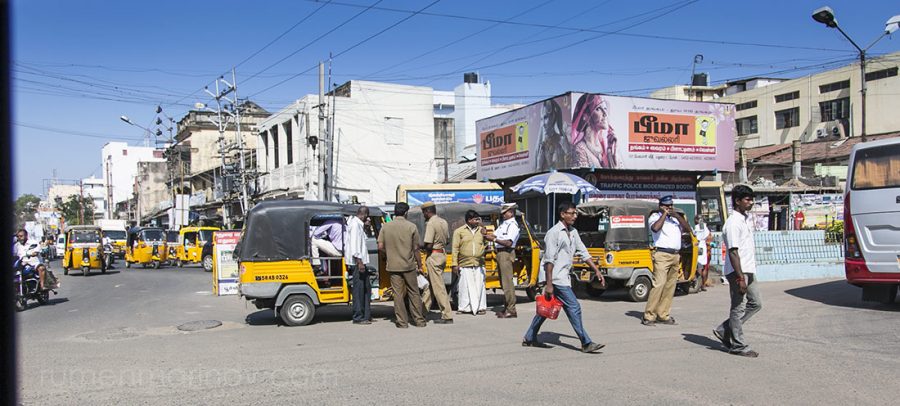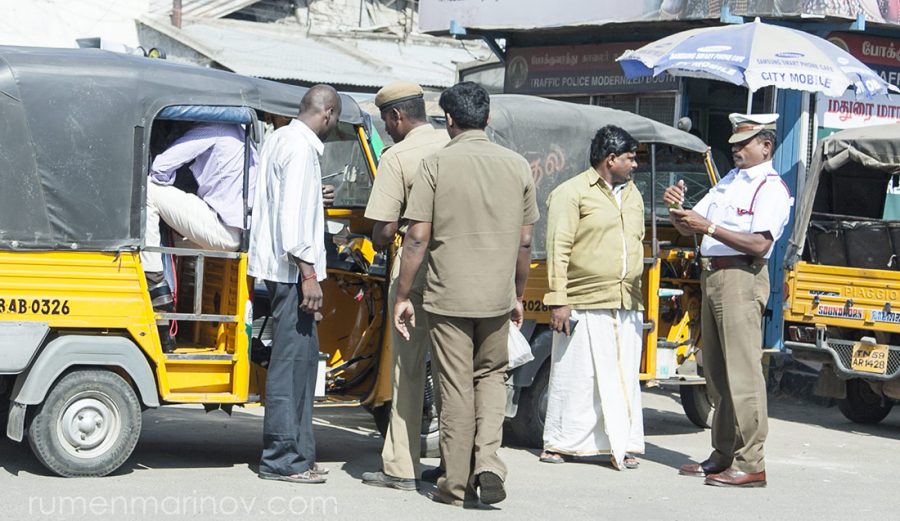 Booking a room for 2035 rupees a night, I was hoping for something nicer, similar to hotel Femina, but with Madurai Residency there is no such luck. The room is dark, full of hungry mosquitoes and the shower head is blocked, so washing is possible only if you imagine you are in a Turkish bath and use something to splash water on your head. All of this doesn't concern me much, but the locked door leading to the adjoining room seems strange. Later I will learn how significant this is. For now I shower (Turkish-bath style), change clothes and run out to see Madurai. I like Madurai – it's full of shops and interesting, colourful people drinking chai.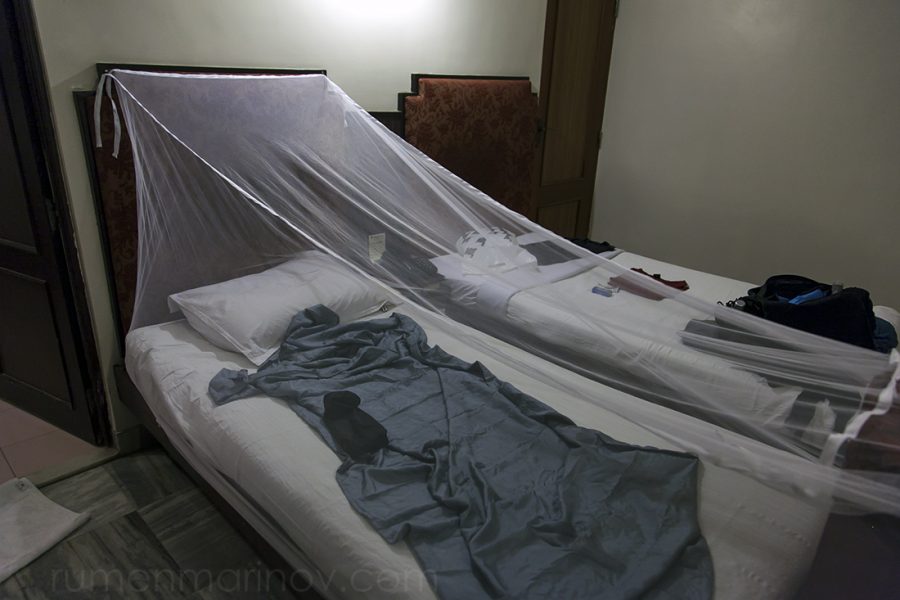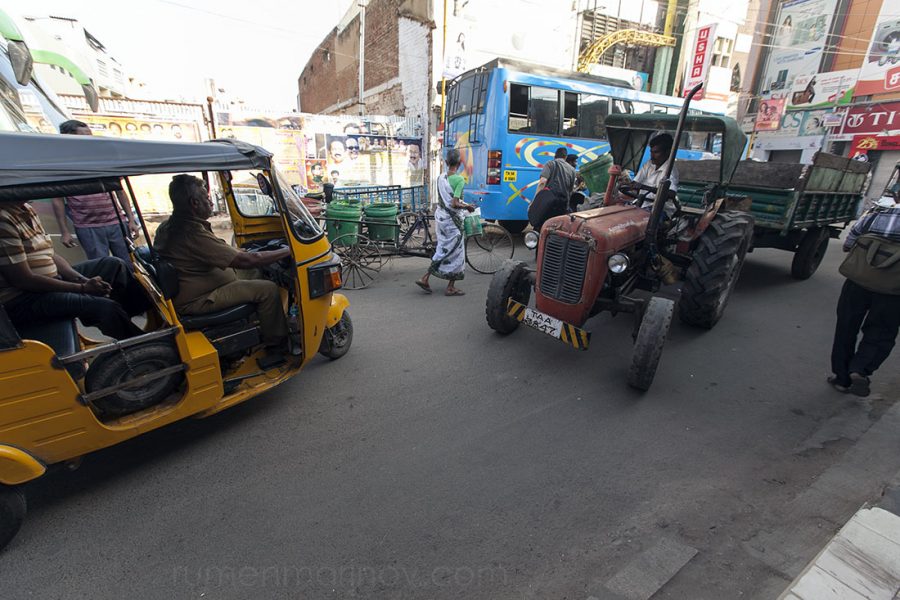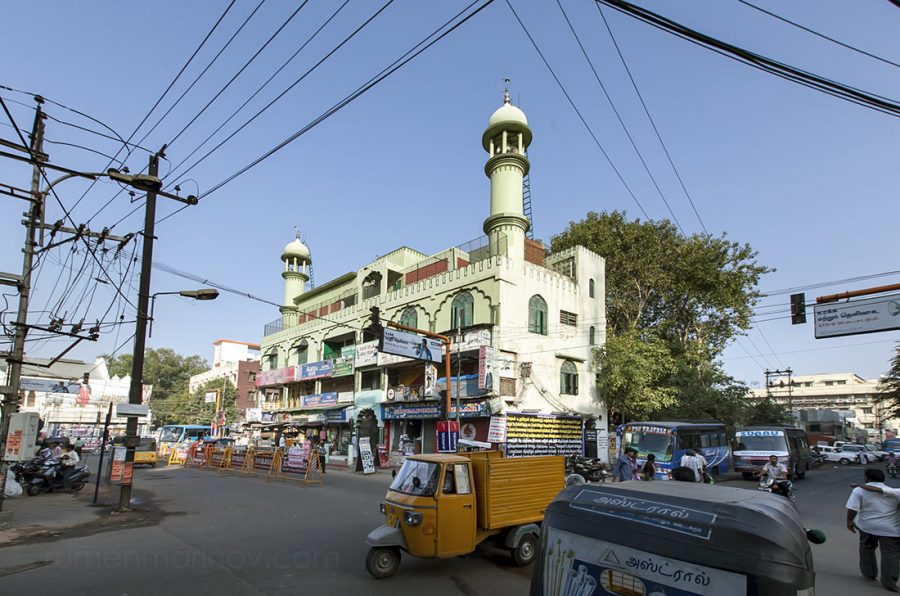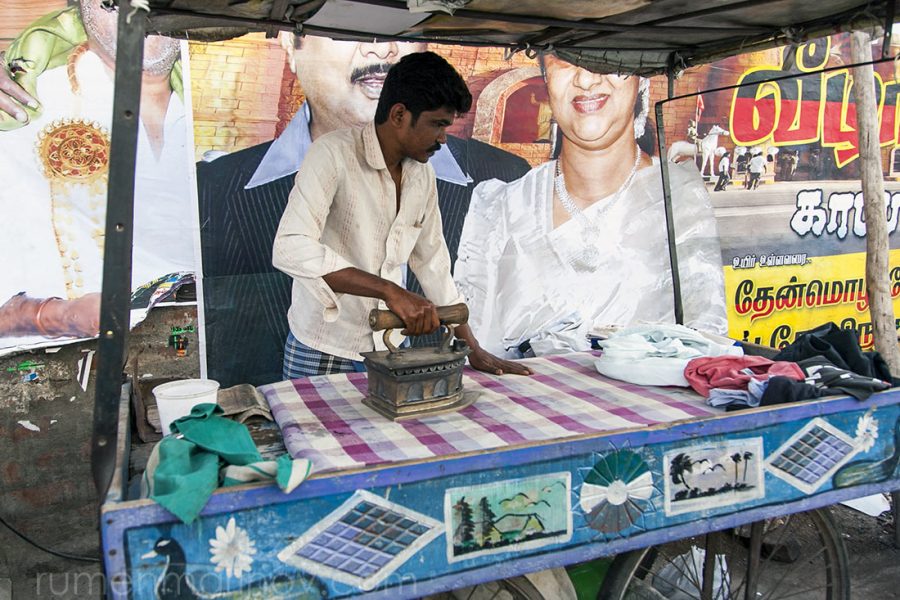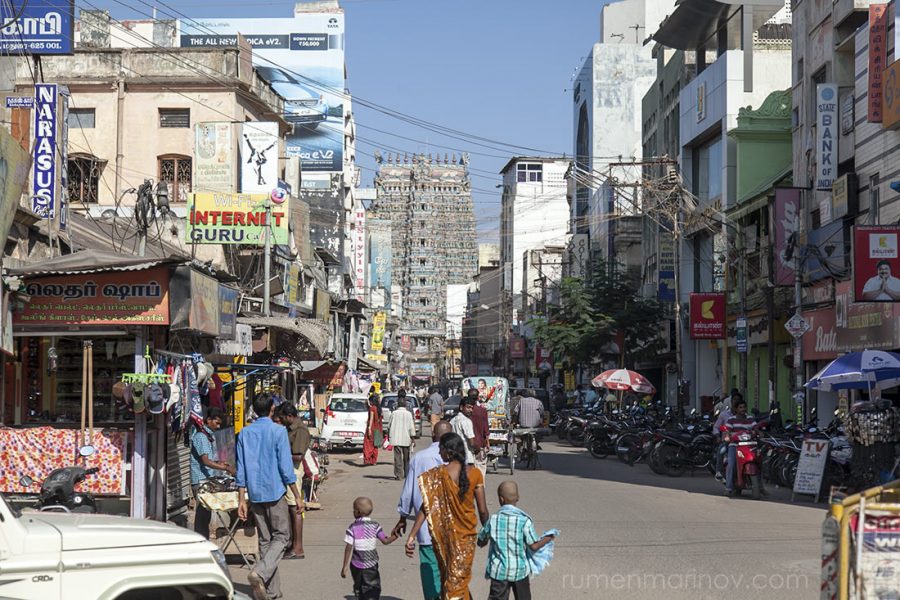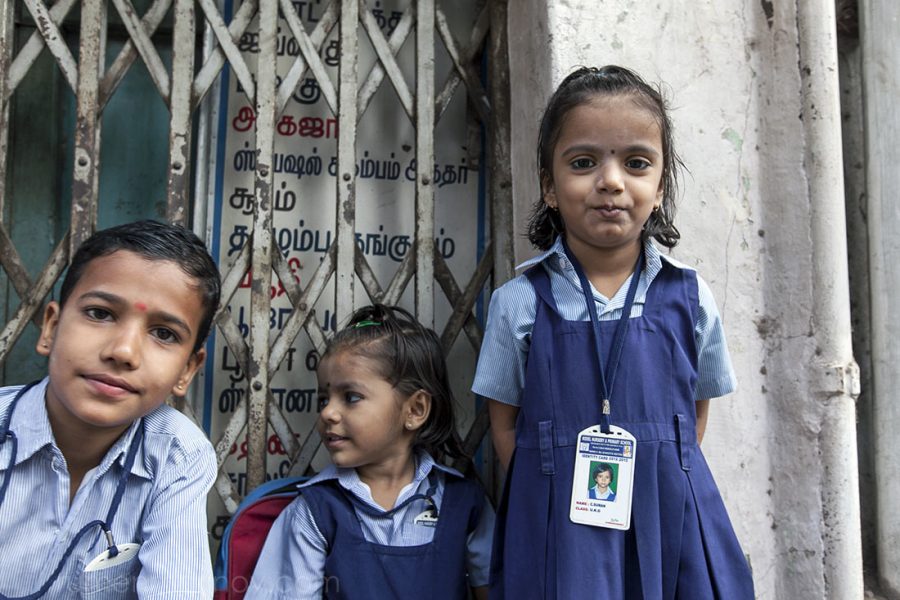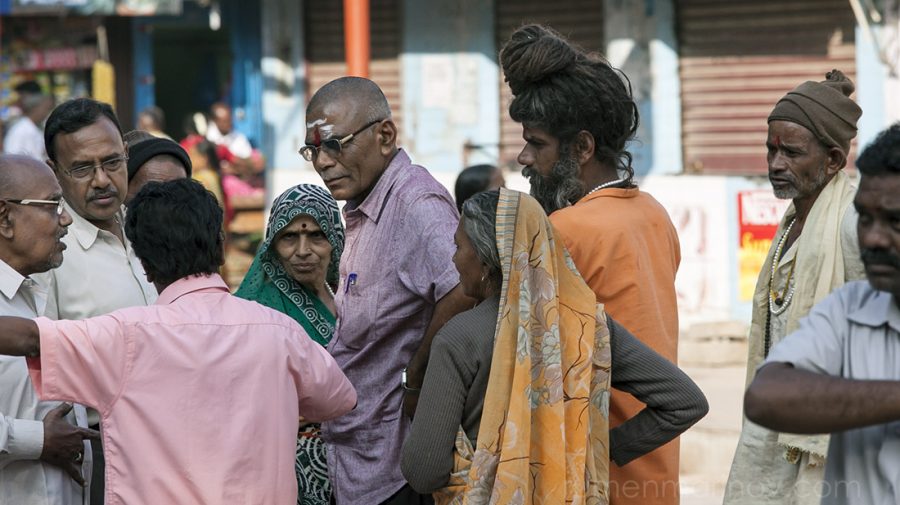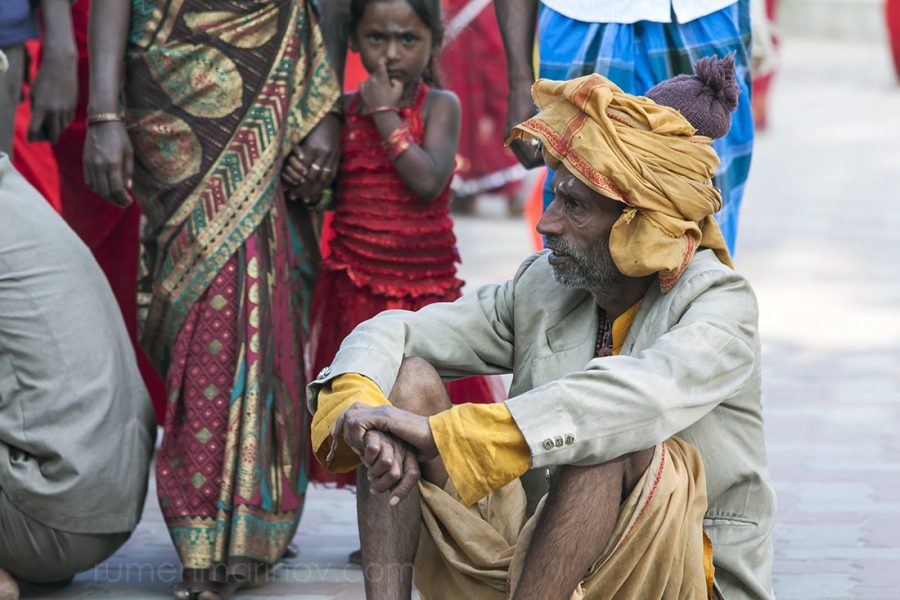 Today I have a lazy afternoon allocated for writing emails and planning/booking the next stop on my Indian travel. Amazingly the sim card I bought in Chennai continues to connect me to the internet. It is slow and unstable – I write the emails in Word, and then I send them quickly before the connection dies.
In the evening I make a long stroll around the big temple (Sri Meenakshi Temple), looking for something interesting to eat. I find a place, sporting large photos of burgers and chips on it's windows. Not craving western food yet, I am just curious to try Indian western style burger – it tastes horribly sweet and not cheap on top of that. Man, I have forgotten!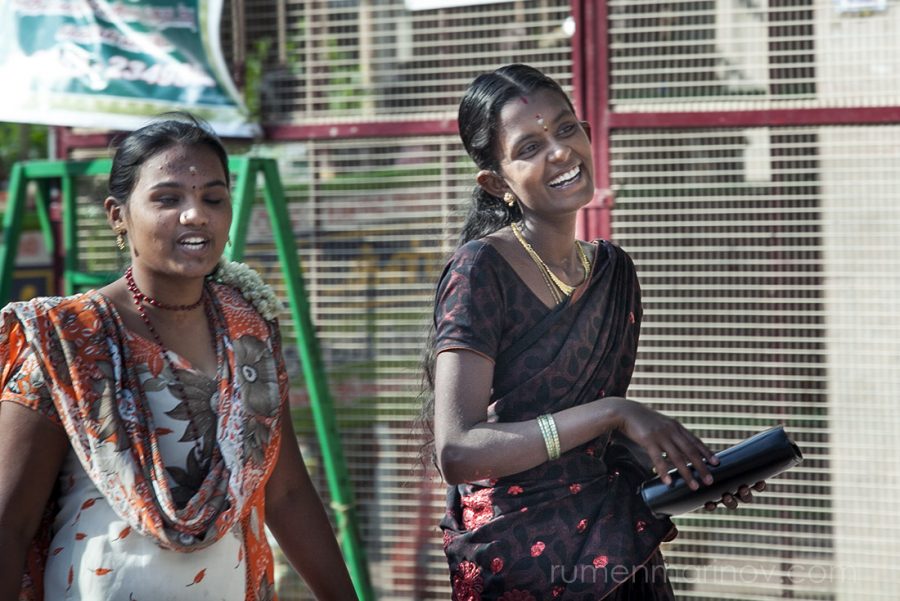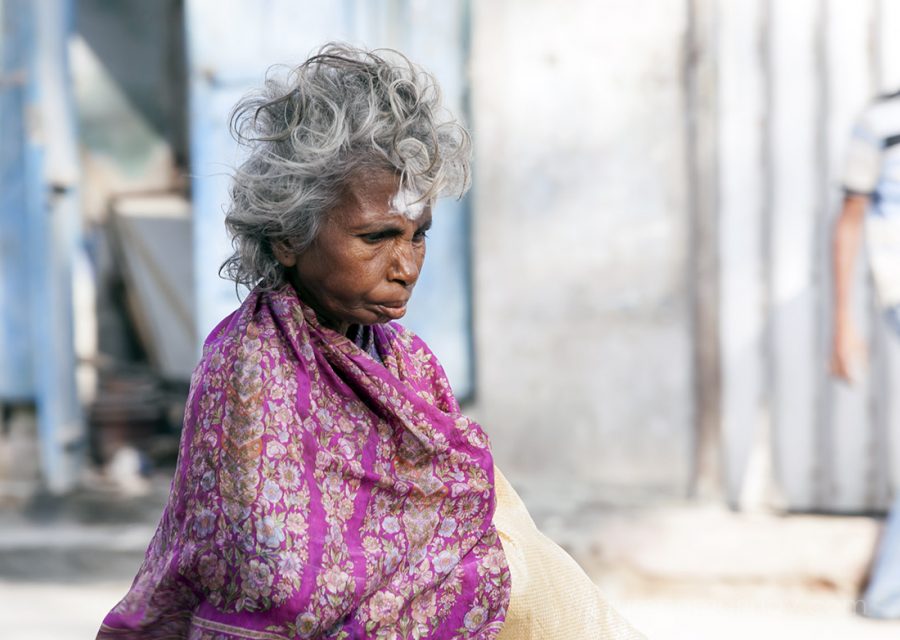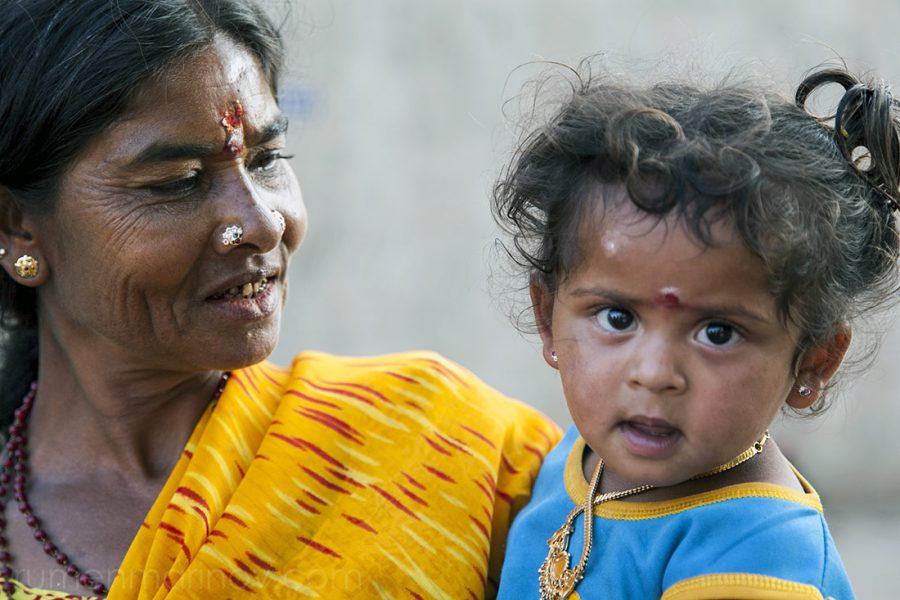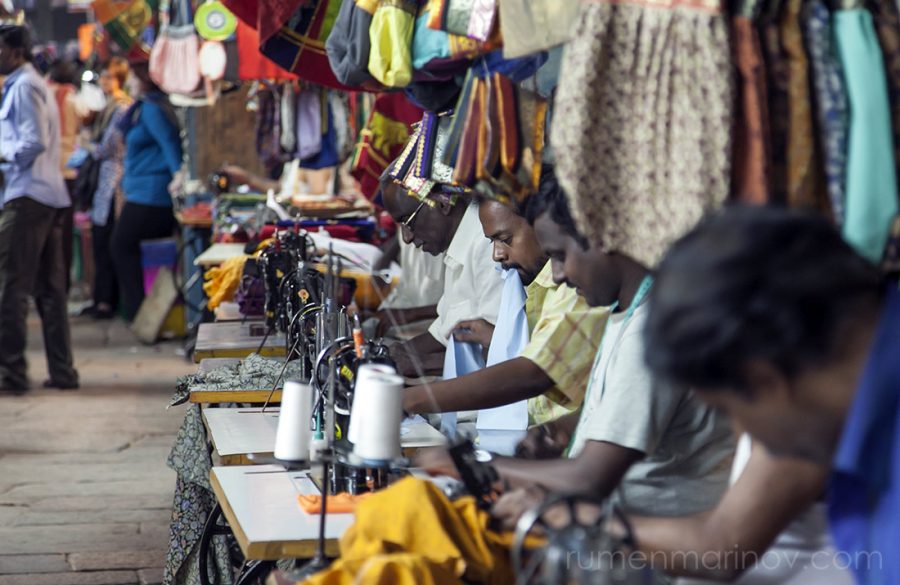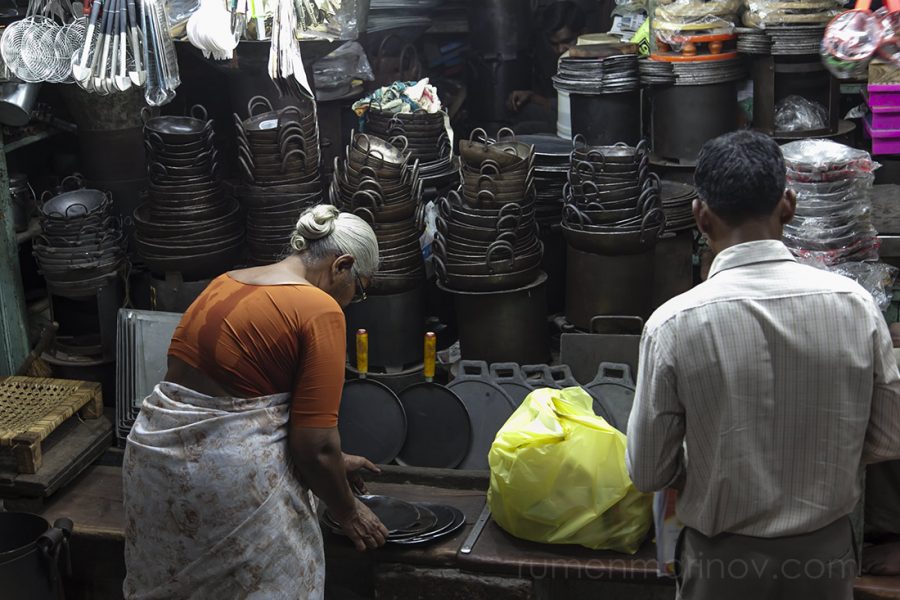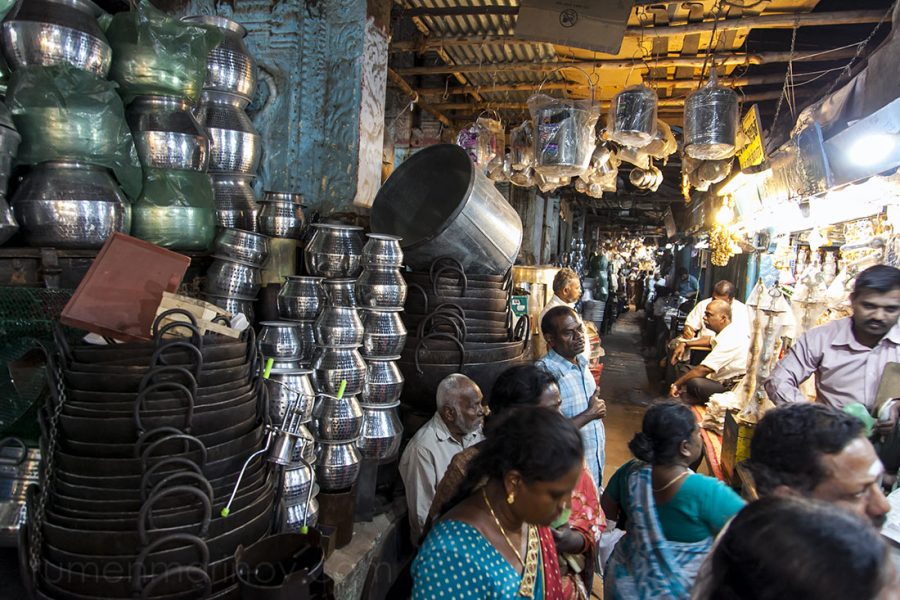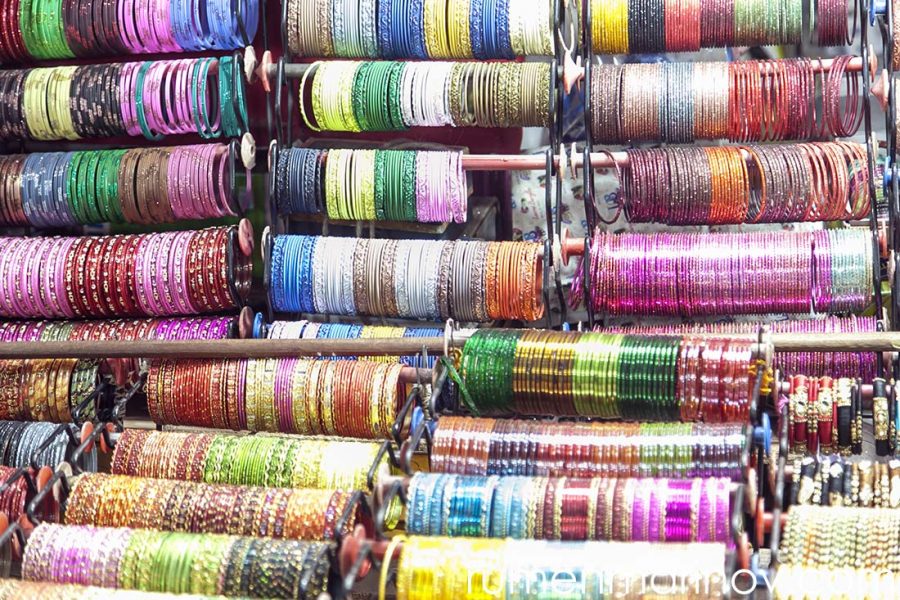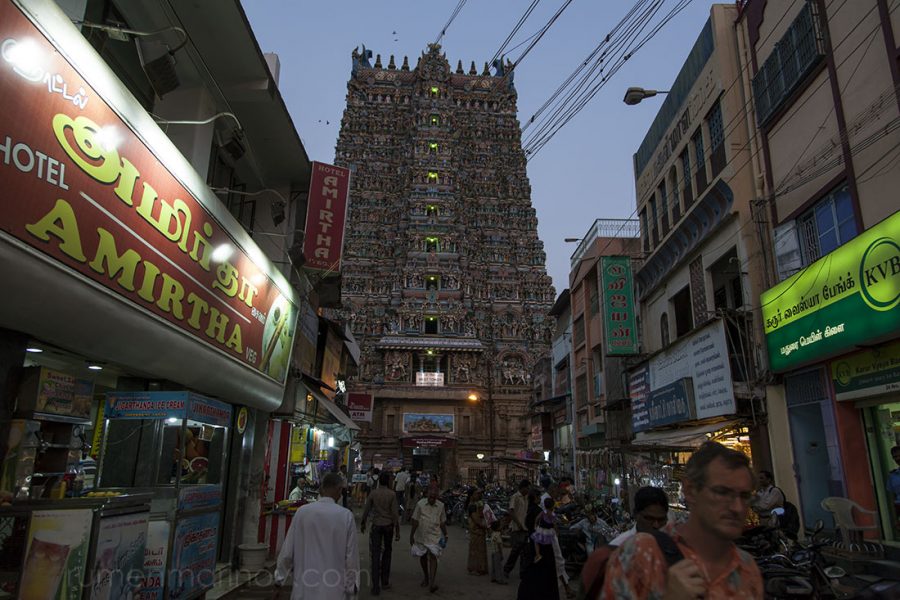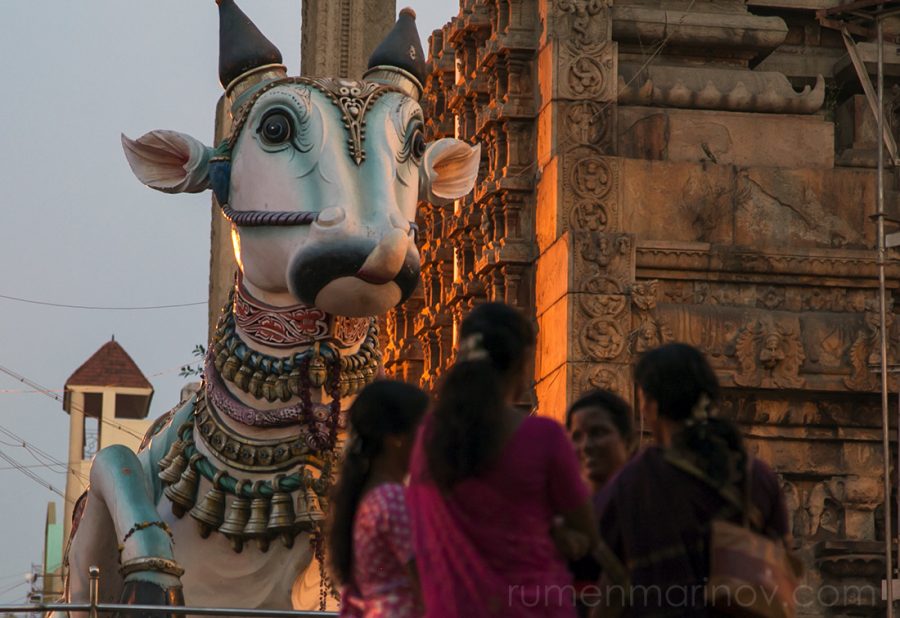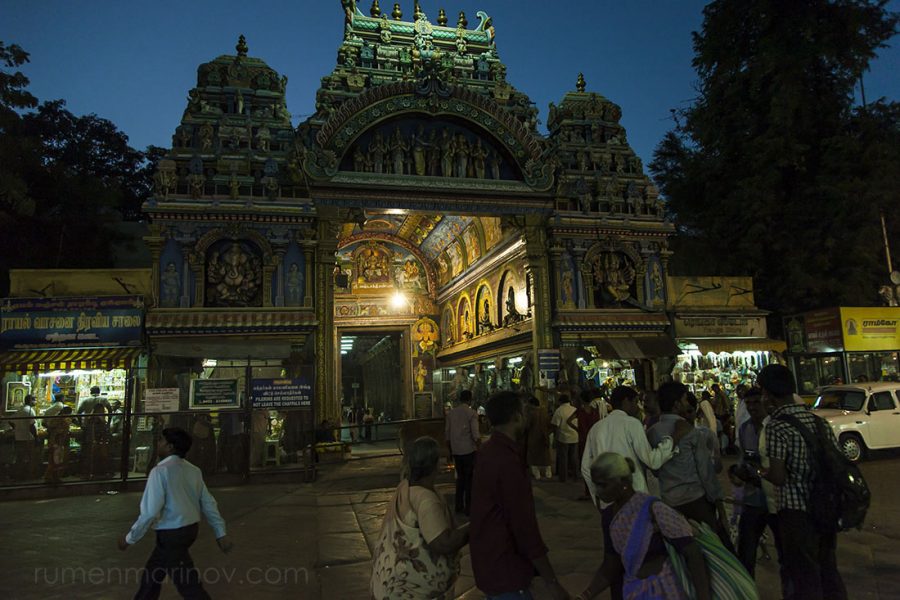 My worst night in India happens to be in the most expensive of all hotels I visited – Madurai Residency. Around midnight I am woken up by someone talking on the phone. It is so loud, that in my sleep it feels like the man is shouting in my ear. In my semi-sleep I try to resist it for a while, but soon a few more voices are added to the man's in a heated discussion about something. Then a couple of women join in as well. By now I am fully awake and get up to investigate. Some kind of a talking party is happening in the room next to me and through the locked door I can clearly hear every single word (not that I understand them). The conversation is so passionate, that I don't know if they are arguing or they are having a good time. They sound like the contestants in a shouting competition. Everyone is trying to outshout the others, similar to the phenomenon that happens in a room full of drunken people. Perhaps they are drunk.
Some twenty minutes later there is no indication that the party will finish soon. On the contrary – it gets louder. I brave myself and knock on their door. A woman opens to reveal a room full of men, fogged by cigarette smoke. They promise to keep their voices down. The promise lasts five minutes. I try earplugs, which helped me to isolate the traffic noise in Tiruvannamalai. In vain – against the lively Tamil chat the earplugs are useless. Around 1am I call the front desk and ask the receptionist to do something. He agrees, but nothing happens, the merry talking party continues. I make a second call at 1.30 am; on my way sir, says the front desk man and nothing happens again. At 2 am I am very cranky and tell him to wake up the manager of the hotel, or I will wake him up myself (not having any idea how would this happen). My threat seems to work, someone finally comes to the room of the noisy talkers. Soon after that they wrap up, I suspect in results of a natural expiring of their party, rather than someone telling them to do so.
It is finally quiet at 3 am, but my time for sleep is finished. Being up in the small hours of the new day reminds me that my biological clock is still with Australia where the time is now 9.30 am. I can't sleep any more, but I make the most of it getting online and listening to the morning show with Tom and Alex on Triple J (my favourite Australian station).
Stay with me my friends, tomorrow (or rather today) I will visit one of the most remarkable temples around Tamil Nadu – the wonderful Sri Meenakshi Temple.
Did you like my post? Please share it with your friends and don't forget to leave a message. To have some feedback would be lovely. Thank you.