Arunachaleswara temple and Tiruchirapalli (Trichi)
This is the follow up of Gingee and Tiruvannamalai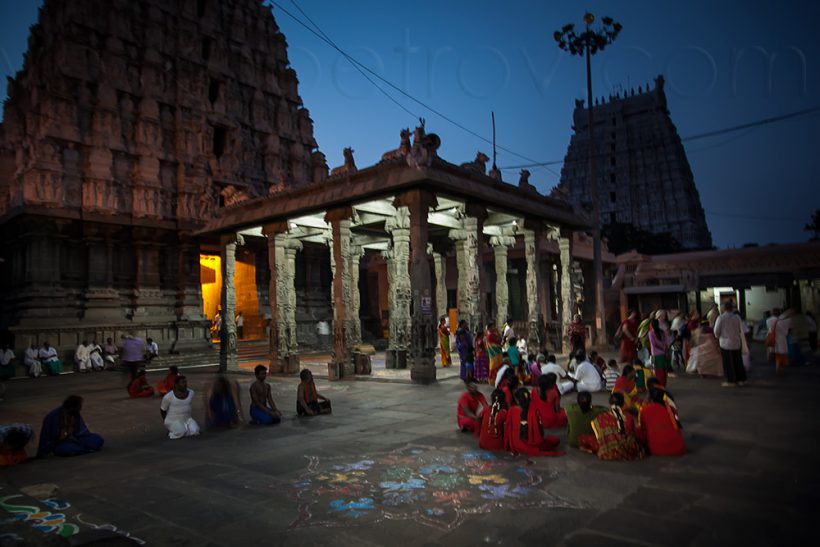 I am up at five, pack up the room, pack up my bag and head to the Arunachaleswara temple, "Temple of the Eternal Sunrise". This morning I am prepared with a plastic bag and a pack of wet cleaning tissues (for my feet afterwards). The shoes go into the plastic bag and then into my trusty camera bag and I don't have to deal with the shoes handlers. So I appear barefoot at the entrance and the guards don't stop me.
It's still dark, but the mountain behind the temple starts to light crimson with the first rays of the sun. The temple complex is quite large. In the central building I find a long queue of Indian people squashed into a narrow metal cage corridor, moving slowly around to enter the inner sanctum. They say a constant fire inside is kept burning by semi-naked, fat Brahmins (somehow I have this vision). Looking at the caged people, I am not even tempted to find some easier (paying) way to enter the inner sanctum. Instead I walk around and watch the devotees. They are extremely into it, performing the movements of prayer very seriously: joining hands high above their heads, bowing low with strait legs, prostrating themselves face down, completely flat… then again, continuously. Many are simply sitting, resting their backs against the ancient stones.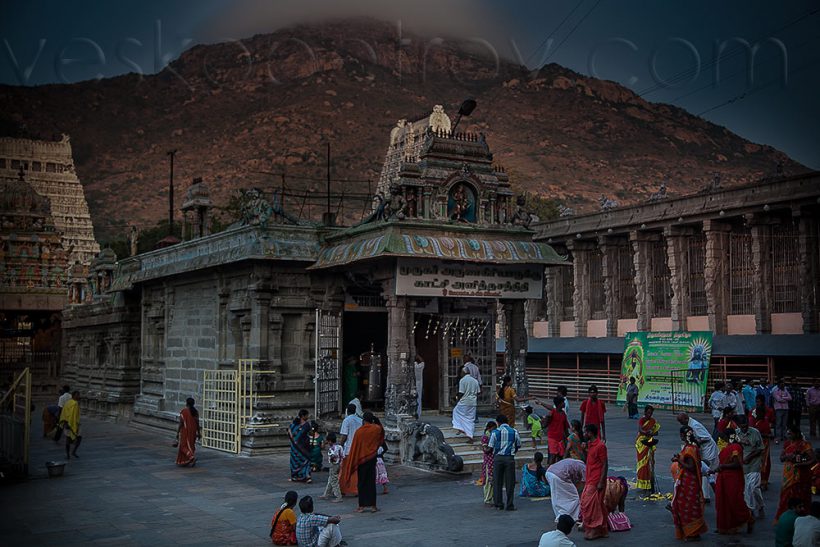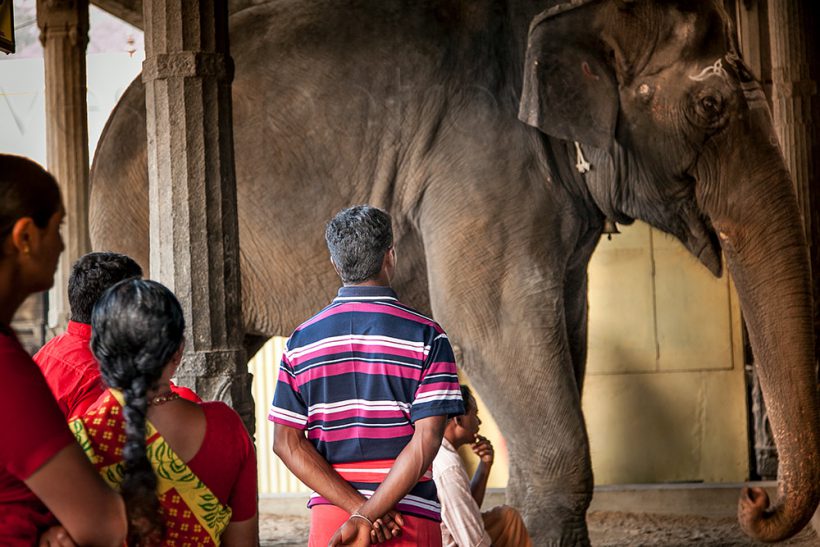 After a while I myself feel tired and sit down like everybody else. I think about these people's devotion and how it helps them to deal with the difficulties of their life – India is a hard work and many people here have a very hard life. A couple of young exhausted men come out and sit next to me. They engage me in conversation like everybody else: Which country do I come from? What is my name? What am I doing in Tamil Nadu? I change the pattern of contact with questions about the fire in the temple. They are very happy to describe it for me. They also tell me that I am sitting right in front of the goddess of the teachers. Of all thousands of Hindu gods and goddesses! When the young men are gone, I buy a small cup of ghee and light it up for the goddess of the teachers. I'm not a religious man, but lighting candles in temples (or ghee in this case) is something I enjoy.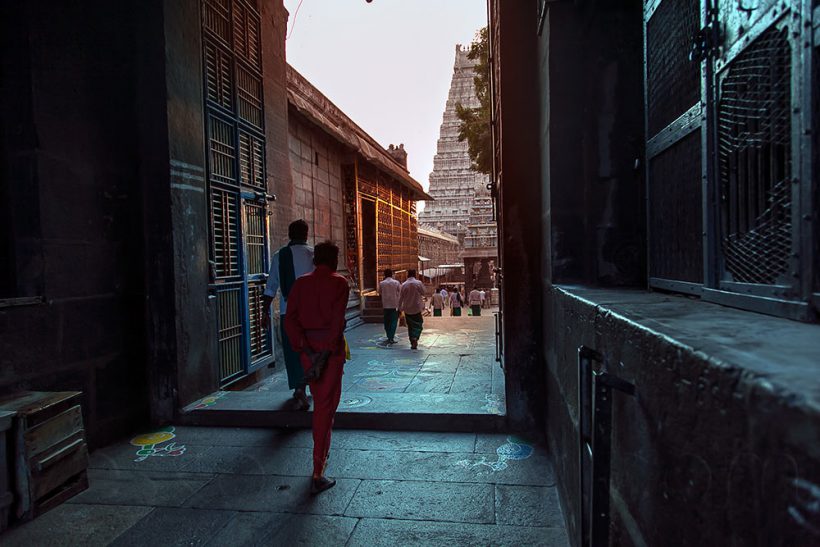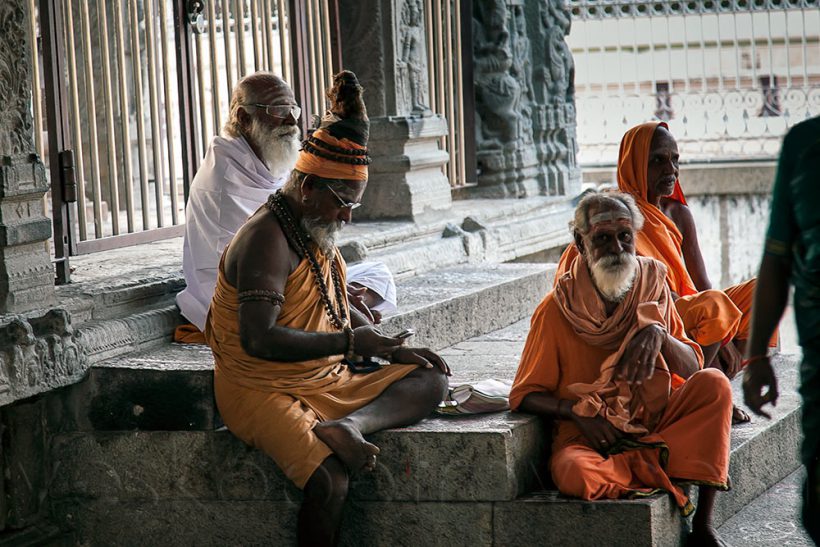 It's time for me to move on. By now I've learned how to find my way in the chaotic Tamil bus stations. I am in luck this time – a bus is just about to depart directly for Trichi. The alternative would be to change busses in Villupuram. I take a seat and twist the scarf double around my face. It might look weird, but it's incredibly useful against the dust, especially combined with a hat and dark glasses. The trip takes quite long. We make a couple of rest stops. At the first one, I have an encounter with a fierce beggar. He blocks my way demanding contribution and I have to step around him to jump on the bus. The beggar doesn't follow me, but runs around to grab onto the metal bars from outside my window. I'm terrified and pass him the two samosas, which I just bought for my lunch. Expecting money, the beggar is not overly happy with this outcome but left with no other option, he grabs the samosas and angrily move on to another victim.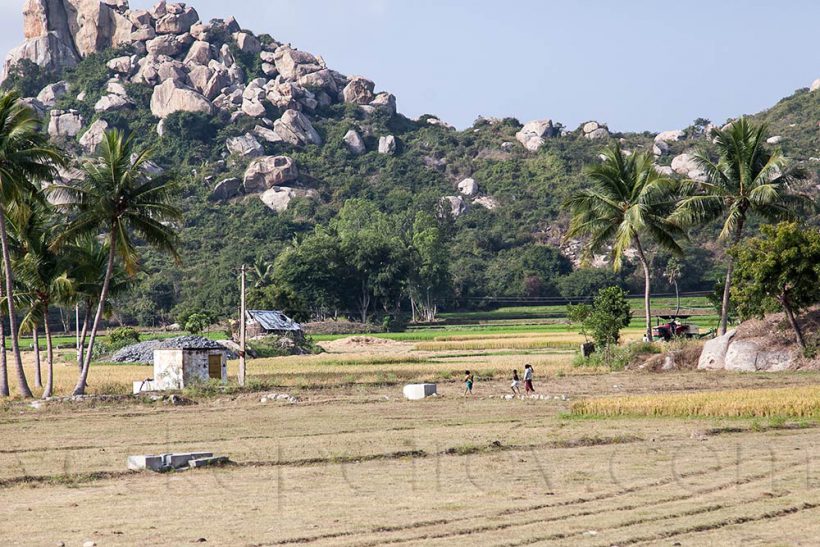 People get on and off the bus. All of them stare at me and because they are not smiling, I might feel threatened. By now though, I know they are simply curious, they don't mean harm. They just want to make a contact, to acknowledge their existence.
Hotel Femina is very close to the bus station. This is the best hotel so far on my trip around Tamil Nadu (1 700 rupees a night). The aircon works; there is complementary bottle of water and if you wait long enough, the shower gets lukewarm. It's good opportunity to wash the dirty clothes, as I am staying for two nights. I shouldn't worry though – in this heat the wet clothes dry in no time.
The neighbourhood around the hotel is quite boring. I walk for a while, but except traffic and dust there is nothing else, so I catch a rickshaw to the Rock Fort Temple. It is much further away than I expected. It gets dark till we get there. I pay my entrance and camera fees and quickly climb up to the top. During the day the view from here would be probably spectacular, but now in the dark not much of the vistas could be seen. In the small temple on the top a priest with massively protruding belly makes angry gestures that photography here is prohibited. I shake my head to apologize and pack the camera in the bag. There is not much for shooting anyway.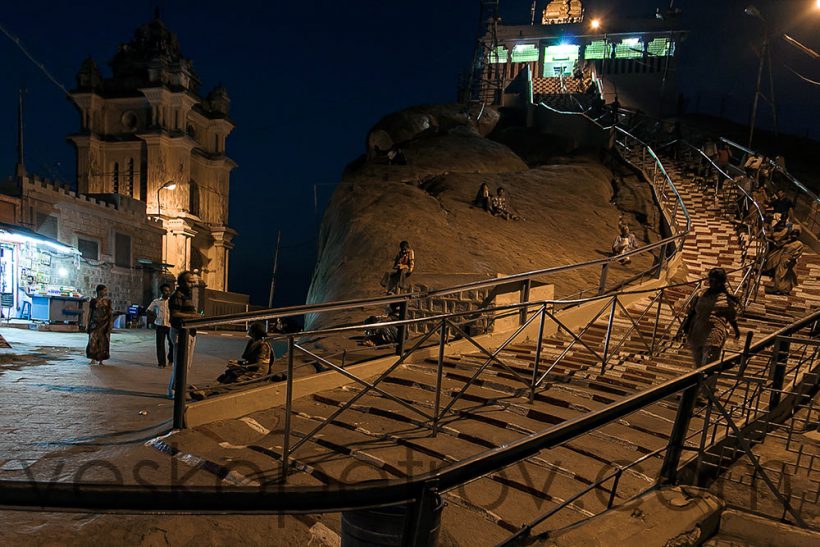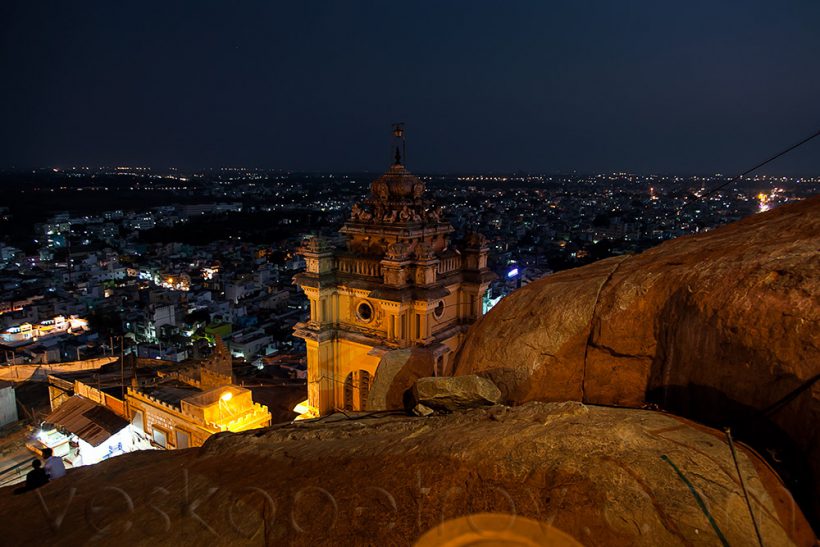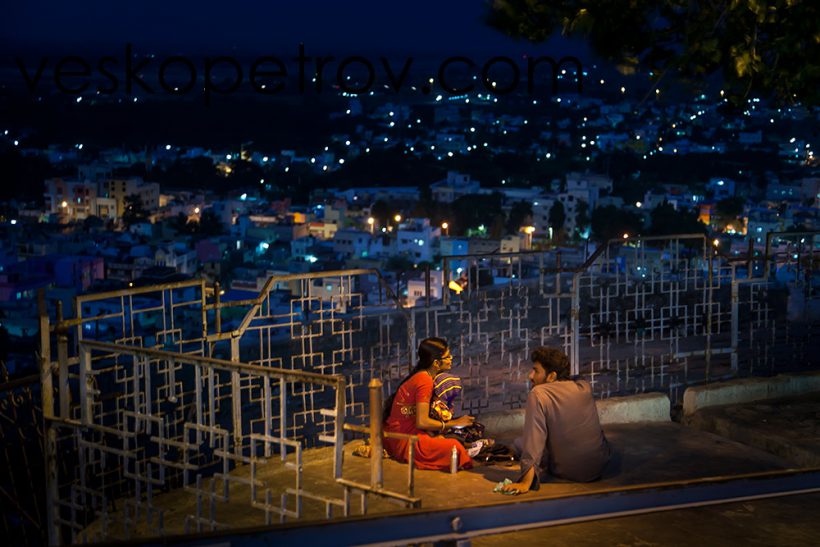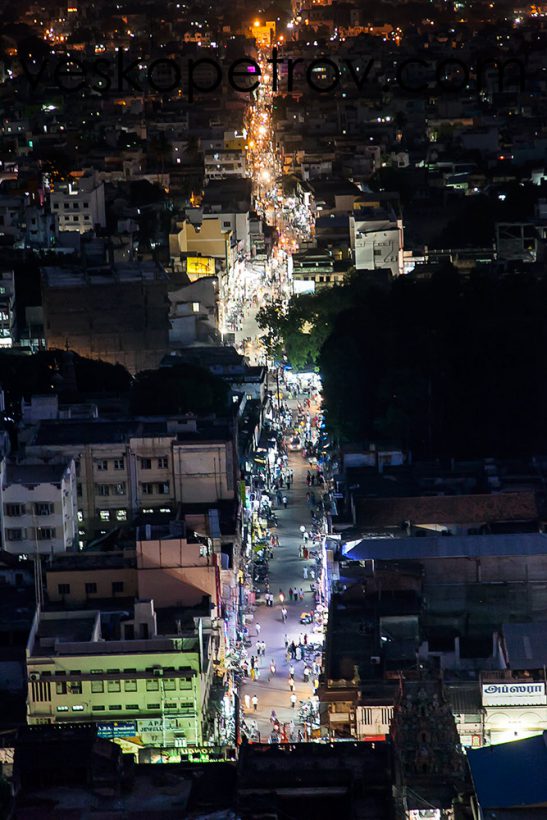 The area around the Rock Fort Temple is much more interesting, full of shops and people engaged in hectic commerce activities. Most of the shops are for clothes or gems. There are also many chai shops with chai wallahs happy to show their art for the camera. The power goes off frequently and then everyone jumps to start their power generators. I suspect these are the golden moments for Trichi's pickpockets and try to position myself next to a wall to avoid any surprises from behind.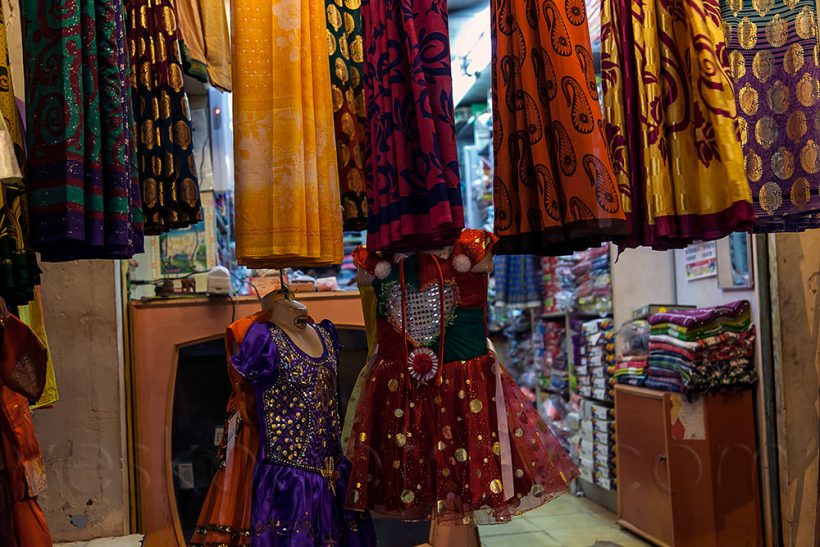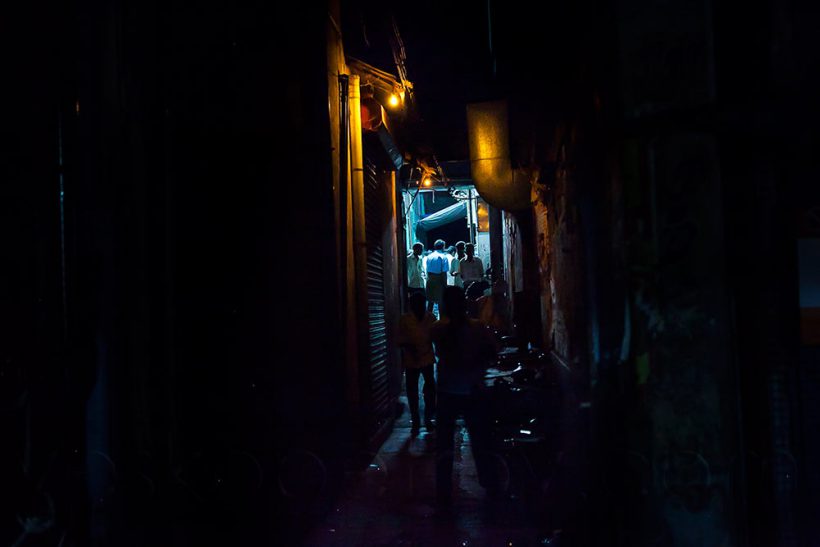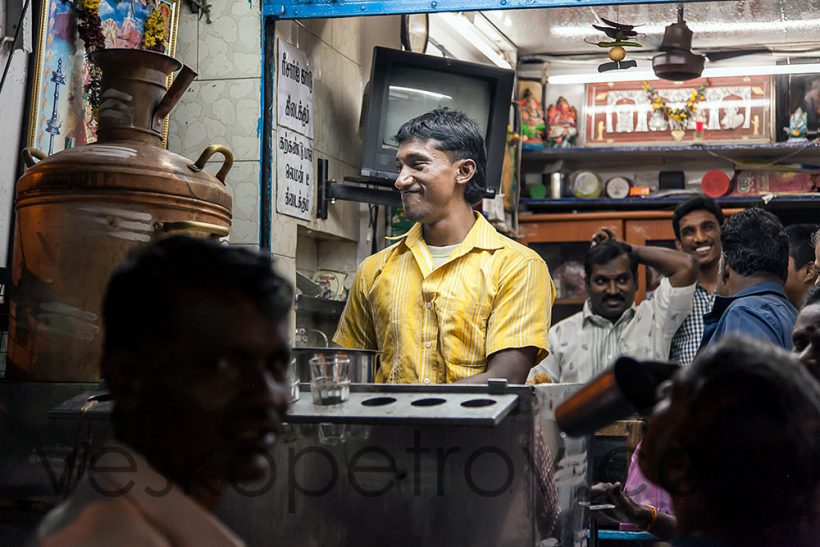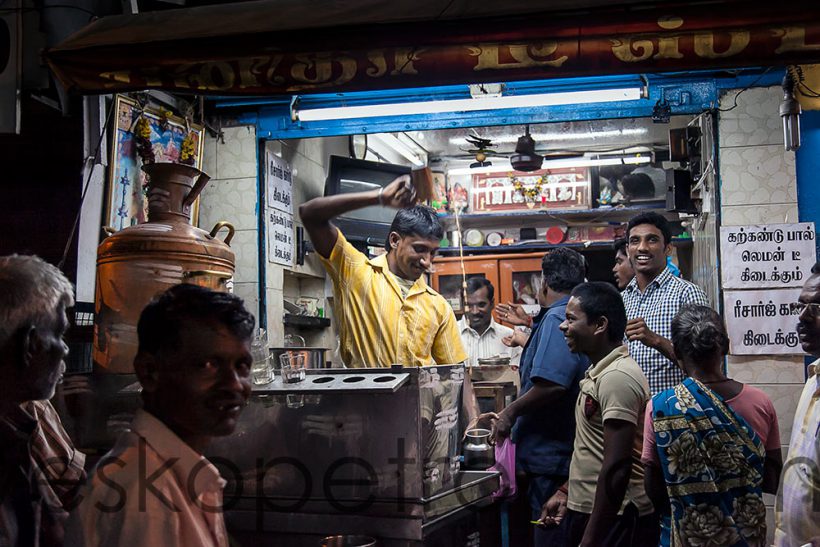 I enter the fruit market to buy some grapes (100 rupees a kilo). It's fascinating to watch the local housewives haggling with the vegetable vendors and buying all sorts of onion, tomatoes, and peppers. I try to be discreet making photos, but the people around the market are quite happy to pose for me, so much so that soon everyone wants to shake my hand and to have their photo taken around their stall. The flower sellers give me a bag full of yellow blooms as a present. I don't know what to do with it, but not wanting to offend them, I take the bag. The flower guys are really happy.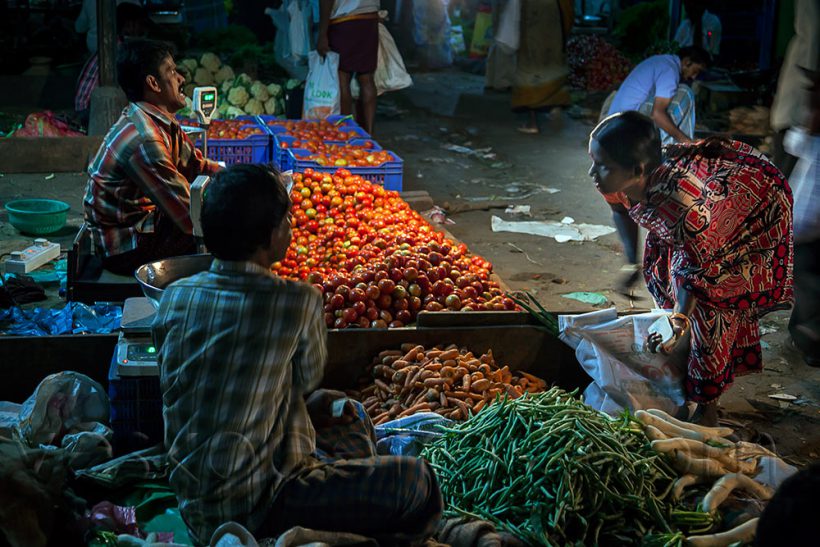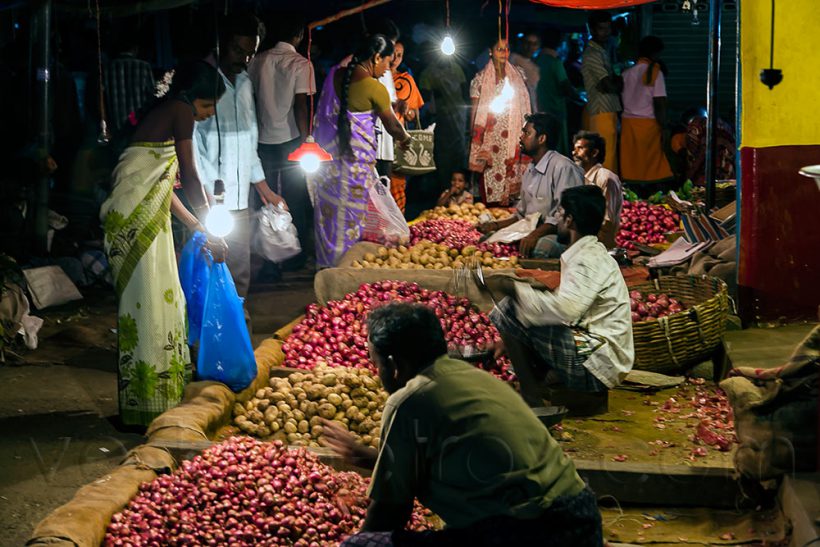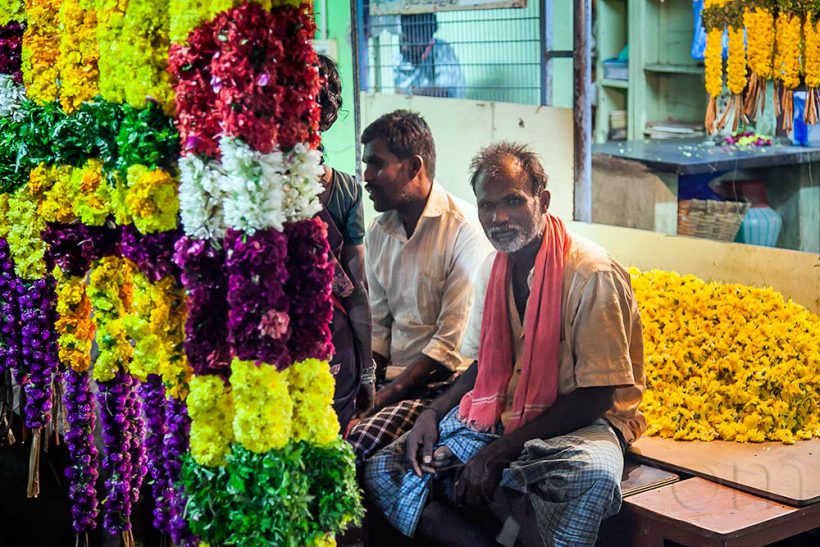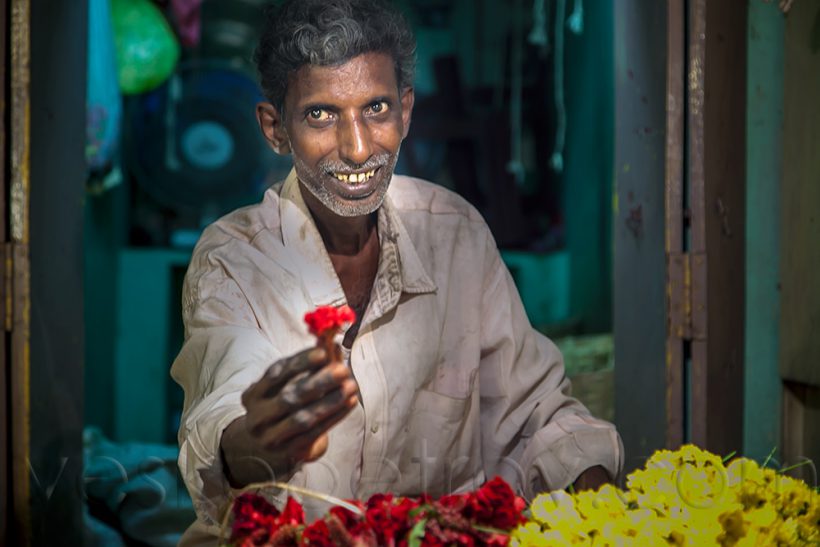 Back at the hotel I'm very hungry. For a place to eat, the concierge at the door directs me to the shopping centre next to the hotel. He also explains the purpose of the yellow blooms I was given at the market – temple offering. That's how I decide to visit a temple or two tomorrow.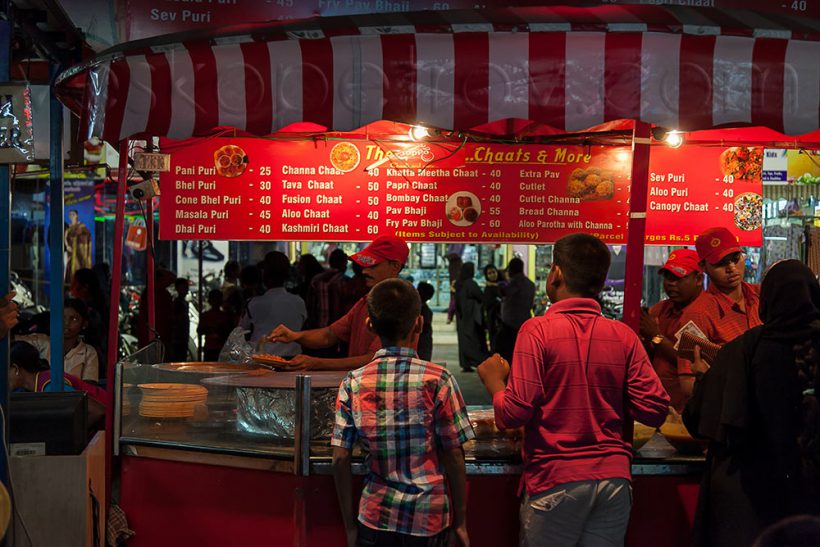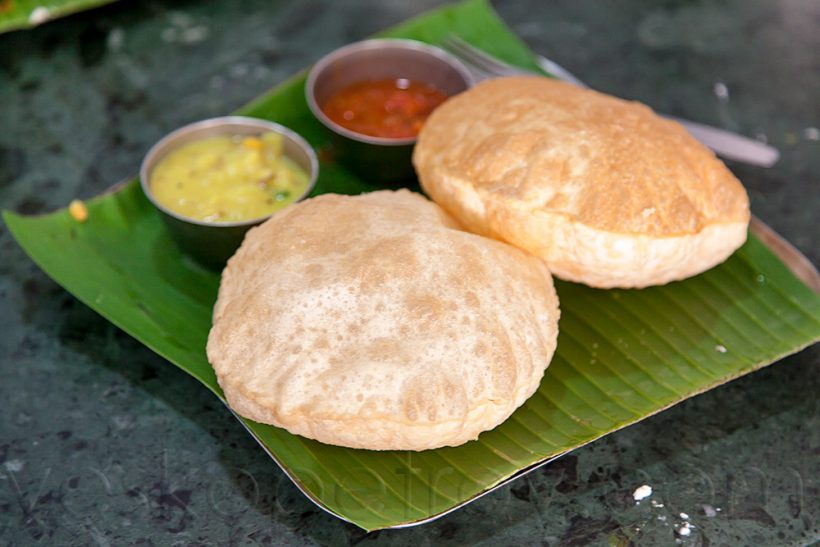 The shopping centre next to the hotel has a food court with different cuisines. There is pizza, there is Chinese, there is even roasted chicken. I line up where the most people are crowding, which is at the Indian stall. The meals here are around 30 or 40 rupees. I try three or four different dishes and I like all of them. The boys working the Indian stall are amazed how much I can eat. Well, what can I do when I enjoy Indian food and I am hungry like a wolf?
An amazing day overall. Come with me tomorrow – I have an ambitious plan.
Did you like my post? Please share it with your friends and don't forget to leave a message. To have some feedback would be lovely. Thank you.