Simpson Desert
This is the follow up of Birdsville and Big Red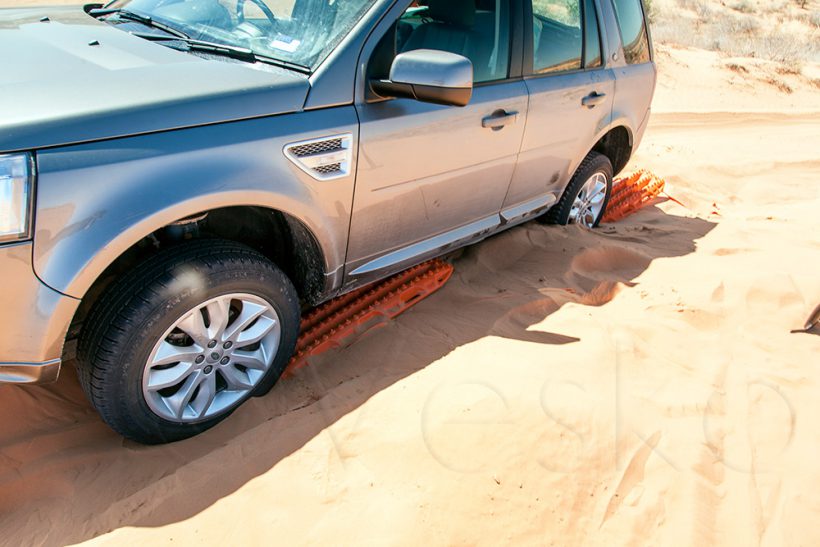 This morning I wake up very early, cook breakfast, brew my strong coffee and then I don't really enjoy them; the anxiety from yesterday is still with me. As well I'm packed up and ready to go, but afraid to set off in the dark. Left with nothing else to do, I check the tyres. They look pretty flat, so I pump them up to about 18 psi (a mistake, as I'll find out later). Then I just wait for the sun to come up.
The sky is finally crimson and I start to drive gingerly, telling myself: be slow, be patient, be slow, be patient… There are lots of crude shrubs and clay hips on the track. I crawl over them feeling real physical pain down my balls every time some of the harder branches scrape under the car. This is very unsettling feeling. Just one sharper stick would be enough to puncture the plastic fuel tank. So I keep my eyes peeled on the road.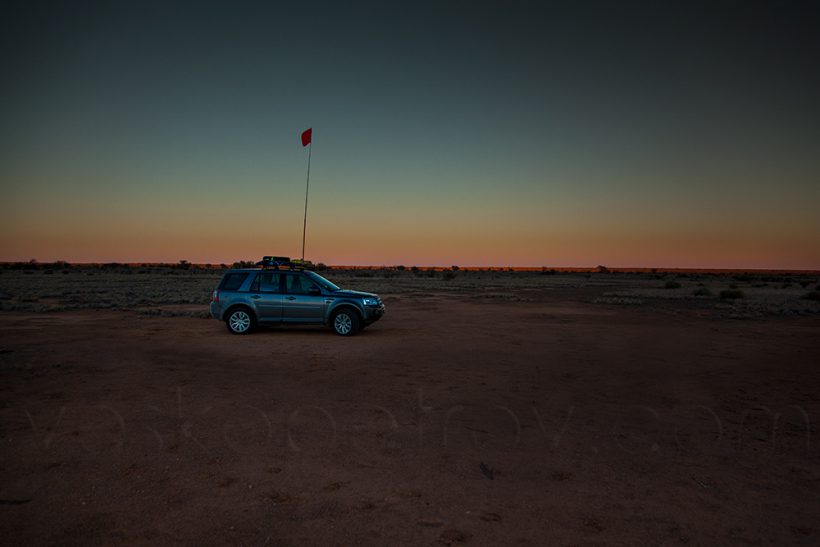 Garmin says Driving on QAA line. For some reason I expect it to be mostly sand, but instead the track is rutted clay and it seems endless. The thick bushes on both sides restrict my movement to the middle and I inevitably end up into the deep ruts left by heavier and higher vehicles. I imagine with horror how the hardened clay ridges are ripping the vulnerable belly of my Landie; I do my best to ever so gently shuffle the car over them. My only comfort at the moment is that the track is dry; if raining, this would be impossible for me!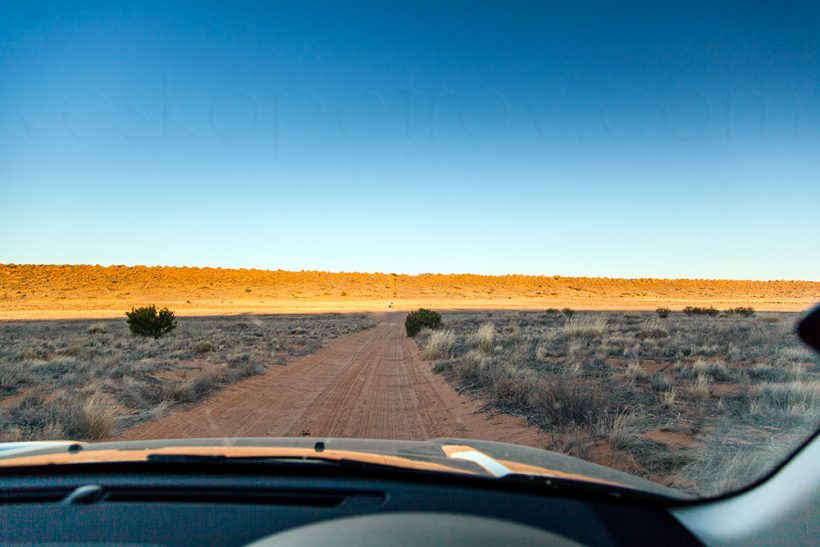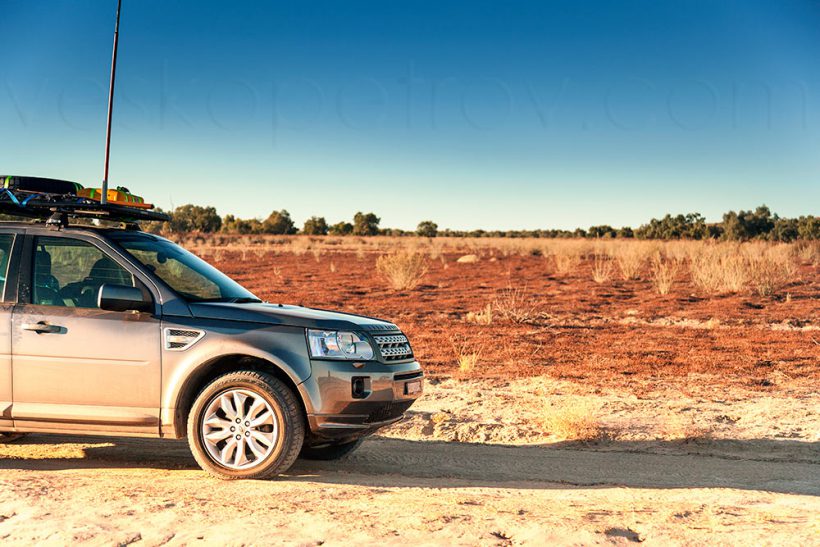 I am happy every time we hit the sand; the car drives very confidently up the dunes and I don't worry about the unprotected belly that much (and don't get this pain in the balls). I try to call my approach on channel 10, but it sounds ridiculous – what can I say: "I'm coming up the dune, be careful on the other side, hey", or shell I say "Hi, my coordinates are 25°52'20,55"South, 138°09'50,01"East, watch out for me please". Thinking about it, my mind wanders around the laws of probability theory. What are the chances for two vehicles out of say twenty currently driving in the Simpson Desert to meet at the same time for a collision on top of the very same dune (out of 1200)? Well, just when I conclude that the chances are pretty slim, this unthinkable probability happens. I guess the probability theory doesn't work here, more likely the Murphy's Law is in force.
I climb up a dune and am about to reach the top, when a massive car jumps out of there. Being slow and uphill, I stop right away, but the guy coming at me has passed the ridge and the massive bulk of his car continues to slide down. He keeps his cool though and skilfully avoids the hit by slightly changing direction (which is very lucky for me, considering his enormous bull bar). I can only sit in terror and admire the great composure with which this guy (Brian, as I will learn later) keeps the seemingly fatal situation under control.
I am stunned and only manage to apologise/thank him on channel 10 with something like "a-h-h mate that was close …" Then I am not sure what to do next. Brian solves my problem with generosity: he pulls his monster car back and a minute later calls me "Vehicle, you may approach now". Totally grateful, I start up again and listen to his conversation with someone else. They answer no worries mate; we are stopping for a cuppa… Brian sounds and looks like a tour leader/guide and they sound and look like his clients. Passing them I say an apologising hello. They smile, lifting their cups to cheer me and I think wow, what nice and tolerant guys. Later I will learn that there is some bitterness behind their smiles, but at the moment I feel really good, like I am almost accepted in some kind of a special desert wandering community.
With lifted spirits, I drive alone for a while, right up to a large, partially dry lake which appears on the map as Lake Poeppel. Along the banks of this lake I meet a few 4WD, pulling very impressive heavy duty trailers. I greet them with a smile, but they are somewhat dismayed to see me there alone and heading west, like my very existence somehow ruins their firm believes in the nature of things.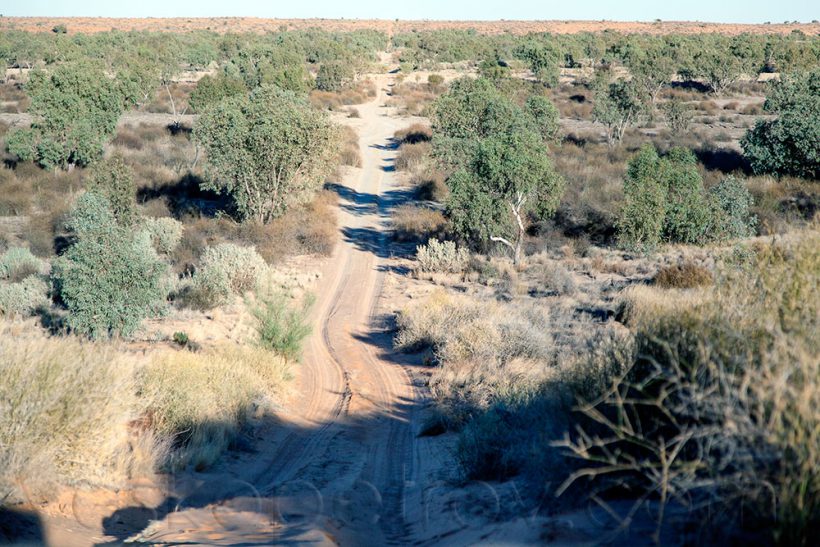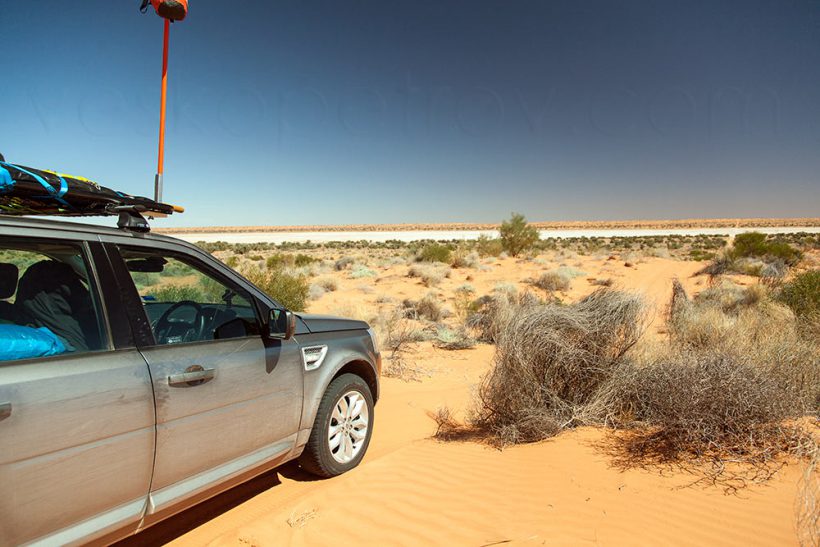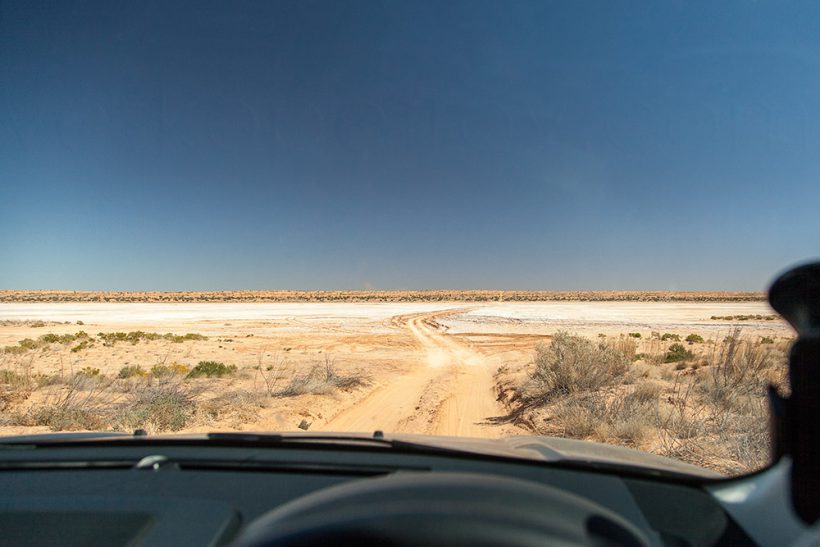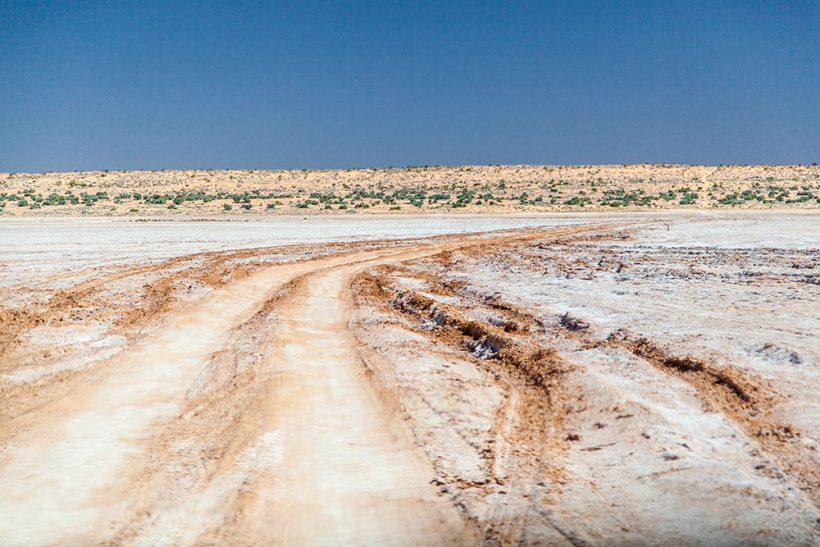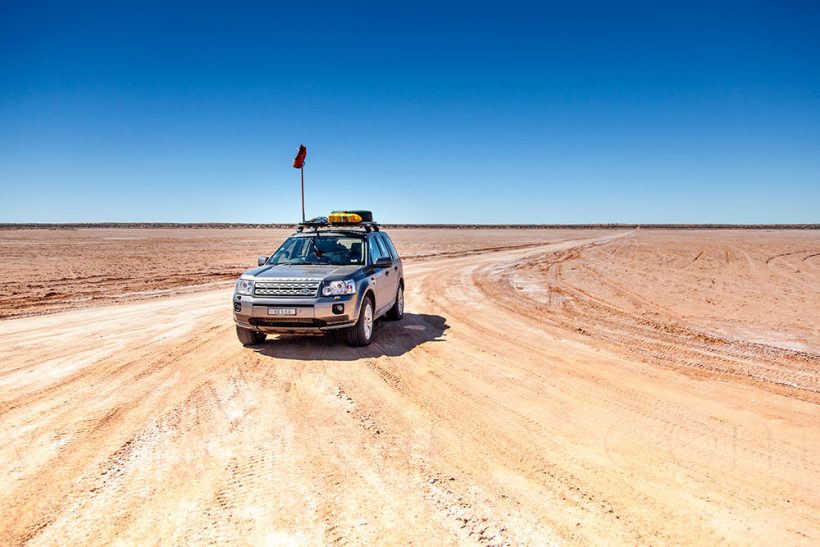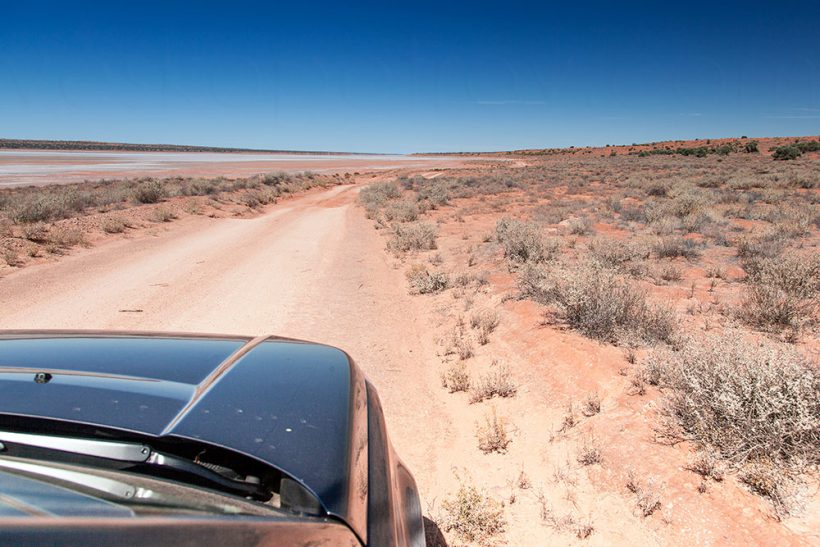 At the southern end of Lake Poeppel I leave the QAA line and finally step on the French line. More dunes come up and more dry lakes to cross. Along the way I meet a few other convoys, usually three or four very capably looking vehicles, each of them fully equipped to deal with the difficulties of the harsh terrain. The track is narrow; I always stop and wait for them to pass, hiding under my leather hat, smile and my dark glasses. You see – I'm now kind of embarrassed that I travel solo and that in comparison to their mighty machines, my Landie looks like a toy. But they are all cheerful and seem non-judgemental. I love them for that, nice people.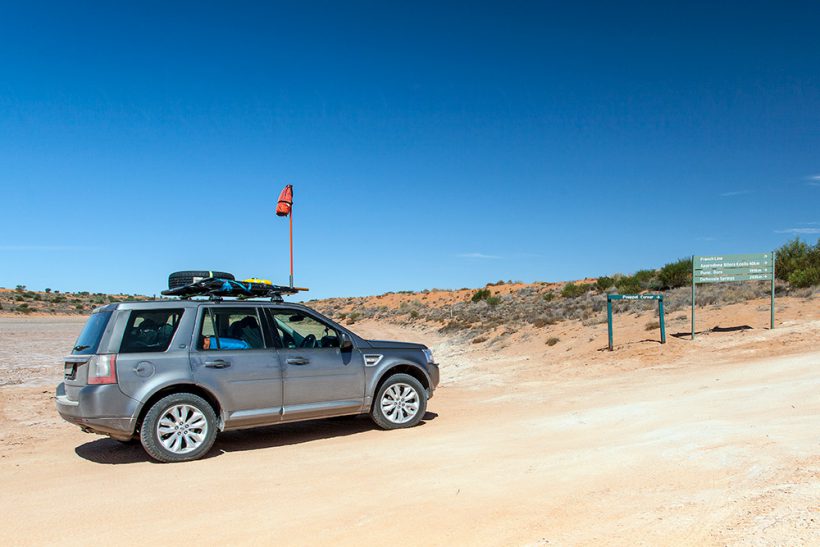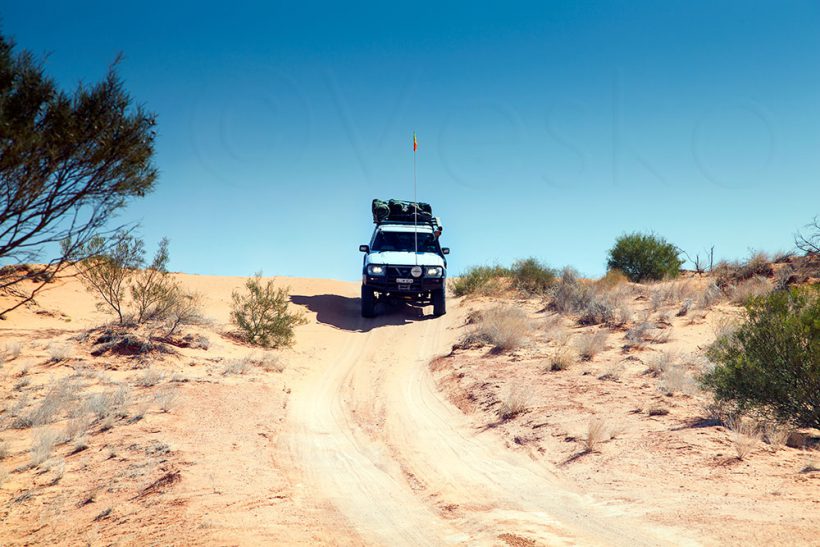 It is getting warmer now, 36°C and the sand become softer; I come to my first bog – unwittingly, I drive into the deep depressions left by the other cars and suddenly feel how the tyres sink into something softer than sand; it is like flour, so fine! The car stops moving and in panic I hit the brakes. Now it doesn't want to drive back. I step out to take a look – my Landie sits on a bed of hardened sand; tyres hanging into the powder! The problem is that I have passed the steeper section of the dune and cannot use the car weight to just slide back, but there is still some more to climb.
What are my options now: call the NRMA for help, or option two: pull up my sleeves and help myself? I decide that the latter would be more feasible, so I unstrap the MaxTrax and the shovel from the roof rack and start digging, getting tired pretty quickly under the burning sun, grateful that I have the leather hat to protect me.
It doesn't work! I clear the sand behind the tyres, stick in the MaxTrax there and try to drive out the way I've seen many times on YouTube. Nope, the wheels spin scraping the MaxTrax plastics and nothing happens, the car is like planted on the spot. I realise it will stay planted until I do something about the sand underneath. I have an exhaust air jack, which would take time to set up and I decide to use it as a last resort. For now I continue digging with the shovel under the car…
Believe me friends; this is a lot of digging! Around the wheels the sand is powder, but under the car it is packed hard as rock. It takes me more than an hour, lots of sweating and swearing and lots of burned calories to somewhat brake the sand support under the car. It is not fully cleared, but I try my luck with the MaxTrax. This time the car shuffles a bit and is finally released, out of the bog and back down the dune.
Before attempting to drive up again I pause for a while to devise a clever strategy. The spot is tricky; to avoid the powdery section I must drive close to the edge of the dune. It is too close for my liking, the car would inevitably roll over and this would surely be the end of my adventure. So I put the MaxTrax onto the bog holes, drop the tyre pressure down to 12 psi and start up again, this time with more speed. Yes, I make it to the top, driving over the MaxTrax, but I am shaken. What would I do if it gets worse?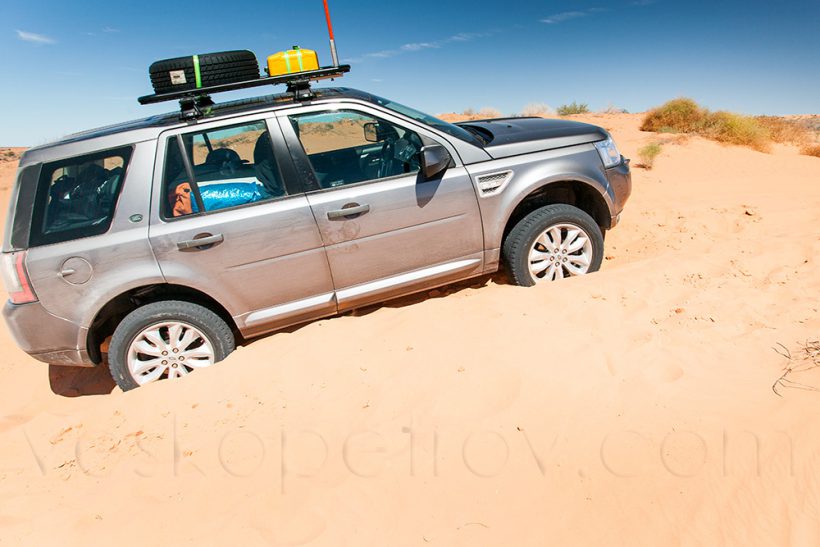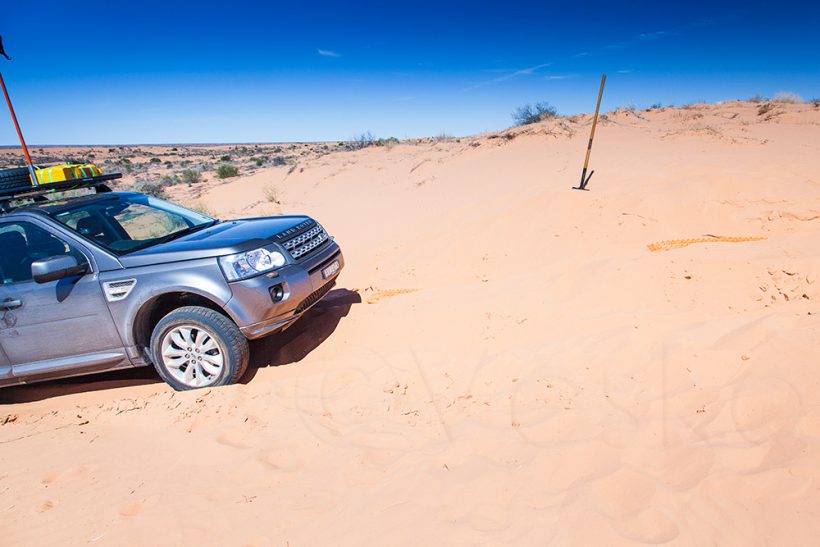 But of course my friends, it does get worse. Remember, Murphy's Law applies here – a few kilometres later I am bogged down again, and again by hitting the brakes in panic. This time I notice that the symbol for HDC (Hill Descent Control) flashes on the control panel and then the car is somewhat blocked. This is puzzling and makes me think that there is some kind of electronic connection between the sand driving mode and the hitting of the brakes. From now on, I must keep my foot away from the brakes. Luckily the second bog happens on a steeper section and the MaxTrax work well to reverse back without much digging.
No, I don't give up; I persist pushing along the French line, gaining experience as I go. Now I start to recognise the powdery sand well before I get there and learn how to avoid it, mostly by choosing clever angles to keep the tyres away from those treacherously deep holes. I become fierce in my resolution not to allow any more time/energy consuming bogs and manage to stay in constant motion. Just a few times, at some of the steeper dunes, I have to reverse back for a second go, trying different approach or higher speed, but there are no more bogs.
It is a slow and hard going, very tiring. My whole body is constantly on the edge, muscles flexed, nerves stretched to a breaking point in anticipation for the next difficulty. It feels like I carry the Landie on my back over the dunes and not the other way around. Late in the afternoon I'm totally exhausted, but my spirits are still so high, that I can continue like this forever. Luckily I pass an intersection with some very inviting bushes for a camp and I snap out of my driving trance to realise that this would be a perfect spot for the night. As I make my camp, I check the maps to find that I have arrived at the Erabena Track Turnoff and feel a bit disappointed – for my eleven or twelve hours of hard driving today, I've managed to cover only about 190 km.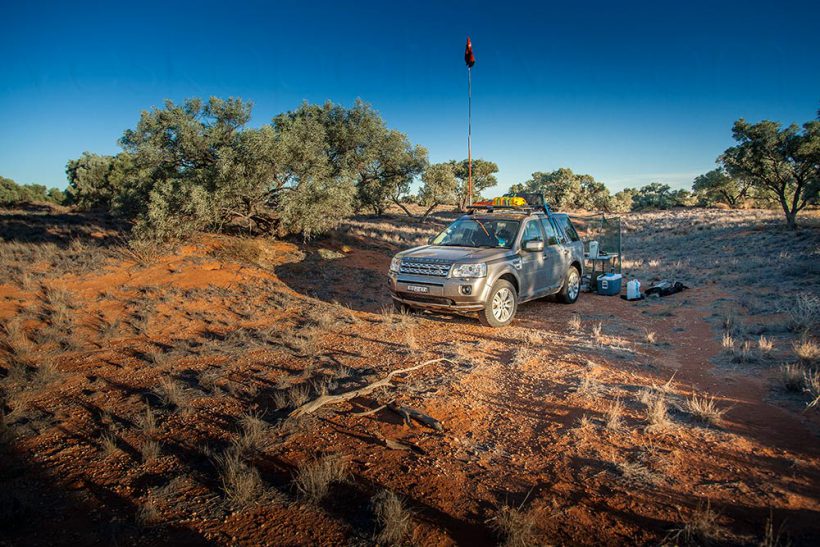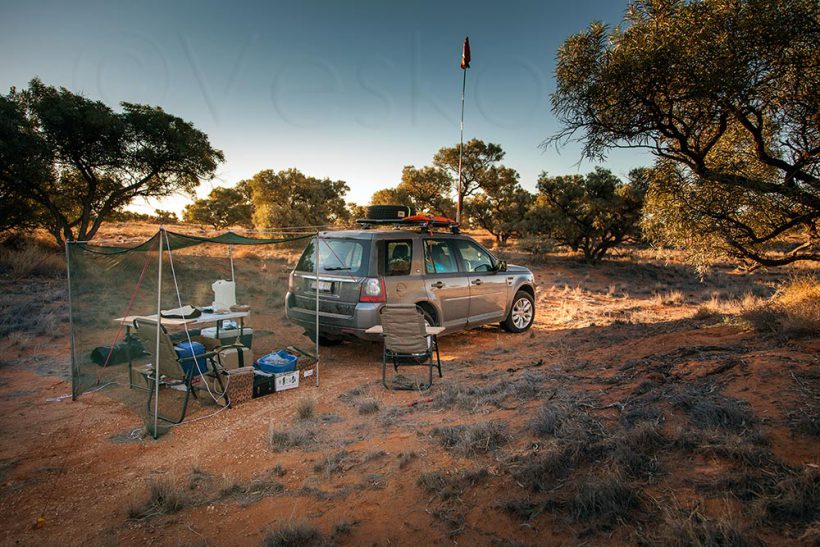 Disappointed or not, I indulge myself with a "shower" tonight. There is so much dust sand mixed with sweat in my hair and between my toes that I cannot stand it. I strip naked under the stars and step into a bucket to soap wash myself using a jar to splash water on my head. It feels like a 5 star luxury treatment. While washing, I imagine something funny: a hungry dingo sneaking behind and biting Vesko's irresistible white butt. I chuckle to myself, but look around the darkness, just in case. When I emerge from the bucket, I am a totally new man (with only 6.5 litters of water used).
Stay with me friends, tomorrow I will continue my dash into the Simpson Desert.