Simpson Desert and Dalhousie Springs
This is the follow up of Simpson Desert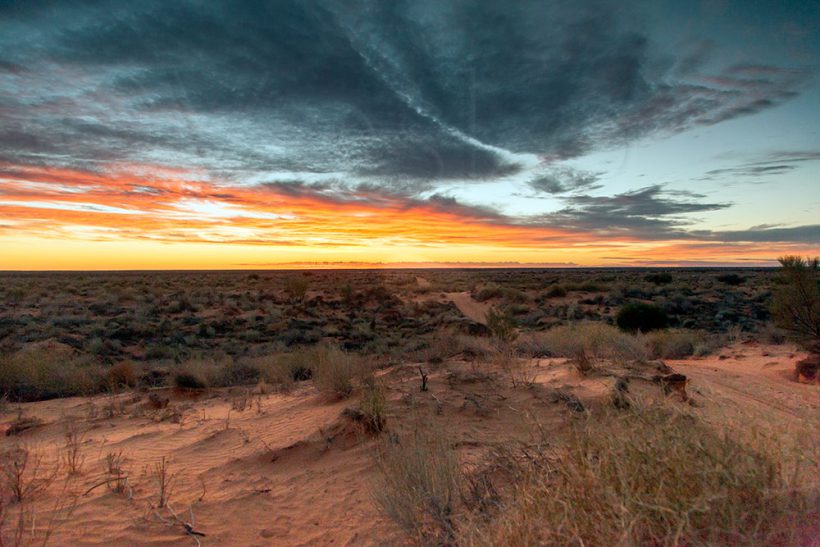 Early in the morning I have an encounter with a monster! It's still dark and while I get about my business to pack up the camp, I see a large shape looming on the hill above me. Its burning eyes follow my movements – much larger than a possum and much bolder. In my dark fear I'm convinced this must be a Tasmanian tiger, never mind that the tiger is long gone.
The monster stands its grounds. It doesn't move even when I growl at it like a wolf. Only when I grab the shovel and start to hit the bushes with it, the creature moves reluctantly away to reveal that it is actually a dingo. Then I find the mess around the camp. Someone has drunk the grey water in the bucket, the rubbish is spread around and one of my dirty shoes is missing. I find the shoe taken about 20 meters away from the camp. What would a dingo want with my smelly shoe?! I scan the darkness around the camp and there it is – the dingo is watching me from the other side. Better to move quickly, I am not sure if the dingos are capable of hunting together like the European wolfs. But I move quickly not before cooking myself a mighty breakfast with a delicious strong coffee (constantly watching over my shoulder). Better to eat well for the big day ahead of me. And it proves to be a massive day!
At 6.00 am I am on the track. It goes well, though a bit slow. I am determined not to get bogged today – it takes too long to retrieve the vehicle and too much energy, so I go slowly. From time to time I switch the UHF radio on channel 10 and say: "Good morning people. Anyone driving the French line west to east? Anyone driving the French line west to east?" I am surprised that only minutes later I get a reply. Another solo dude, riding heavier vehicle has the same idea like me for early morning drive, but in the opposite direction. We communicate well and about an hour later we meet for a brief chat on a dry lake bed. He warns me that the track ahead is quite damaged. In return I am not sure how to describe the track ahead of him. I simply don't have criteria (experience) for comparison.
This dude is very nice. I feel for him that the rising sun will be shooting him in the eyes as he drives east. He believes that people lagging trailers behind are responsible for the unpleasant rhythmical depressions in the sand, which make me crawl slower than walking every time before and after a climb. Without them the French line would've been a pleasure for sand driving.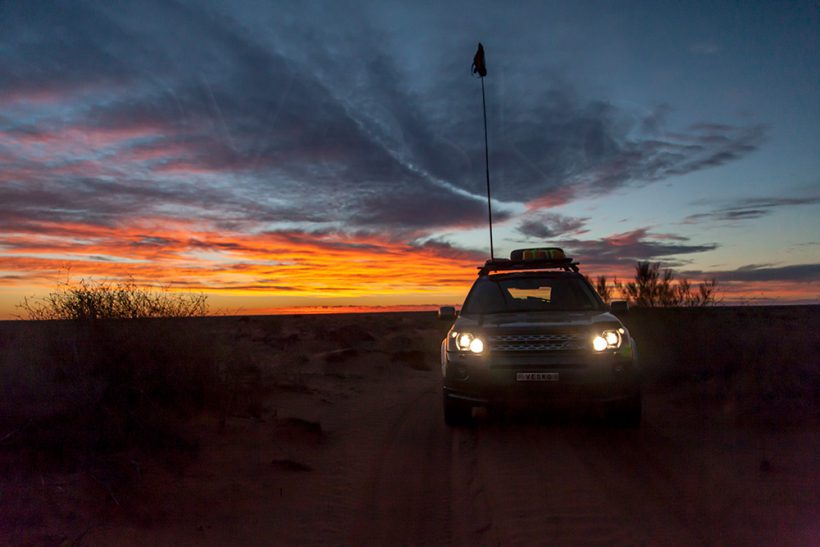 I continue, now much more confident. There are some real big dunes! For them I switch on the sand program, switch off the DSC (Dynamic Stability Control) and drive up slowly. Every time I am impressed how capable the Freelander 2 is. Every time it looks impossible, but every time it crawls steady up to the top, sways gracefully to the left and dives down into the soft sand on the other side. Only twice or trice I have to reverse back and try different angles to avoid the fluffy sand or some of the larger holes dug by the trailers (shame on them).
I am proud to report that today I don't allow any bogs; my Landie drives over the remaining dunes of the French line without much drama. Come to think of it, now I realise that the yesterday's bogging was my own doing, when gripped by fear I was hitting the brakes (a habit). Today I learn that this leads to some kind of wheels block which makes the reverse even on a hill impossible for a while.
I also realise that I don't need the sand program to be engaged all the time. The normal program is also good for driving in the sand and for climbing some of the smaller dunes.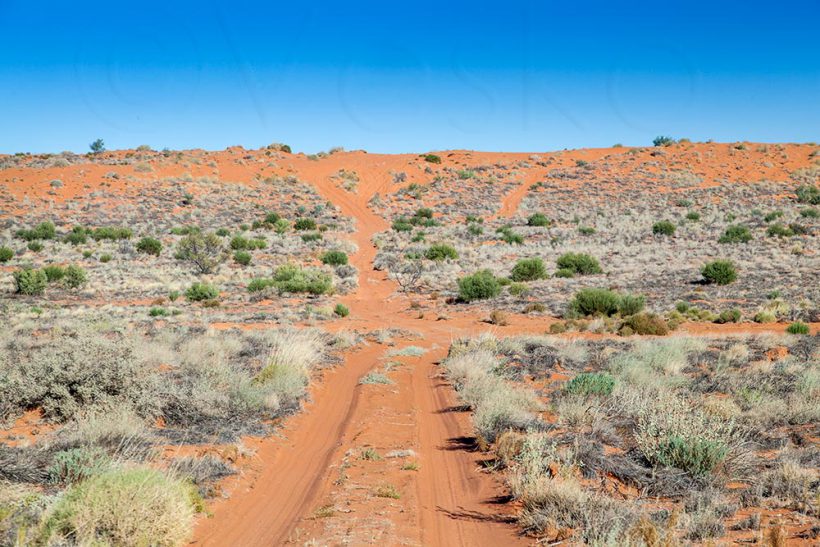 Now that I know how to use my UHF radio, I call often and establish early contact with the driving parties heading my way. All of them drive heavy, strong suspended and lifted cars and all of them are at least five to seven in a convoy. Some cannot hide their dismay, seeing me solo with my Landie. I keep my cool, I just climb the next dune unfazed by their stares.
When the temperature hits the high thirties, I am not relaxed, I am thinking about the engine overheating, but the engine doesn't seem to be stressed even with the biggest dunes. It seems the automatic transmission has some kind of mechanism to shut something down and protect the engine – this is just brilliant technology.
Later in the day another fear creeps into my mind: with all this bouncing around for hours on end, how would the suspension survive, I've seen those tiny metal sticks and springs holding the wheels. Compared to the heavy metals that all of the cars I meet are wearing, they look like a joke. No wonder that some of my fellows Simmo-crossers stare at my wheels with dismay. Yes, I am shaking with fear, but the Landie stays with me, it doesn't overheat and it doesn't break its tiny metal bits while jumping into the millions rhythmical depressions along the track. In return I'm super careful, crawling down sometimes slower than 2 km/h.
The desert doesn't care about my fears or doubts; it stays beautiful all the time, despite changing colours and shapes with my progress.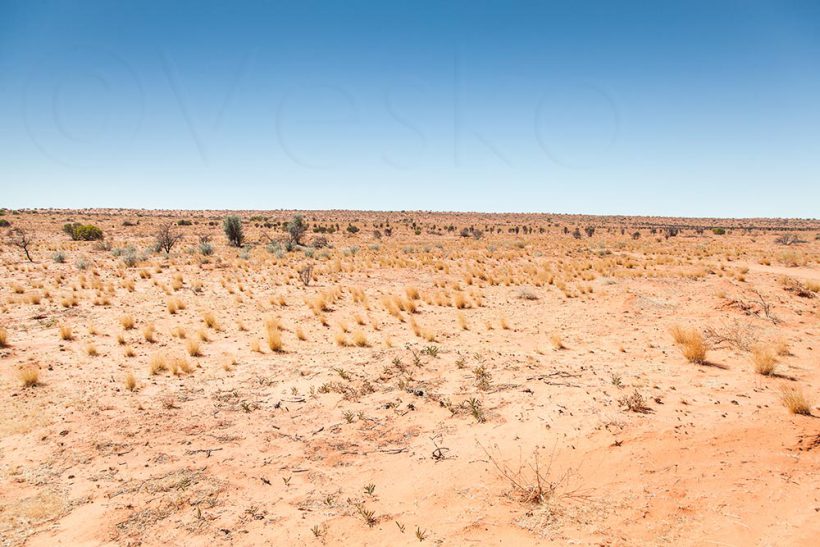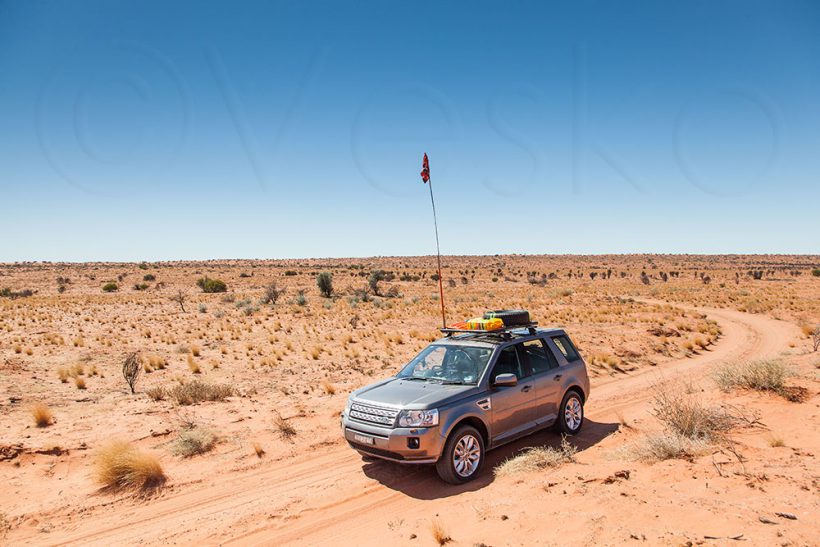 I am planning to make a short ran today, similar to what I did yesterday, and to stop for the night perhaps at Purni Bore, but when I get there it is still early. I also realize I might be late for the randevu with my girl at the Uluru airport, planned for two days later.
Around Purni Bore I start to hit clay sections and the speed goes up to 30, even 40 km/h. It's a wonderful feeling after a day of 5 to 10 km/h crawl. I don't stop at the intended place for camp. I enjoy the ride too much and decide to press on a bit longer in the remaining daylight. With this speed I might even have the chance to camp at Dalhousie springs. So I drive…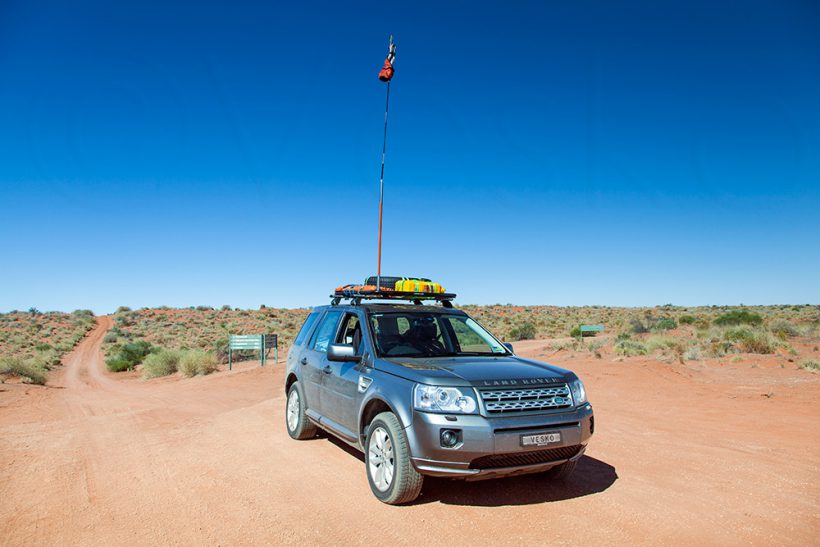 I drive and soon the dunes finish and a massively open plain starts. The road however doesn't get any better. There is some horrid stone desert surrounding Dalhousie springs and the track is full of large rocks. Later Mike will tell me that this is Sturt Stony Desert. It is impossible to avoid the large rocks on the track. They make the car vibrate and shake so violently, I feel something is going brake any moment. Again I slow down to 10, 15 km/h, but then a few cars fitted with massive tyres overtake me with great speed. I cross my hart and press the accelerator, jumping up to 80, 90 km/h. The ride becomes more comfortable. My nerves however don't hold for too long, the fear of a broken suspension or a blown tyre returns and I slow down again.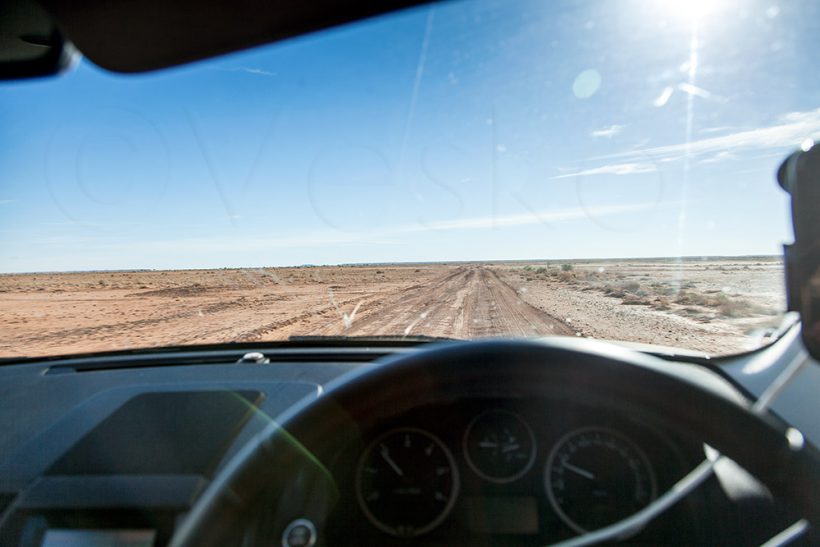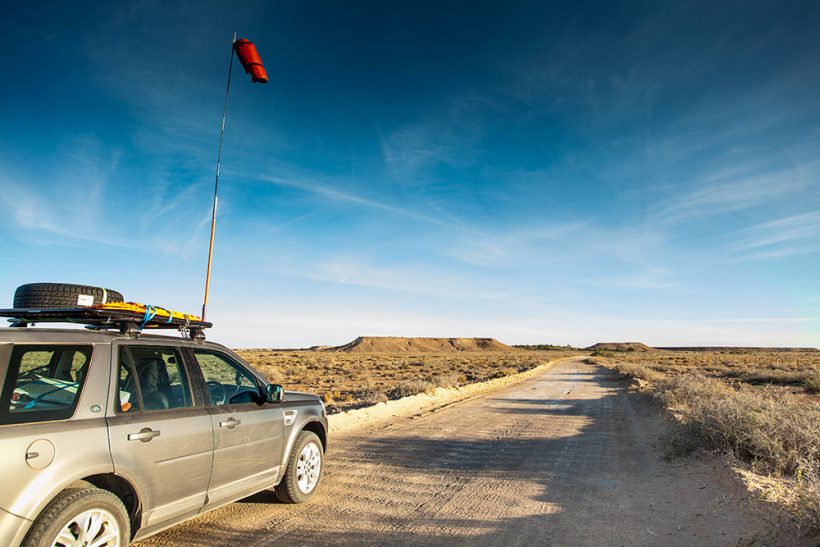 I'm so happy to reach Dalhousie springs! It's a wonderful feeling of achievement mixed with total exhaustion. Physically and emotionally drained, I take my time to set up camp. Amazingly, here I meet a fellow owner of a Freelander 2. At Dalhousie springs of all places! He is just starting his Simpson Desert crossing and seems a bit anxious about how his Freelander 2 will cope with Simpson Desert. I try to put him at ease, but then he mentions that he will be in the company of another 36 or so much bigger Land Rovers and I shut up. I wish him good luck.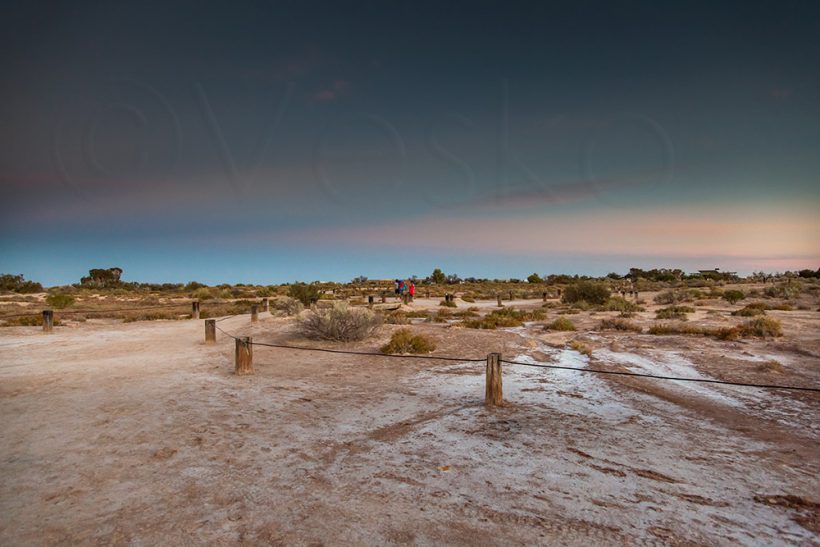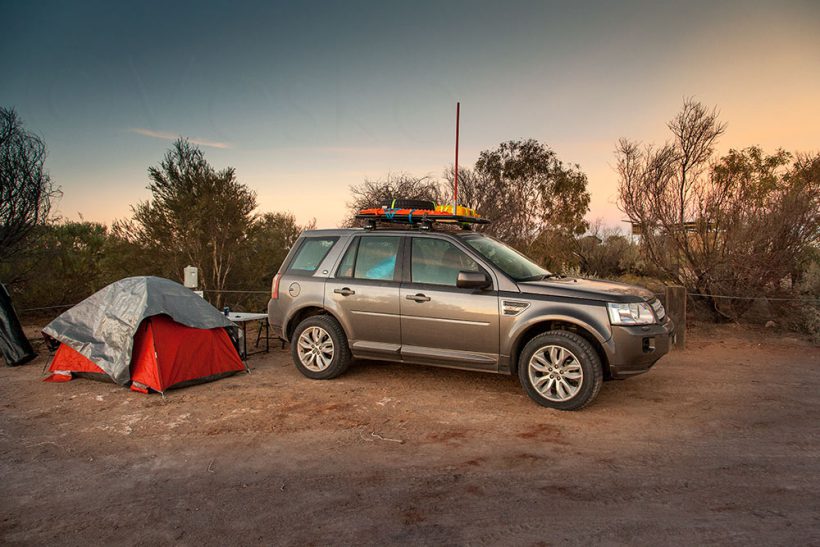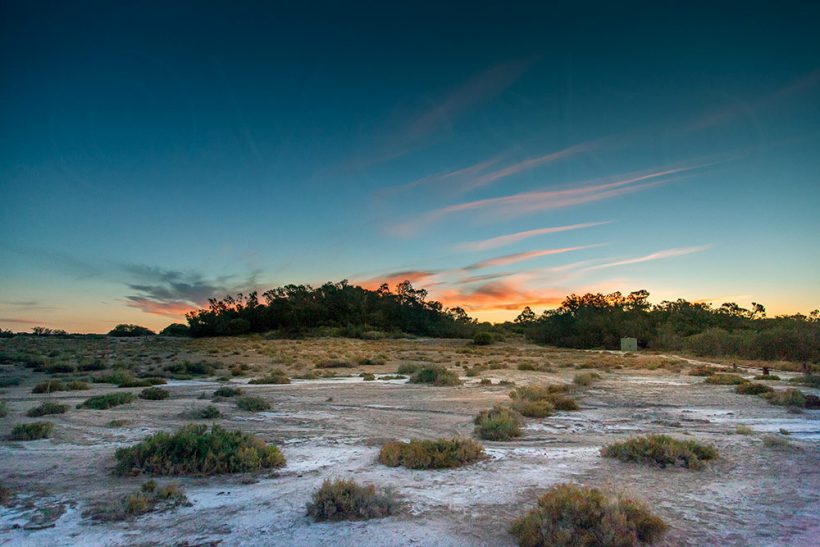 Tonight I cook BBQ for diner, fry French fries and drink beer. Then, when it is dark and the other campers have gone to bed, I find the springs, strip naked and immerse myself into the constant 36º C water. This is total happiness after the enormous stress of the day. Strange small fish nibbles at my toes, while the bright lady moon keeps me company.
Stay with me friends, tomorrow I will continue my trip to the Red Centre.