Or rather a hair raising experience climbing Mt. Pinnibar.
Well, it was a hair rising experience only for me. The forum member Mike didn't even flinch at the danger. But let me start from the beginning.
To "go places" I got new tyres (Geolandar A/T – S 245/70/17 ) and to fit them on, I got new 17" rims, which when you look at them, stay on the skinny side of the alloys. I wasn't thinking clearly in my excitement to acquire them from a greedy tyre&wheel retailer in Western Sydney. When I learned that I have a chance to meet Mike (who is my role model in true solo traveling) in the wilderness of High Country Victoria I was very excited, but then I imagined how my skinny alloys brake on a steep hill and I tumble down a ravine (Landie, heavy accent and all) and become a liability, something I could never allow. You see the rating on the alloys say max 650 kg each. Four times that is 2 600 kg and I was disappointed to measure my Landie empty with only my fat arse in it at the local Waste Management Centre, to be 2 020kg.
I start thinking how to keep the extra weight under control. I measure every single item (extra tyre, recovery gear, food, water, clothes the lot). The best I can manage is 300 kg, which is too close for comfort. So I am almost relieved, when I don't find Mike's dark Jeep at Tom Grogging camping ground, like I am avoiding a deadly challenge. But at the same time I am also disappointed that I will not have a challenge.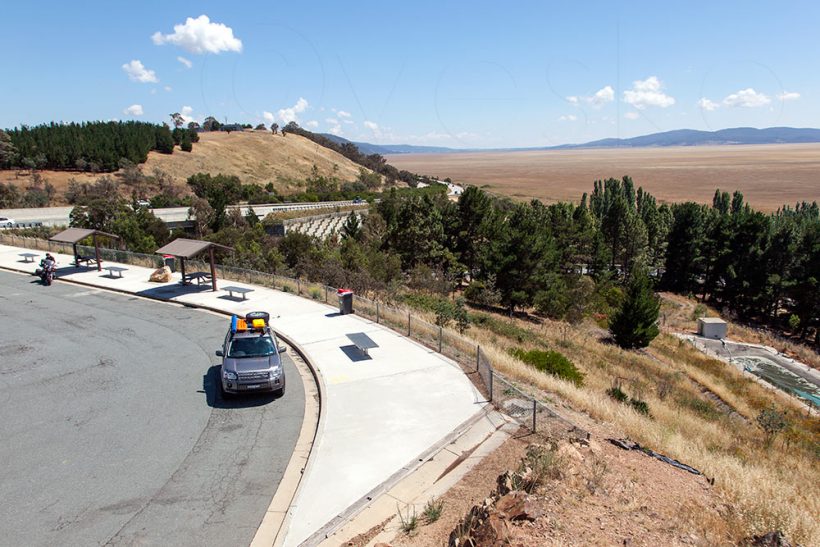 Tom Grogging camping ground is lovely, if not for the torrential rain which is pouring down from the skies. Ha, I am thinking – Mike saw the rain and chickened out. Undeterred I set up my camp; mainly pulling out the deck umbrella and securing it with a few pegs against the wind (see the photos). It is not as quick as I am hoping, but boy – it's effective for the envy of the few fellow campers at Tom Grogging camping ground, struggling with their large tarp sheets.
Then just before dark a lights miracle happens – for a very short moment the sun breaks the clouds and we are treated with an amazing double rainbow.
The rain never stops tonight. Under my umbrella I light up the charcoal BBQ and roast a few lamb cutlets for dinner. M-m, delicious with my strong alcoholic drink. The night is very cold but I enjoy the rain with the nice heath radiating from the glowing charcoals. My fazed alcoholic mind makes some rough plans for tomorrow to drive on the tarmac, safe n'sound to Omeo. Without Mike I wouldn't dare cross the river into Victoria. Or would I?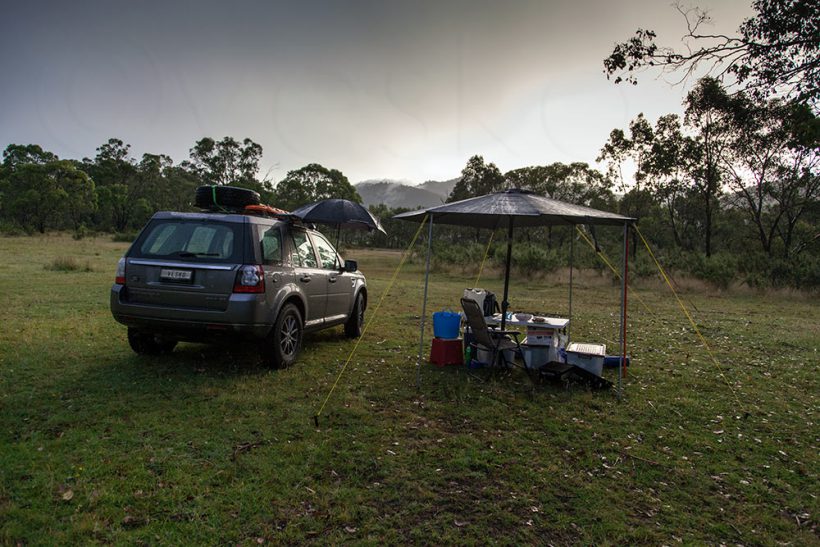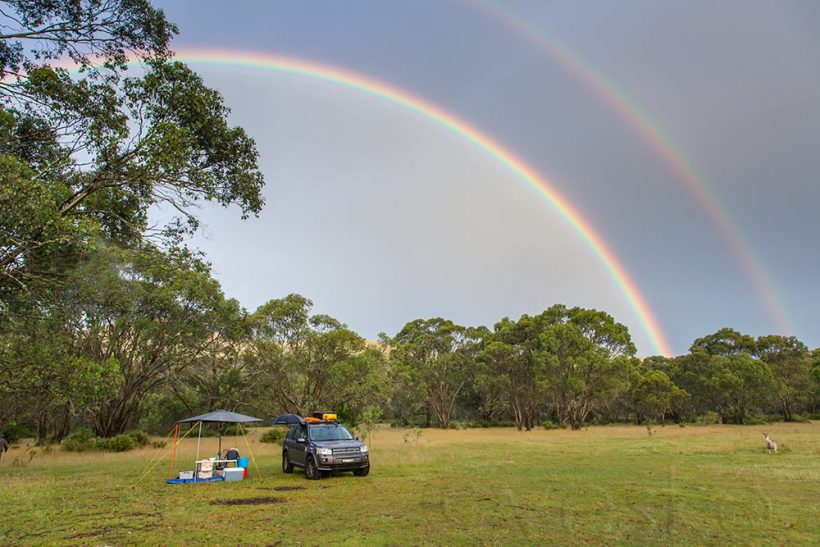 The question whether to cross the river into Victoria stays with me until the morning, when I cook myself a hearty breakfast with my strong delicious coffee. At this early moment, when everybody else is still asleep, Tom Grogging camping ground is a fairy tale of a place, with the magical fog enveloping the trees and the ever present kangaroos nibbling the grass around.
Then just like that Mike's black Cherokee stops next to my Landie. I am startled, but happy – there will be a challenge for me today after all. We start with the river crossing. Mike is concerned the current is quite strong for my Landie (combined with my first time crossing), but I do well across the river and love it. Then in the huge forest that follows, we come to our (actually mine) first steep ascend. There is a couple of straggling Toyotas, blocking the way. To climb it they need some extra power run with the gas pedal down to the bottom. Looking at those high suspended vehicles straggling up, I'm very concerned, but Mike just says you wouldn't have a problem and he is right – I switch on "Mud and ruts" program and start to crawl slowly up. O my! Where is the straggle I was expecting? My Landie climbs up the hill and there is not a moment I feel it's not going to make it. Now I want some more.
Well, there is more – we continue and soon we get to another steep hill. This time the track is blocked by a Disco, tilted back and side in very unnatural angle with the right back wheel stuck in a deep ditch. A Disco of all vehicles in the World! There are two more cars, whose drivers are fussing around the Disco's winch, which obviously doesn't work.
How could this happen, we wander? It happened in the storm last night, explain the occupants of the car. With the winch failing they spend the night in the tilted car (while I had a cosy sleep at Tom Grogging camping ground). You should've pulled up the tent, jokes Mike pointing to the roof top tent on the Disco, but the sour owner of the Disco doesn't get it or chooses to ignore (I would be very sour myself if my Landie was stuck like this). It's a good joke, considering the impossible angle of the Disco and what follows next. Mike just says I will pull you out… I can't believe my ears. The hill is so steep; it is hard to climb on foot, pulling a heavy Disco out of the deep ditch seems unimaginable. Well, it happens – Mike drives around the Disco, joins a snatch strap with a few winch extension straps, slides down a bit then drives up and voila – the Disco comes out of its treacherous hole. So much for them waiting all night, and hoping the NRMA would come sometime in the afternoon to help them.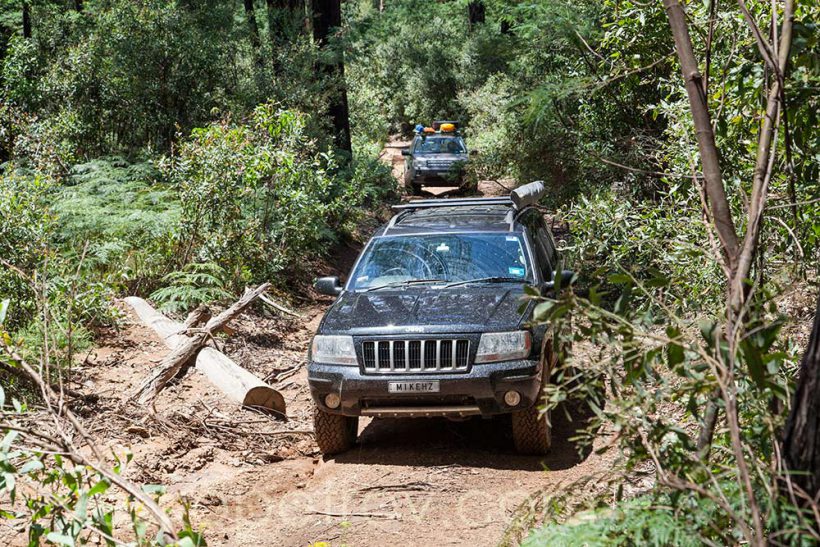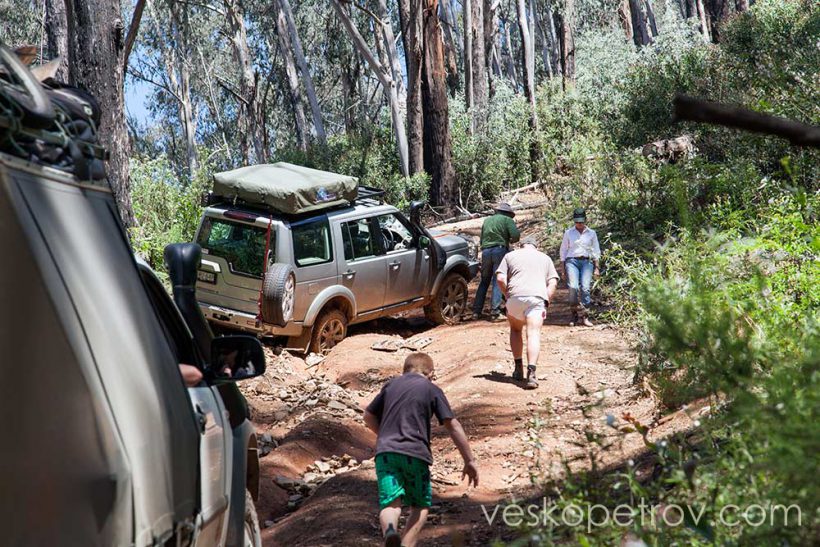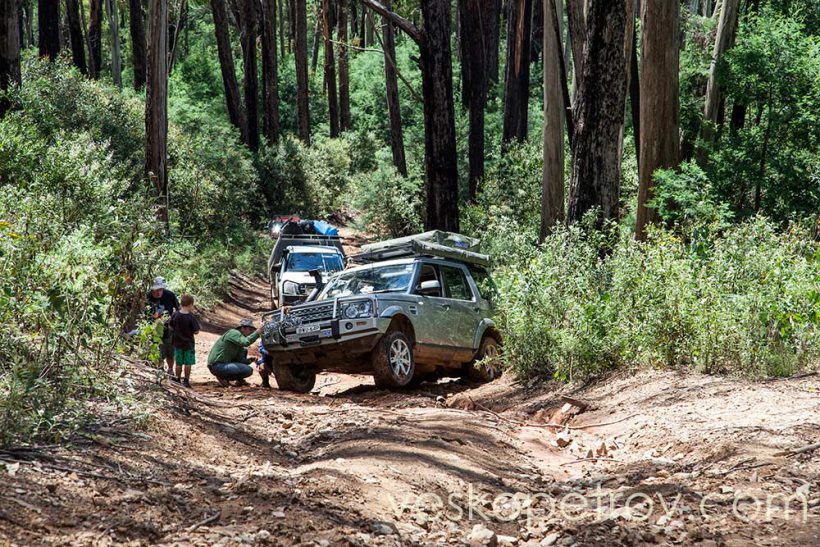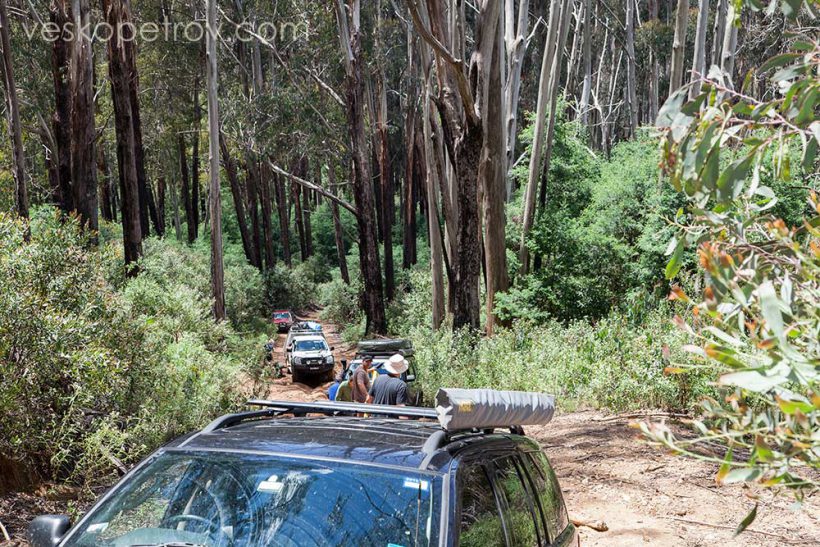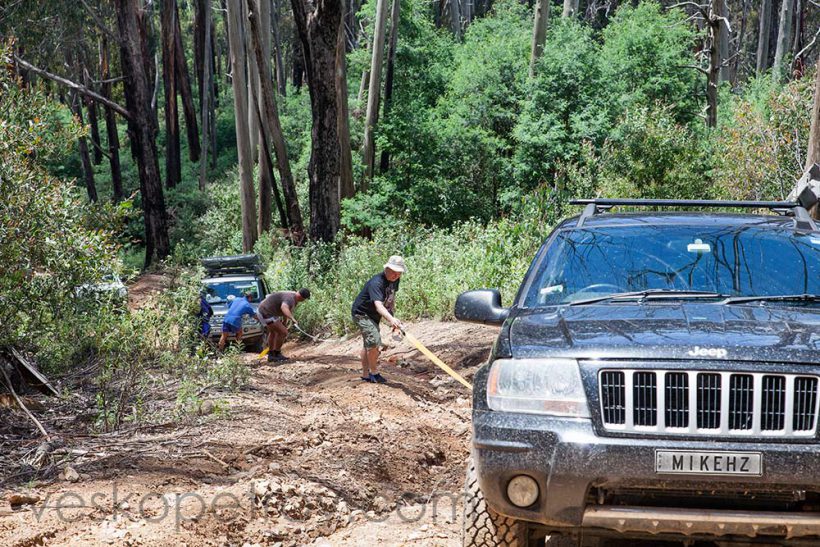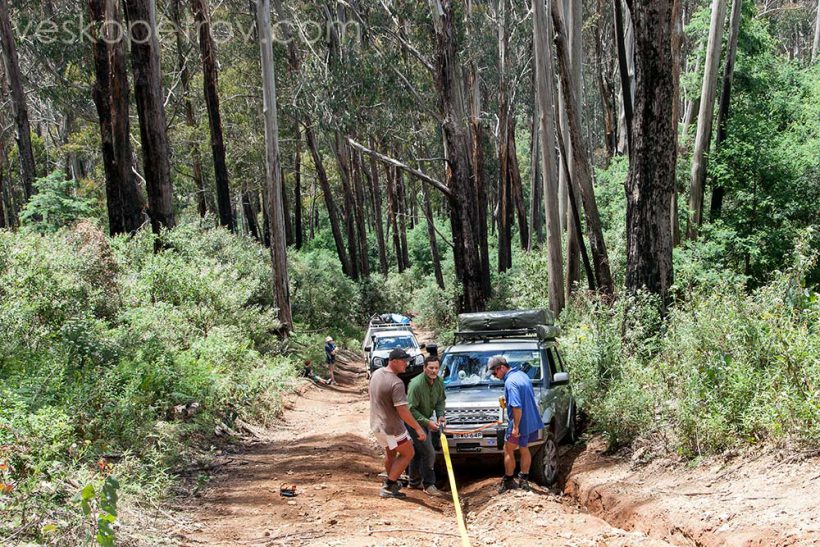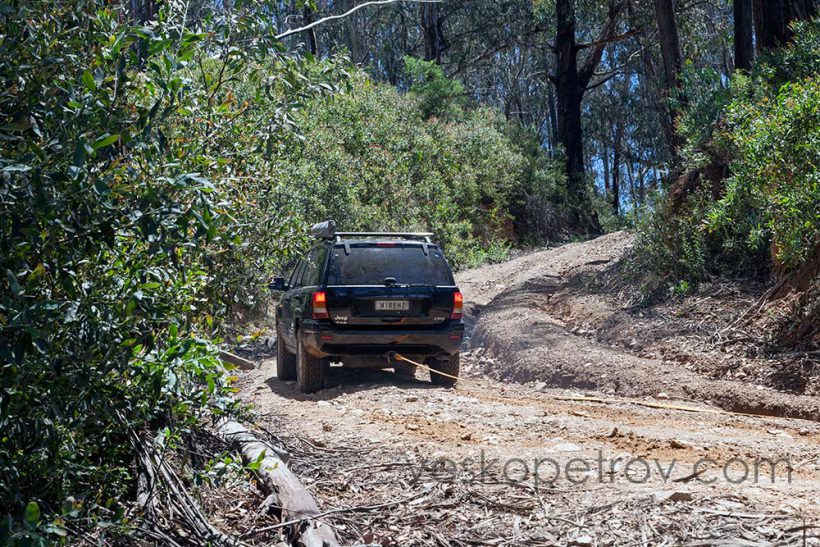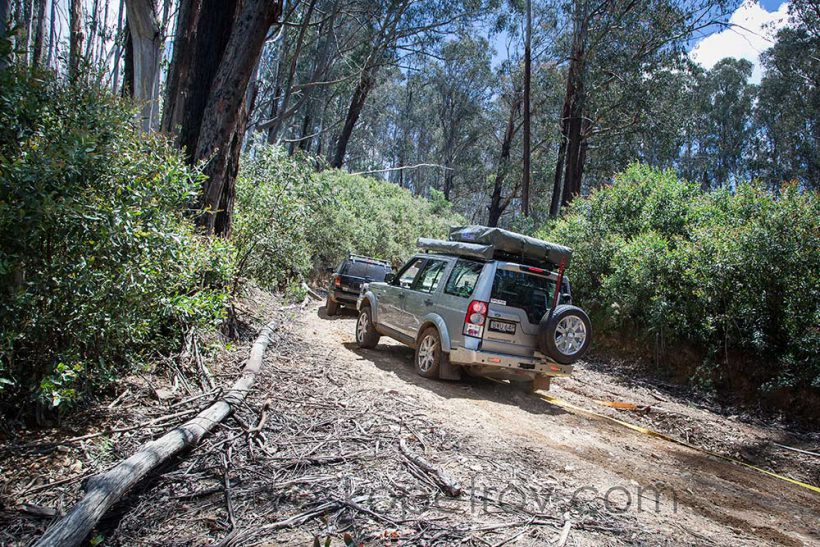 The Disco lady looks very grateful, the Disco dude not so much, busying himself with packing up his staff. Mike doesn't care that much for gratefulness, he is driving back down to assist me if I get stuck. In all of this excitement I forget that now that the track is clear and all of the waiting vehicles drive up, it is my turn to climb a hill where a Disco failed. Yes, it is not fair to say such a thing about a Disco, but that doesn't make me less nervous. I should not be – the Landie handle the challenge really well. Only a few times a wheel would spin a rotation or so, something would click down there and the car would continue on its way up. I just hold my nerves steady not to panic and press the gas pedal to the bottom like the Toyota drivers earlier.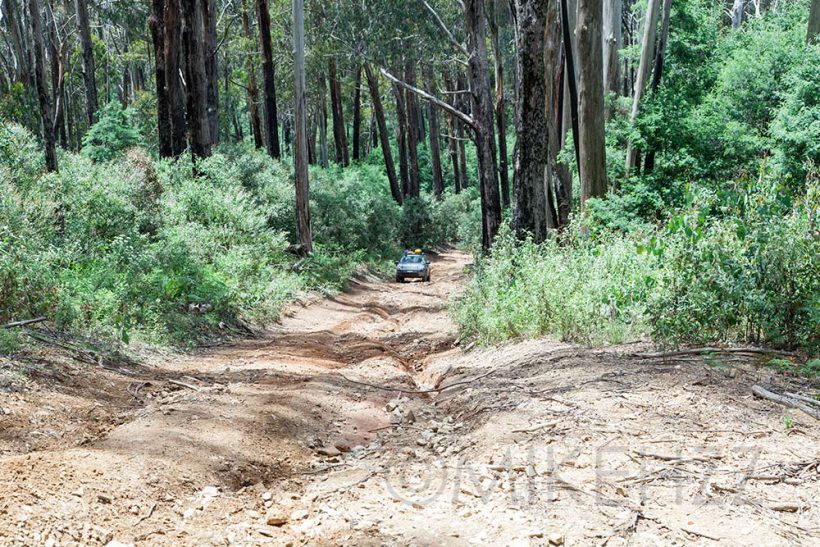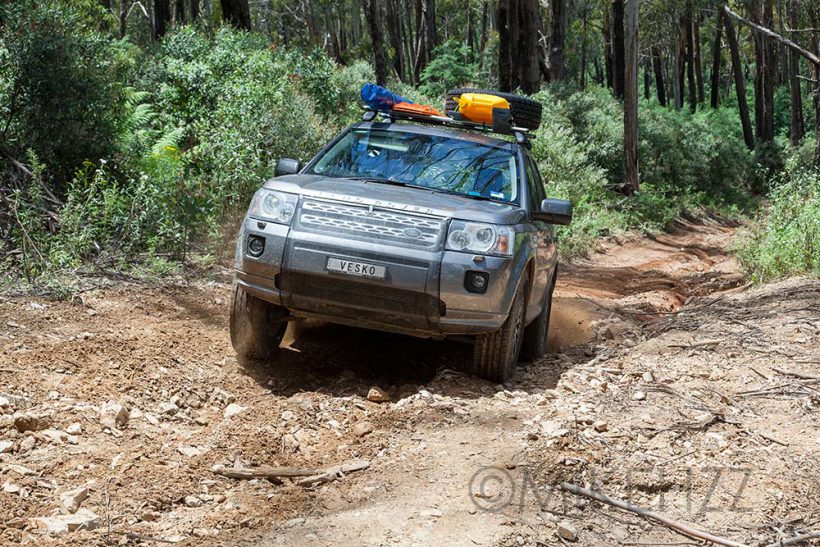 If I thought the "stuck Disco hill" is hard, I was wrong. More even steeper hills follow on our way but inevitably with Mike's instructions on channel 15, the Landie is doing the hard work, stepping over loose rock, biting into the mud, avoiding the deep ruts and slowly but surely climbing up.
I am not devastated when the car loses power and a warning comes up saying "Transmission fluids overheat, slow down". It was expected after Mike experienced it a few times around here. I just stop the car for a few minutes, then all is good again.
Soon with our climb the vegetation changes. The lash forest disappears and we start to pass low, crooked bushes weirdly bent by strong winds. Then lo and behold – there is the summit, sticking up there forever, unmoved by our little dramas. The party we met at the stuck Disco is already celebrating with tea and beer, eating biscuits. Everyone is elated and happy.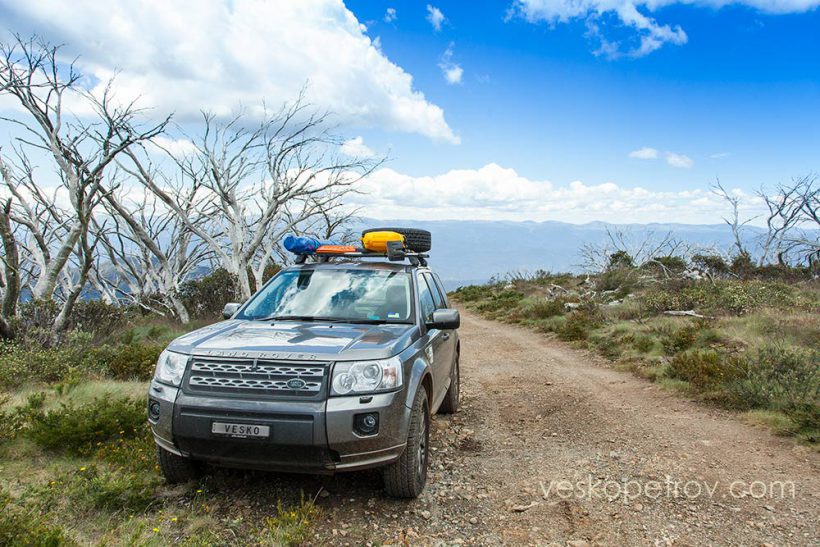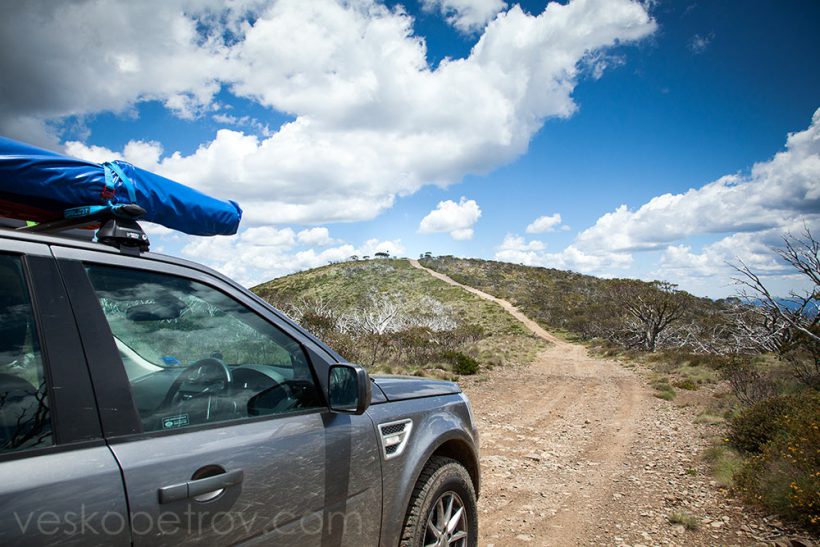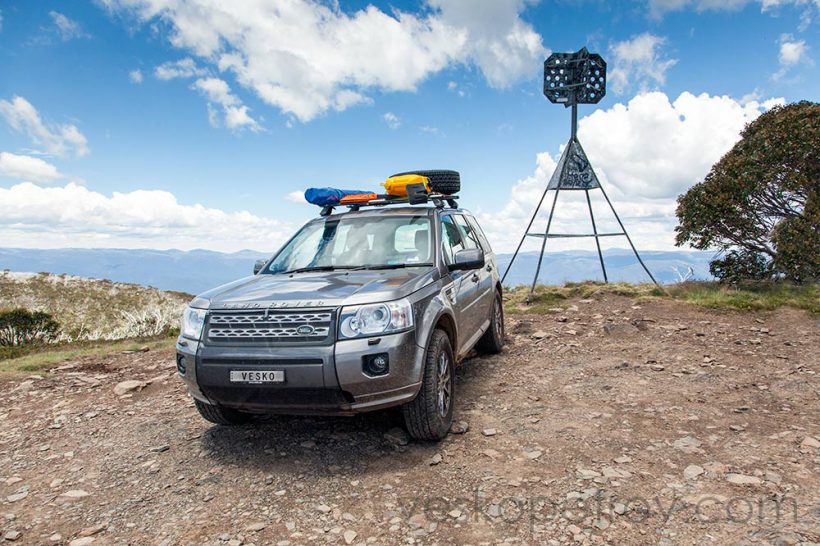 Now we have two choices to get to Benambra-Corryong Road. Mike chooses the shorter one – the Shady Creek Upper Track. Shorter means steeper I guess. I thought downhill is not going to be a problem, but the track is again so steep – it feels like the car would flip overhead any moment (remember my fear for the skinny alloys braking under the pressure). There are also little elevations on the track, the one that channel the storm water, which make the front of the car move up and hide what follows down next – could be a deep hole, could be a sharp rock. No way of seeing and avoiding it. This is particularly terrifying. The descent is so long, it feels like the hill would never end. Sliding down I'm hanging on for dear life, palms sweating, hearth pumping, all my hopes resting on the hill descent system. And I am so grateful to the person who invented it – works brilliantly.
The terrifying steep hill ends, but at the bottom I find Mike not jubilant. He is in fact very quiet, looking thoughtfully at a small creek separating us from the next hill. Seeing the creek myself, I realize that this would be my biggest challenge yet. To me it seems impossible – the entry point is very steep, the middle very deep, a few big rocks obstruct the river bed and there are deep, very hard to avoid muddy trenches at the exit.
Mike goes in first and his Jeep gets across without a problem, but when it is my turn, I hit one of the big rocks and the car stops in the middle of the river. I panic, pull back, switch on "mud and ruts" and drive Toyota style into the trenches in desperation. My Landie must love me; it shakes violently, bouncing left and right in the mud, but against all the odds pulls up on the other side.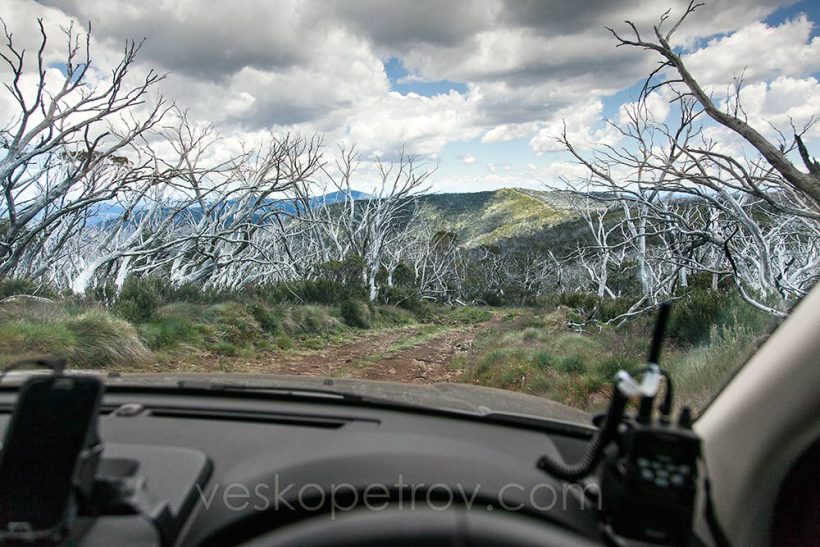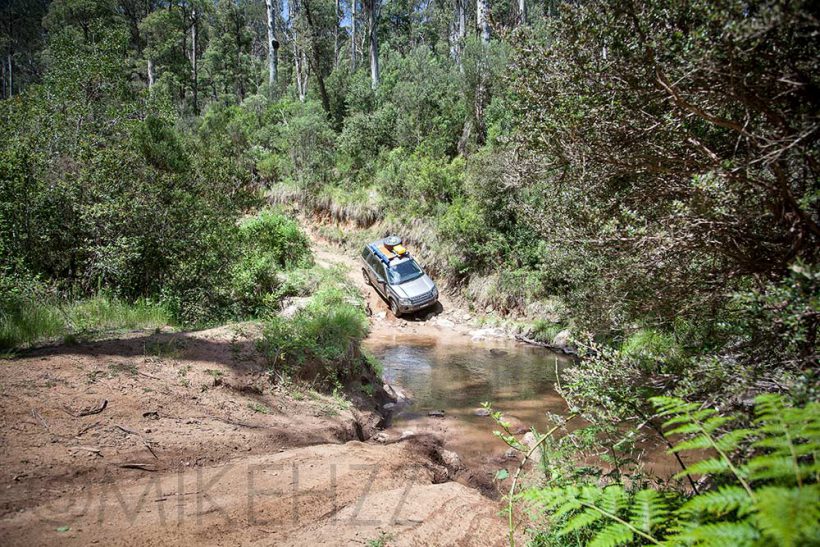 I am so relieved that I survived the challenges today, I cannot but let my imagination run wild. Yes, we decide to stop the night at Paddy Joy Camping Area. This is a small place, but plenty for both of us. We are just setting our camp, when what else, but two Victorian girls each driving a Hilux and a Patrol turn up. Initially they ask Mike for directions, but then the girls show concern that it is getting late and ask if they can share our camp. I can see they are attracted to Mike, who can win anyone with his mild manners. Well, we make space to accommodate them… Then, enjoying a drink around the camp fire, a special friendship develops between Land Rover/Jeep and Toyota/Nissan drivers. This proves to be one remarkable evening. But I'm not going to bore you with details.
My story is nearly finished, even though there is still a remarkable trip ahead of me. The next day I will continue to Omeo, then down to Swifts Creek, back through Cassilis, up to Dinner Plain and Hotham Heights, down to Dargo for a couple of beers, up to the historic Grant, down to Talbotville, up again to the Great Alpine Road, Harrietville, Bright, Mansfield, Mt Buller, Yea and finally to Melbourne, where I'll pick up my girl from the airport for a great New Year's Eve Party and a nice drive along the coast back to Sydney. Cheers!
Below is a random selection of images from the following days: