Lost in Madras
This is the follow up of Arriving in Madras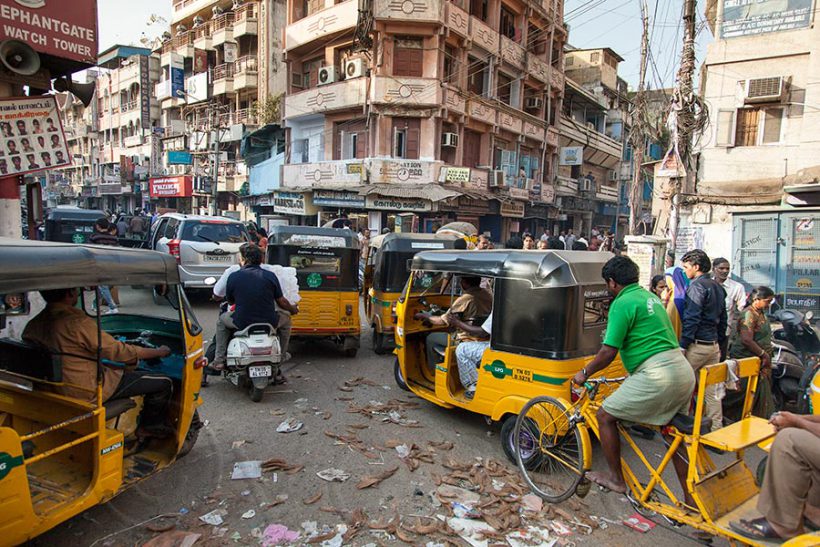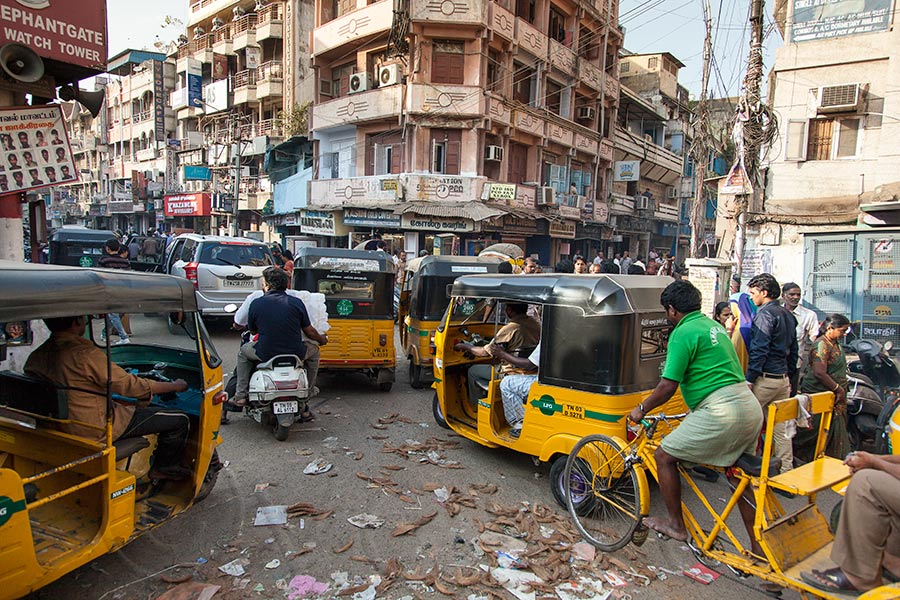 It starts quite boring with the complimentary breakfast at the YWCA and the unsuccessful attempt to use the guesthouse's Wi-Fi (100 rupees). The receptionist not only takes my 100 rupees for non-working internet, but also "forgets" to return 250 rupees from the 2 000 I pay for the room (the total being 1 750). He simply prints a receipt for 2 000. I let it go, preserving my good humour. Perhaps he is punishing me for my selfishness last night.
Outside YWCA grounds, a few auto-rickshaws are waiting for me. A hundred and fifty, says the rickshaw wallah, when I ask him how much to Spencer Plaza (I plan to find an Indian sim card for my smartphone). Nice try, I say – I'll give you fifty. One hundred, he tries again. No, fifty! OK he smiles and away we go with the noise and the dust of the morning traffic.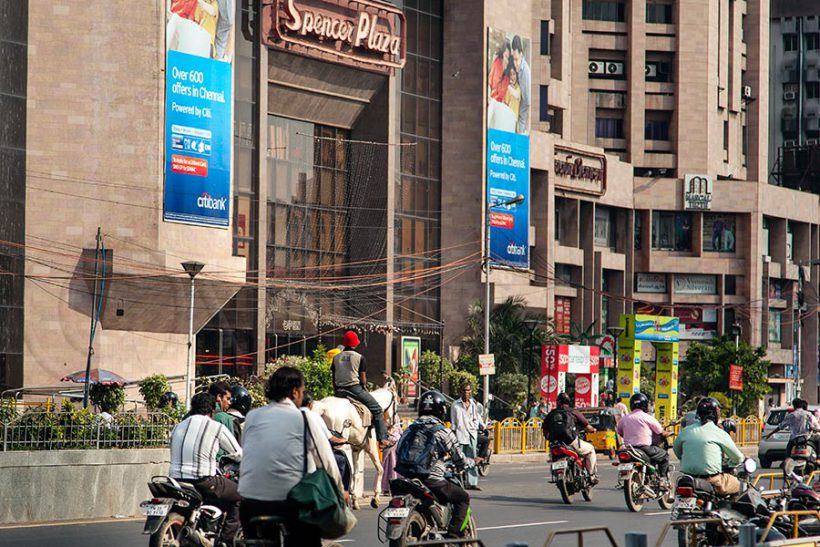 It's still 9 o'clock and the shopping centre opens at 10. I decide to find the Tourist Information Centre. It's already oppressively hot, the main shopping street Anna Salai is lined with dirty and abandoned buildings. In front of them I notice strange, sharp metal spikes. I walk a little up and down the road enduring all of this honking traffic and feel depressed. The Tourist Information Centre is still locked at 9.30am, despite the opening time of 9.00am. I am about to give up, when a guy arrives on a motorbike and smiles that he'll open it now. I spot the same metal spikes in front of the centre and ask him if they are used for the yoga gurus to lie down on them. On the contrary, he smiles; the spikes prevent the homeless people to lie down and to use the space as a toilet during the night. I am a bit sad for the homeless people, but then indeed, there is no smell of human waste here like everywhere else. I get a tourist map of Chennai and learn how to catch a bus for my next destination tomorrow.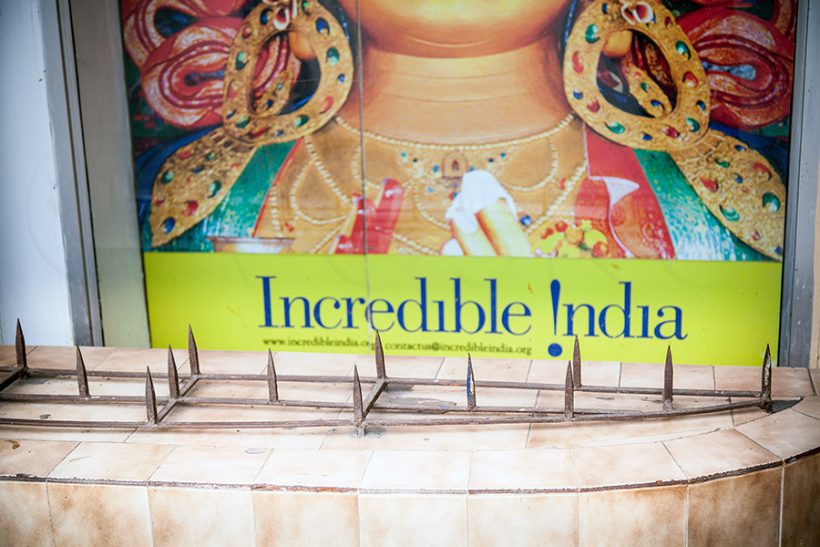 Spencer Plaza is finally open, but only for the numerous sari shops (with the most insistent shopkeepers in the world). They all try to pull me in their shops. I resist them vigorously and wander around like a headless fly. Spenser Plaza is a maze of narrow tunnels with small cubicles of shops, spread on four levels. While looking for the mobile phone places, I get lost a few times, but then I smell cooking and see people crowding around a coffee/chai cubicle. A young bloke cooks breakfast for 20 rupees – kind of a pancake with some sort of masala on the top, while his stunningly beautiful wife prepares coffees and teas at the back. I cannot resist the food and sit down to have one with a coffee. Everyone comes to watch me eat. They seem very happy to chat with me and I practise my few Tamil words, plus I practice eating with fingers (of the right hand), trying at the same time not to stare too much at the beautiful wife.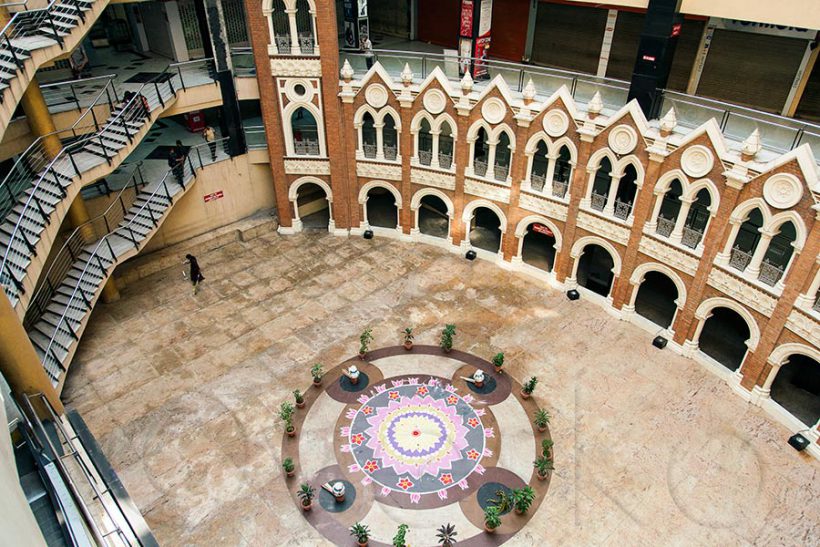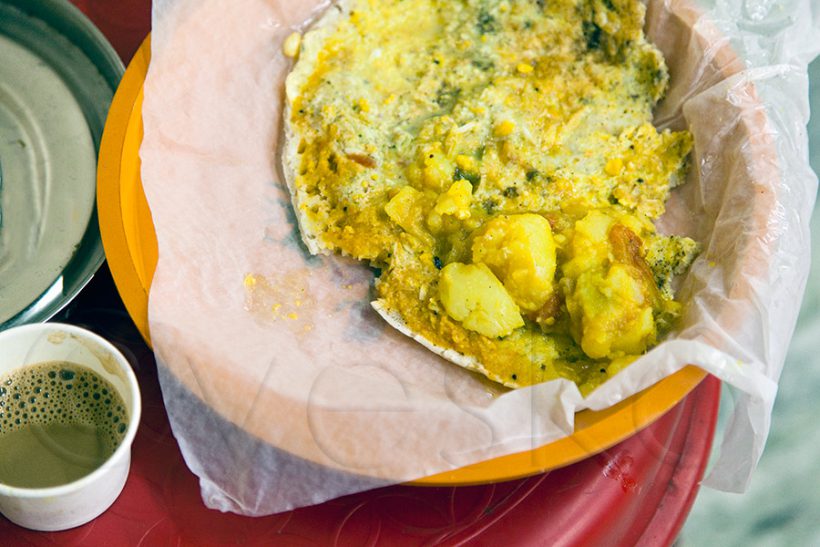 The mobile phones shops are last to open and none of them have the Airtel card I planned to buy. What a waste of time – it's already 11am. Luckily one of them sells Tata DoCoMo. They promise it will work in Tamil Nadu and I pay 600 rupees for the card and for cutting it into a micro-sim. Internet with it is very slow, but still works – I manage to send an email to my girl in Australia, telling her how much I love her (but not about the beautiful coffee maker I saw earlier).
It's now midday and I start the long walk to Marina Beach, Chennai's famous beach promenade. I try to walk in the shadow of the buildings wandering why the many walking locals don't go there, choosing instead to share the road with the crazy moto-rickshawas. Well, just after a few meters, I run quickly to join them, chased away by the strong smells of urine and the unpleasant objects you will encounter if you walk close to the buildings. The Indian men don't shy to relieve themselves even in a broad daylight.
Along the way I realise that the touts in Chennai are no match for the experience I gained in Delhi and Rajasthan, few years back. Comparatively in Madras I am a total pro and instead of getting stressed out, I am having fun with them. I stop for chai (6 rupees), and then I stop for papaya (15 rupees), admiring the enormous papaya fruits.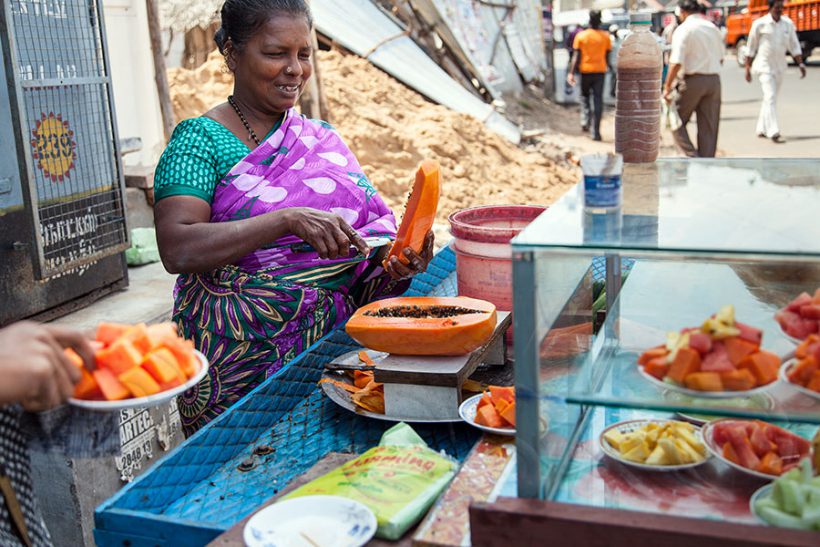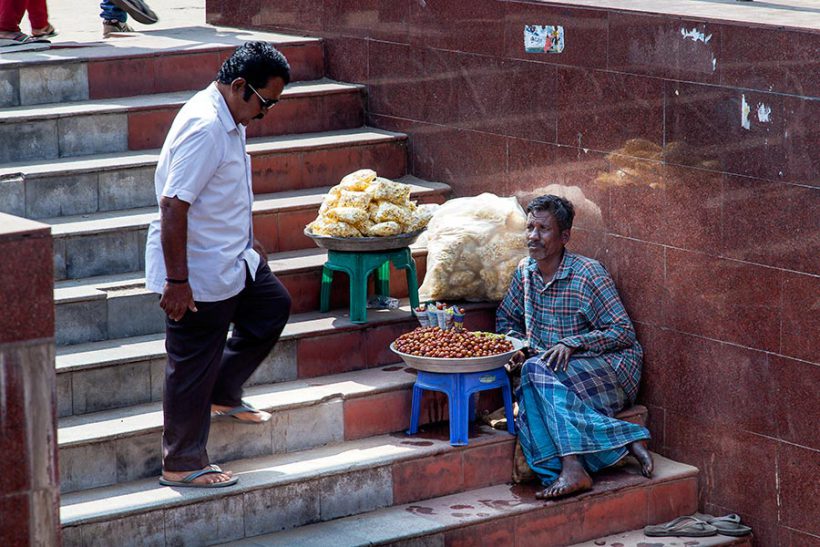 At the fruit cart I learn about the humility of Tamil people. The fruit lady doesn't get my question about the price. A poor looking character, who already eats his papaya, understands my hopelessness and simply gives the woman 15 of his own rupees to treat me a portion of the fresh papaya. Judging by his appearance, I consider him a beggar and try to give him back 20, even 30 rupees, but the man flatly refuses with gestures Welcome to Madras! I am left with the embarrassment of my stupid prejudices. First lesson of many!
Marina Beach is a strange place – hot and dusty. And yet – it is full of Indian people, who obviously enjoy themselves. They walk leisurely on the burning sand and buy sugary drinks from the many stalls lined up everywhere. Marina Beach is not my place, I continue to Fort St George, hoping that it will be more interesting. It's getting hotter with every minute. Luckily, there are carts for freshly cut fruit – papaya, watermelon and pineapple. The walk is endless; I start to regret my insistence on walking, instead of hopping on a rickshaw.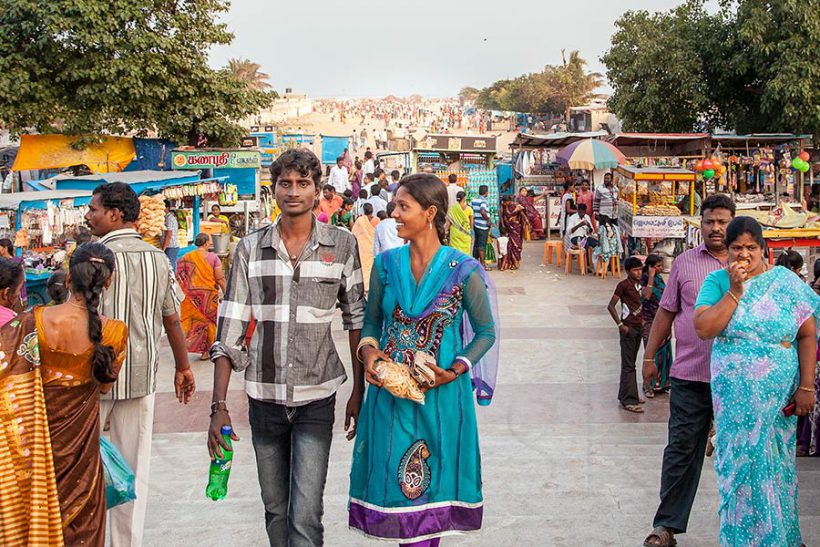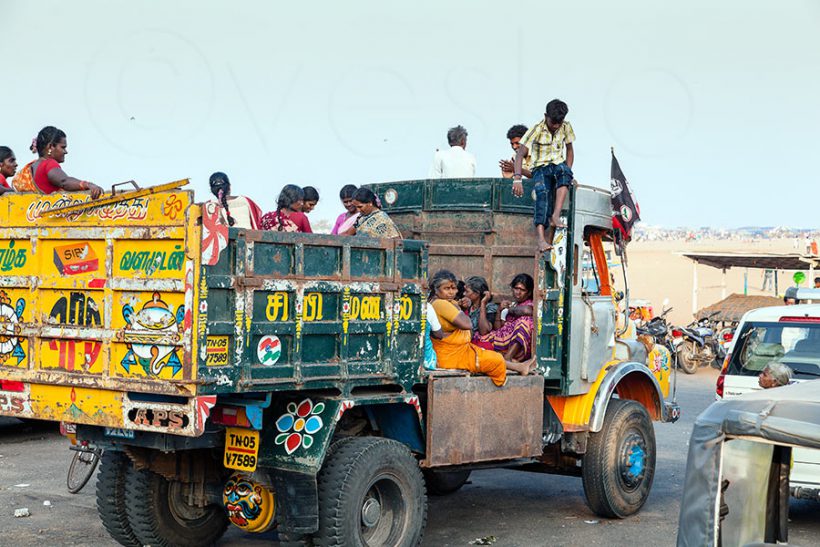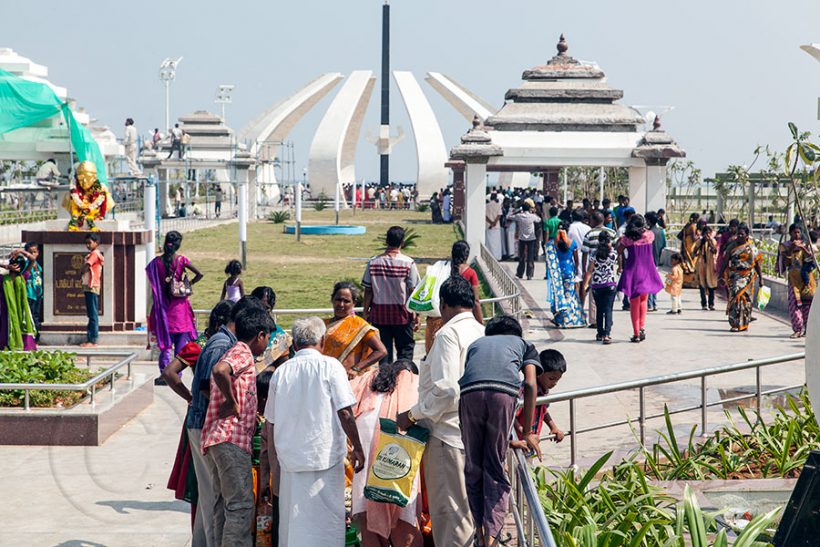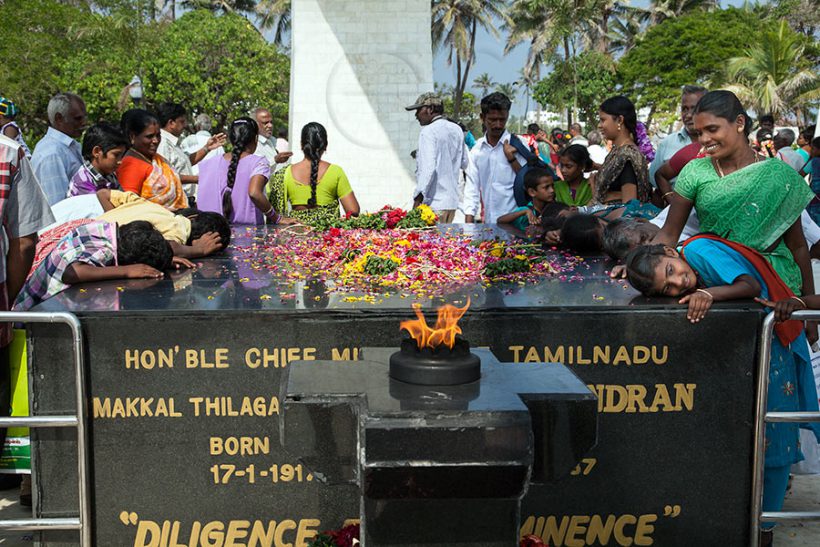 Ford St George is disappointing. The only interesting moment is at the security gate, where I am asked to write down my name, home address, contact phone numbers, passport/visa details, address in India, date/hour of entry and signature in a massively fat book. Sounds like a tedious task, but it is not, because the security guards are women; beautiful girls actually, dressed in uniforms. And they flirt with me! Perhaps they sense my admiration for them, or perhaps they like my shyness and polite respect, I don't know, but they all gather around "to help me sign the book", giggling like schoolgirls with questions if I am married…
Afterwards Ford St George is boring. There is nothing like a fortified structure or colonial buildings. Yes, there are a few, but they are used for government offices and when I try to enter one of them, I am stopped at the door. Perhaps they are afraid I might nip some of their stationery. During my disappointing walk, I meet an American guy with a couple of cameras on his neck. He is similarly disappointed and can't wait to jump on the plain back to Bangkok (he lives there).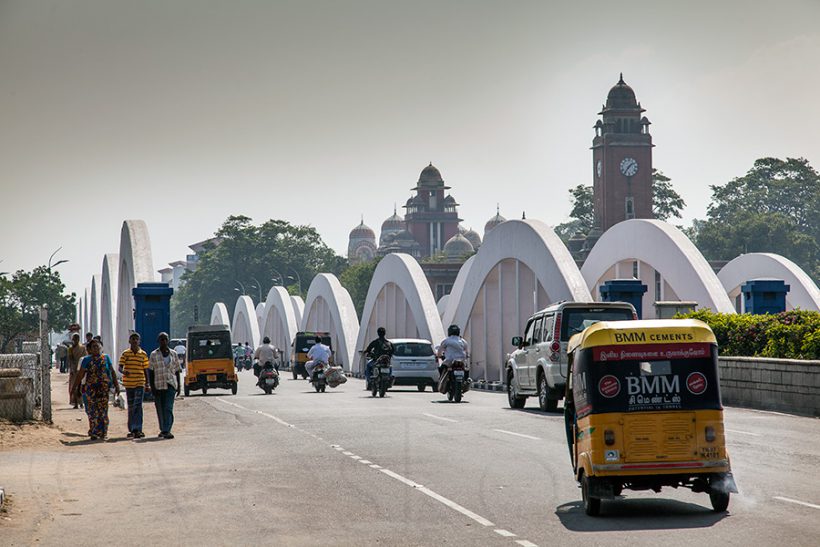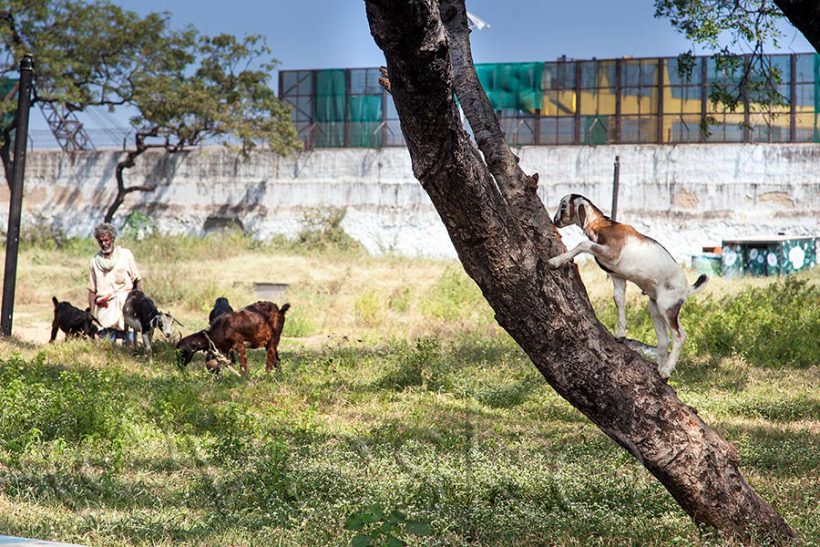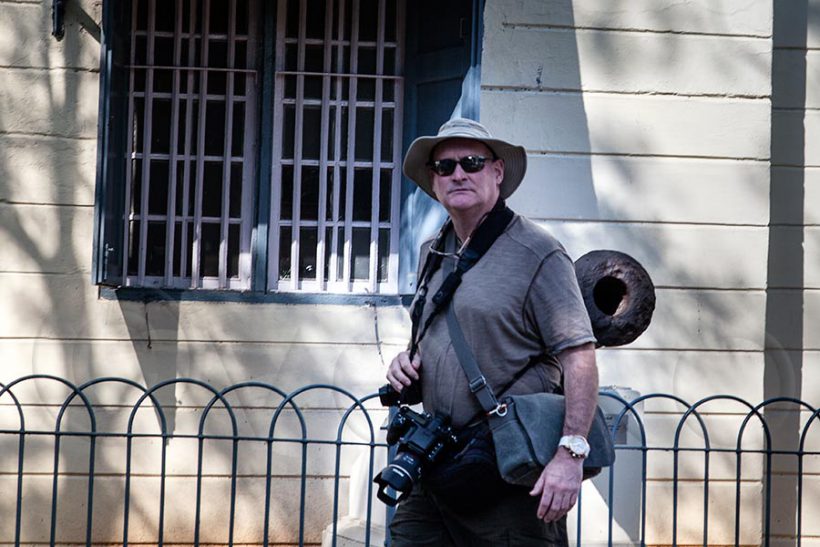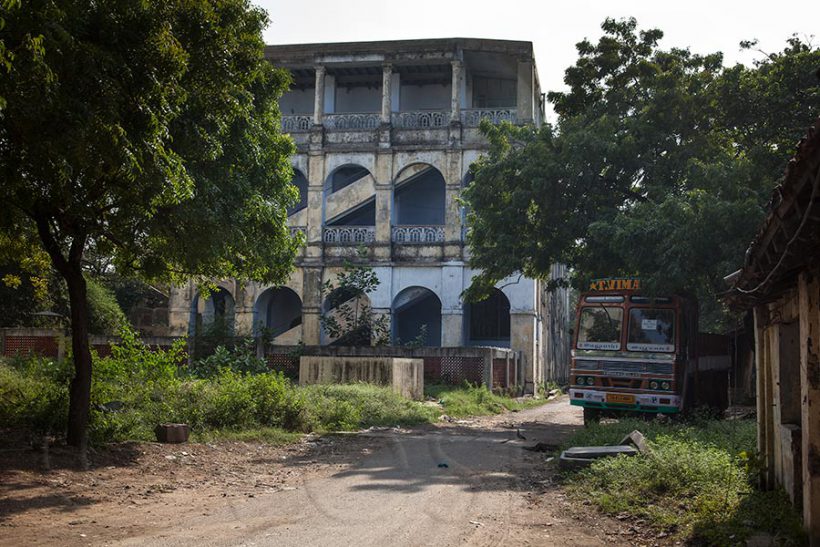 I am tired, but out of Fort St George, I cross a railway station and walk along some slums. Again, the beggars here are not as hard core, as the ones I encountered in the North. I generally follow the crowd and soon arrive at a noisy place full of people (bus station). There are lots of shed-kind of restaurants and I am suddenly hungry. For a meal with rice, some chicken and a boiled egg, plus a bottle of water I pay 60 rupees. Then I drink chai (6 rupees).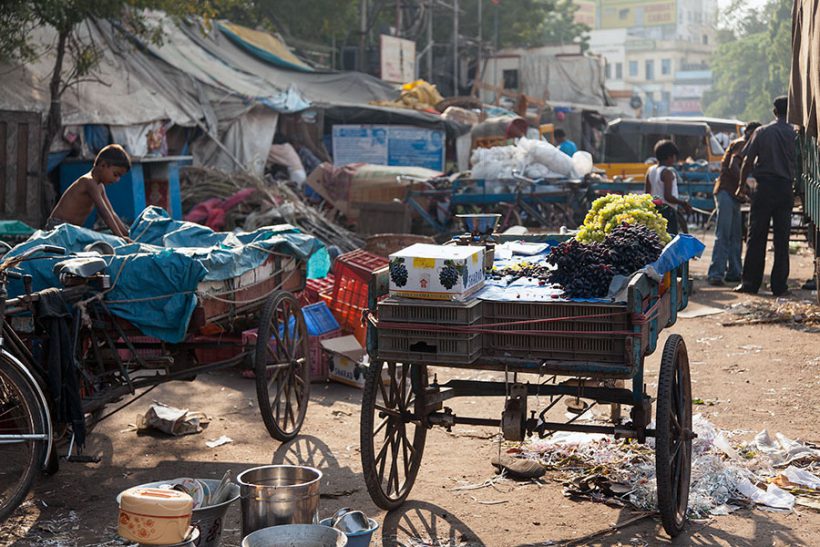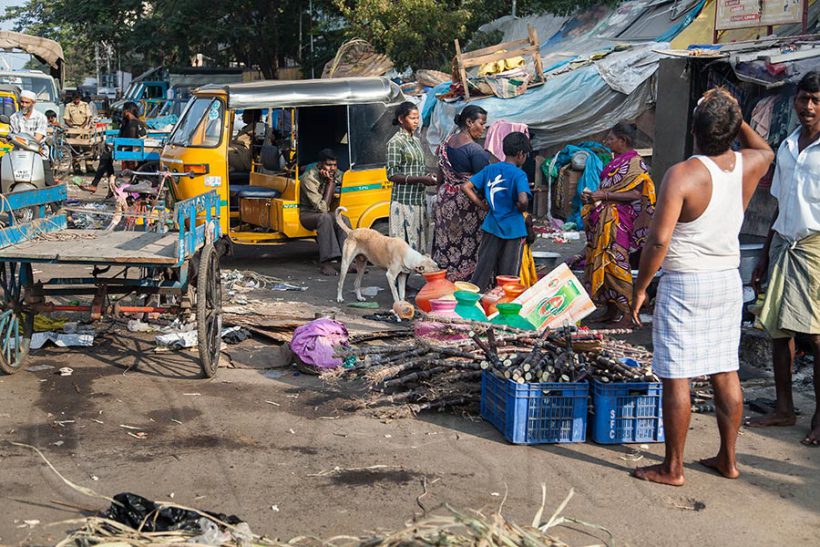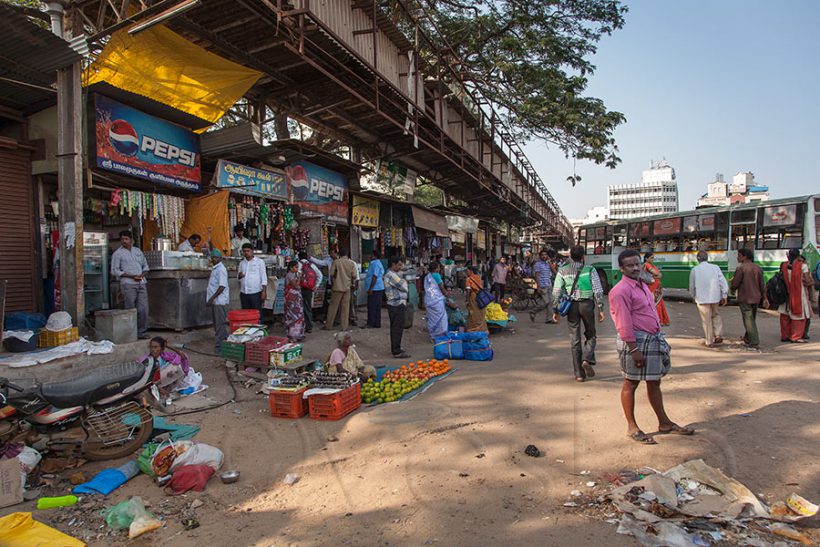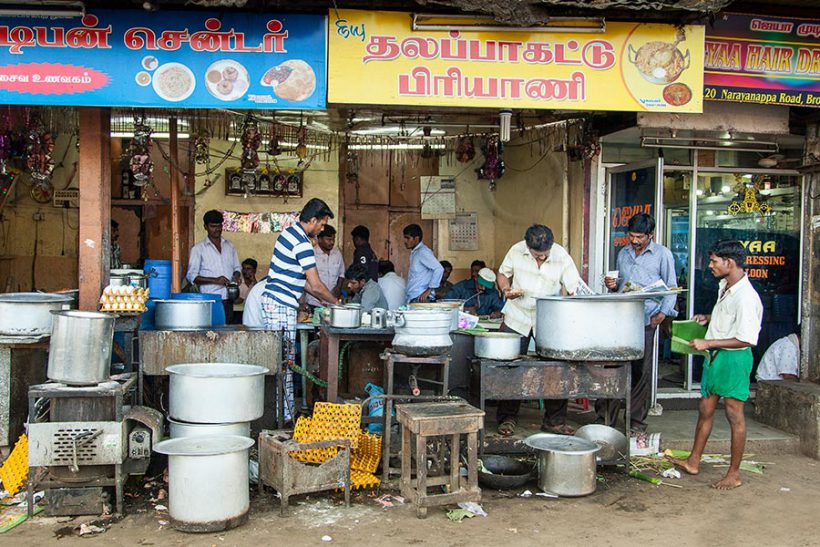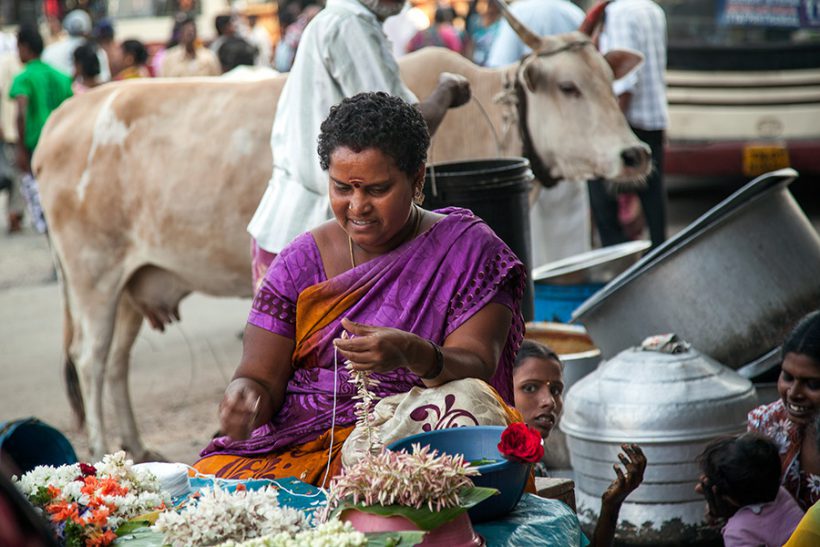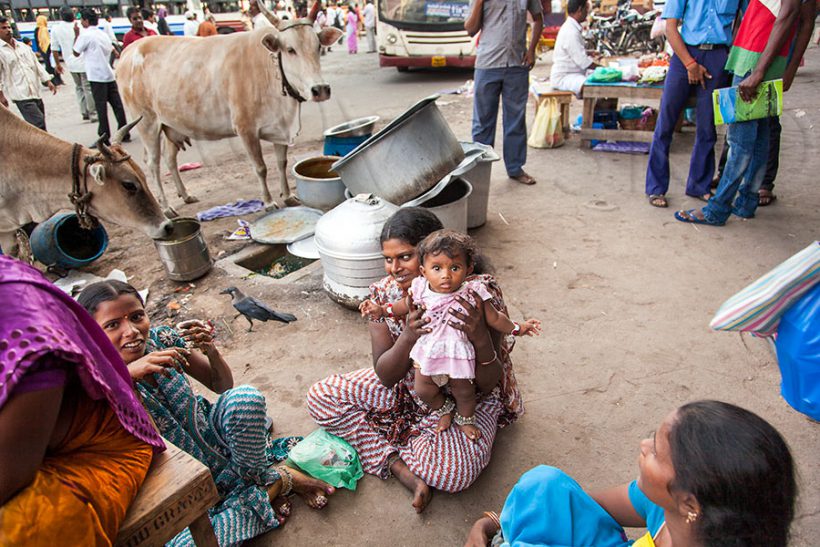 The streets in this area are crowded and lively. I have probably wandered into George Town. This is more like it – real India for me, with lots of auto and cycle rickshaws, and people everywhere, engaged in vigorous activities, or being lazy and sleeping in peace for that matter (perhaps they work during the night). I scan the shops selling ordinary items; study their shapes/designs and by guessing their use, try to imagine the everyday life of these people. It is so interesting for me, I forget about space and time, walking until I am totally lost. Finally I come out on a main road and enter a chai shop to ask for directions to Egmore Station (YWCA). A few wise old men are drinking chai. Оne of them understands my questions… But first I drink chai with them (best chai ever) and listen to their debate about some World's politics – very engaging even if I don't get a word. Then the wise men advise me to catch bus no 28.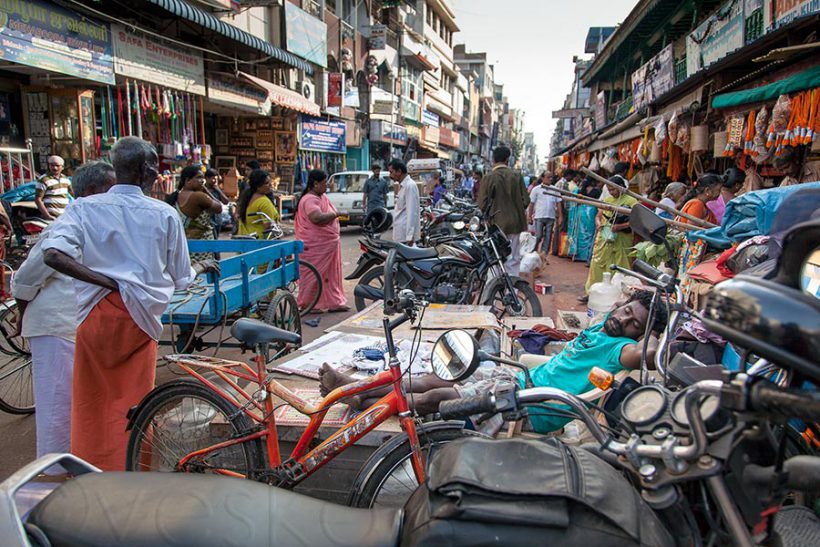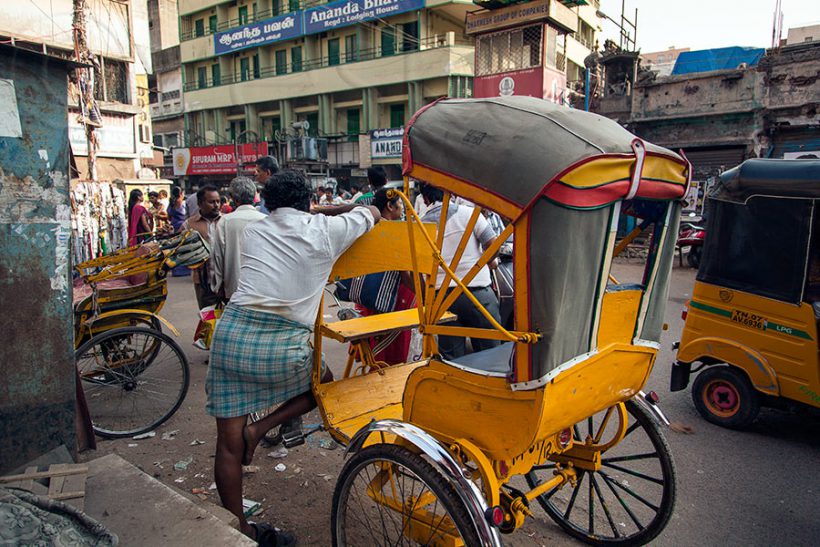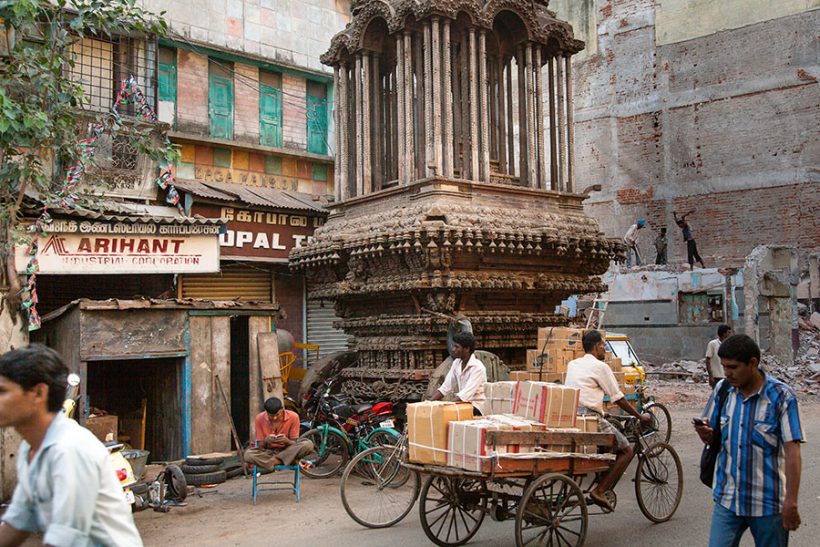 Following the good advice of the wise men, I catch bus no 28 and the bus conductor charges me 5 rupees for the long ride through the whole neighbourhood. Next to me is sitting one real angry old man, who constantly criticizes the young people who are getting on and off the bus. He shouts at them, like they are doing something wrong. I expect them to retaliate, but they just lower their heads to show respect. We pass large speakers on the road blasting loud deafening music, and suddenly the old man starts to sing his heart out with the obviously popular song played on the speakers. As he sings, he looks at me meaningfully, stressing his head at the moral points of the song's text.
It is dark now and I am totally confused with all the noise, exotic smells and the crowds. The bus conductor taps me on the shoulder to let me know it is my stop. Egmore Station looms in front of me and at this moment I am struck with the thought that this building is truly magnificent (see also the first photo of the previous part).  But I don't admire it for too long – simultaneously I feel enormous hunger.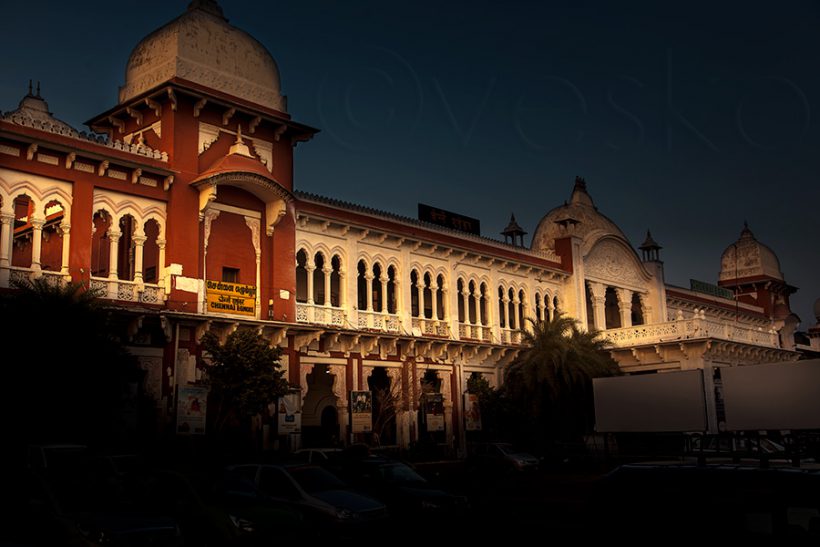 Around Egmore Station you can find numerous restaurants, (or eateries, if you'd like) serving both vegetarian and non-vegetarian food. It doesn't matter how you call them – they are all good. I just enter one of the vegetarian places and order something I see on a photo at the door – rice and many tasting bowls of spicy food, (75 rupees with a bottle of water). O-o, my – this is delicious!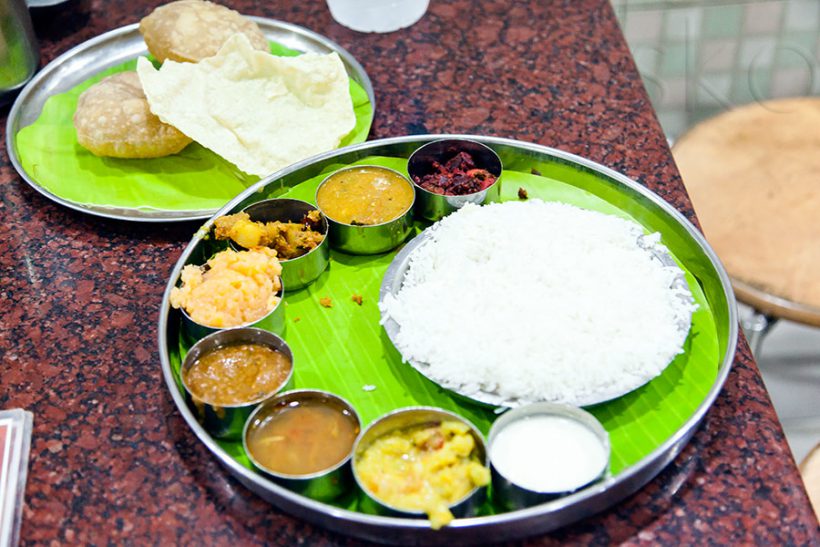 It's again the scary Madras night. I move with the people's river flowing on the overpass to cross the railway tracks, get lost in the dark streets beyond, and then find the way to YWCA (thanks to the GPS capabilities of my smartphone). In the lobby of the guesthouse, I see the skinny guy from last night, scratching his backside. He stays in the shadows, alertness in his eyes, ready to jump for the next guest. I surprise him with my two 10-rupee notes and mostly without any bags to carry. He seems not to remember me, but doesn't mind to grab the money and shows his happiness with a wide toothless smile.
I am also happy with my epic day. Shower this time, as the warm water comes instantly and then sleep on my Kathmandu pillow in anticipation of what will bring tomorrow.
Stay with me my friend, tomorrow I will continue my Tamil Nadu adventure, (using fewer words, I promise).
Did you like my post? Please share it with your friends and don't forget to leave a message. To have some feedback would be lovely. Thank you.