"The Earth's paradise"
This is the follow up of  Lost in Madras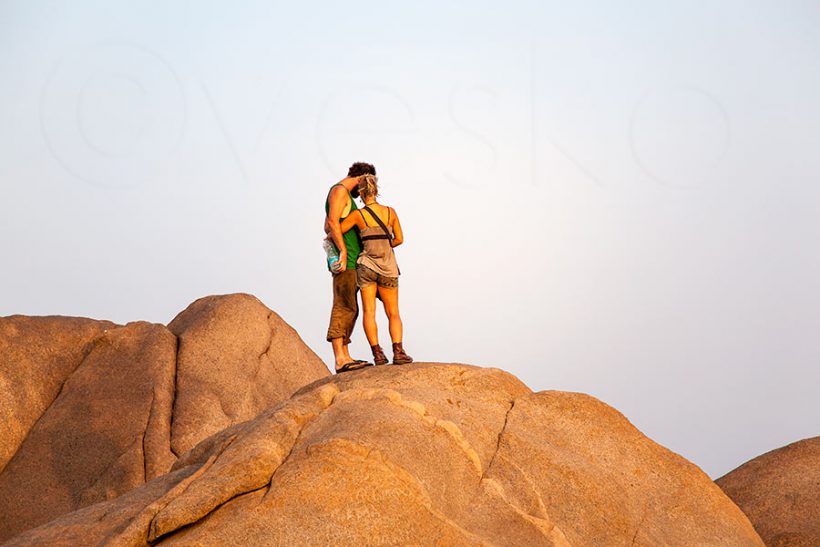 This morning I am not in a hurry, but still pack my bag in 3 seconds. E-e, Vesko – you traveling champion, I tell myself and with uplifted mood go down to the reception, where polite Aruna checks me out. She looks on the computer and says: "A, there are 250 rupees to refund you". I collect the money, but keep my mouth closed because at this moment my inner voice says: e-e, Vesko, how can you be so suspicious, doubting the good man yesterday. I remain silent, trying to retain only the first (the uplifting) words in my mind.
Across the street is the stop for bus 18B, which will take me to Mofussil Bus Terminal. It arrives overloaded with dozens cheerful Indian people hanging like grapes on all possible edges of the doors. They try to make some space for me, but there is no way I can push myself on board with my bag. I smile to thank them and decide to catch a rickshaw – waiting for the next bus would be pointless.
Immediately an auto rickshaw stops to me and I hustle with the young driver for the ride to Mofussil (from his 250 down to my 100 rupees). What follows is a nightmare of Chennai morning traffic and toxic air. Hundreds of trucks, cars, rickshaws and motorcycles are fighting for every millimetre. Add the pedestrians, who also struggle to cross the road and the madness is complete. The air is unbearable – my skinny driver is constantly coughing, a terrible cough, and spits down on every turn. Looking at his labours to gain one more metre, I feel a strange compassion. I cannot breathe the air myself – at this critical pollution moment I remember the cotton scarf my girl gave me "for India". I pull it out of the bag and twist it double around my mouth, very grateful to her.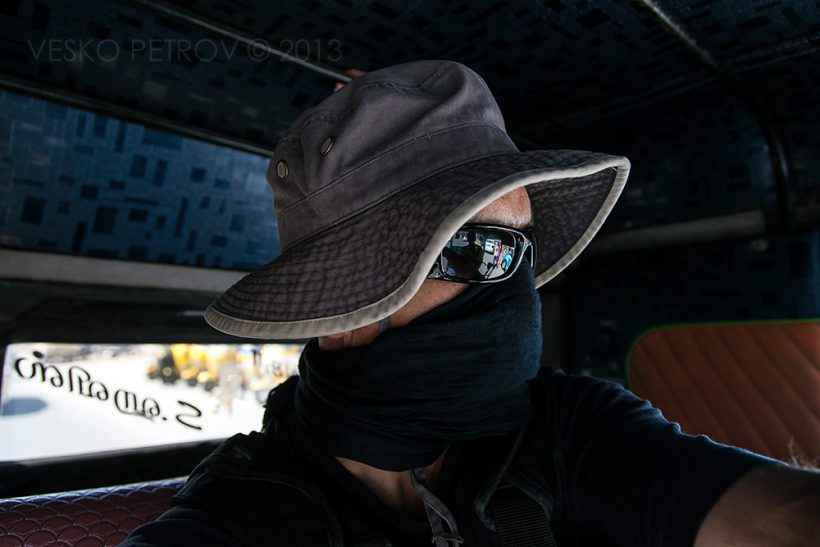 It is a true miracle that the coughing rickshaw wallah manages to get me unharmed to Mofussil Bus Terminal. To the agreed hundred rupees I add another fifty and it seems quite fair, he is happy. I start for the entrance of the bus station, but at this moment something struck me to stop and turn back. I look the driver in the eyes, touch his left shoulder, then the right, touch his hearth and say: "You are a good man; Lord Vishnu will take care of you…" His reaction is genuine – the young rickshaw driver is profusely grateful, twice as much as for getting the extra fifty. And I am not even embarrassed to perform this totally unexpected ritual.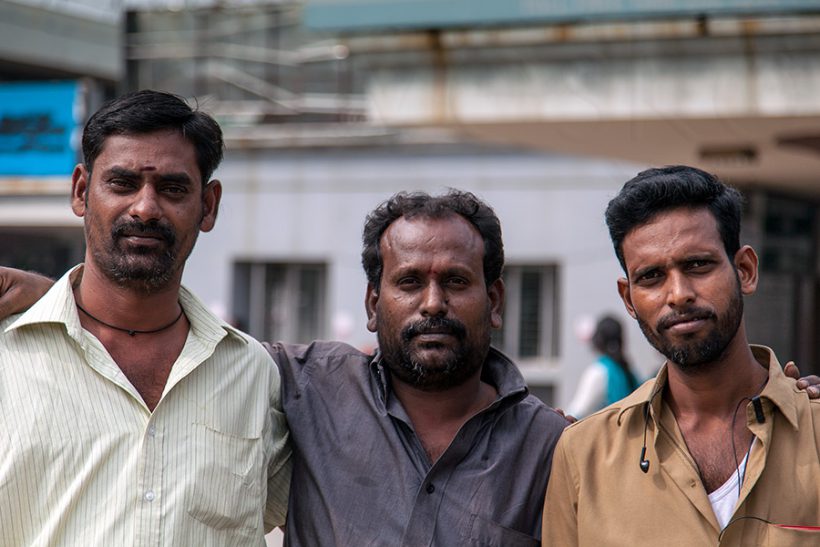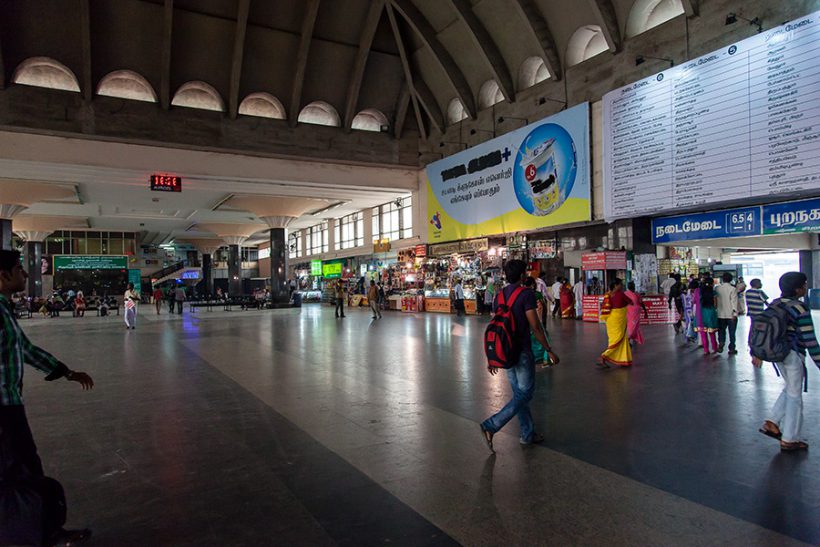 Mofussil Bus Terminal is enormous. There are at least 30 sections, each with more than 60 bus stops. Buses are coming and going every 7, 8 minutes. By asking a few people I find the stand for Mamallapuram busses. One of them is just taking off. I shout MA-MA-LLA-PURA-A-M and the European lady sitting by the window smiles serenely to me as to say: "Yes gorgeous, we are going to Mamallapuram." I run, run quickly and manage to jump on the bus (because it doesn't have a door and because Vesko has quick feet). Later I will learn that Tamil Nadu busses rarely have doors – it is easier to jump on and off, and therefore saving some time and fuel. I love it.
Seeing Chennai from the height of a bus is very interesting. It starts to rain and the air clears a bit, then while the bus negotiates the final traffic jams of Chennai, the rain stops. The bus conductor charges me 18 rupees and I cannot believe it is so cheap, thinking about my previous plan to hire a car with a driver for a few thousands a day. What a fool! I realise now that traveling with a bus is not only cheaper, but it is also much more fun. With a car I would not have the chance to see all of these interesting people.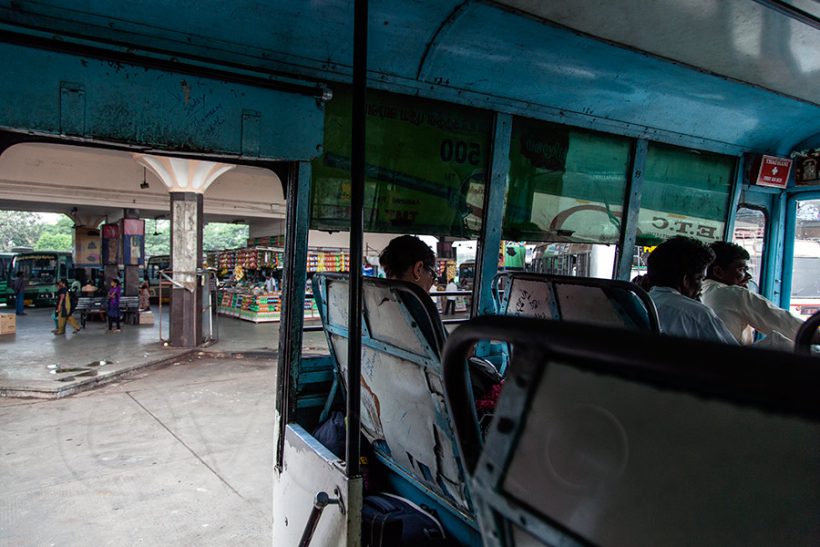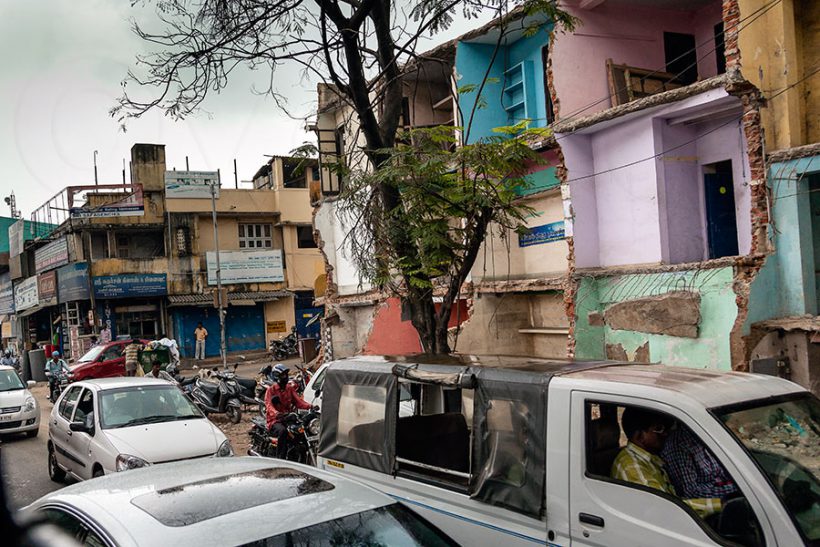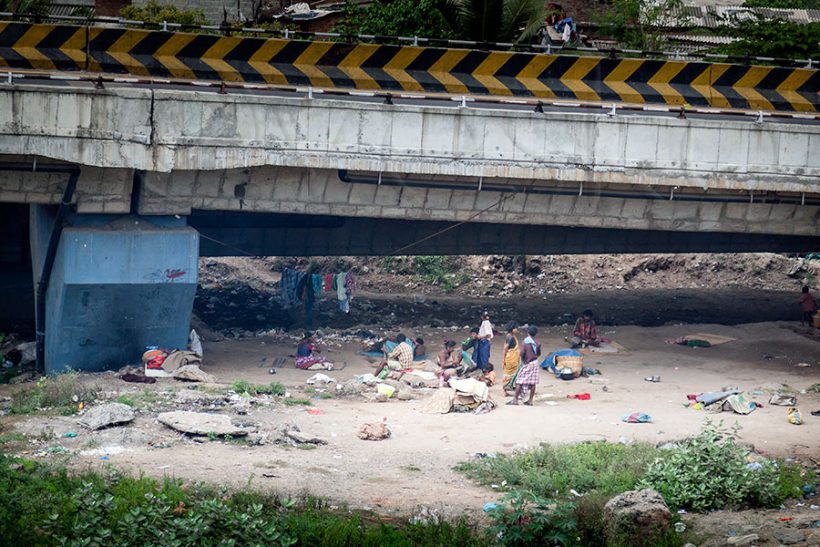 We are now out of Chennai; from time to time we can even see glimpses of the Bay of Bengal. Suddenly there is a large sign, saying "MGM Dezzee World" and by association I remember that nearby must be DakshinaChitra, the ethnographic museum, I was considering while researching my rote on the Internet. It is still early, why not, I tell myself and this quick decision prompts me to grab my bag and to jump off the bus. The bus doesn't slow down (I love it).
Well, I am safely on the ground, but my smartphone's GPS tells me that if I want to see DakshinaChitra, I have to walk for more than a kilometre. What to do now with this bag? The answer comes along the road – an old man pulling a donkey loaded with firewood. The bag goes on the top and the donkey doesn't even flinch. We walk along and I have a conversation with the old man – mostly me chatting away and him just smiling, because none understands a word of the other person's language.
The donkey gets 10 rupees for a kilo of corn (I hope) and I leave my bag at the entrance of DakshinaChitra. The open air museum is built like a small village with original houses from all over Tamil Nadu and Kerala. You can read the story of the families, who lived in them. And what houses! I admire the open inner yards, with spaces like a pool to collect the monsoon water. This architecture demonstrates how to deal with the problems of a tropical climate – human experience accumulated for thousands of years. They are all beautifully decorated. I shake my head thinking that in our modern times we don't have time for that. Before the invention of air conditioning life must've been simpler and more beautiful. Much harder yes, but ultimately more beautiful. For some reason this thought makes me a little sad.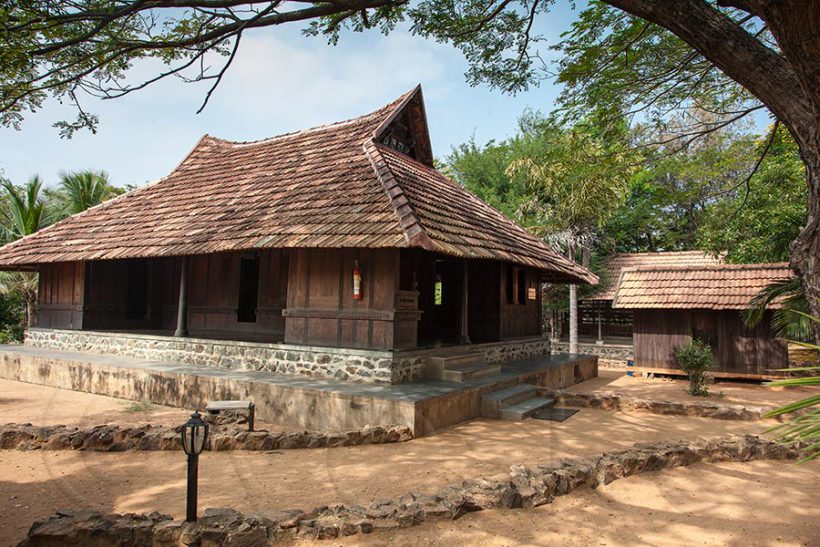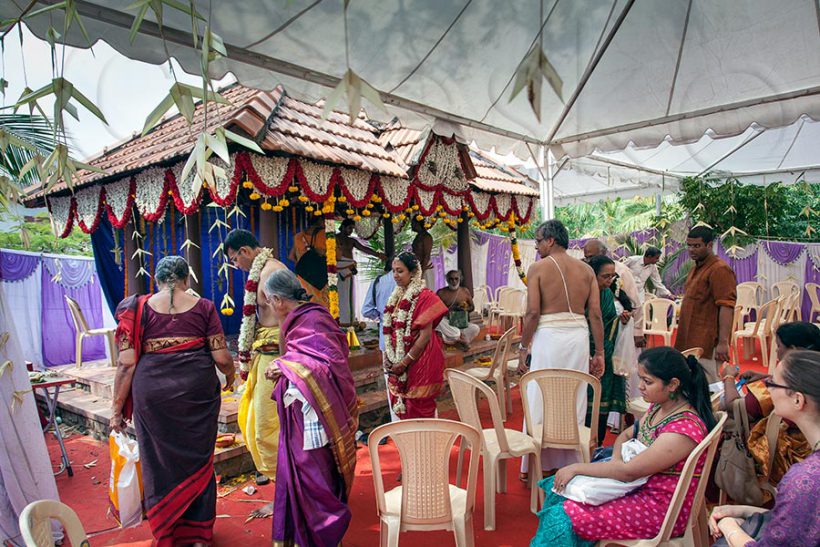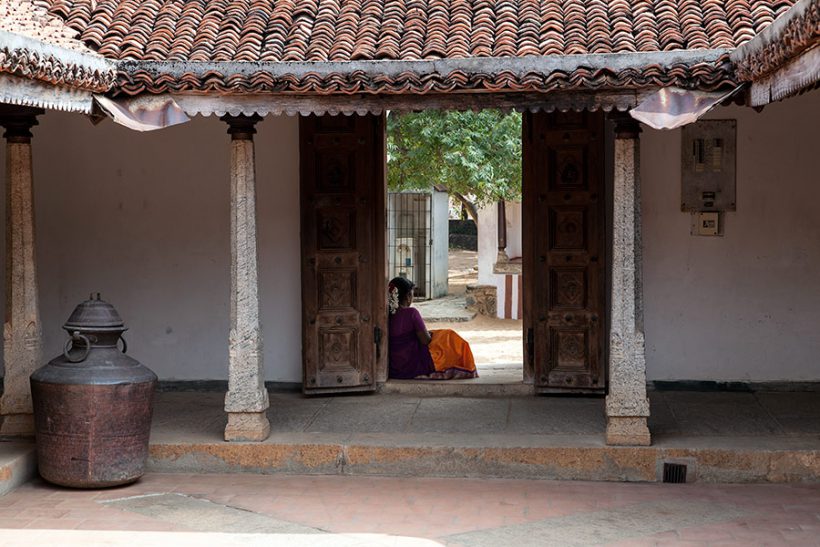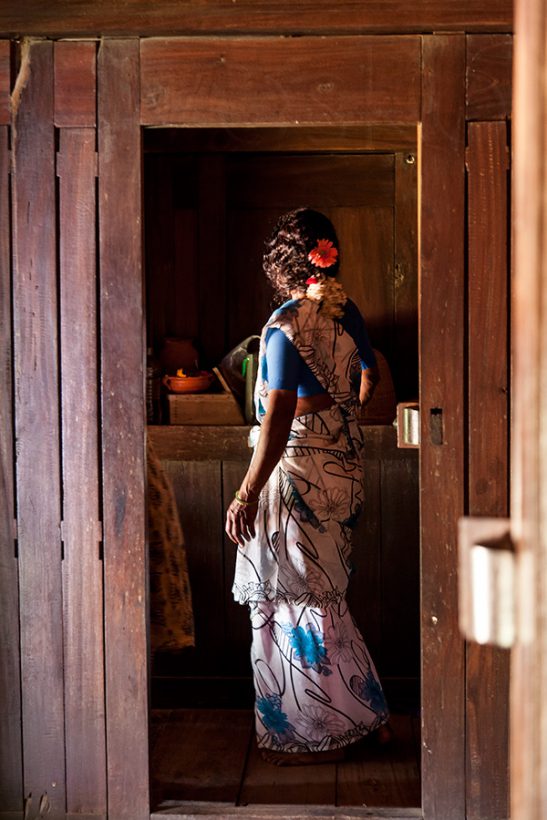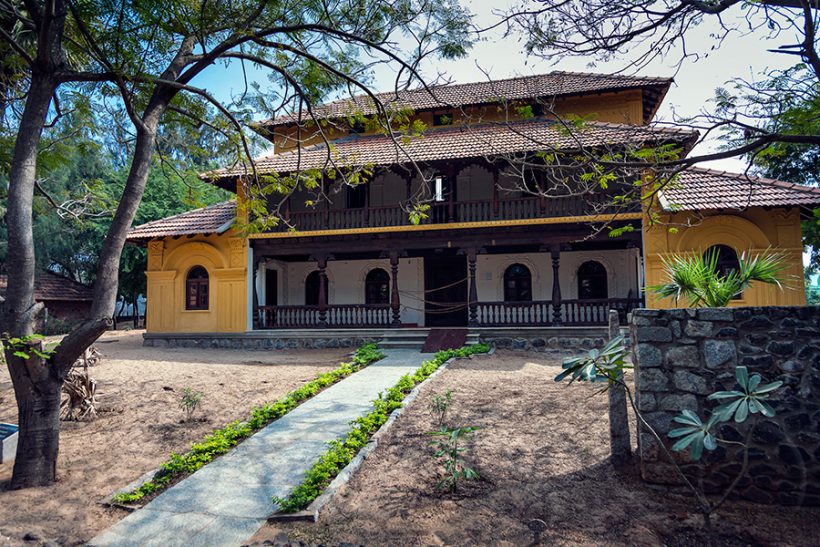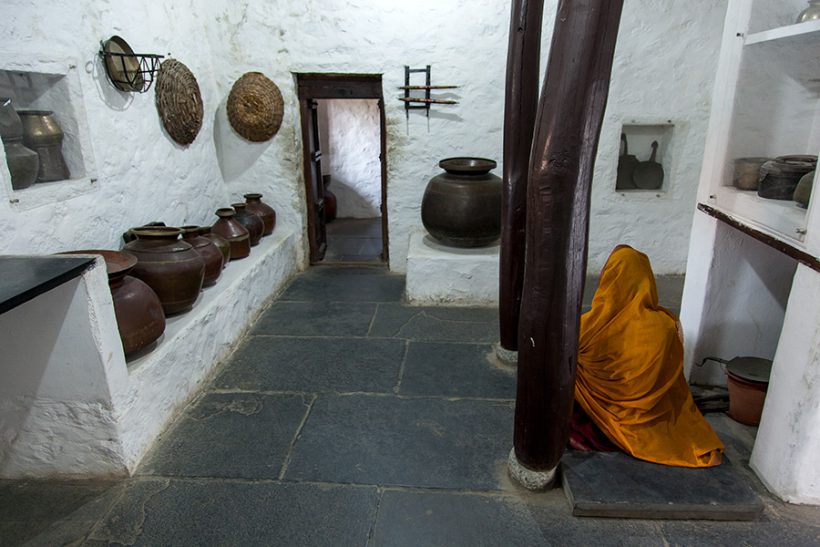 A few hours around DakshinaChitra and I am hungry, but I don't trust the restaurant here. It's too clean and totally empty. I will starve a little longer till I get to Mamallapuram. Back on the road however, there isn't any convenient donkey for my bag. Well, if there is no other donkey, Vesko is as good as a donkey – the bag goes across the chest and giddy up Vesko, giddy up back to the bus stop.
I immediately fall in love with Mamallapuram. It has something that makes you feel relaxed and at home. Something that the famous blogger Bale would describe as "This is the Earth's paradise". In Mamallapuram you become soft and endless. But obviously not everyone feels the same – one really pushy tout is getting on my nerves. "I'm just off the bus", I tell him, "let me drink chai, then I will deal with you". He follows me to the chai shop. The chai drinkers look at him with disgust for disturbing a chai-drinking brother like me. He can't stand their stares and disappears in shame. Drinking chai is wonderful; you get rid of the annoying people and have a chance to talk to the interesting people.
The clever phone tells me that my guest house Villa Manikandan is very close. I start walking and on a narrow street I see a small crowd of excited people. A low thatched building has caught fire. The women are screaming, hands flying in all directions; while the men are heroically running around, splashing buckets of water. One guy has even climbed up on the roof. I also jump to see, but to my disappointment (and to the owner's relieve), the fire has been contained. There are no dramatic flames now, just smoke and bad burned smell.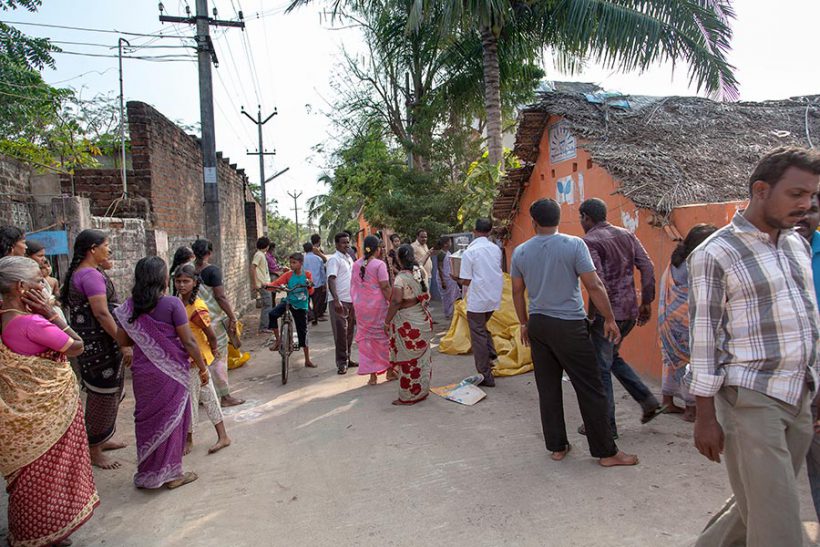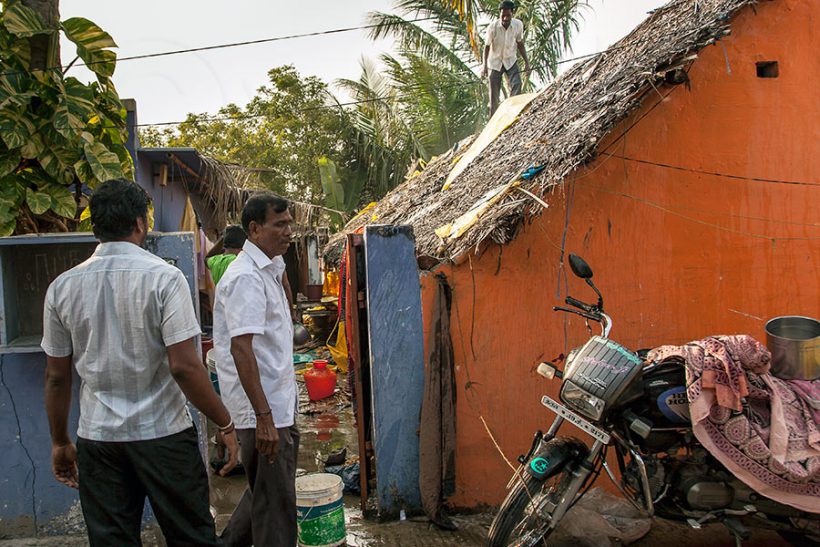 Villa Manikandan is silent – everyone is having their afternoon siesta (late-afternoon siesta). I find one scared cleaner who is terrified to wake up the boy supposed to watch the reception. I get my keys, shower, do the washing, put on fresh clothes and go out to explore the village. Refreshed now, I like it even more. On the beach the fishermen are fixing their nets, while the European tourists make photos of the colourful photogenic boats.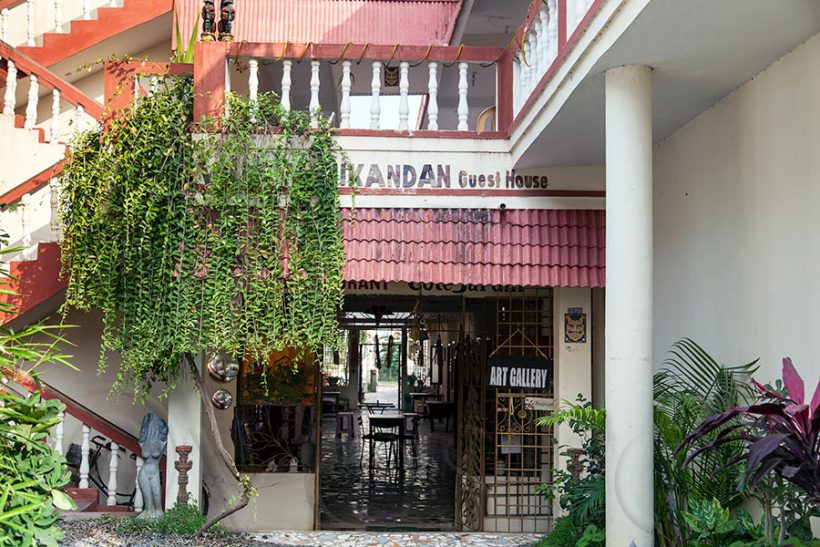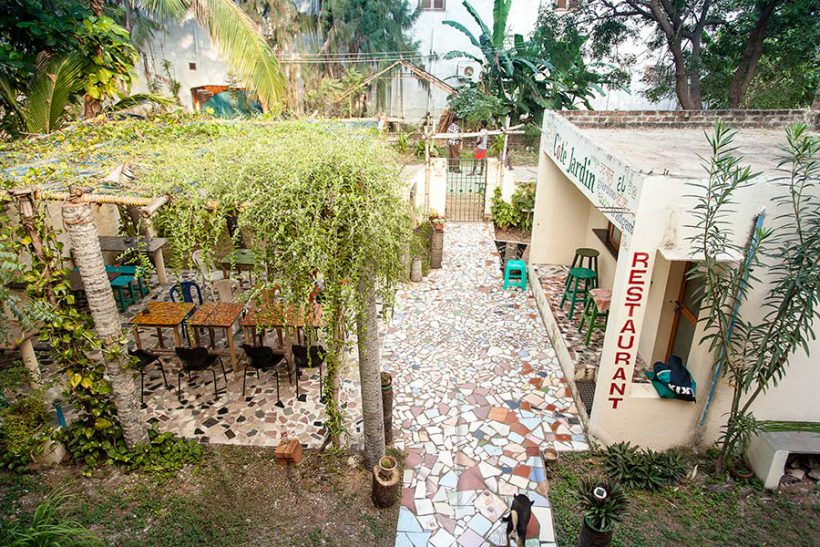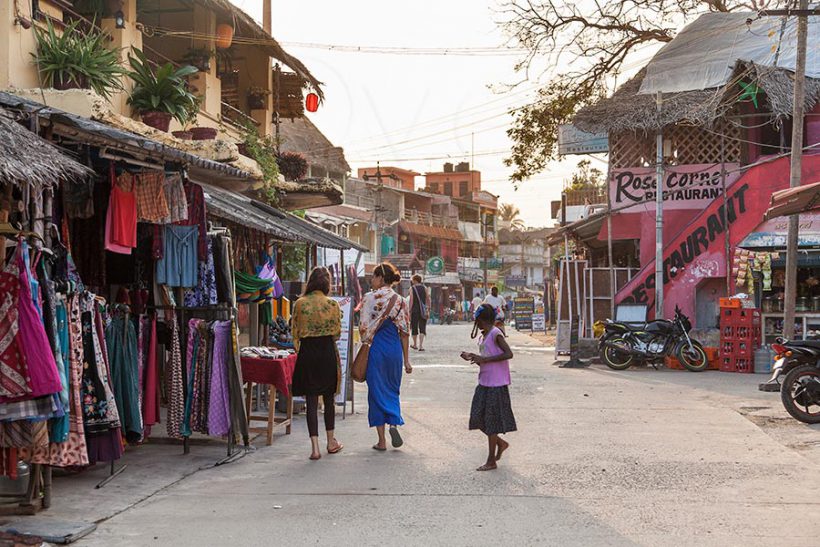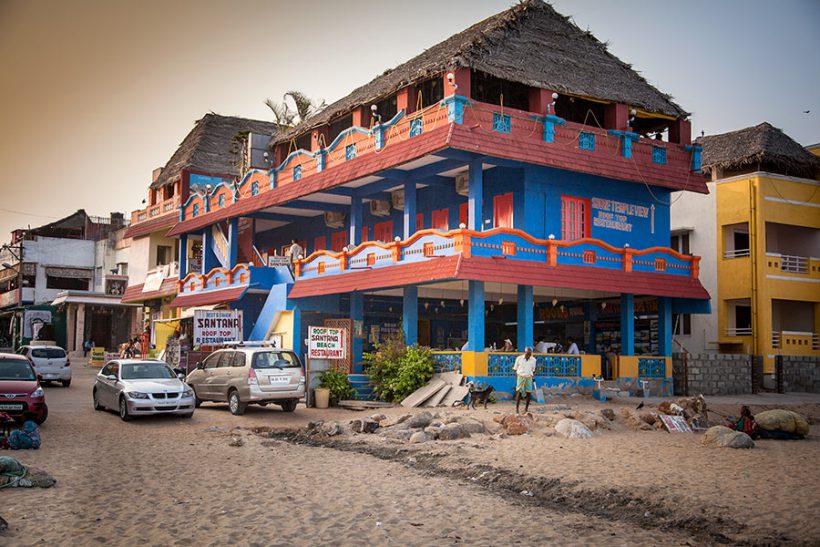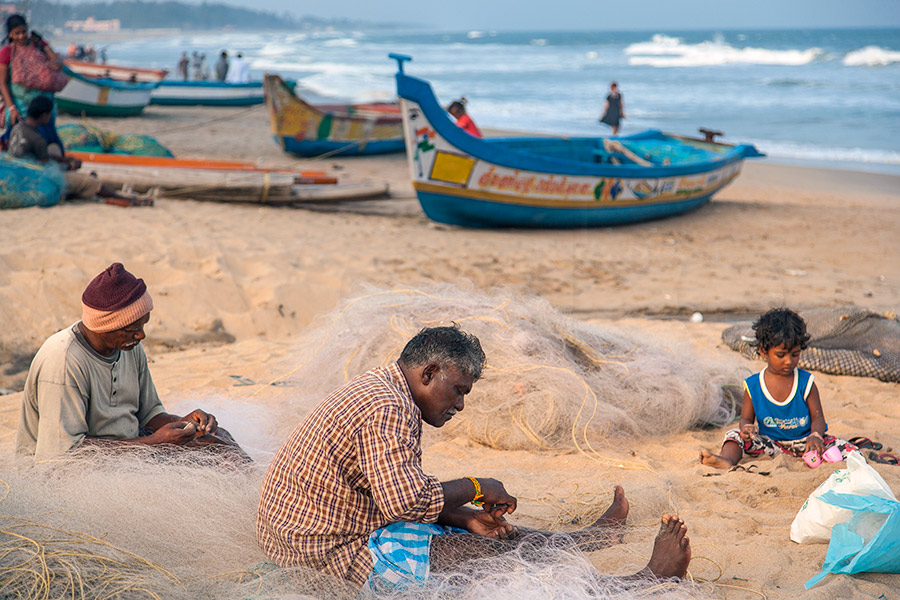 I can see a temple and start walking, but the temple is fenced off, so around the fence I go to another beach full of Indian tourists, who don't swim but enter the water up to their ankles and stand stiff (like facing a firing squad), to be snapped for the family album. I love how they are dressed their best for the ocasion.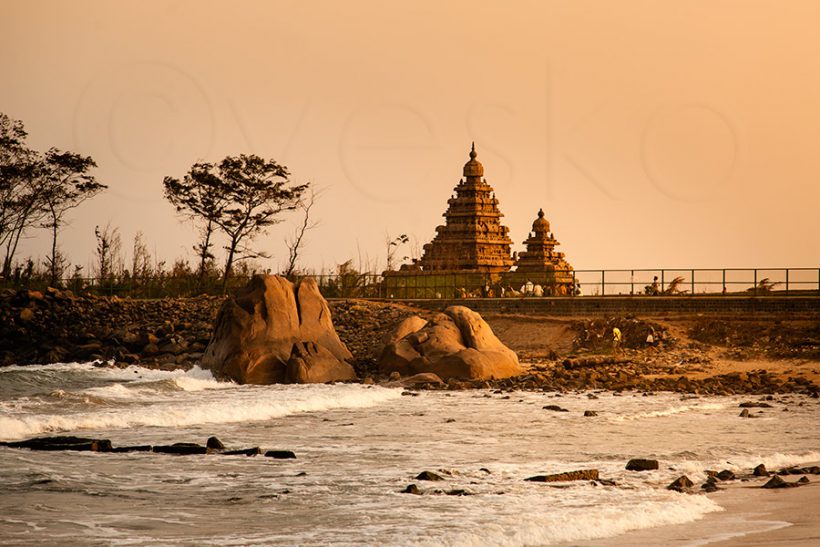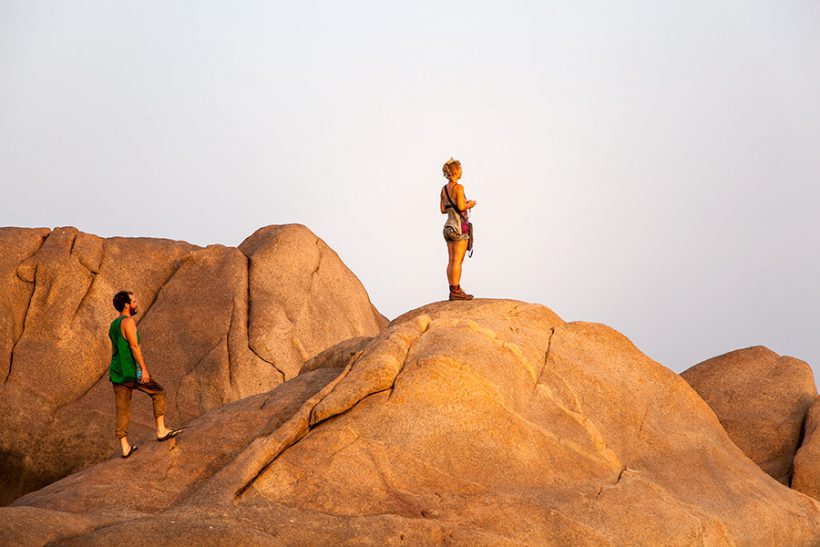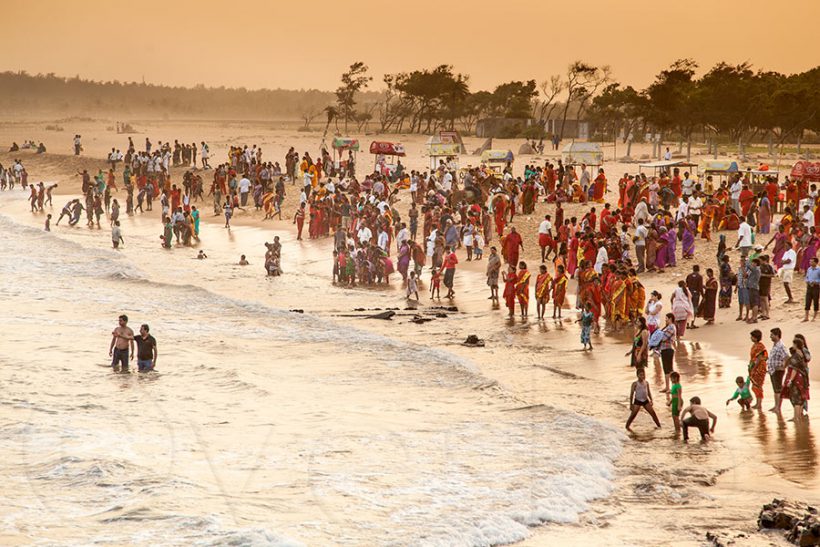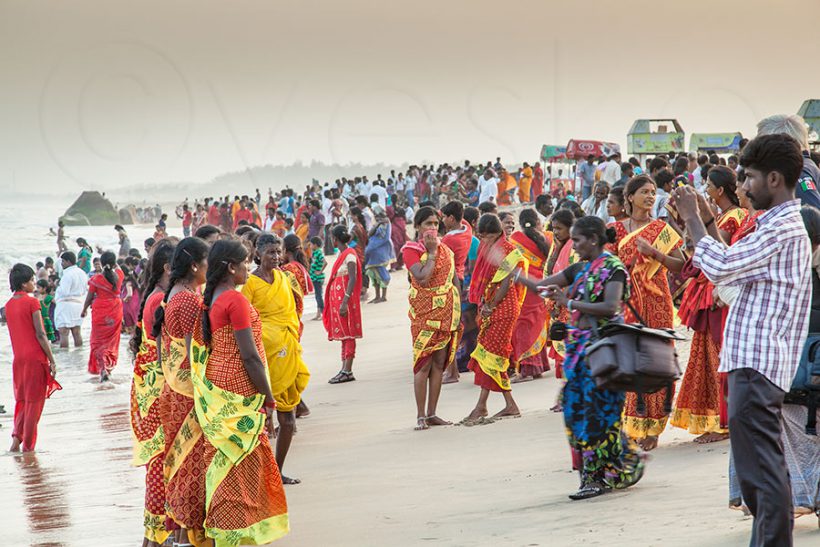 By now I am wolf hungry. Back in the village I walk around in search for dinner. The few European style restaurants are boring; instead I look for a good street place. It is easy to find – there is a small crowd of vigorously eating Indians. This place offers squashed samosa topped with a few different sauces (or maybe curies) and a bit of sliced red onion. Small plate for 15 rupees, larger plate – 20. I line up here twice as the food is really good.
From another place I buy deep fried balls (chopped vegetables mixed with lentil flower I guess), 4 rupees each. I get 5, planning to have them for breakfast, but they are so tasty, I don't realise how I munch them one by one while walking. I finish my dinner with a bottle of water, half a kilo grapes and a couple of bananas. Back at Villa Manikandan, cold shower and knockdown asleep, totally happy with my eventful day.
Don't go away my dear friend – tomorrow I will tell you about the wonders I saw around this "Earth's paradise" called Mamallapuram. Tomorrow, ciao for now.
Did you like my post? Please share it with your friends and don't forget to leave a message. To have some feedback would be lovely. Thank you.