Arriving in Madras
At gate 20 of Don Mueang International Airport, a crowd of burly Indian men are pushing each other to get first on the airplane. Once settled in their seats they don't follow the instructions to switch off their mobile phones or "any other electronic devices", despite the numerous repetitions of a recorded message. During the flight, the Indian men keep playing games on their phones. A few passengers (from Japan) have special tickets and are served some drinks and food. Everyone is watching them with envy. For this occasion I am prepared with the fresh salad I bought on Sukhumvit road in Bangkok for 40 baht and also start my dinner. The Indian guy sitting next to me follows my every move with honest hunger in his eyes. I am surprised by the lack of remorse I feel at this very moment. On the contrary, I feel strange satisfaction.
Entering India in Chennai is much less stressful than in Delhi. A few years ago in Delhi I was made to fill a form with numerous miniature fields, requesting some really illogical information. Today in Chennai, the passport control is quick, but the officer scanning the bags at customs, demands me to explain the content of my bag. He is intrigued by the photography equipment that I carry in such a small bag and wants to know what my profession is. The easiest way would be to lie that I am a photographer, but I decide to be honest. This is a mistake – I am directed to another counter, where another, more senior (and scarier) official "investigates the matter further" and make me promise that I will not sell my lenses on the market for a profit. I supress my real reaction and promise not to "sell for profit", shaking my head the Indian way. Perhaps this priceless ability saves me (shaking my head the Indian way) – I am finally allowed to go.
There is a Thomas Cook counter open, where I can buy 4 700 Indian rupees for AU$100. I need a pre-paid taxi and the money changer points to a couple of dozing guys. They don't seem to be keen to get my business. I hand 800 rupees over to one of them and in return I'm given a slip of paper. For a moment I wander what to do with it and where to go, but just then a young couple with a small child come to the counter for a taxi. They speak good English and politely offer to walk me to the taxi stand.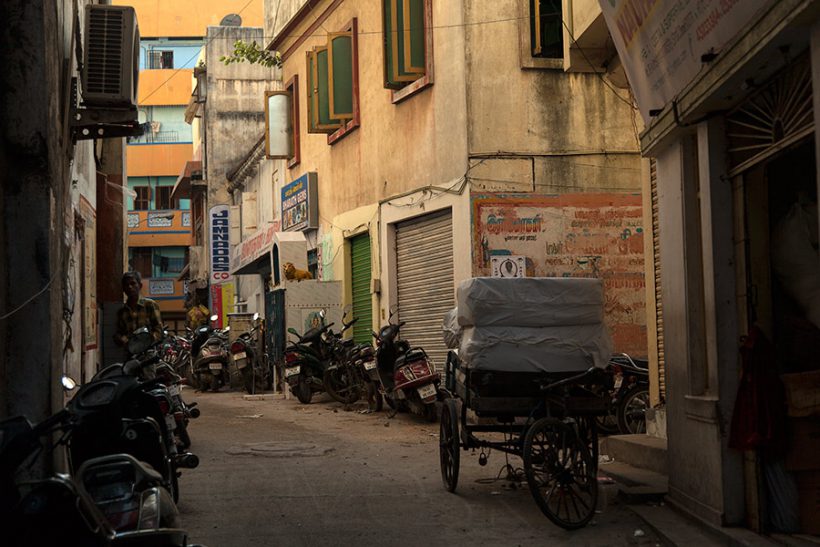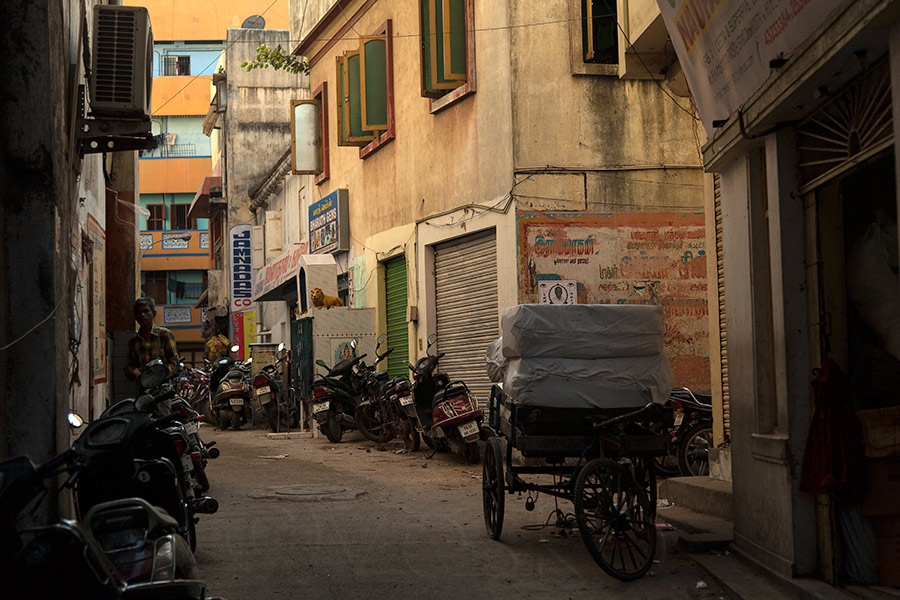 Like a hammer, the heavy air outside the airport hits us with a mixture of smells – exotic flowers, car pollution, rotten fruit and something else, which I can only describe as excrement of unknown origin. It is chaos, with lots of people shouting for your attention, policemen and cars moving in different directions. We cross a few roads and get to a poorly lit parking lot. Without my new friends I would've spend an hour to find it. They are from Chennai and seem a bit disappointed, when I tell them that my hotel is noting fancy like Sheraton or Hilton, but the International guest house at the YWCA.
The drive to Egmore, (where the YWCA is) is uneventful, except for the crazy traffic and the constant horn honking. The streets and the buildings are in ruins or in a process of a desperate repair, reminding me of old movies about Europe after the Great War. We pass numerous young men, who wander the darkness seemingly without a purpose, many of them urinating against a wall. There are not as many cows or dogs as in Deli and certainly there are no women at all.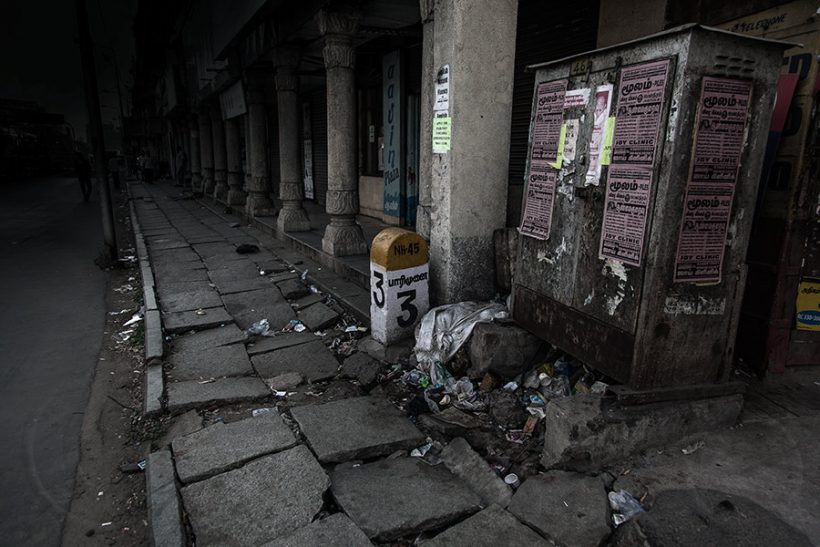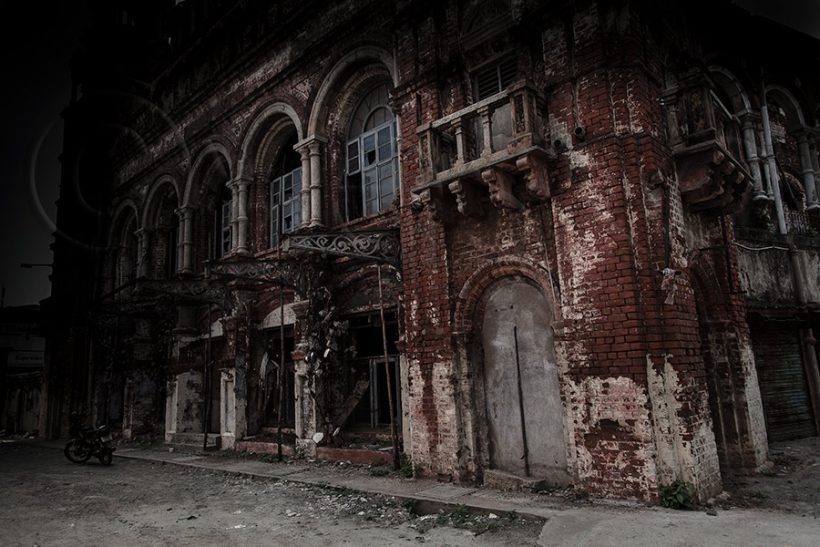 We arrive at the YWCA and I am surprised that the taxi driver doesn't try any tricks on me. The check-in in the guesthouse is also quick. A skinny helper grabs my bag to lead me to my room, which has aircon and a large bathroom, but everything looks old and shabby. I don't mind the shabbiness because the sheets on the bed are clean. The skinny guy takes his time to show me how to operate the aircon, then stops in the middle of the room and waits expectantly. I steady my nerves and look him sternly in the eyes to express the negative outcome for his expectations. O-o, he is disappointed, he walks away uttering something unpleasant under his nose. Well, I am not willing to tip him 100 rupees, the smallest banknote I have in my pocket.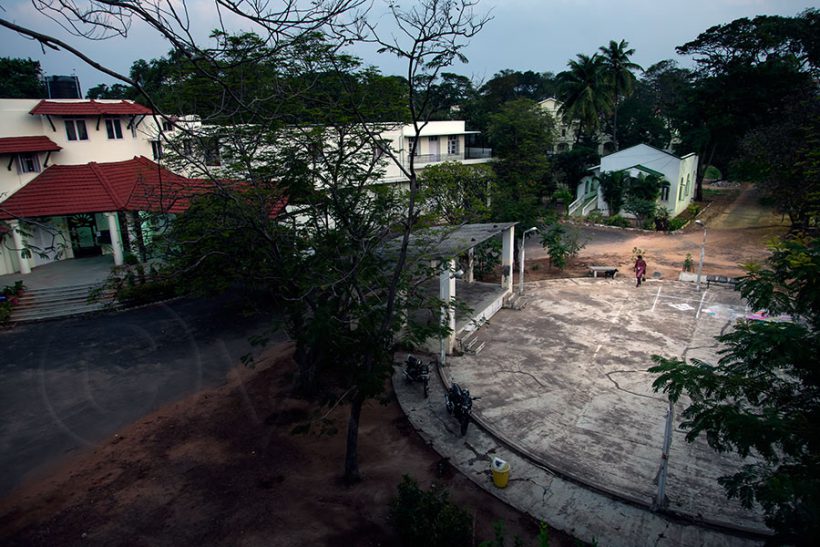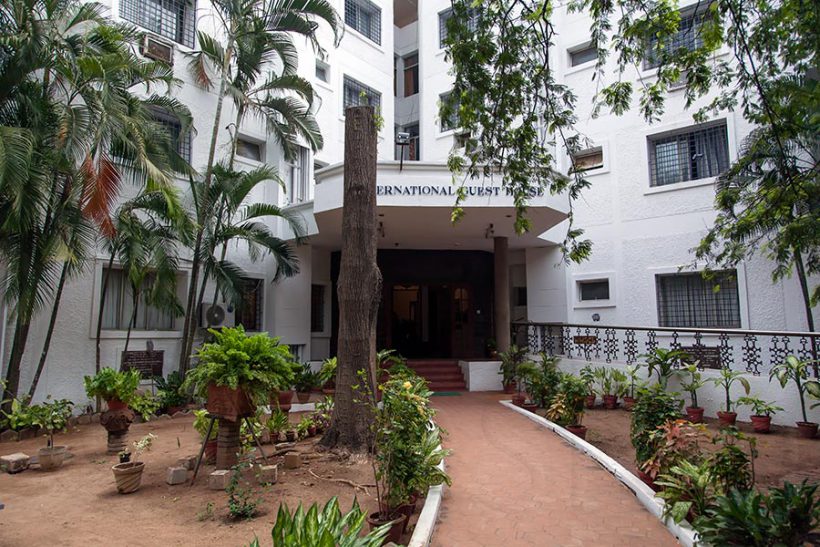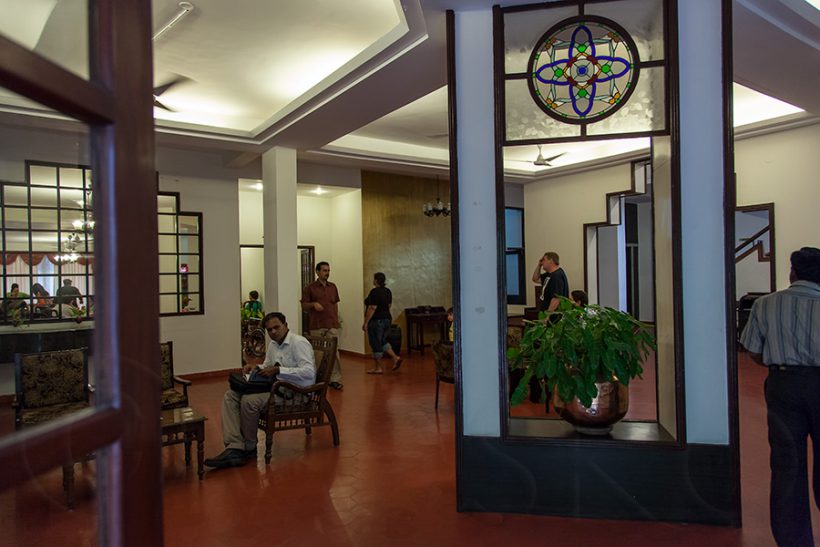 The hot water takes ages to come, so to preserve the water I let it run and fill the large bucket under the shower. Then I use a plastic jar to wash myself like in a Turkish bath – very re-fleshing (and very welcome to India). The bed is not too hard, but the ridiculous foam pillows are simply useless. Luckily I brought my own "Kathmandu"-shop pillow and sleep well, without any horrid dreams.
Bear with me friends, tomorrow I will explore Madras.
Did you like my post? Please share it with your friends and don't forget to leave a message. To have some feedback would be lovely. Thank you.