Gingee and Tiruvannamalai
This is the follow up of "Mamallapuram"
Today I start very early – up and ready by five o'clock. The village Mamallapuram  is still dark and asleep, but the bus station is full of motion. Lots of people are intending to travel somewhere. My chai place is busy as ever and the chai has never tasted that good.
A few beggars try to intimidate me with gestures that they need money to eat and I ask them with the same gestures, what about me – don't I also need to eat? That must be very comical, because the beggars start laughing and inevitably leave me in peace.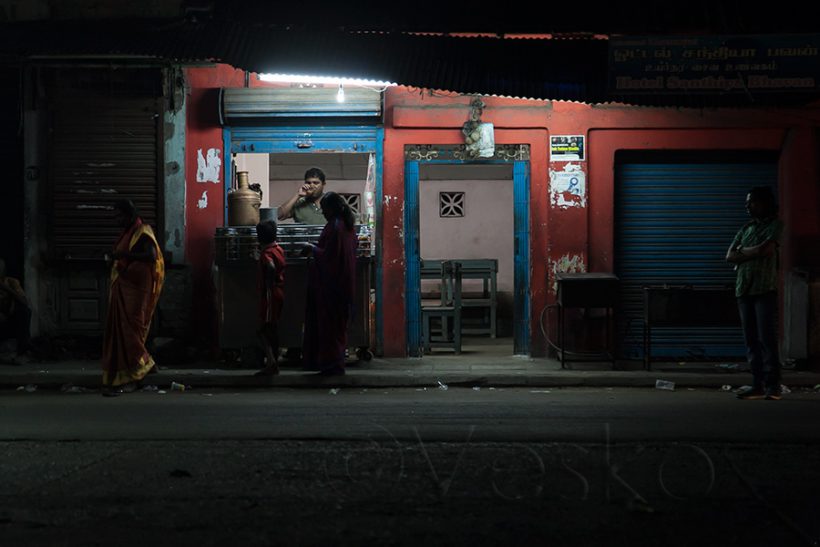 Its 5.30am, the busses start to arrive. I have a very ambitious plan today to travel to Tiruvannamalai, stopping at Gingee to see the old Fort, but there is no direct bus connecting Mamallapuram with Gingee. On the advice of the boy, manning the reception of the guesthouse yesterday, I am planning to catch a bus to another village – Chengalpattu, where plenty of busses pass on their way to Gingee. This morning however I start chatting with another interesting character who insists that in Chengalpattu I would have a long hike to the highway and that he has a better plan – first to catch a bus to Perungalatur and then the bus to Gingee. I listen to him, because his English is good and also because I checked the map – it really appears that the village Chengalpattu is about 3 km away from the highway.
This guy makes a good conversation about anything, but he cannot understand why I, the westerner don't hire a car with a driver to travel more comfortably. The easiest way to explain my philosophy is to tell him that if I hired a car with a driver, I wouldn't have the chance to meet him and chat with him. He smiles. At this very moment a bus arrives, that will later drive to my new destination. The conductor of the bus also agrees with my new friend's plan. So I head to Perungalatur.
This bus travels about an hour, stopping frequently to pick up and drop off people on the way. For some reason I am elated, I feel like a real traveller. The bus roars in the dark, it gets cold and very dusty (as usual the bus doesn't have doors or windows). Soon the daylight comes and I see signs "Welcome to Chennai". I realise that we are back to the big city. Perhaps the conductor didn't really know how the plan of my new friends would work out, or perhaps he forgot to tell me when to get off the bus, but around the place they drop me, no one know anything about busses to Gingee. They all point vaguely in the direction we came from. And of course the rickshaw wallahs surround me at once. They always know some English and manage to explain that Perungalatur is about 5, 6 km back – 150 rupees. A hundred I say and one of them agrees, I jump on board.
We get to Perungalatur bus station, but it is still confusing. There are no signs and it is the normal Indian chaos with large crowds of people surging towards random busses which arrive and depart in different directions. An older man, holding a receipt book and a pencil is attracted by my confusion. He tries to push me on a bus heading in yet different direction, where (according to him) I could catch a bus to Gingee. I start to suspect that he is not very familiar with timetables and buses and refuse to board it. Just then another bus stop in front of us and the old man quickly changes his song – this is the bus to Gingee, he cries vigorously. The conductor from the bus also starts to shout SENGEE-E, SENGEE-E… The old man follows me on the bus and demands 20 rupees. After pocketing the money, he says the ticket will be 72. By now I have realized that the old man is just pretending to be some kind of bus official. I shake my head in agreement, but point that I'll give the money to the conductor, who is busy with some other people. Nevertheless, the old man is happy to get off with my twenty rupees in his pocket, caring the receipt book and the pencil in search of another hapless tourist.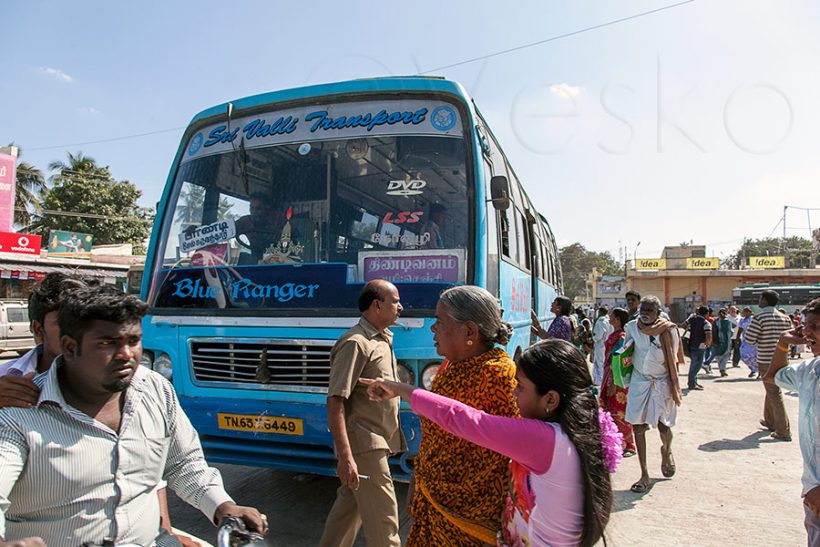 Gingee is much busier and dustier than what I have imagined. I planned to leave my bag in a hotel for safekeeping, but amidst the noise and the hectic traffic I don't see any signs of a hotel. The rickshaw wallahs are happy to suggest that bags could be left with the ticket counter at the Fort, just to get my business (and my 50 rupees). And of course after riding to the Fort, the official at the ticket counter refuses to look after my bag for an hour or two in a typical Indian officialdom manner.
It's hot and the sun is burning, but I am not ready to give up just yet – I am psychologically prepared to deal with any bureaucratic difficulties. I hop on another rickshaw and get back to the village. Finally I see a sign "Hotel Bhavan" and enter, only to find a bunch of guys having lunch. The serving boys don't understand me and only smile. It's very frustrating to lug my bag forward and back without making any progress with my plan. The restaurant is called Hotel Bhavan, but there is no hotel or reception with English speaking staff. Only later will I learn that the hotel running the eatery could be a few buildings away. Soon I find it and the people at the real Hotel Bhavan are very nice.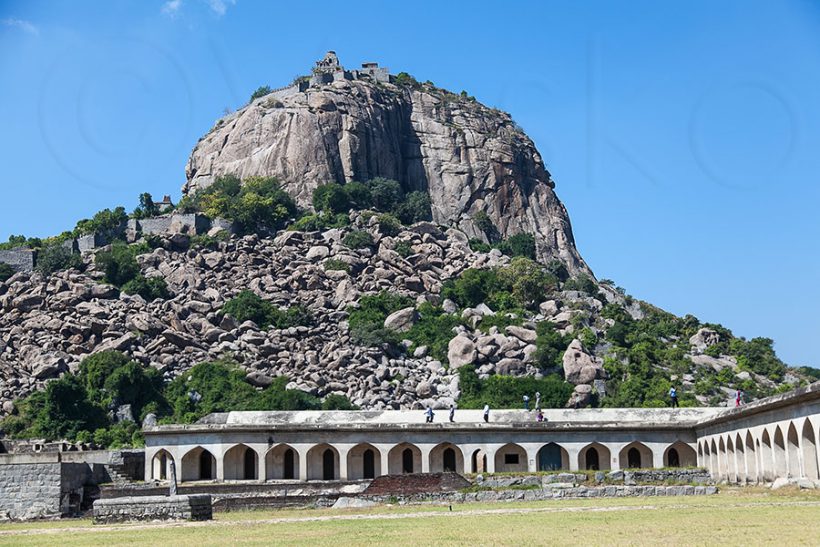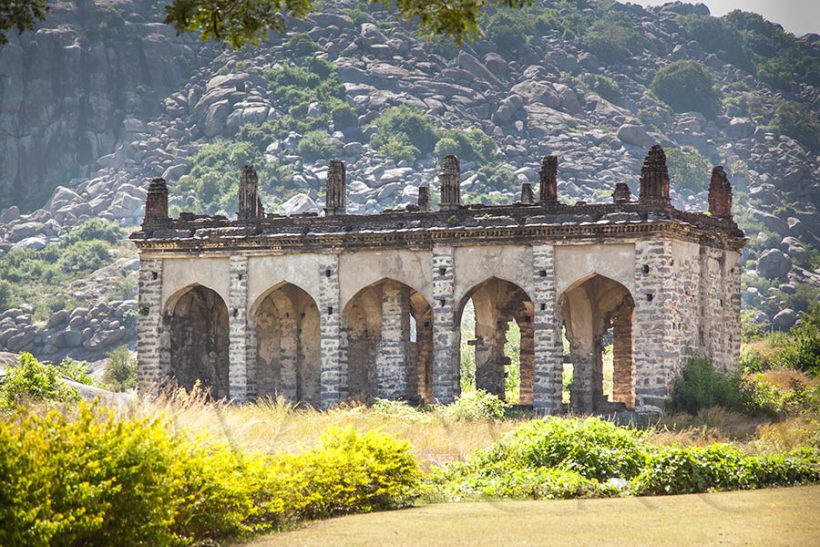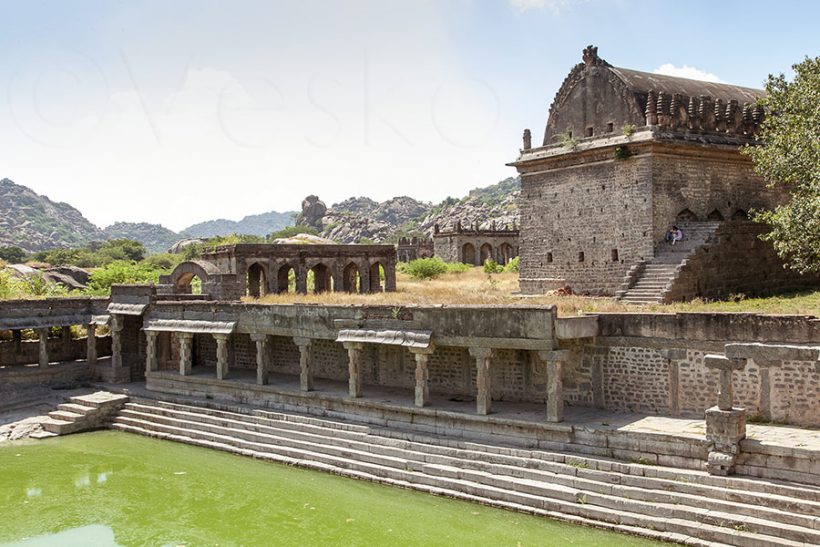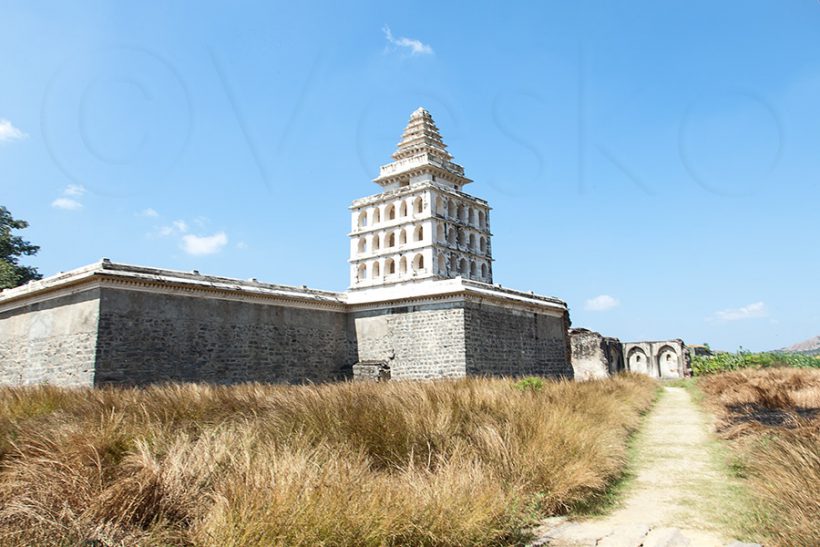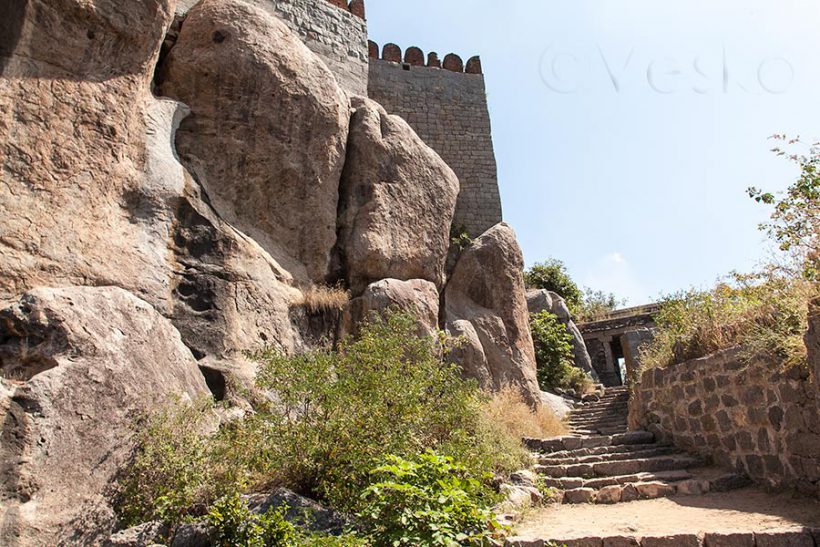 Gingee Fort is simply amazing! There is much to explore here and I regret leaving it for only a passing visit. Still, I try to make the most of it, rushing to climb quickly the impressive rocky hill with the fortress on the top. I exhaust myself completely, but it's worth it. The Fort looks impossible to concur and yet it has been taken quite a few times during its long history. There are two more hills to climb with similarly impressive fortifications, but in this heat, with my exhaustion and the pressing time to move, I decide to leave it for next time (good excuse to come here again one day). Then I catch a crowded, uneventful bus to Tiruvannamalai. I am amazed how nice the people on the bus are, getting out of their way to make space for me and my bag. A youngish guy, seeing that I'm green with exhaustion, offers me his seat. I refuse because standing up is much more engaging – I can observe all of these interesting people.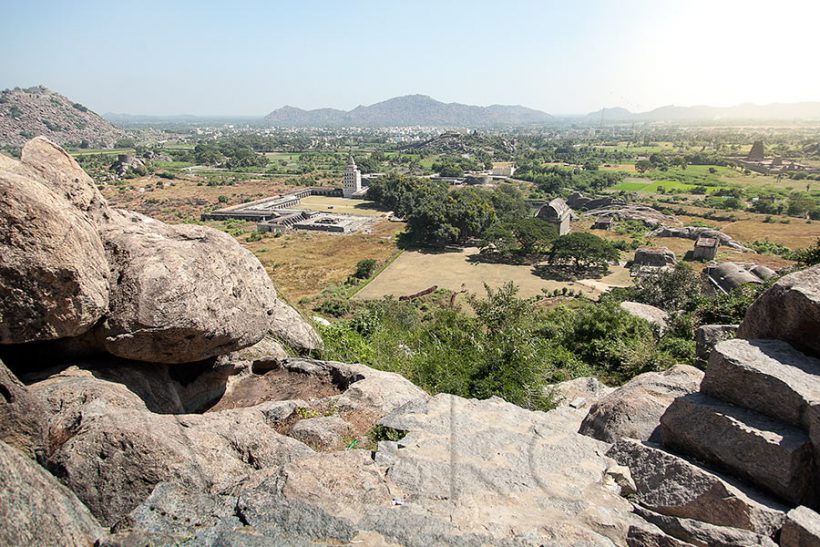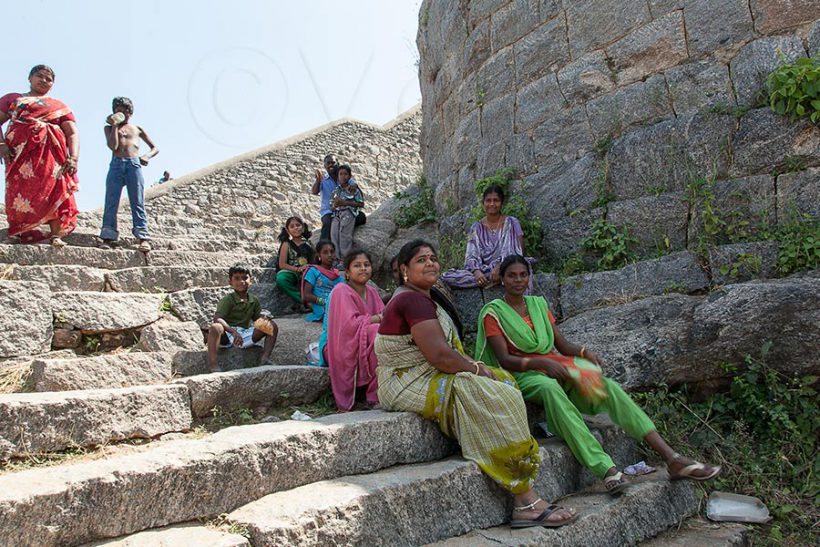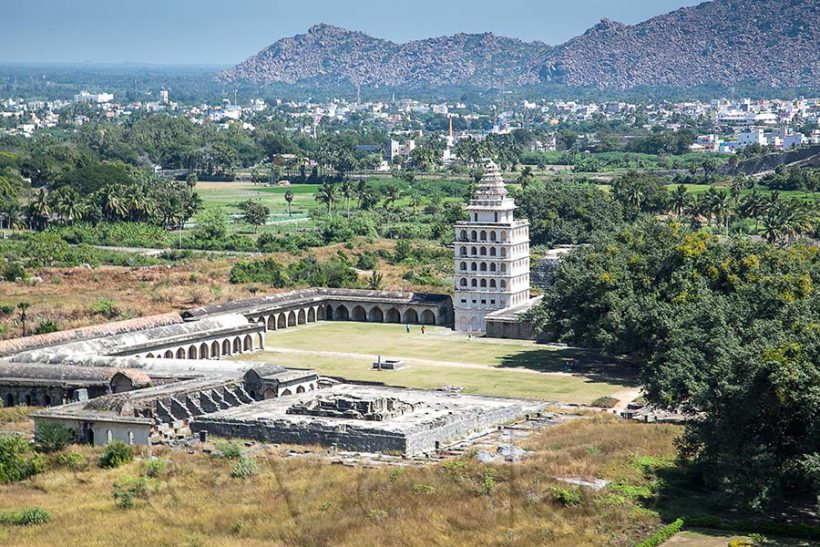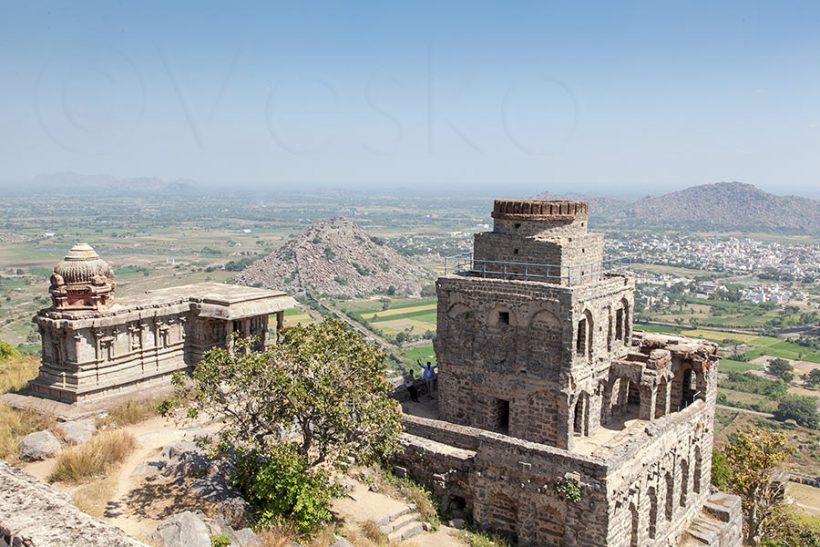 Tiruvannamalai is very similar to Gingee. I am lucky the hotel I booked from Mamalipuram (Aakash hotel) is right next to the bus station, but this is also a massive disadvantage for the noise I will have to endure this night. At the moment I don't know about it – I'm so, so hungry, that I enter the first small eating place around the bus station. No one understands me, but I point to the plates of the people sitting nearby and point to the omelette, which they cook in the front. I get the omelette and I get a dish of rice, with a few colourful foods hipped on the side. It is surprisingly tasty (70 rupees). I start to learn that the best food is found in the unpretentious eateries around bus and train stations. It is always fresh, as they cook constantly to feed thousands of passengers, passing through the stations every day.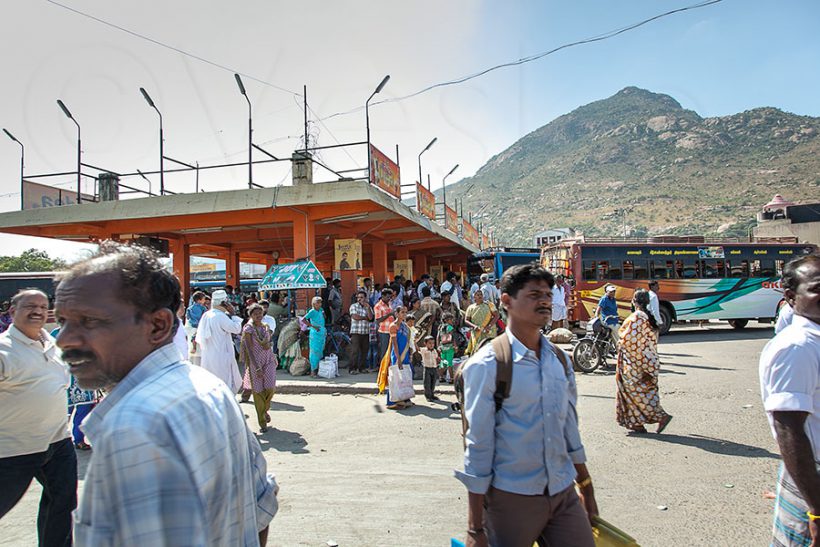 Aakash hotel is OK (for the 1000 rupees with an air-con). After a quick cold shower (no warm water), fresh clothes, I catch a rickshaw to the temple and try to enter it, but they stop me for the shoes. I have to leave the shoes with the shoes handlers. This doesn't appeal to me, plus it's already dark and I wouldn't be able to do much photography. I decide to come early tomorrow devising a new strategy about the shoes.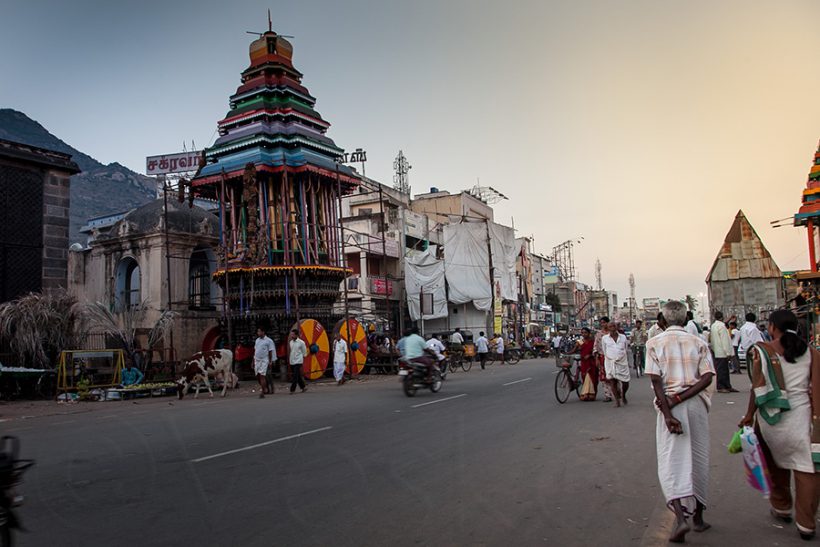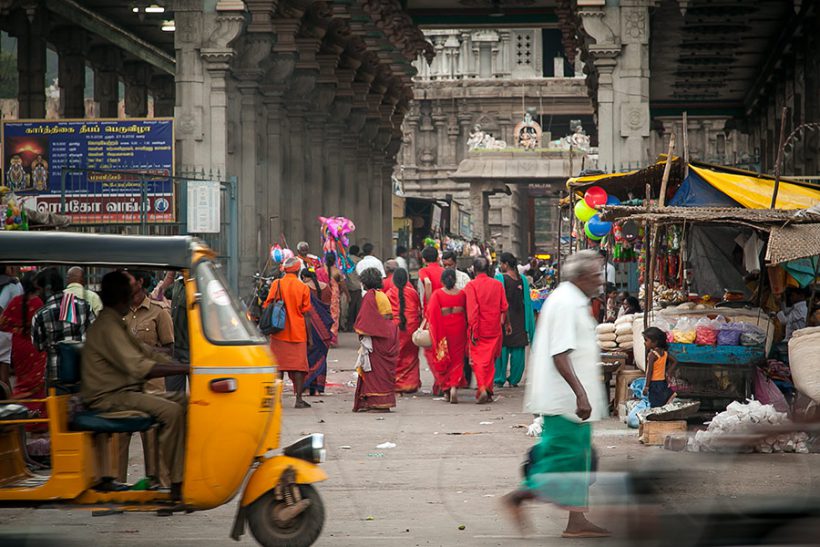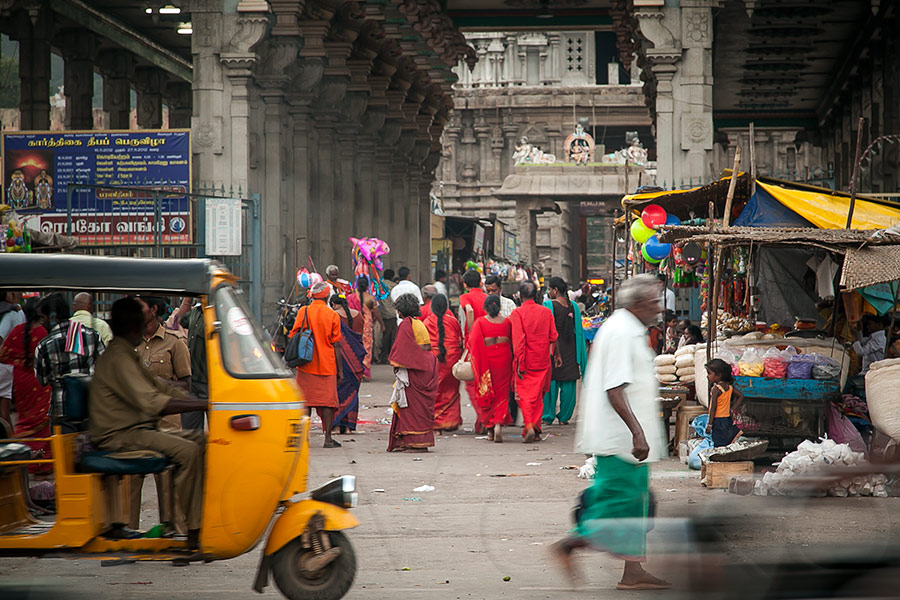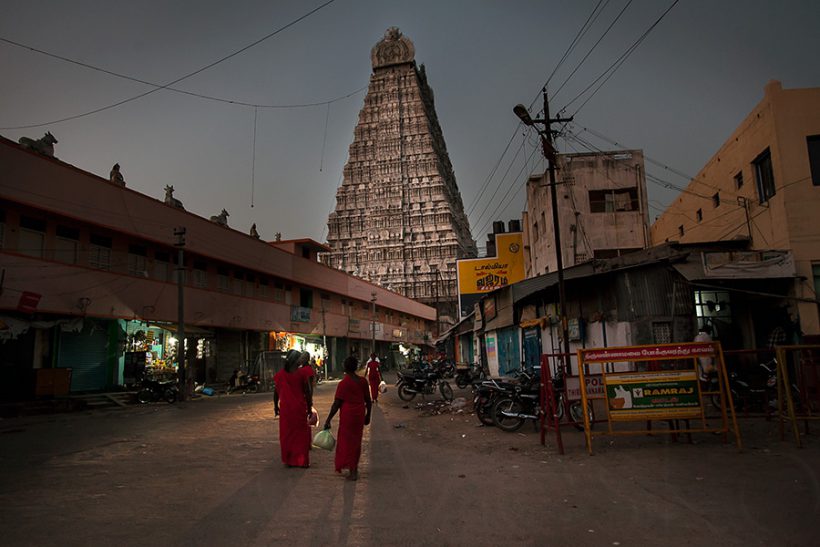 The walk back to Aakash hotel is uneventful, dark and boring. You can feel that Tiruvannamalai is a small provincial town. There is not much activity (apart from the constant traffic), there is no bazar, no crowds and most disappointingly there is not much choice for food. Perhaps the locals eat at home. Back to the bus station then and back to the same place I had my lunch. This time I ask for chicken rice… and the glorious omelette. Just how do they make it so good?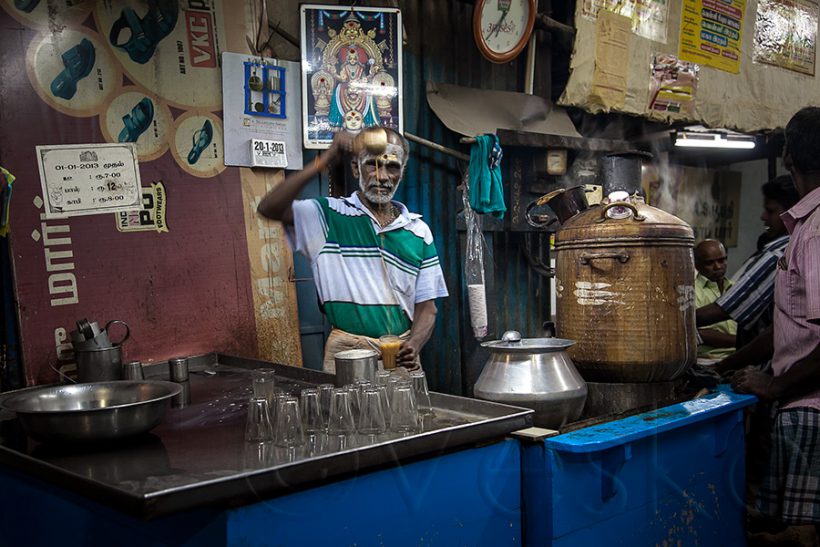 Yes, Aakash hotel is OK, but my room is on the road side. The honking traffic never stops all night. I also discover that the bed is super-hard, the sheets are dirty and the room is full of mosquitoes. I have to improvise somehow to hang the mosquito net I carry from Australia and pull out my own silk liner to avoid the dirty hotel sheets, which I suspect contain numerous bed bugs. With ear plugs in my ears and the total exhaustion of today's travel, I manage to fall in and out of sleep for a few hours.
Tomorrow I will travel to Trichi.
Did you like my post? Please share it with your friends and don't forget to leave a message. To have some feedback would be lovely. Thank you.