Bourke and Kidman Camp.
Very stressful few weeks. Not everything in my business is right and yet, I want to go. I want to drive the long way to the Red centre. Six thousand kilometres mini circumnavigation of Australia.
"I am concerned", my girl says, "You've never taken such a long preparation for a trip". She is right – I don't know what to expect and I consider everything twice or trice.
There is a celebration for my birthday, with singing "happy birthday to you" and "he is a jolly good fella", but I am half there, not "jolly" at all. I am smiling absently and I am thinking about the vast spaces of Australia…
The day of my trip comes – I get up at four ten, make coffee, fill the esky with beer, coke, frozen meats, potatoes, cucumbers, eggs, carrots, yogurt, cheese, and lots of ice.
Its dark in Sydney, but the traffic is already heavy. My travel to the breakfast at Lithgow's McDonalds is uneventful. The only thing I notice is the fuel consumption – instead of the customary 6.8 highway litres per km, I get 7.8 due to the roof rack (I guess), loaded with the extra tyre, 20l of diesel and the trusty MaxTrax.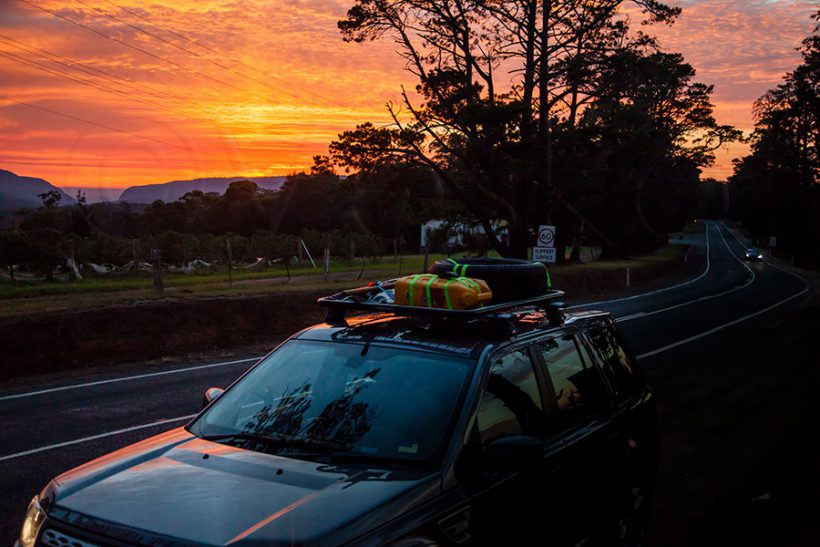 In Dubbo I fill up some diesel, 35l for about $52 and then drive easily through Narromine and Nyngan, but then, when I stop at Mulga Creek Pub for a few photos, disaster struck – I see my left front tyre significantly softer! Just 15 psi in it! Must've been some sharp metals on the side of the road when I stopped for a leak in the bushes. I pump it up, using my portable compressor and drive gingerly some 10 or 15km. When I stop to check it again, it's now bellow 10psi… Yes, I find a little gush letting the air out with ever increasing rate, which makes me panic.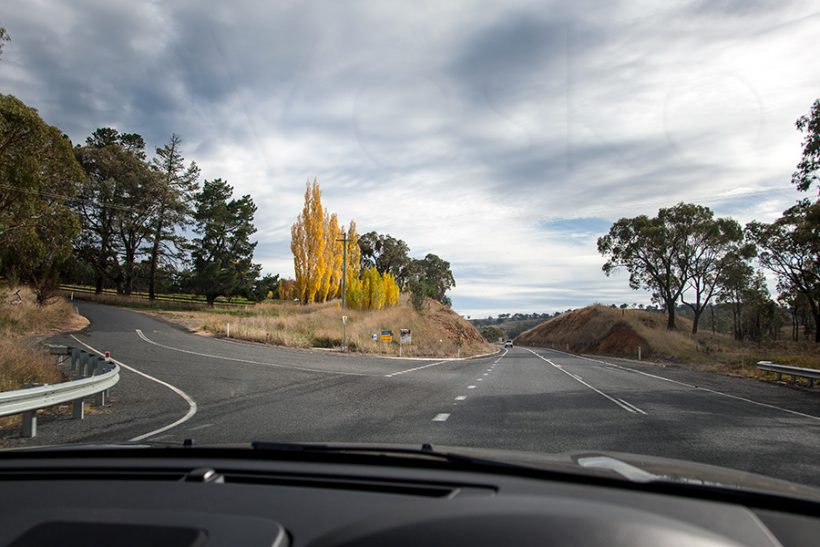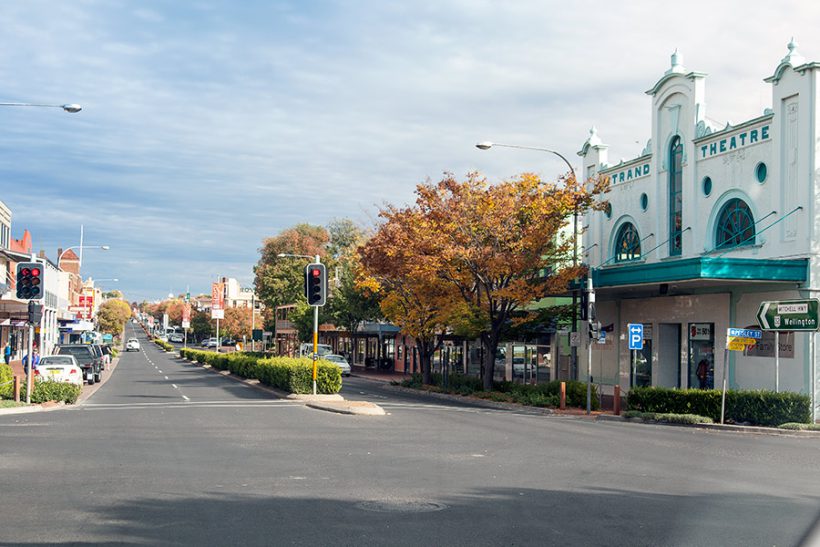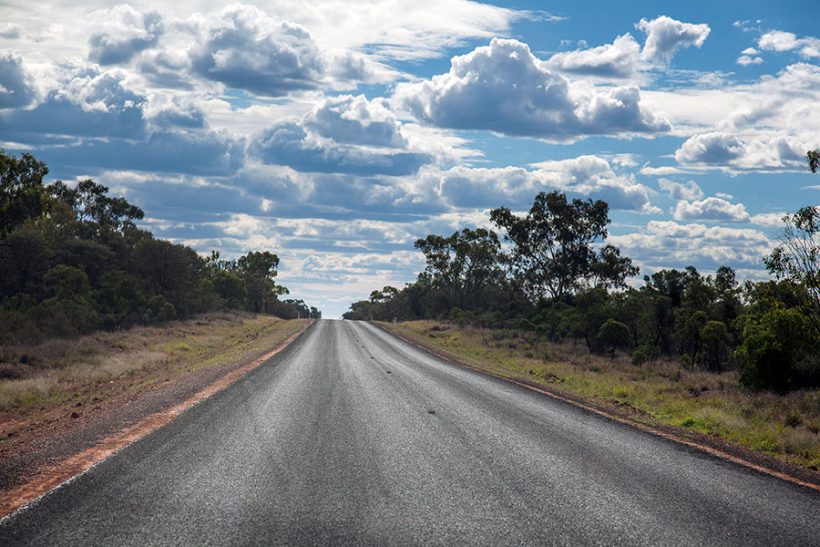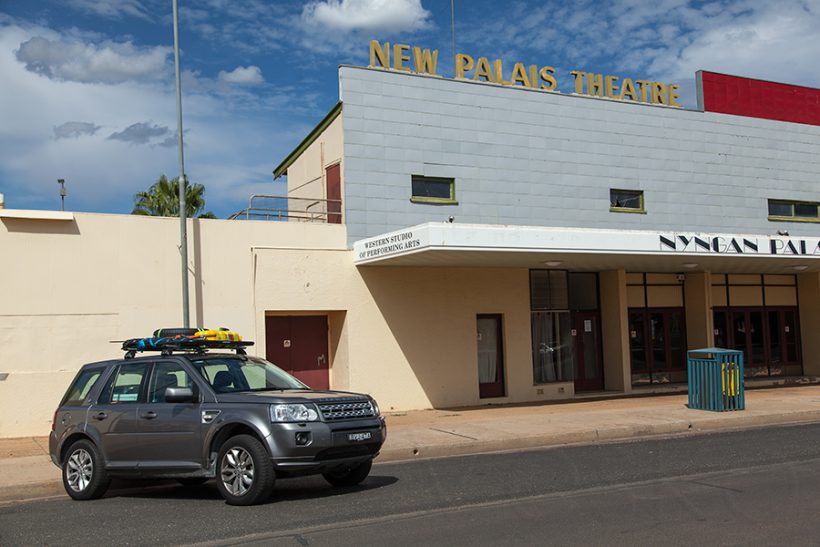 So, I change the tyre. I pull up deep to the left, close to the bushes for the shade there and it takes me about 10 minutes to unload the boxes covering the back of the car to retrieve the spare tyre underneath. The flies here are unbearable! I don't see well, but keep my sun glasses on, at least to prevent them biting into my eyes. Out of panic I don't have time to pull out the fly net I prepared in Sydney, which is waiting conveniently in the driver's door storage space (see, I thought of everything without implementing it). Plus, the ground is very soft – the jack starts to dig down under the car. Lucky I brought a wide timber plank to provide a base. I am surprised how dirty this job is, my hands are totally black from the brake dust accumulated on the wheel, but I wash them at the back of the car (yes, I have 10l of water prepared for this kind of emergencies).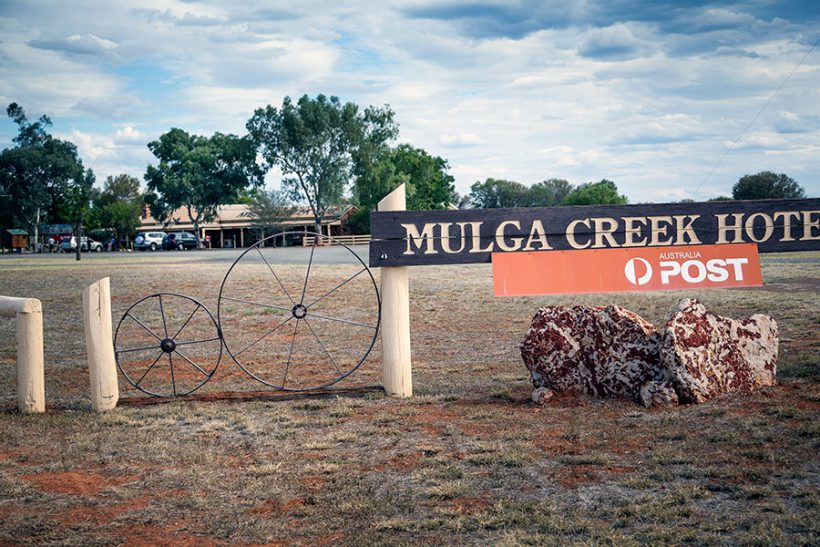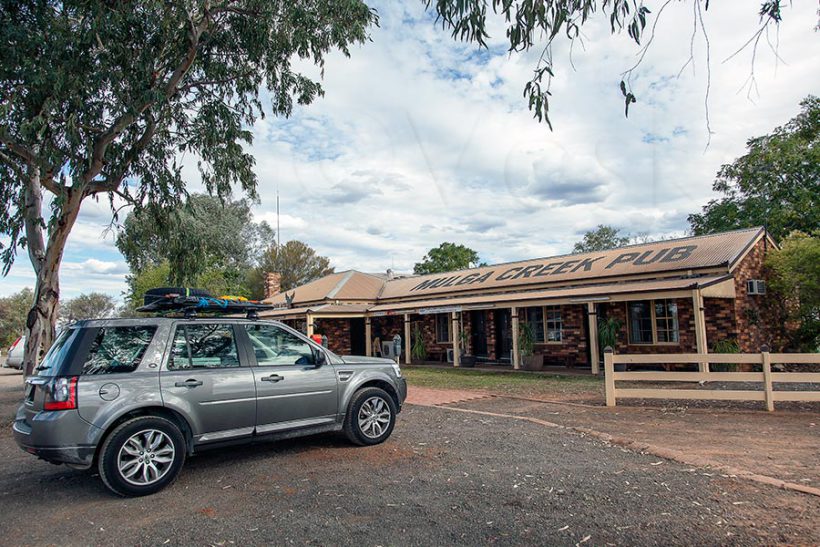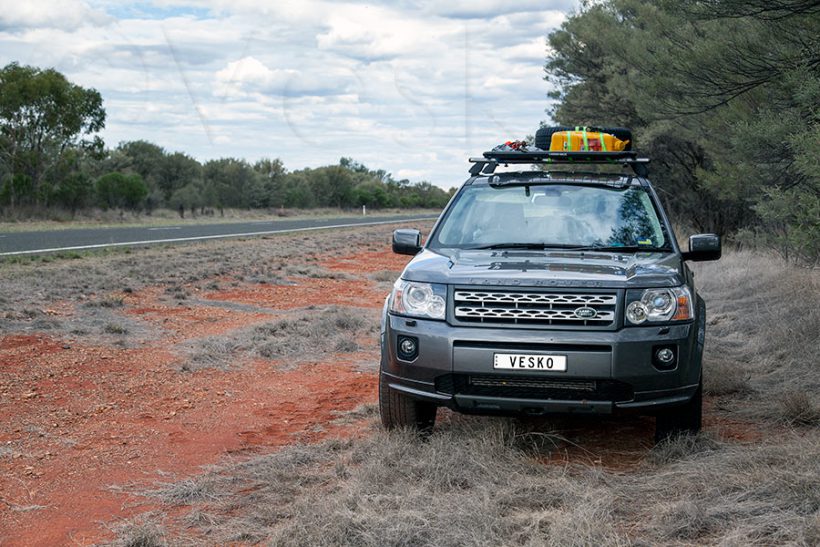 With the spare on, I get to Bourke and find the tyre repair shop. Half an hour later the tyre is plugged in and pumped up again ($30 cash). It's all good now, but the little drama with the tyre doesn't let me to see Bourke. I plan to spend the night here and read a lot about it. It appears to be the most dangerous town in the whole of Australia, due to the "unprecedented violence" amongst the local aborigines "fuelled by alcohol".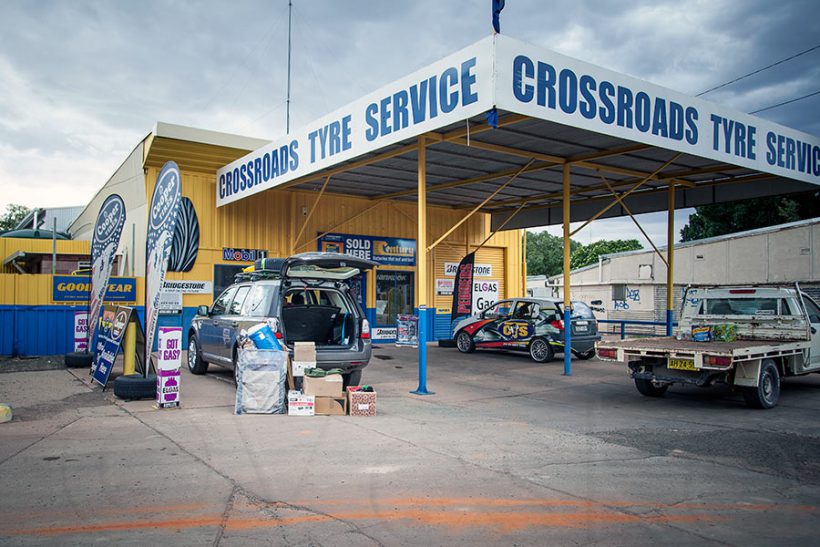 So, I don't see much of Bourke, it is deserted apart from some aboriginal children skipping around. After the tyre shop I drive a few kilometres to Kidman Camp in North Bourke and get a basic cabin for the night (about $65).
Now, this is surreal – I've driven 800km to blow a tyre, repair it and get to the "most dangerous town" in Australia to check in a caravan park with the most beautiful girl for a receptionist. I try hard not to stare at her full breasts, which are generously showing over the light t-shirt with every bending forward to diligently fill my details in the register. Am I imagining that she tries to prolong the check-in process? A Canadian accent?
The cabin is basic, but has everything a man could need – aircon, TV, running water, etc. I am a bit disappointed that I don't have the chance to use the outback things that took me so long to prepare. Nevertheless, tonight I enjoy myself – I light up the charcoal BBQ to roast a few lamb chops, one chunk of pork spare ribs and a large mushroom (butter, salt and pepper). Delicious!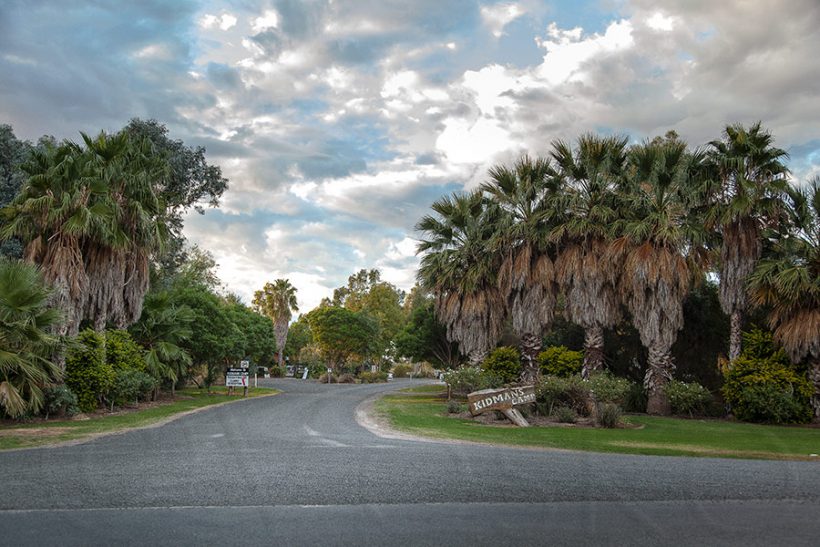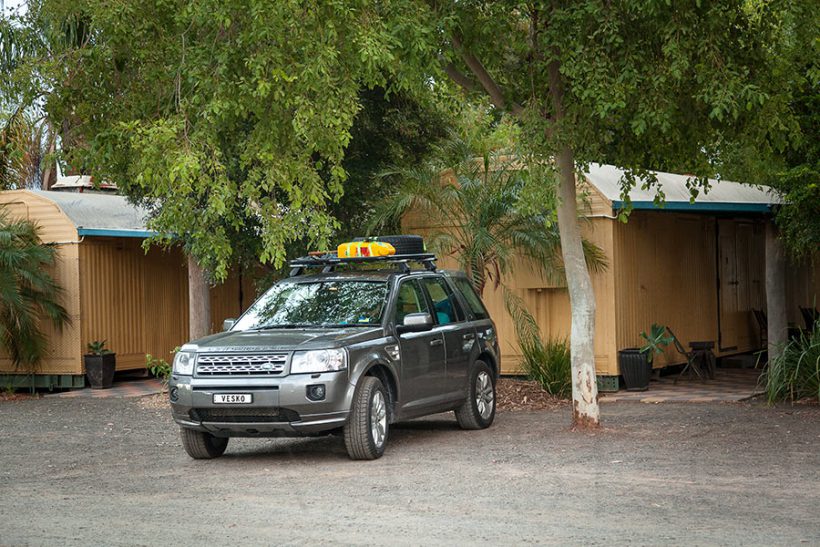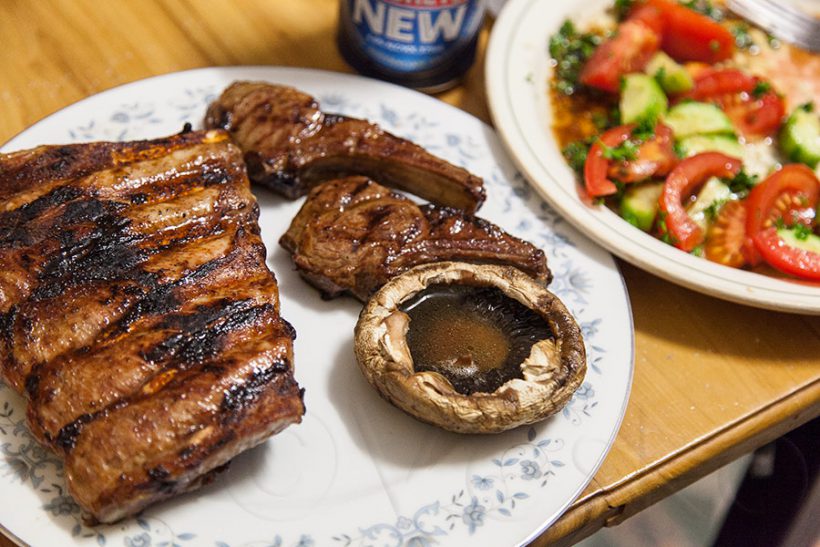 The charcoal BBQ blazes with a very potent flame and the Canadian backpacker/receptionist comes to my cabin to point out that the burning BBQ represents a fire hazard for the park (in this hot and dry wind). I promise that the flame will die soon, thinking that she could have sent someone else to scowl me about the flames. I start talking about the World and realise she is starved for a real conversation. Of course, I invite her to my wine and dinner. She seems happy to accept and I am thinking I should've taken an en-suite cabin…
Not to worry friends – later the evening develops naturally in her en-suite cabin, which is not so far away, but I should not bore you with details, this side of the story is not entirely connected to my real purpose of this trip – driving to the Red Centre of a Continent.