Cunnamulla and Dig Tree.
 This is the follow up of Bourke and Kidman Camp.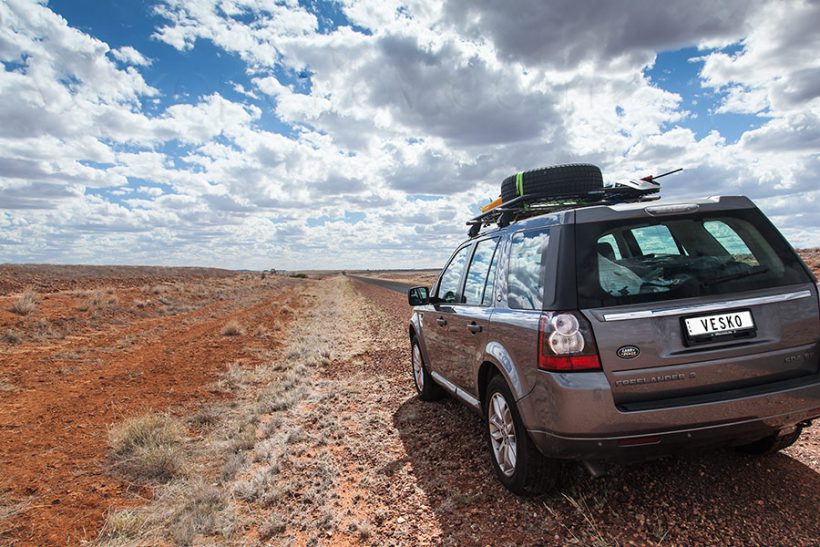 For some reason I wake up very early, too early to go, but not enough to sleep longer. I study the map and realise that today I have much longer to drive. In my mind the distance to Dig Tree (the bush camp I am intending to spend the night), is less than 500km, but counting the kilometres on the map now, I realise that it is more than 800km.
I jump up in sudden earnest, with the panic that I must go as soon as possible! But then, because I like eating, I cook a large breakfast which somehow dampens my eagerness for immediate set off. Mind you, the breakfast (with the strong coffee) is delicious: toast, ham, eggs, cheese etc. m-m-m… It's too much food and I cannot finish it, but I don't throw it away (my mother taught me to never throw good food away). The left overs become a perfect idea for my lunch sandwich.
The early morning driving is fantastic, like in a dream with a fairy tale fog, which makes me switch off my anxieties and switch on the cruise control to let my Landie and my tranquillity float 110k/h on the highway. There are a few "nuts" kangaroos (hey Mike 😉 ), but when I see their distinctive shapes, I cleverly slow down for the stupid creatures to choose their course of action: gracious jumps to the left or gracious jumps to the right.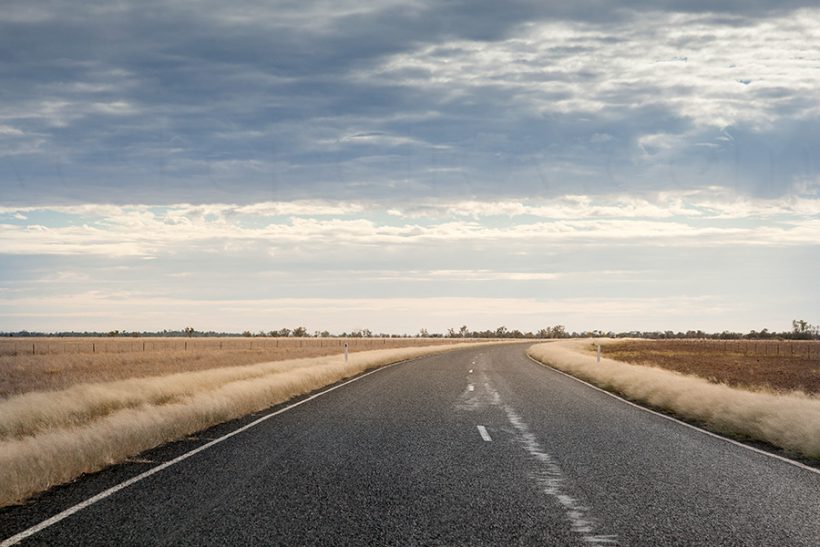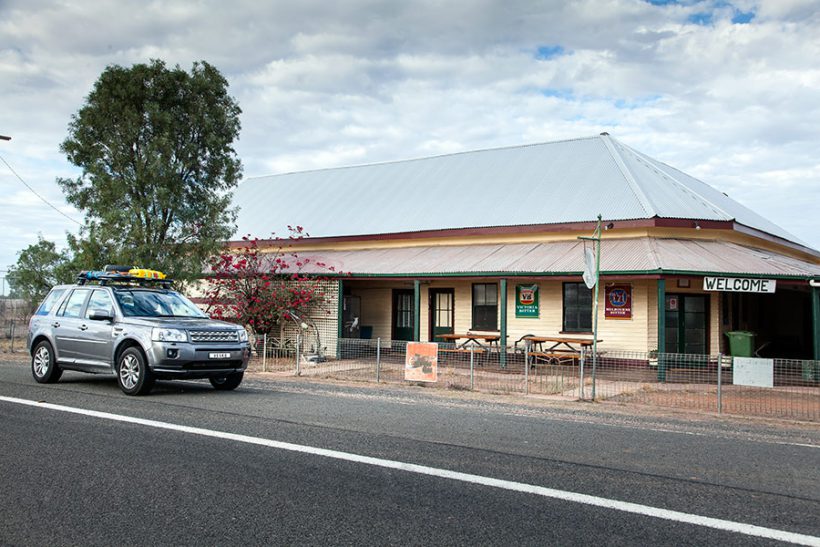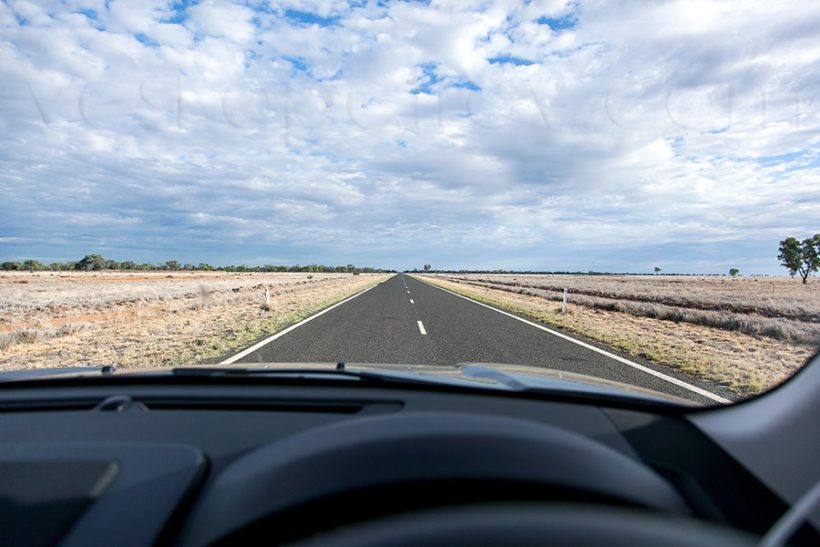 I drive to Cunnamulla without hitting anything. The fog is now gone and a happy sun is smiling on me. I stop at a petrol station to top up my diesel. The petrol station attendant is very interesting – a trim, leathery woman in her early thirties with a harsh, heavy smoker's voice. She looks tough and weathered, and all no nonsense. I am a bit intimidated, but still ask her for directions and about the condition of the road, because from Cunnamulla I have to turn west, away from the main highway.
It might've been my stammer or my very ridiculous leather hat, that I stubbornly keep on my head, I don't know, but while she talks to me, I witness an amazing transformation – the tough scary woman melts into the girl, that she should be – polite and open, even attractive… I start my drive west on the fittingly named Adventure Highway thinking about it – this image stays with me for quite a while.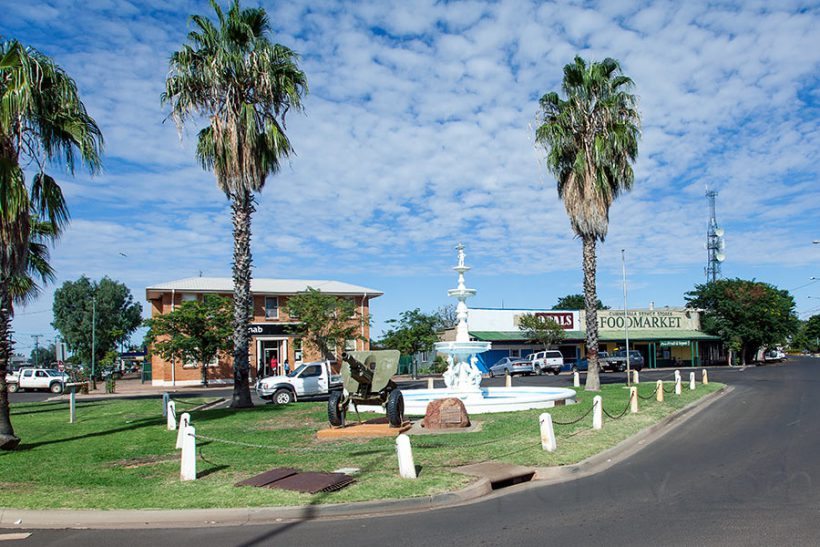 The next stretch is easy; there are signs everywhere. I pass Eulo and then Thargomindah, but after Thargomindah, I am not so sure despite the maps. Along the way I fill diesel whenever I see a pump, which is just at Thargomindah (prohibitively expensive). I carry three full 20l diesel jerry cans, but still I am freaking out not end up stuck in the outback for lack of fuel.
Encouraged by my little success communicating with the lady at Cunnamulla petrol station, I try to be friendly with the guy attending the Thargomindah's diesel pump. No luck. There is no amazing transformation with him – the tough and scary guy does not melt into a polite and open gent. On the contrary, he is highly suspicious of me, despite my cash payment. Yes, I'm thinking – it must be the "Barmah" hat. My girl gave it to me as a semi-joke present; I tried it on and discovered that a leather hat keeps my head much cooler. I was also hoping that the hat will help me "blend in with the locals". Now I realise how ridiculous this hope has been!
Well, despite the sullen guy, I'm not getting rid of my ridiculous hat. It is much better than the cloth hats I've been using so far, a bit heavier yes, but the firm brim drops better shadow on my neck and my shoulders. I continue on my way unfazed, but the problem is that I have doubts where to drive. There are many little roads heading in different directions without signs and I follow the one that looks more major and is heading west. Along the way I see lots of un-maned oil or gas drilling installations with names not indicated on the map.
Yes, I have a TOPO Australia loaded on my Garmin, but it is just useless. There is something wrong with it – when I put in the coordinates for Dig Tree, it tells me to turn left into the fields without any existing track there. I switch it off and continue my drive west, at least Garmin says "Driving on Innamincka Road", which is where I should be going. I'm nervous because according to the paper map, this should be Adventure Highway and I should've reached the dirt part of the road long time ago. Perhaps it has two names and perhaps they sealed it since the maps where printed.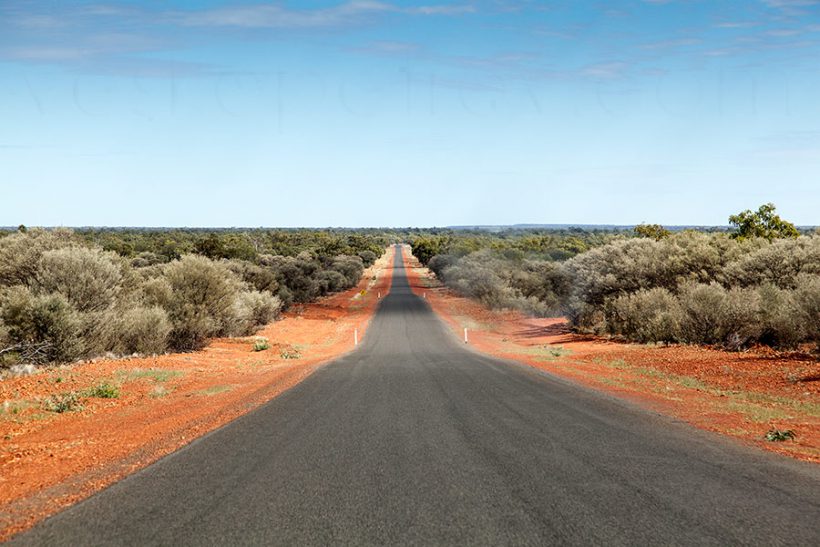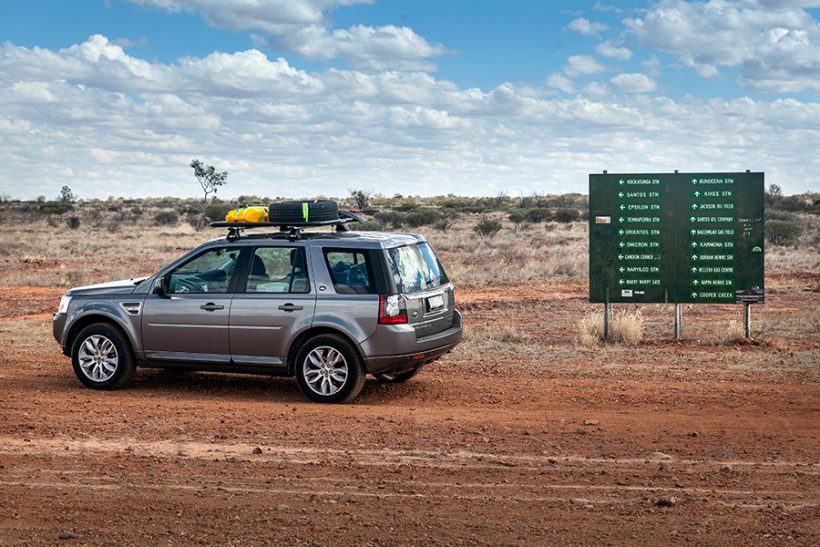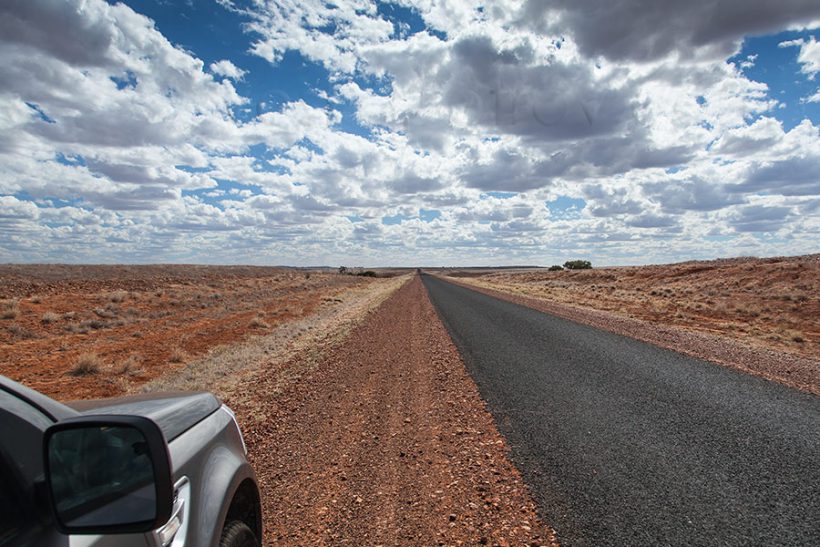 I finally get to the dirt stretch of the road and stop to wander for a while. Just then a massive road train approaches from the other side. It stops there and a skinny guy wearing a singlet and tongs jumps down from it. He starts knocking the massive wheels and tyres in order to drop the accumulated dust and sand, before continuing on the tarmac. I like this diligence. The truckie is very friendly and happy to chat with me, despite the hat on my head. He confirms that I am heading in the right direction and tells me a bit more about Planet Arrabury Road which I'll take tomorrow and how to get to Dig tree.
When I am assured, I'm relaxed. I drive an hour or so on a smooth dirt road, listening to the BBC adaptation of "Heart of darkness" by Joseph Conrad and despite the scary story I am not scared. I find the short connection with Planet Arrabury Road and the large signs pointing 12km to Dig Tree. This short section is horribly corrugated and full of large stones, which force me to start a slow 30, 40k/h crawl. Despite the gravel terrain response mode, it is still uncomfortable; mostly because I feel every hit my Landie takes like a personal fight. This is only the beginning; I still don't know how much more my Landie is capable…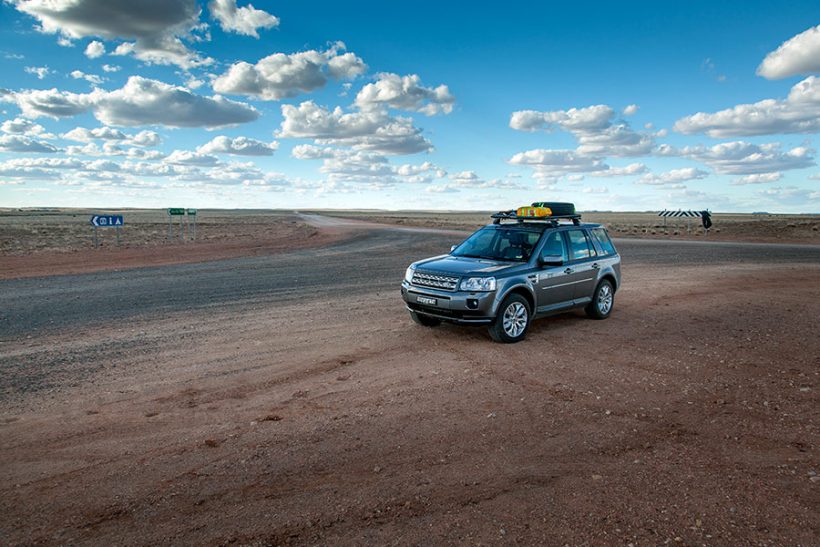 At the entrance of Dig Tree camping ground I pay $11 in an envelope for the honesty box and study the splendid display, telling the story of the legendary Australian explorers Burke and Wills. The string of leadership mismanagements and freakish bad luck events of this ill-fated expedition is fascinating.
There is still plenty of day light left, I set up my camp and go for a dip in the river (Coopers Creek). The place I think is called Bullah Bullah Waterhole. Here I strip to my swim shorts, but keep the hat on, because the hard brim keeps the fly net away from my face. Perhaps I look like an alien, but the flies here are unbearable; without a fly net they would get into your eyes and mouth. Later it will be very funny with my beer – every time I try to drink, I forget that my face is covered with a fine net. When I lift it up to sip from the beer, a few flies always jump in and I have to slap them dead. Fun!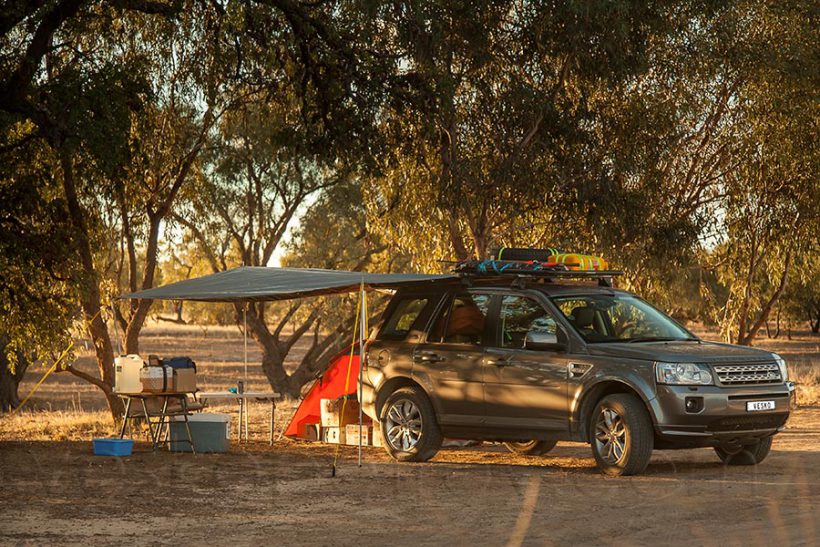 Well, I am not alone at the Bullah Bullah Waterhole. There are some noisy kids splashing the water, and of course there is a bunch of students from the History and Archaeology Faculty at Sydney University traveling on a field trip. They are intrigued by my strange appearance (hat and all) and invite me to join them to "restore the balance", as the girls outnumber the boys three to one. We light a fire, drink beer and roast BBQ. By now the annoying flies are gone and a fresh night sets upon us. The students talk excitedly about the work they've done at Mungo National Park, I tell them a few stories from my previous life as participant in an archaeological expedition in search of facts behind some of the Greek legends. They are fascinated and while I tell them the story of Orpheus, I feel how the girls watch me with this unmistakable intense attention, bordering to longing and desire.
It's too late now friends, I should stop my story for a while. I shell only mention that tonight, under the impossibly large and bright stars of the Australian outback, the balance of nature is restored…
Stay with me my friend, tomorrow I'll tell you how I got to Birdsville and the Simpson Desert.