Cape York Trip
Part 2
This is the follow up of  Cape York Trip.
I am getting closer to the legendary places of Cape York Peninsular. The plan for today is to reach the beginning of the Old Telegraph Track, and then I don't know yet. The road is good, corrugated, but not as bad as I have seen (the roads leading to and out of Dalhouse Springs in the Sturt Stony Desert comes to mind).
I stop for an ice cream at Archer River Roadhouse, and also to buy canned tomato for my cooking. Archer River Roadhouse is bustling with activities. There are a few well prepared traveling parties equipped with huge lifted cars and as always I feel a bit diminished with my little Landie next to them and also a bit sad that I am as solo as ever, but then again I think of all these people that must be waiting for each other everywhere and that if I am one of them this would most likely piss me off. I decide that I am just fine by myself.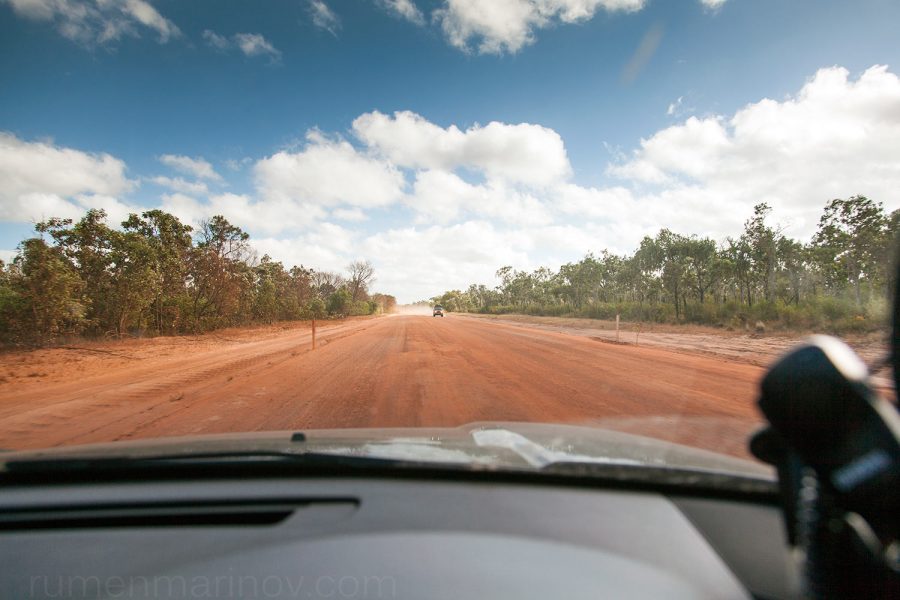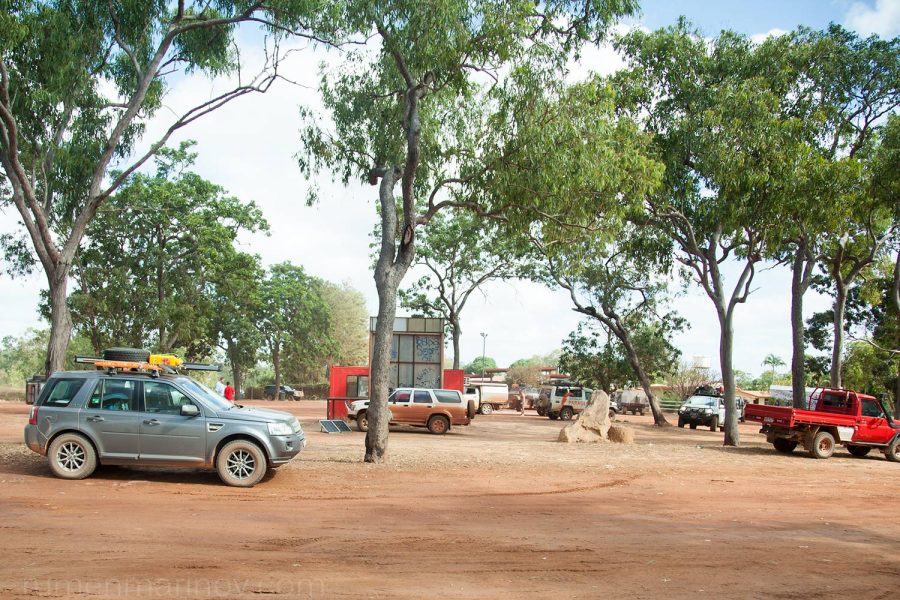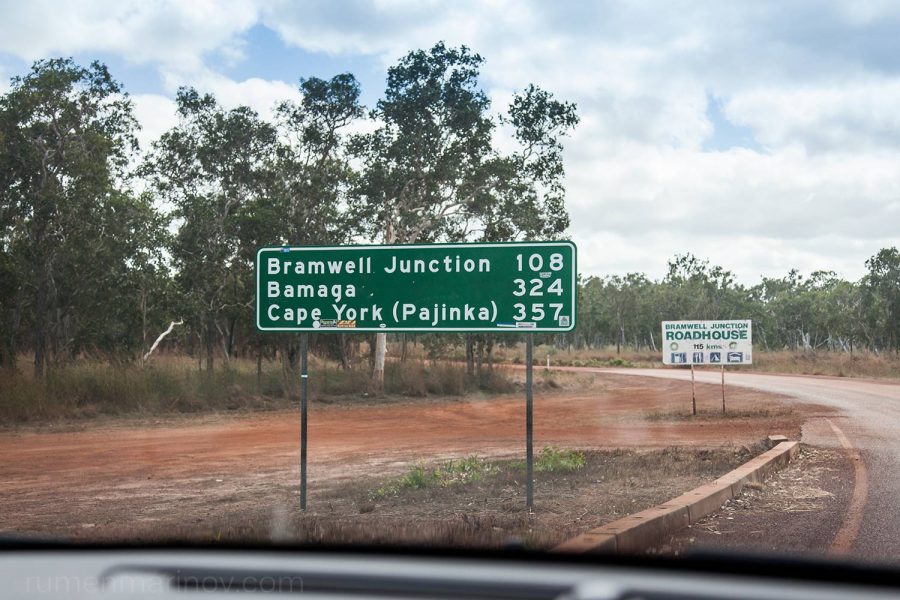 During the drive today I encounter the long dreaded (by me) bull dust holes. The holes are deep and sharp and deceptively covered with fine, fine dust. Hitting them with speed would be disastrous. I don't know why I am so afraid of them, but my fear is good – makes me cautious and I learn quickly how to recognise them, slow down and avoid them.
Moreton Telegraph Station is uninviting and boring. Strong wind makes it uncomfortable to have lunch here with the last night's leftovers. I press on to Bramwell Junction, but don't bother to stop as I see a sign saying The Old Telegraph Track (OTT). That's where I'm headed.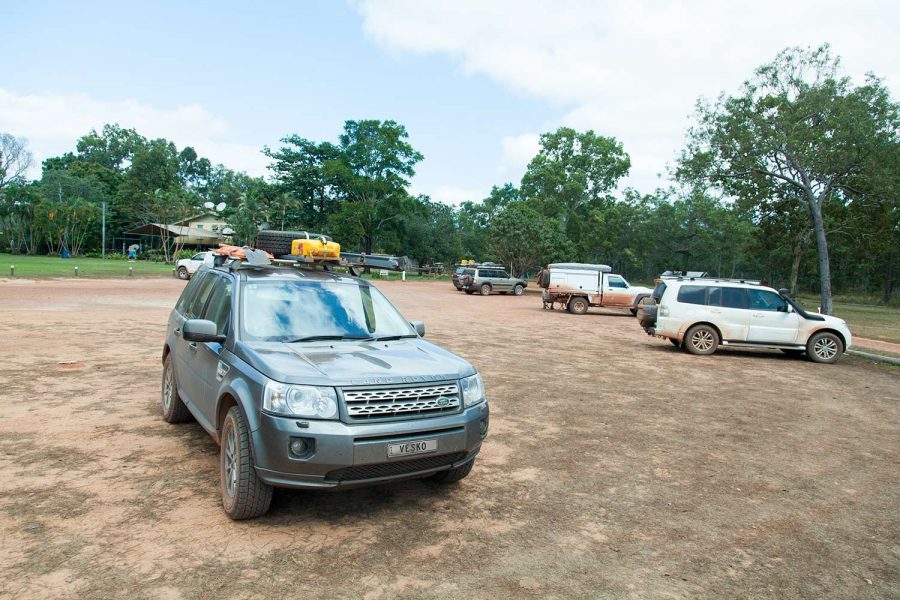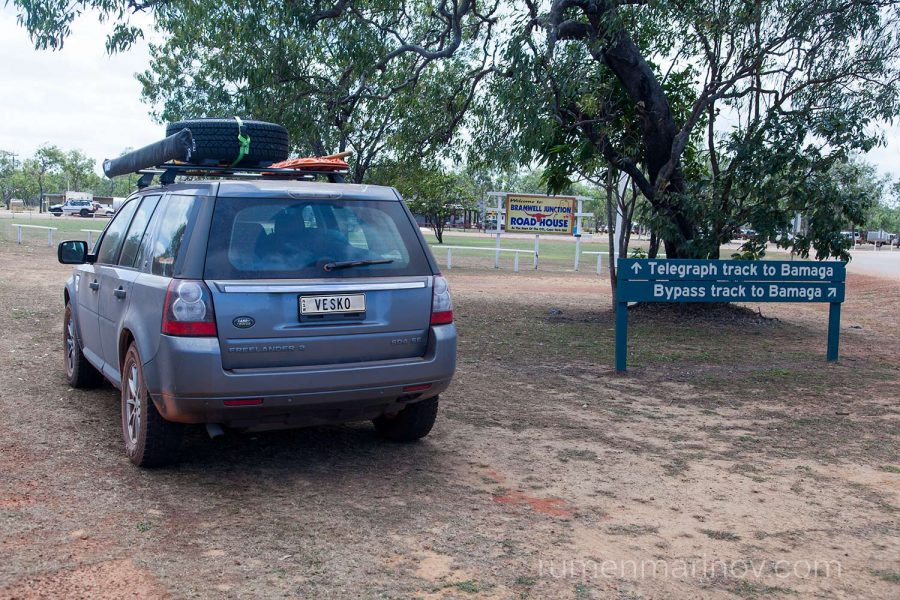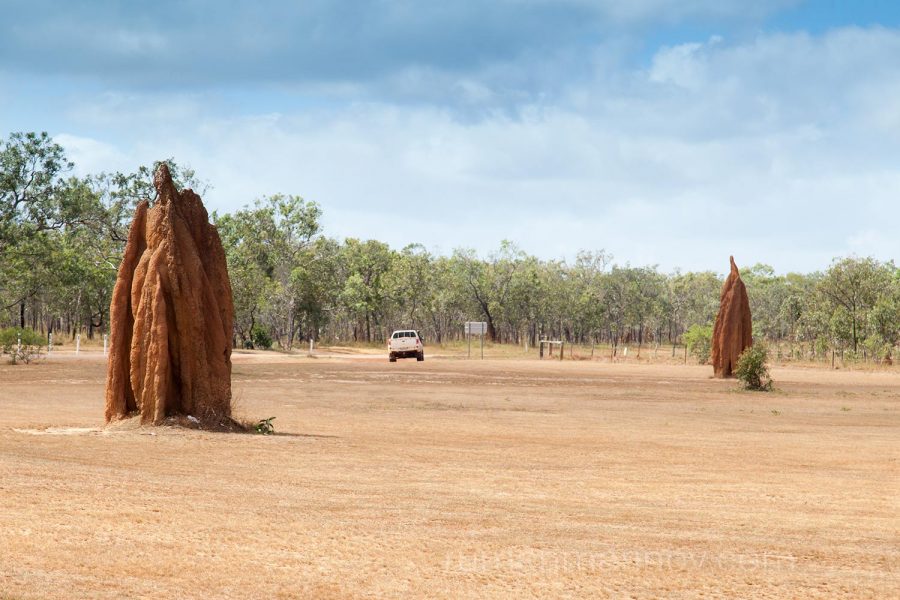 The beginning of OTT is promising – narrow and rough, but comfortable for the Landie. Then I get to Palm Creek and I see "what they mean". The drop to the creek is suicidal! On the left there is such a deep rut, that any vehicle, regardless of how high or tough it is would swing and hit the cabin side on the rocks, no matter what. It is definitely a no go…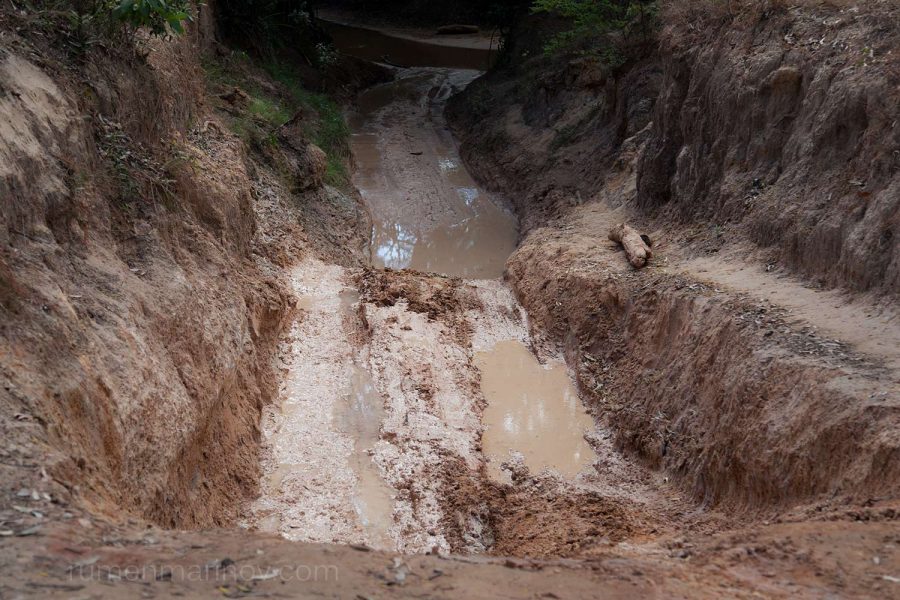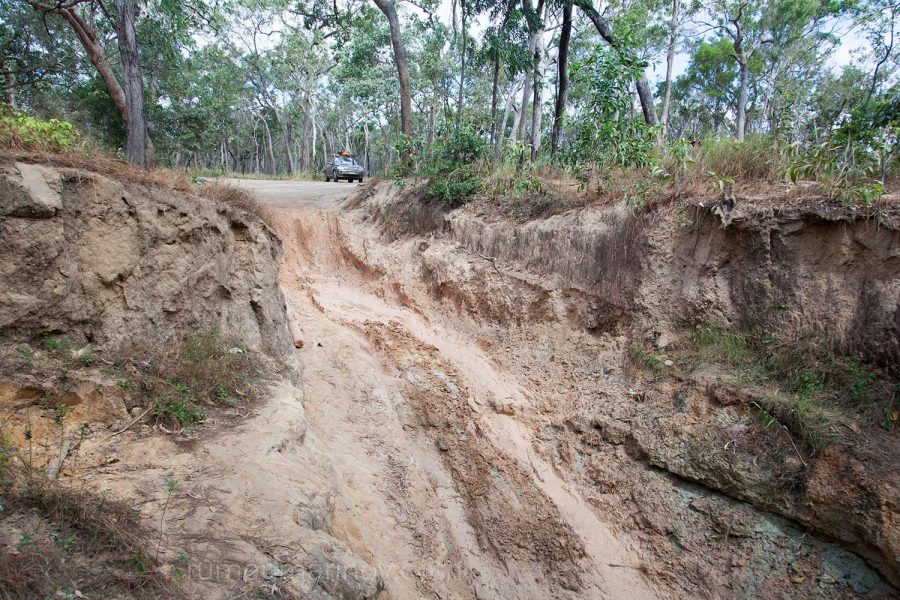 While I contemplate my options, a party of three vehicles comes to the creek. They seem even less experienced than me judging by the questions they ask me. They plan to camp here tonight and cross it tomorrow. Hm-m!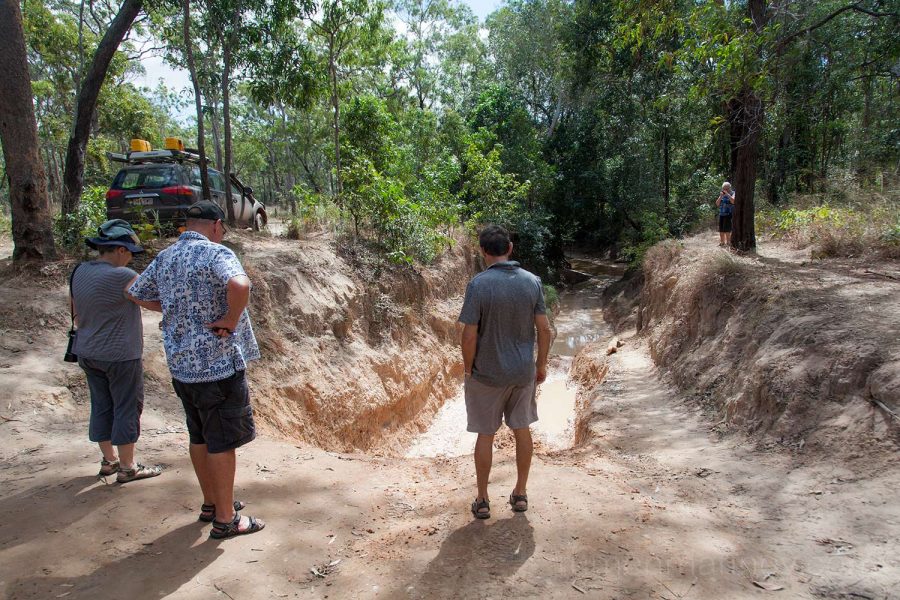 While chatting to the three vehicle's occupants, I notice a path leading to the right. There must be an easier, "chicken track" for passing Palm Creek. I drive there and find another two tracks; the first has too steep an entry for my Landie to make and the second looks like having very muddy and steep exit. I might make it, but if I don't, I'll be stuck without a winch and at the same time blocking the only easy way for the other cars. That is too much of a risk, I decide to drive back and get the bypass track. I am a bit sad, but don't regret it. When you drive solo, you have to know your limits.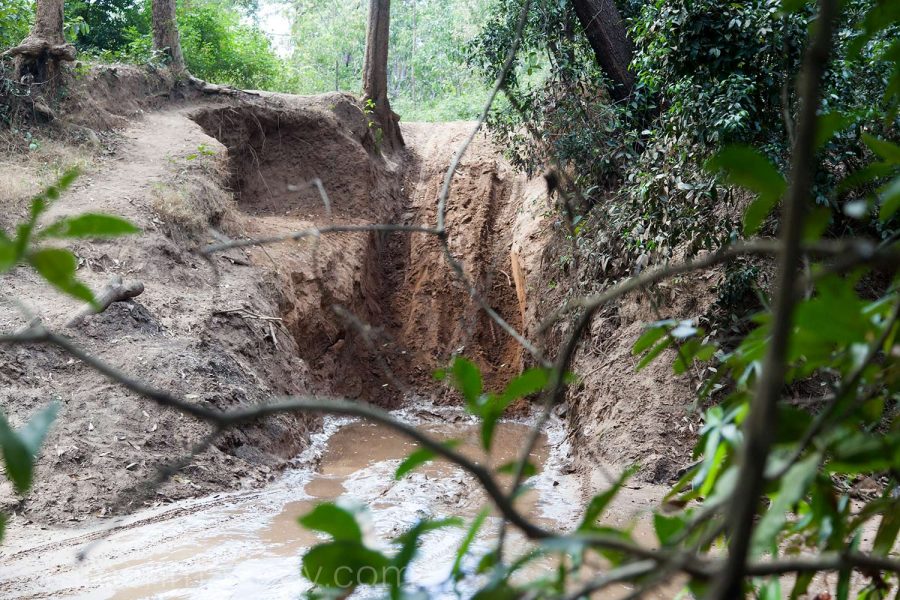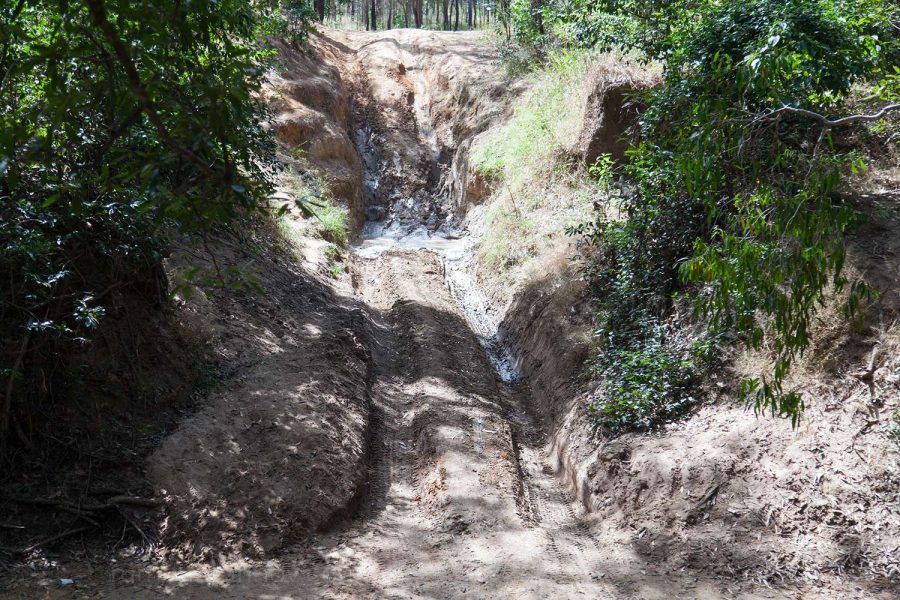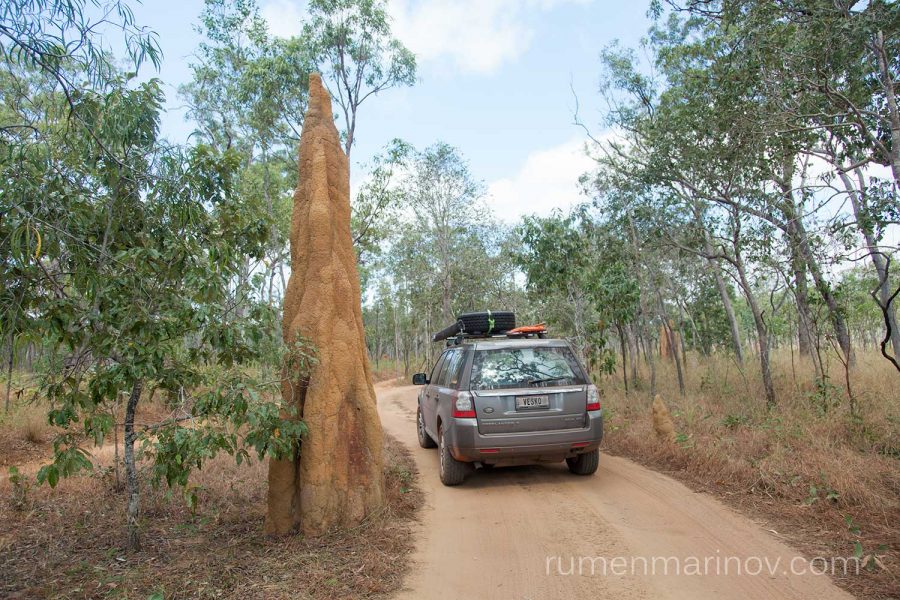 I return to the OTT just after Gunshot Creek (on the north side), which means I can join the show of everybody else crossing it. I arrive just in time to film a guy going down the hardest track. It is purely vertical and I wander how on earth this super heavy Toyota doesn't smash itself into the mud. The answer is – a mate is holding him with a snatch strap from behind. Another mate is waiting in the front to pull him out if necessary. As it happens, the guy with the heavy Toyota doesn't need help – he comes out with his own power.
Many people are cheering and clapping, and everyone is ready to lend a hand if needed – I've never experienced such an incredible atmosphere! Then we all go camping to get ready for the challenges of the next day. Most of these wonderful people I will meet again and again along the OTT.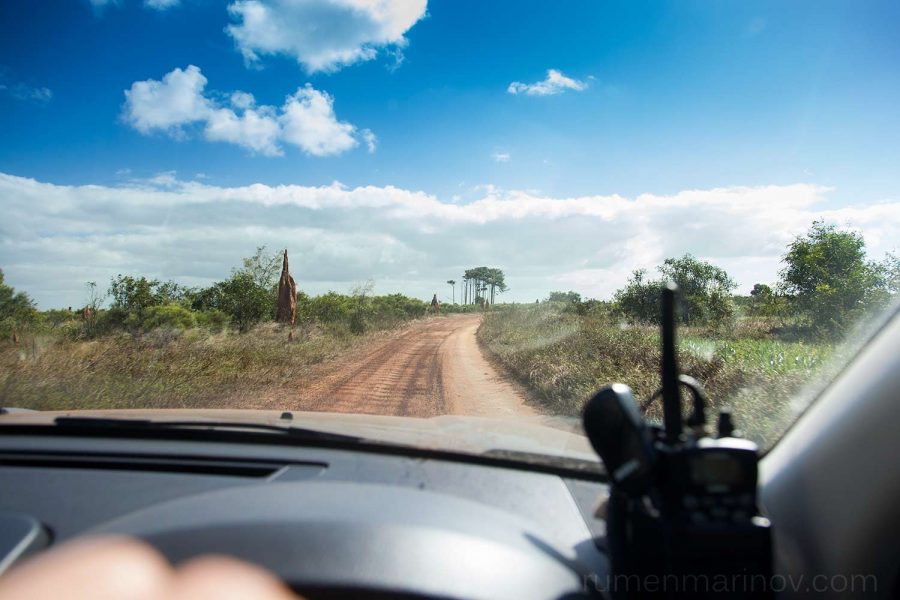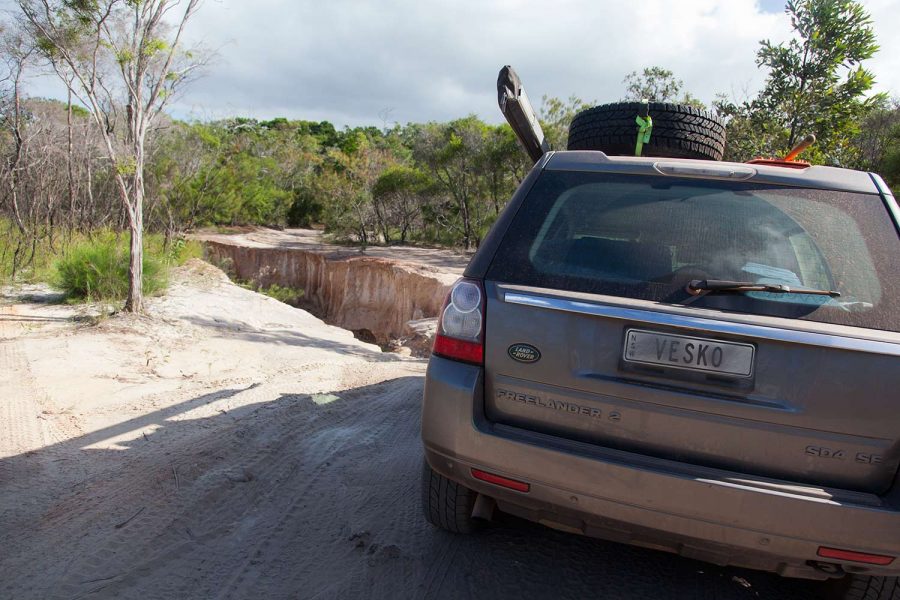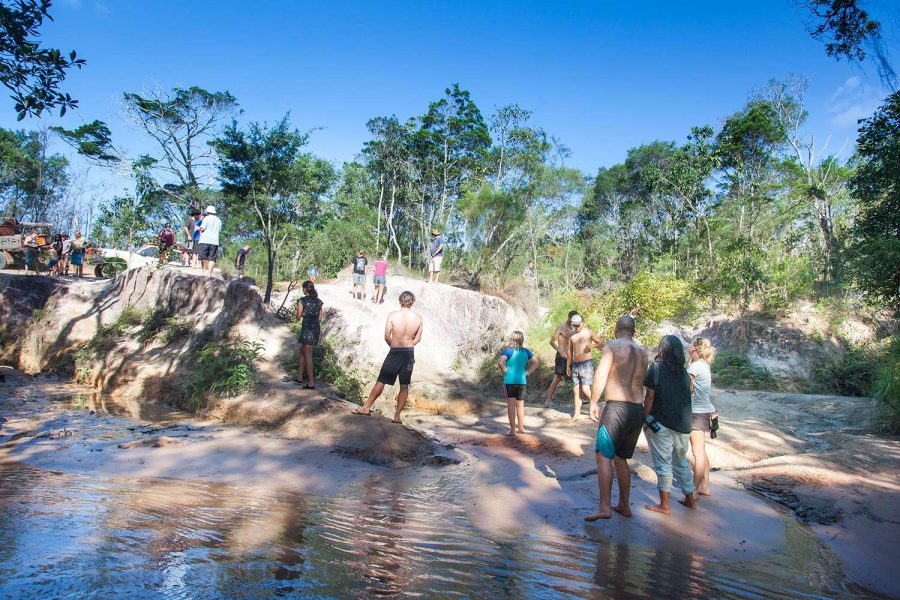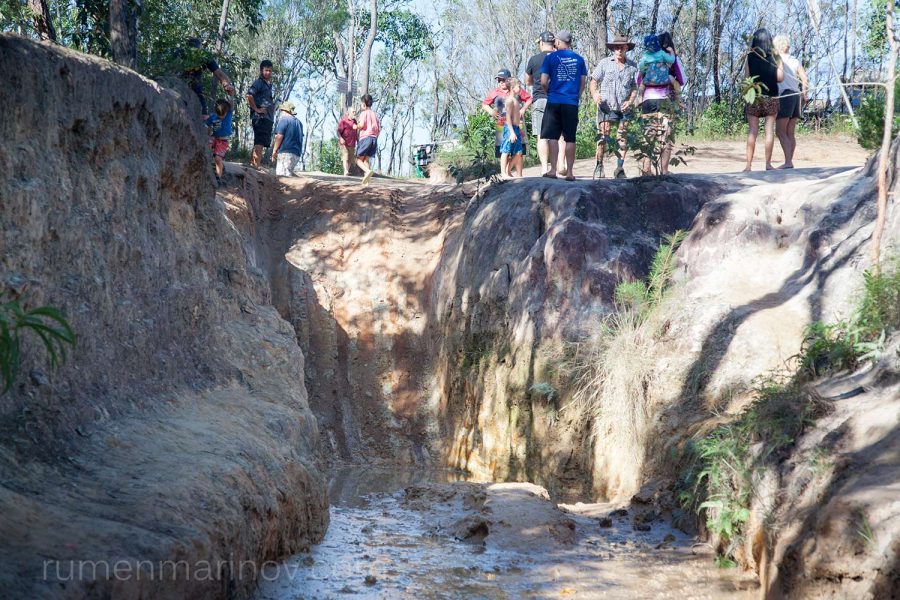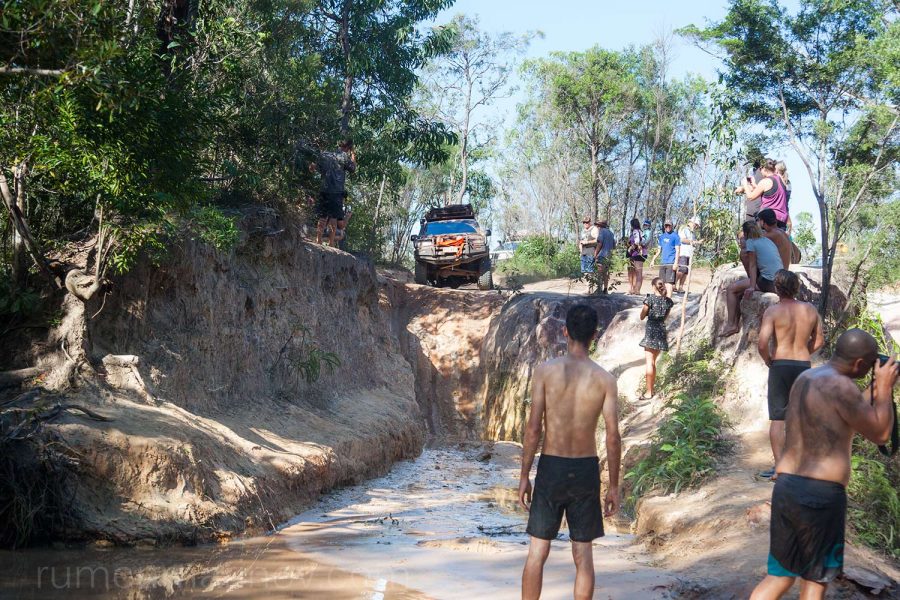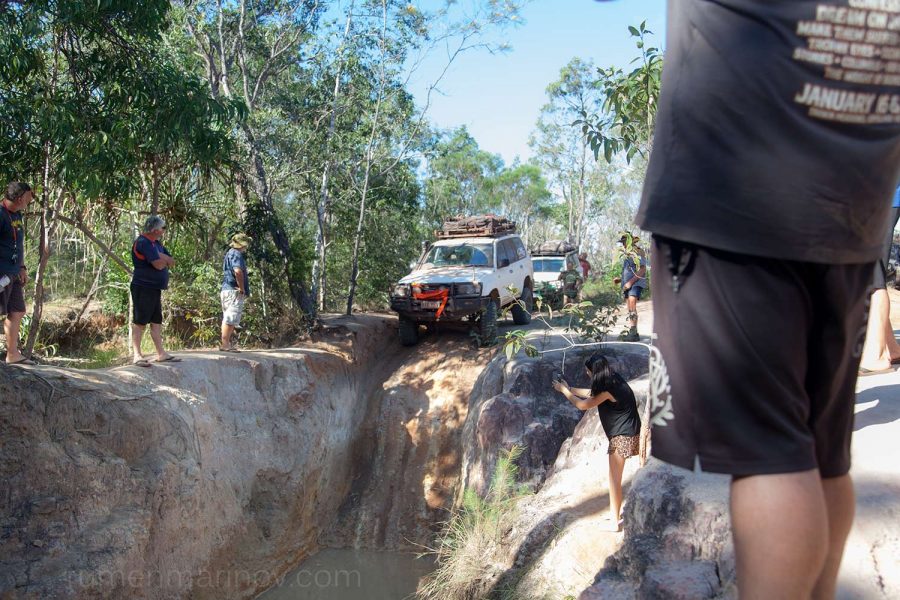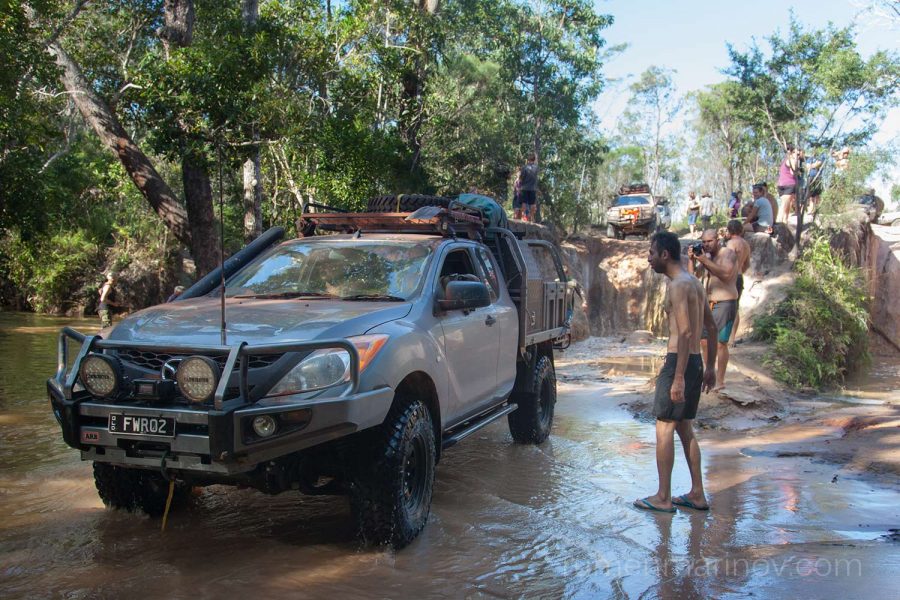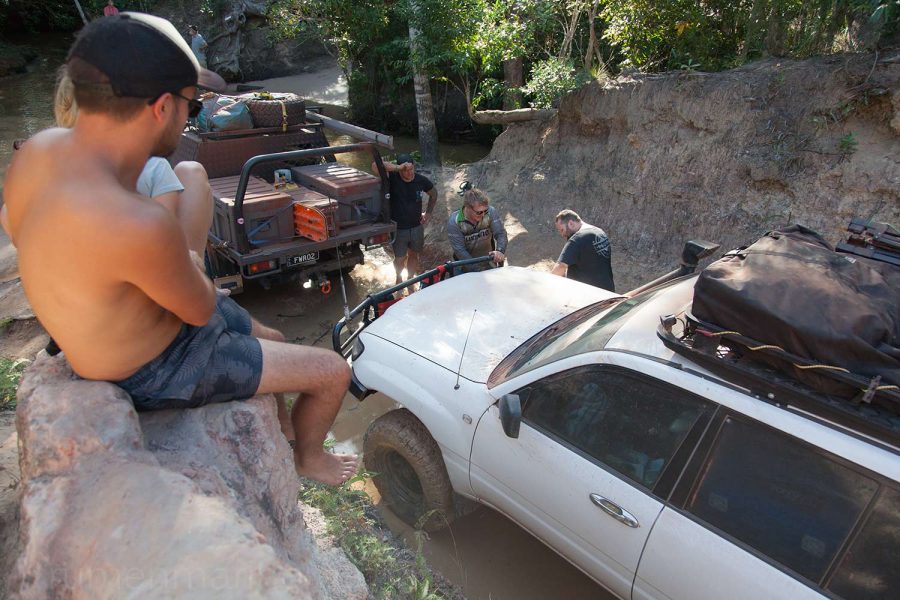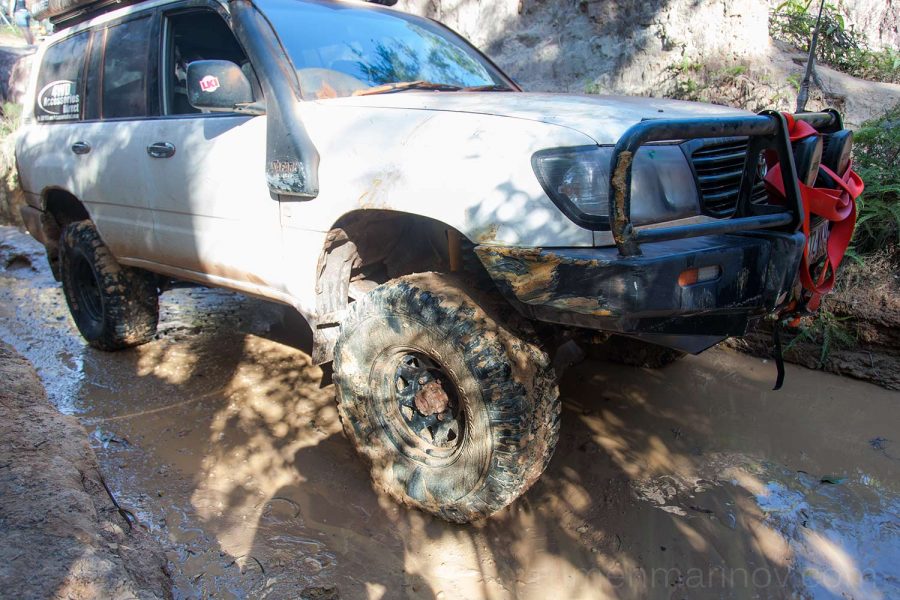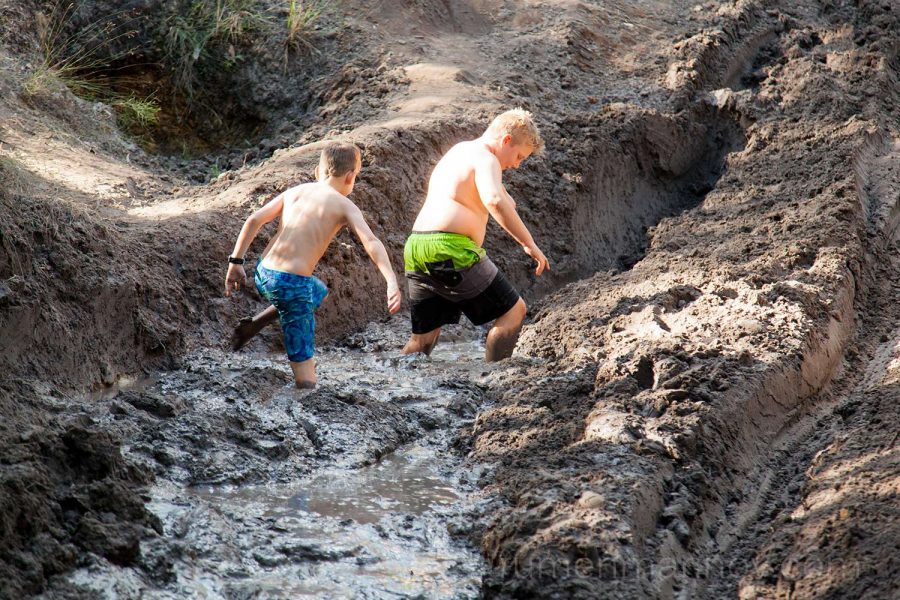 My camp happens to be next to a bunch of young people from an organised tour, or rather they join me as the space for camping on the north side of Gunshot Creek is quite scarce and inevitably we share a campfire. Most of them are European tourists. I start talking with two Dutch girls, who spent some time in Cairns where they joined the tour. Annika and Katya are very intrigued by me traveling solo and comment that my car doesn't look like all the other cars on the OTT. I am little taken aback, but they add that it looks more elegant. I agree…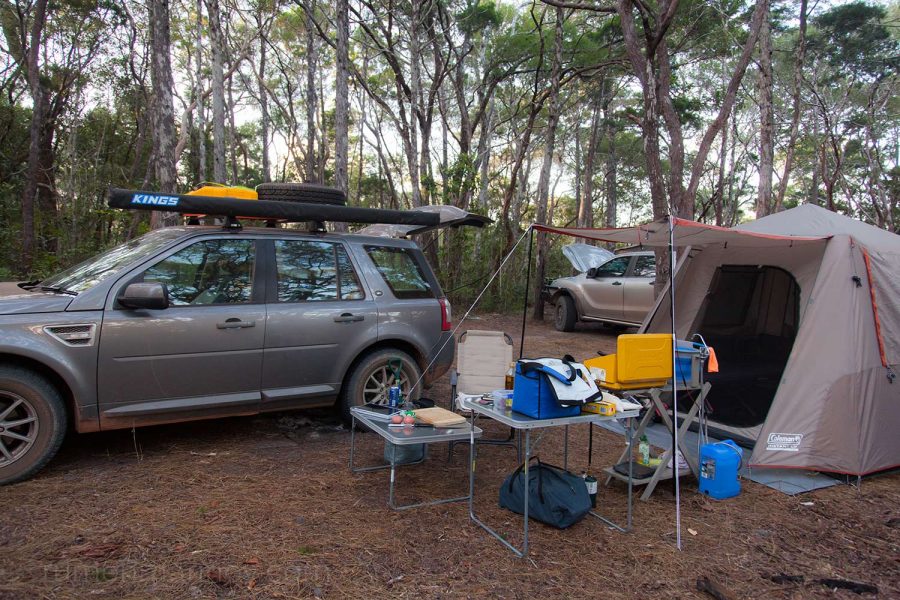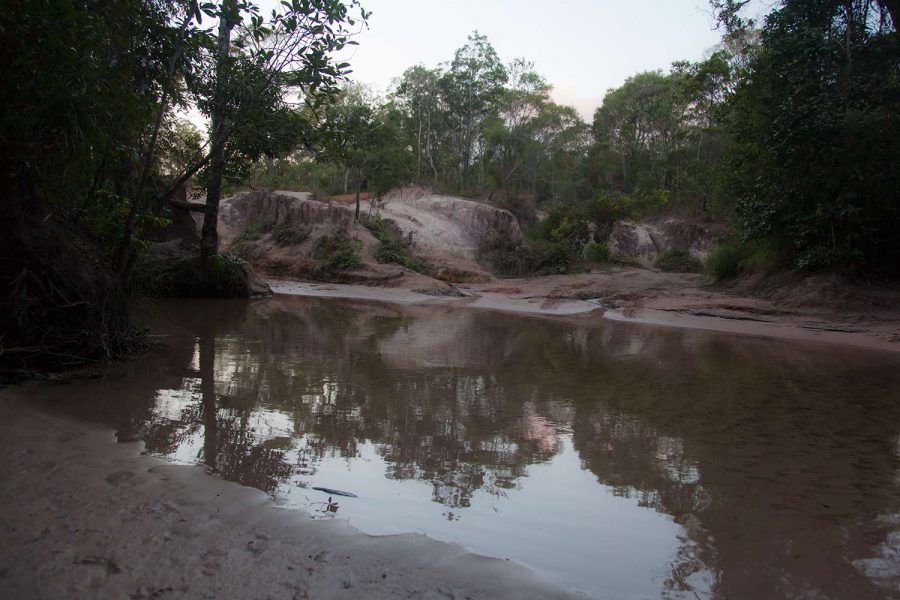 Day 5
It is amazing how most of travelers camping around Gunshot Creek are ready to go by 8 am, me included. I visit the lonely grave of W J Brown who died in 1945 and have mixed feelings about it. Who on earth would wish to be buried in the middle of nowhere. Perhaps the poor bugger didn't have a choice.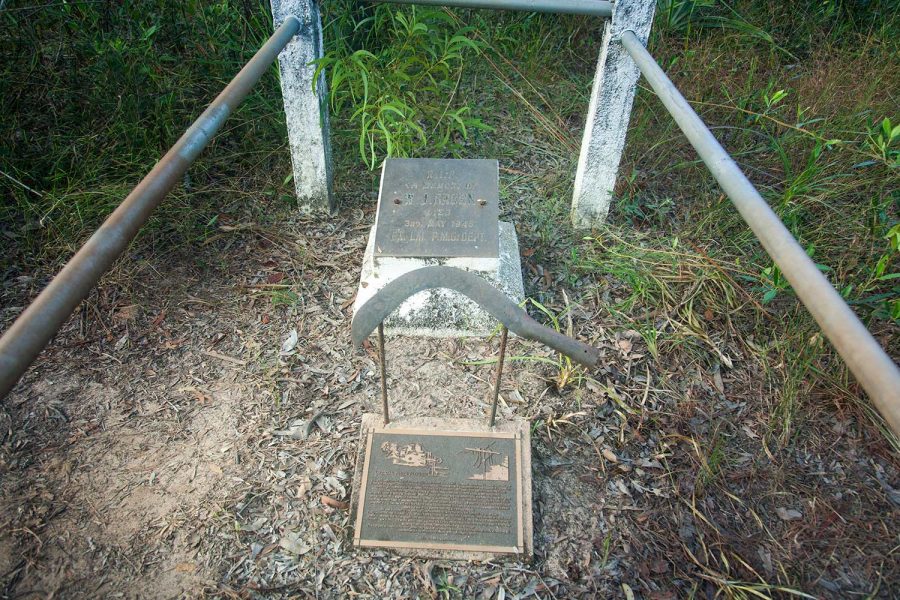 The OTT is running fine, I am just very slow and careful at the more rutted places and often I have to stop and walk into the creeks to check how deep they are. There is no problem; I drive through all of them until I get to Cockatoo Creek. There is a big sign warning of crocodiles in the river but the water is clear and I can see there are no crocodiles around unless they are hiding somewhere in the bushes.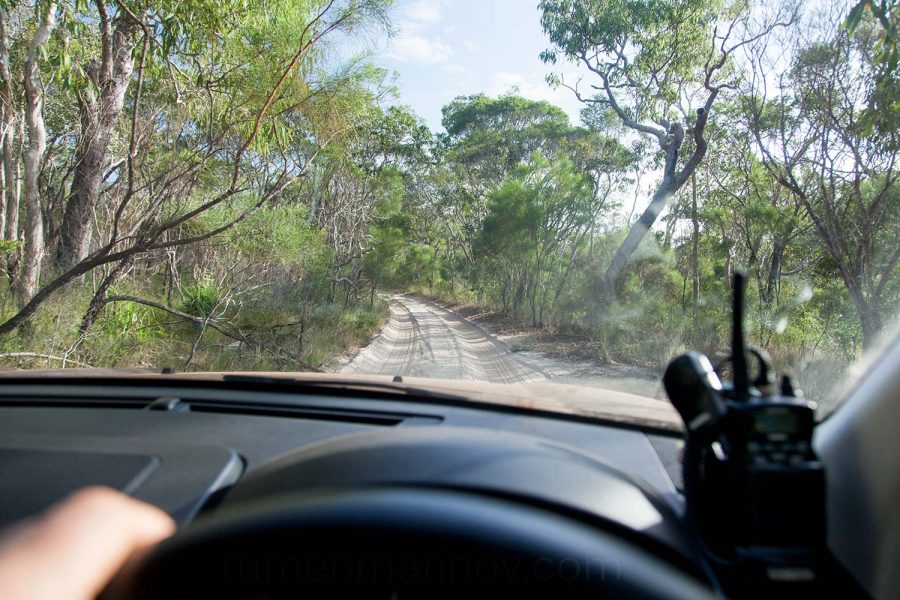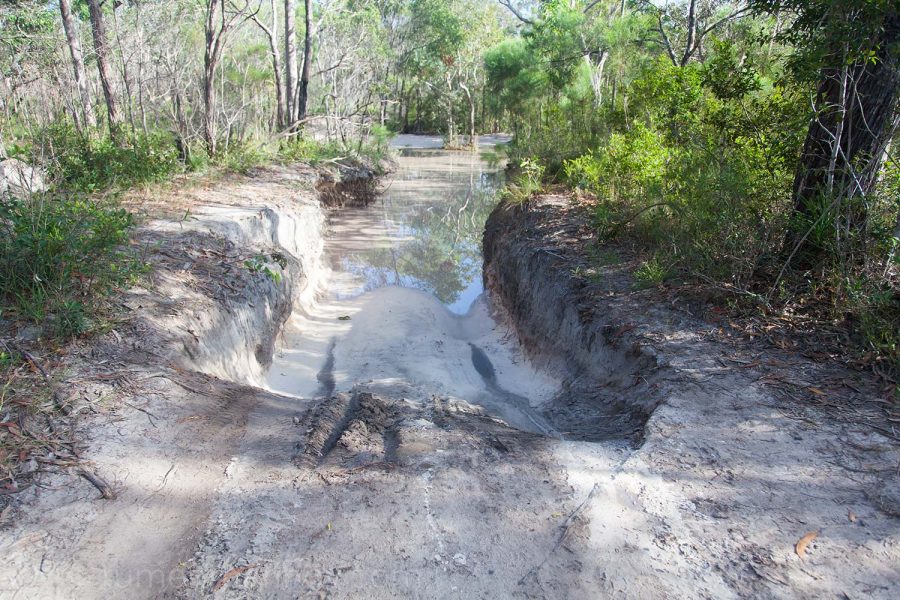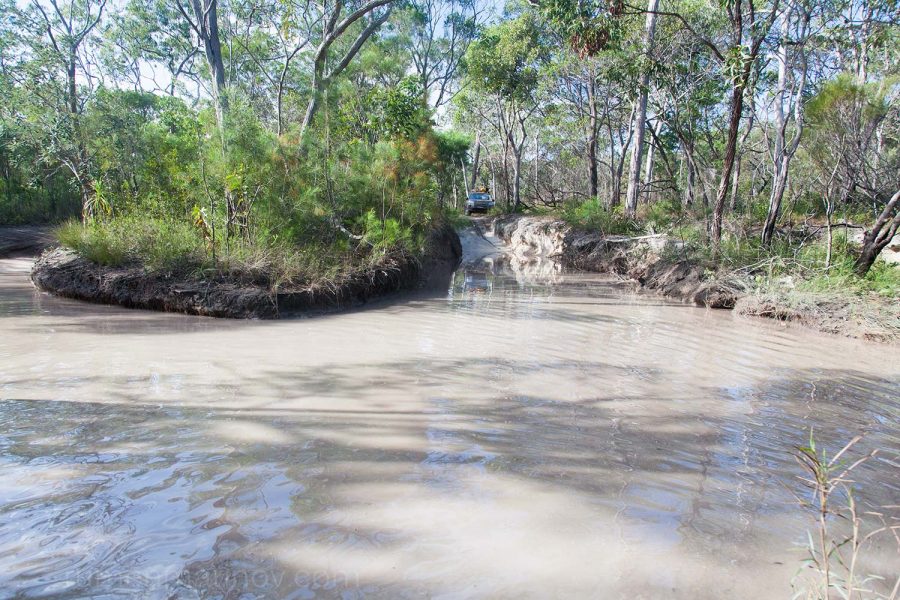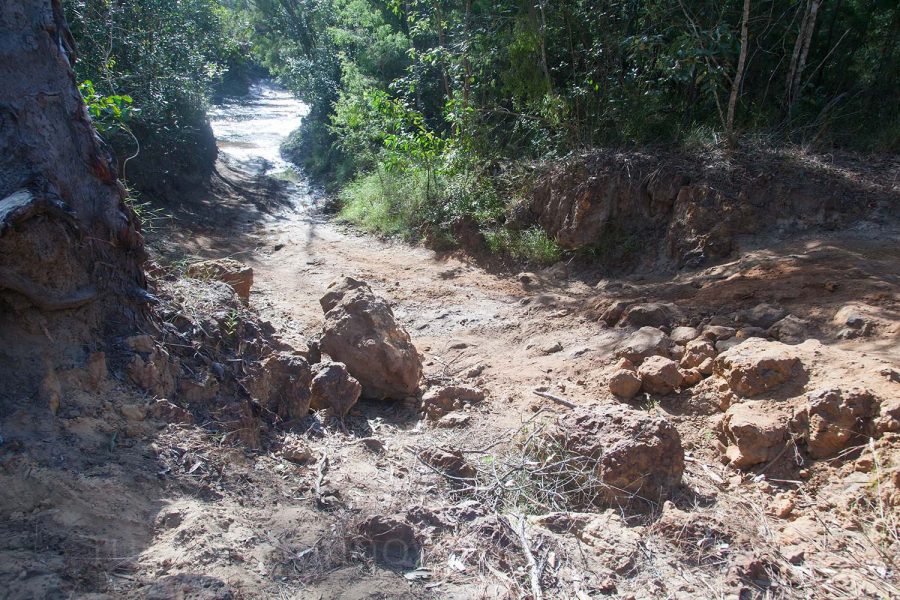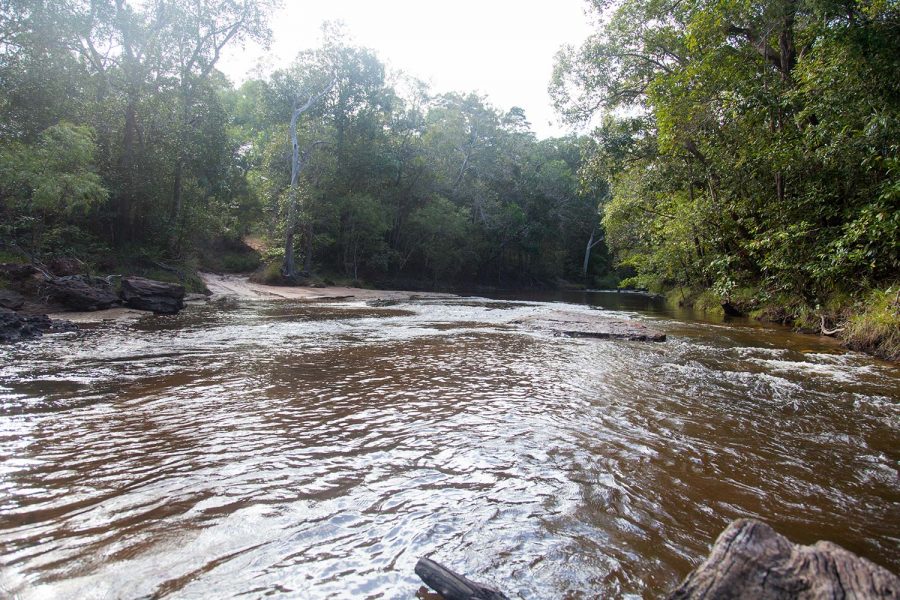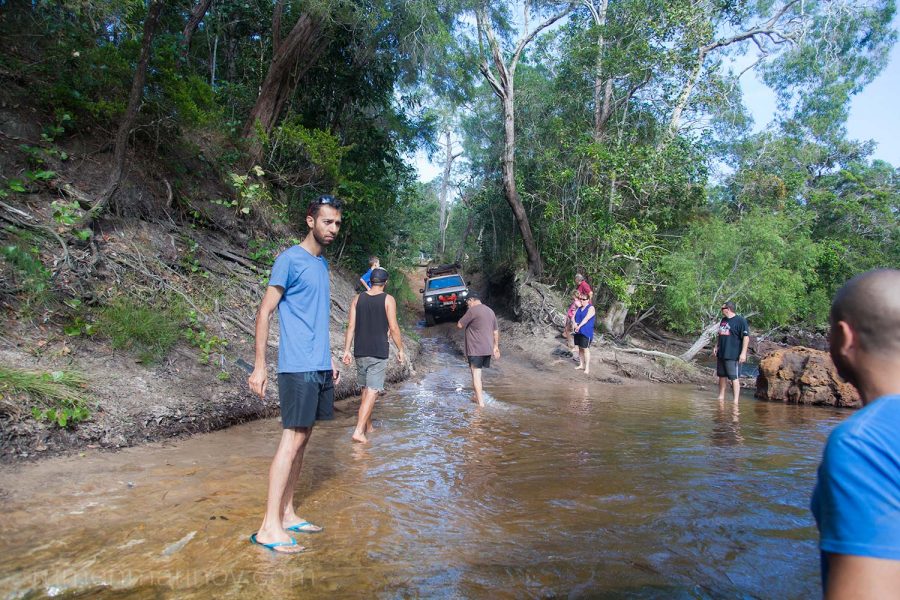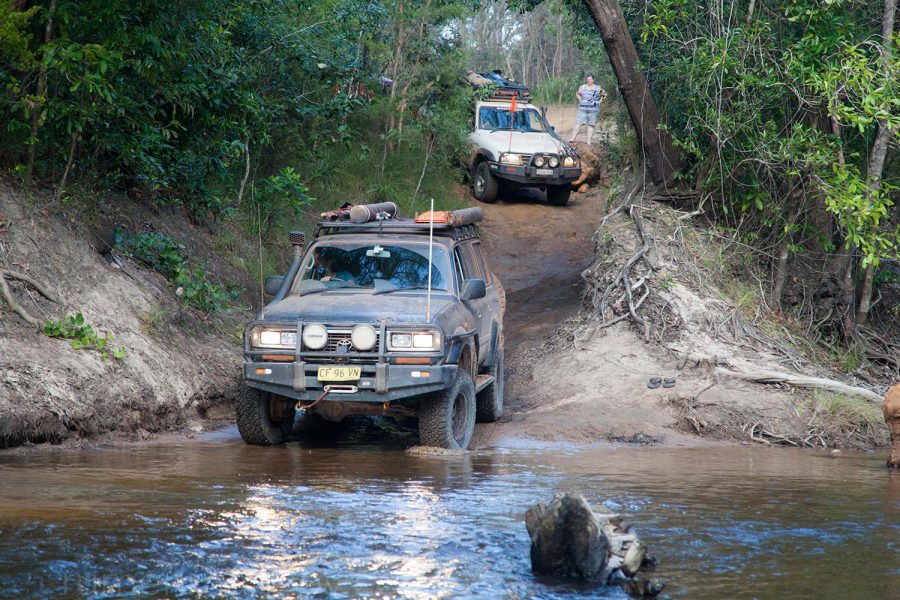 The problem here is not the crocodiles hiding in the bushes, but the big potholes covering the creek's bed – my poor Landie would not survive them. I start looking for a possible line. Then just like that the guys with the big Toyota from yesterday's Gunshot slide arrive and drive straight through the potholes. Many other cars follow. They wait for me to see me safe through. I don't go straight into the potholes like everybody else, but follow my clever line. The Landy is grateful and takes me safely to the other side. Such a relieve and satisfaction!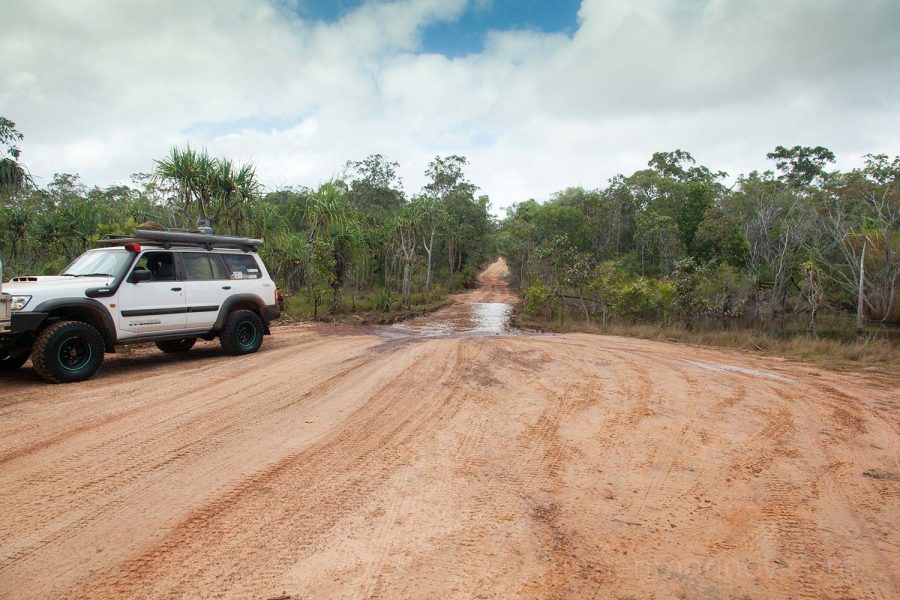 Then I drive the OTT again, it is beautiful. I pass a few small obstacles until Sailor Creek, which has a tricky entrance, but again I find a way. Then the OTT joins the Bypass Road until the turn for Fruit Bat Falls. They are beautiful but I decide not to swim here like everybody else, I'll leave it to Eliot/Twin/Indian Head Falls. At the Fruit Bat Falls I meet again the couple of big Toyota guys from Gunshot Creek. I learn that they come from Brisbane. I'll meet them again later at Eliot Falls.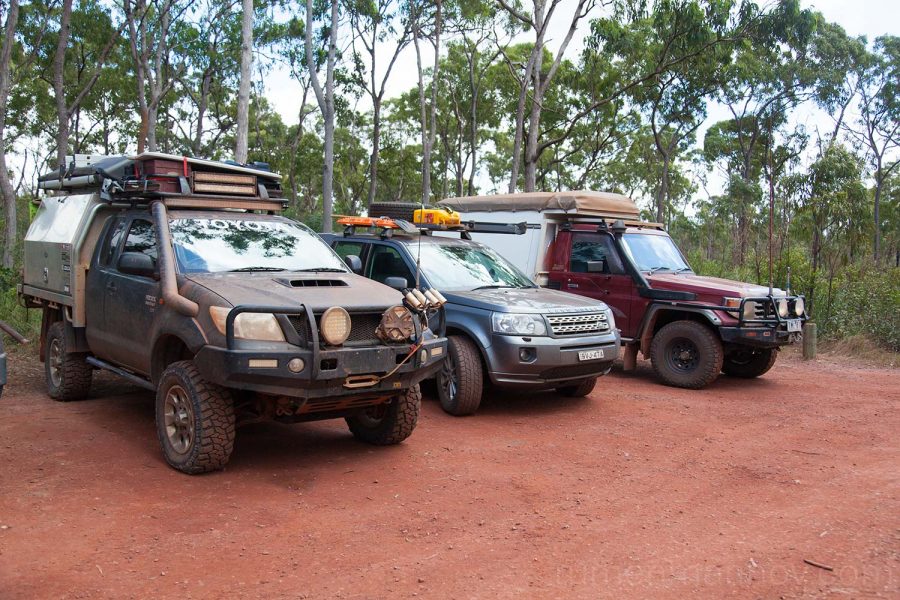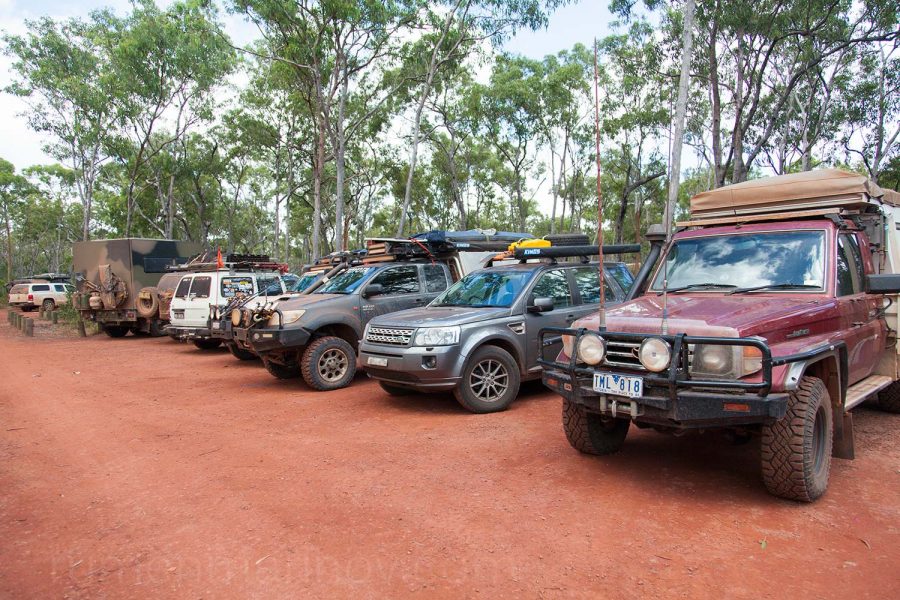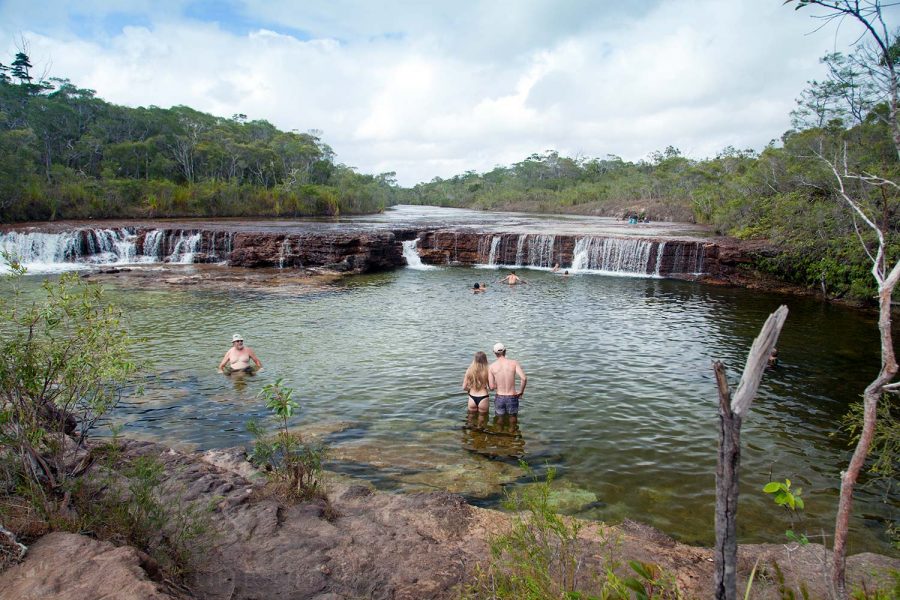 Trouble is, Eliot Falls are not so easily accessible. There is a deep gully with water well above a car's bonnet, preventing the ordinary Landie driver to get there. I spend some time watching the big boys swimming their big cars in the river in order to get to the other side. One of them is Daryn (I will learn his name later), who is driving a white Prado. As it happens I make a lot of photos documenting his crossing. It is so deep and long that my Landie doesn't stand a chance. Luckily there is a 'chicken track" with shallower water, but the entry is so steep and eroded that my sense for taking a safe risk is seriously challenged. But if I turn back now I will forever regret not seeing Eliot Falls, so I go in following a clever thin line that will let me avoid the deepest ruts. As always a couple of good guys assist my progress and I am through without flipping the Landie over.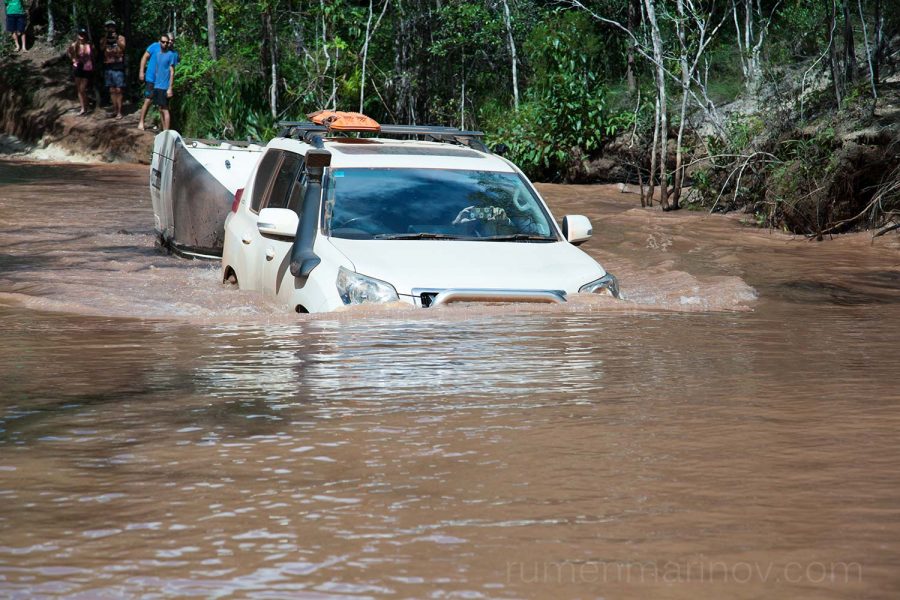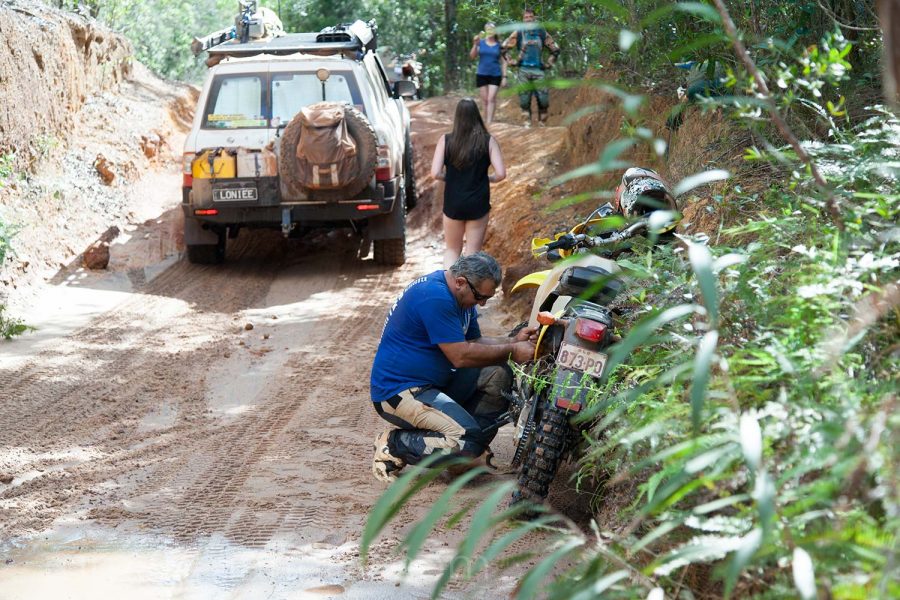 Eliot Falls are everything and more then I have expected. There are happy people everywhere, swimming, jumping in the water and enjoying themselves immensely. Children are splashing exuberantly around, parents snapping photos etc. I enjoy myself immensely as well.
Comparing Eliot Falls with the waterfalls I've seen around the world, they might not be at the top, but considering the efforts you have to put in to visit them is what makes them special.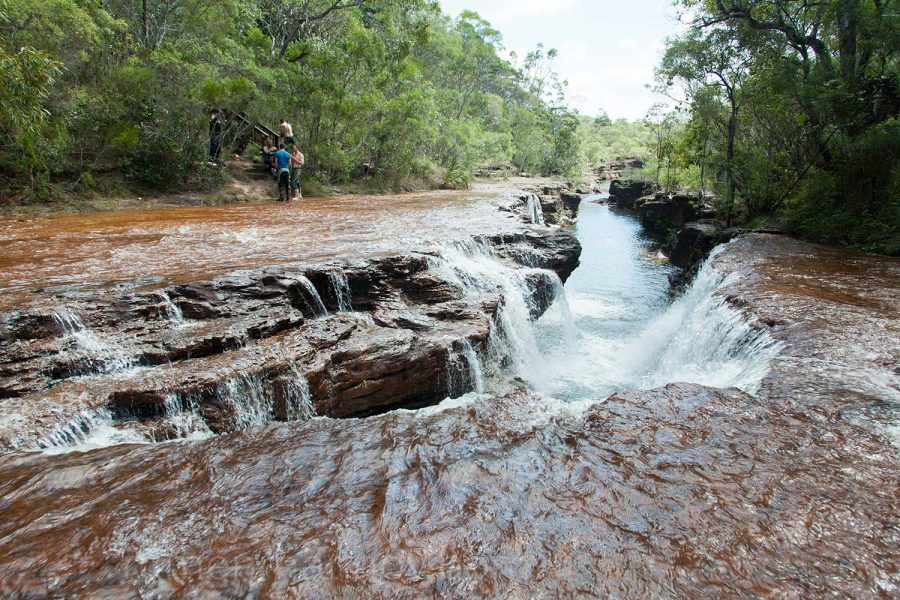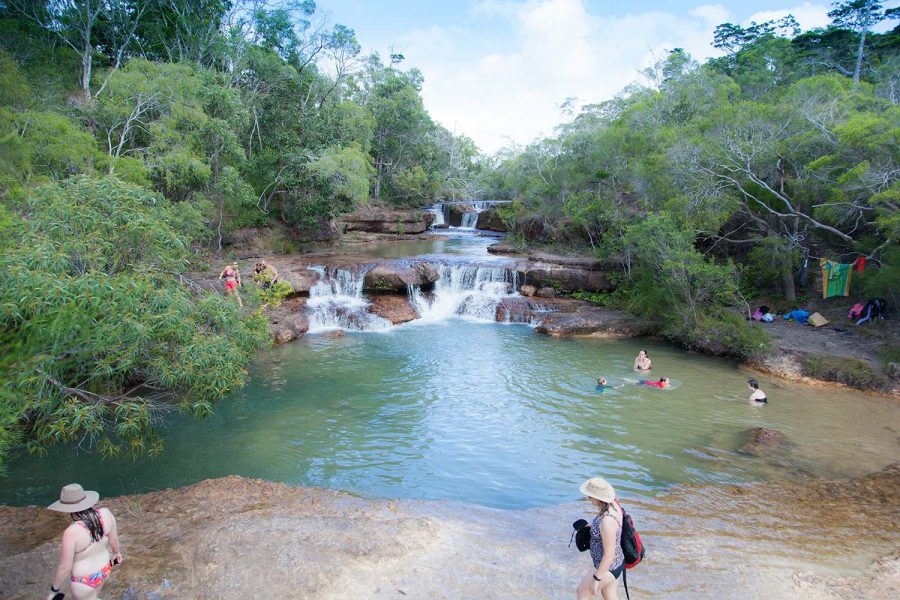 To camp here you have to book online with the Queensland Park Authorities, which I did before starting my trip. I am not surprised that most of the people I got to know last night are here and ready for another round the fire.
Something interesting happens at the falls long after the fires are distinguished and all the campers are sleeping peacefully in their tents. I always wanted to have a night swim. The weather is so balmy – so I go to the falls, strip naked and jump in the warm water. There is a big moon to keep me company. It is amazingly refreshing! But soon I realise that I am not the only one with the idea of a night swim. Two more figures appear on the beach: Annika and Katya, the two Dutch girls that I met before. They are unfazed by my nakedness; they also drop everything and join me in the warm water, splashing and giggling with delight. My night swim becomes even more interesting!
Dear friend, it is getting too late now, I will not bore you with the details of what happened next, two on one and stuff. As they say, what happens on a trip, stays with the trip.