Birdsville and Big Red
This is the follow up of Cunnamulla and Dig Tree.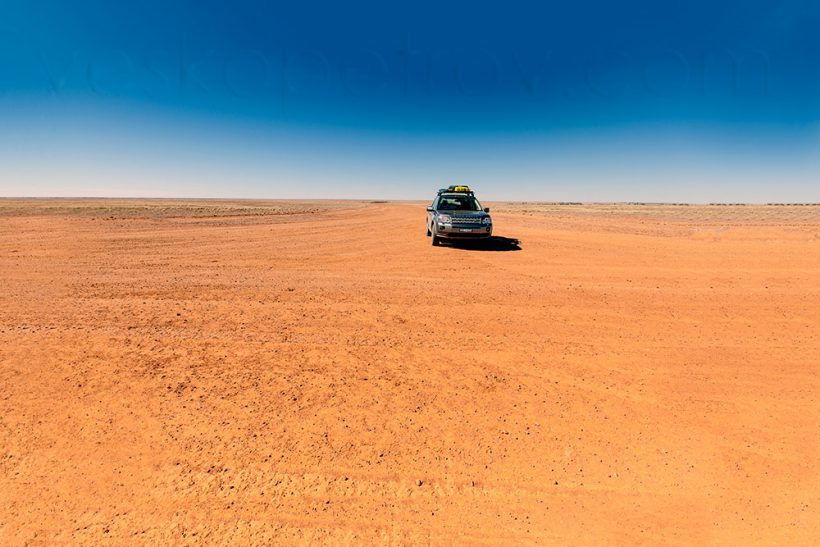 Today I will drive to the legendary outback town of Birdsville. How do you get from Dig Tree to Birdsville you may ask? The answer is a dirt road with the strange name of Planet Arrabury Road. Strange the name might be, but I couldn't find any information about it. The internet forums always discuss the conditions of Birdsville track, Oodnadatta Track or Birdsville Developmental Road, but never Planet Arrabury Road.
It's already 8am; the sun is bright and strong. I am a bit sluggish with my late breakfast and a very slow pack up. Just 600km to drive today and I am relaxed, but then a thought strikes me: what if the whole of these 600km to Birdsville are similar to the 12 km I drove here yesterday (with the average of 30, 40 k/h) – it will take forever to get there, so I start moving quicker.
The rocky section that shocked me yesterday doesn't seem so bad this morning. Maybe I am getting used to the rougher ride. Driving on, I meet an old couple, sitting in one of these big, ugly cars. The guy signals me to stop and asks me if "this hell of a road" is going to finish soon… I tell him that the road isn't so bad, (secretly appreciating the terrain response abilities of my Landie). The guy is relieved that he left their massive caravan back at the intersection and I agree, sensing his need for someone other than his wife to confirm that he has made the right decision. A caravan on this road would fall to pieces, I tell him, and he seems very satisfied with my reply. What I don't tell him is that I am real glad that I don't lag a massive caravan behind.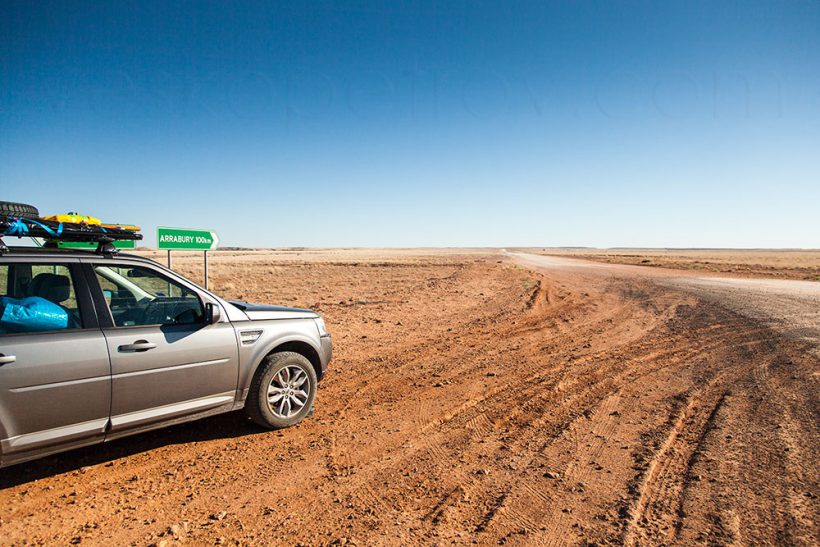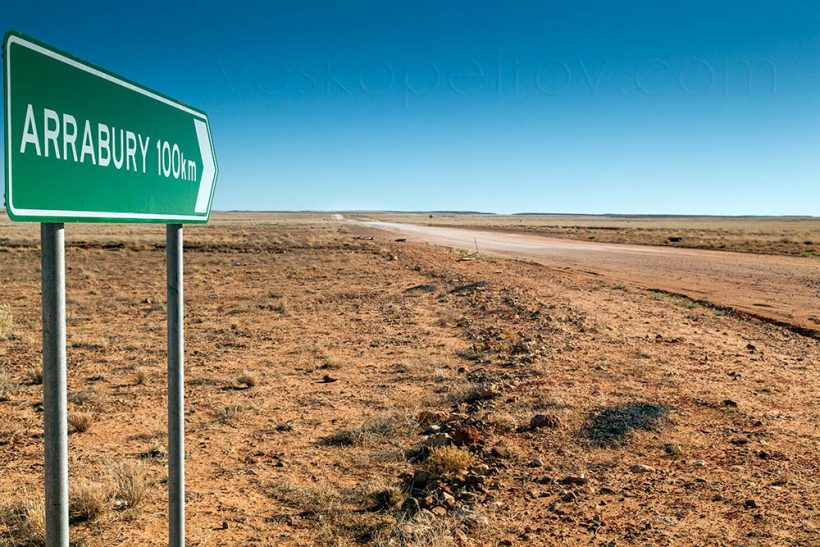 Contrary to my expectations Planet Arrabury Road leading to Birdsville Developmental Road is nice and inviting. A few sections rattle the car, but most of it is a pleasure to drive (in the Landie, I guess). I have hours of fun driving fast on the flat sections or slow, when a GRIB sign comes up – tyre pressure down to 26psi and gravel program selected. There are not many vehicles around; in fact for the whole day I meet just 2 or 3; their clouds of dust visible from miles away. This is wide country; seemingly empty, but utterly beautiful. I stop often to check the tyres (and to piss, because I drink a lot of coffee). Psychologically and physically I am prepared for another flat, but today I'm in luck – no flats all the way to Birdsville.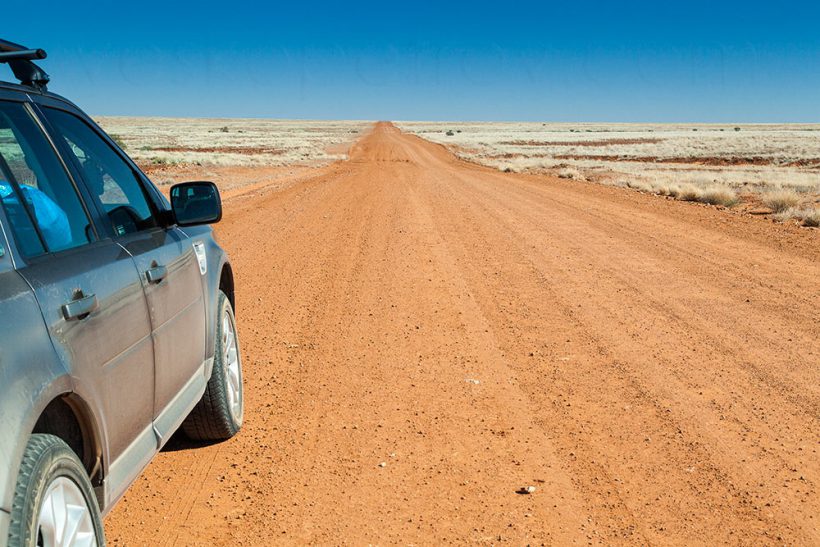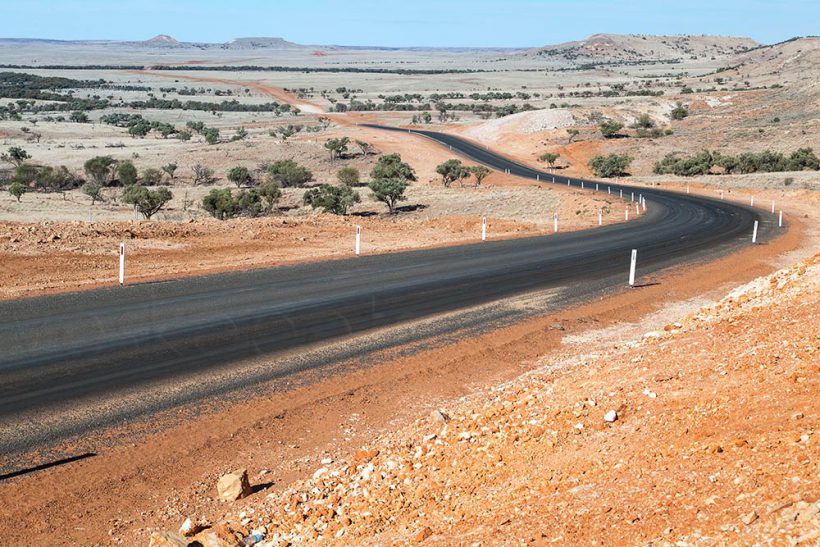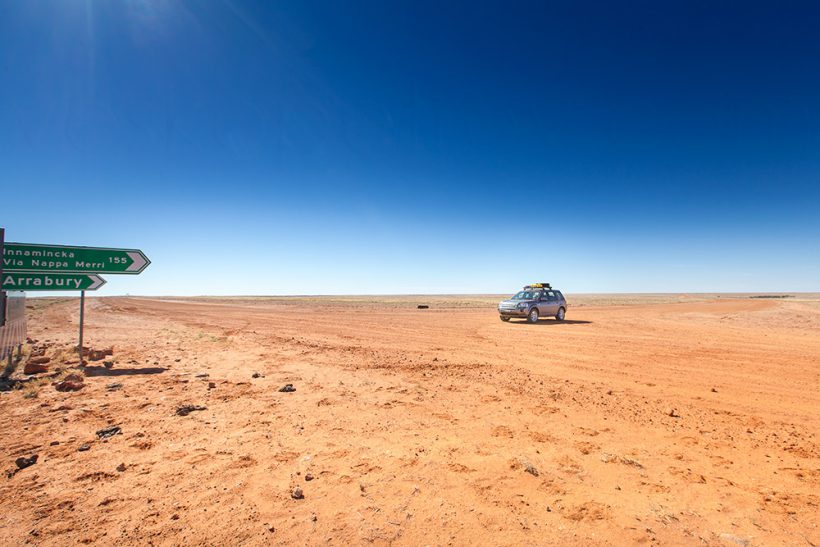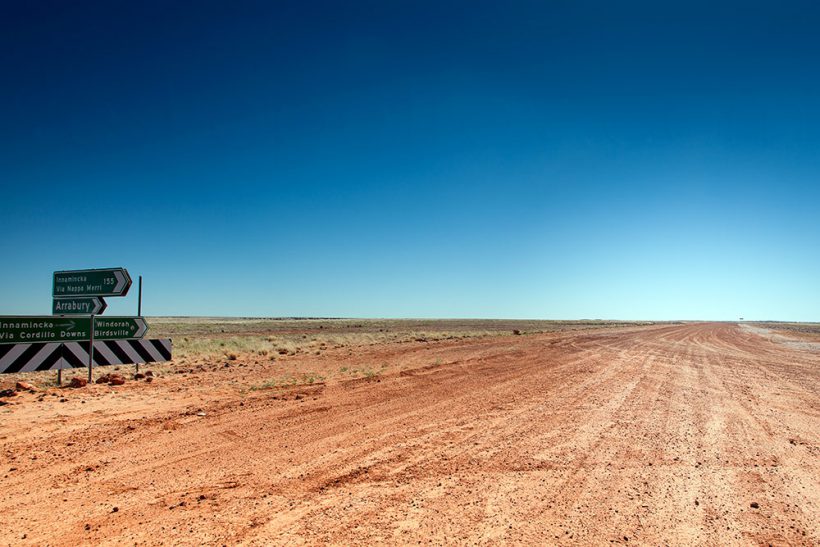 I get to Birdsville Developmental Road and not long after, I stop at Deon's lookout, which makes a change for the flatness of the land. There is an interesting bus parked there. Thinking that it is a tour group, I keep well away from them, but then I realise that the bus is driven by a couple of grey nomads, with their small car in cargo at the back of the bus. This is the first time I use my UHF radio. Without expecting any reply, I switch it on channel 40 and just say "hello guys". I do it just to amaze myself, but then I get a response: "hello, how you doing". Then I say: "I am the guy in the Freelander heading for Birdsville, what about you?" "We are going to spend the night at Cooninghleera Waterhole" they answer and I wish them a safe trip. "Same to you" they say, and I am happy that my radio is working.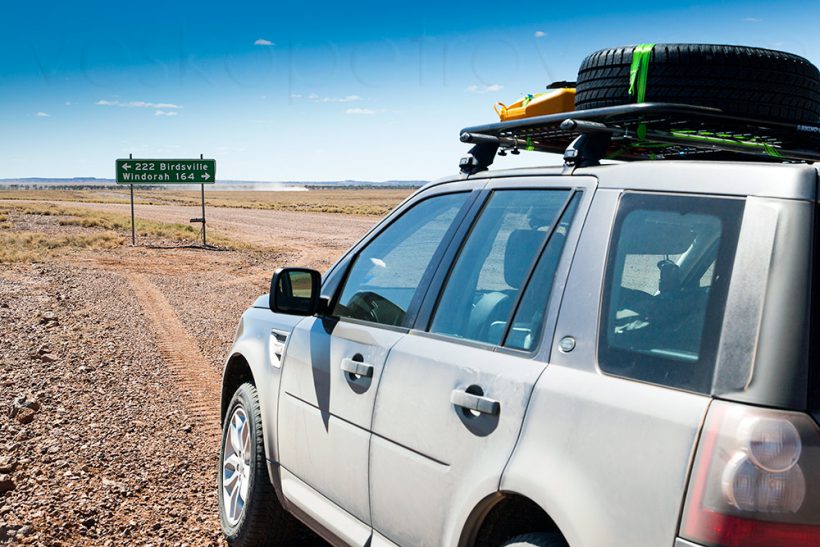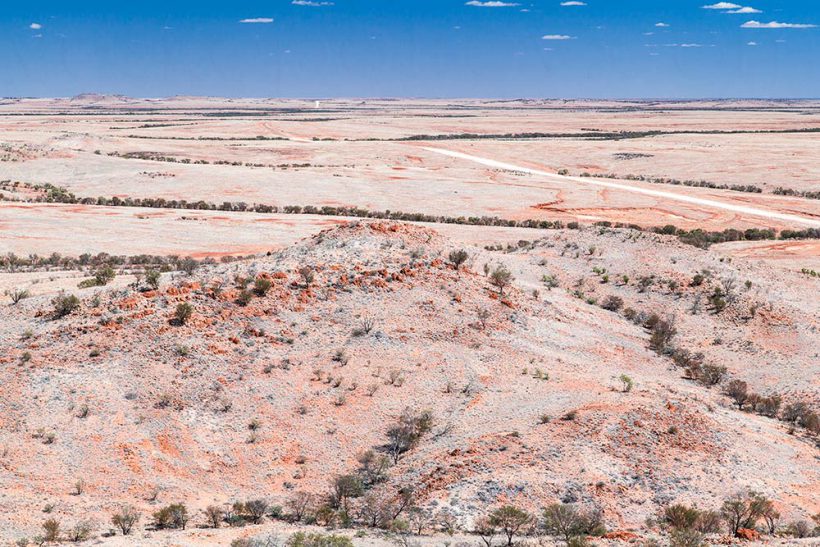 A few kilometres after a giant snake stretched on a hill, I have to stop to fill in one of the three 20l diesel jars. For the first time I am out of fuel without a convenient fuel pump in sight. This running out of fuel, combined with the emptiness surrounding me, feels strangely exciting. Vast spaces in contrast with the lonely microscopic self. This thought makes me smile.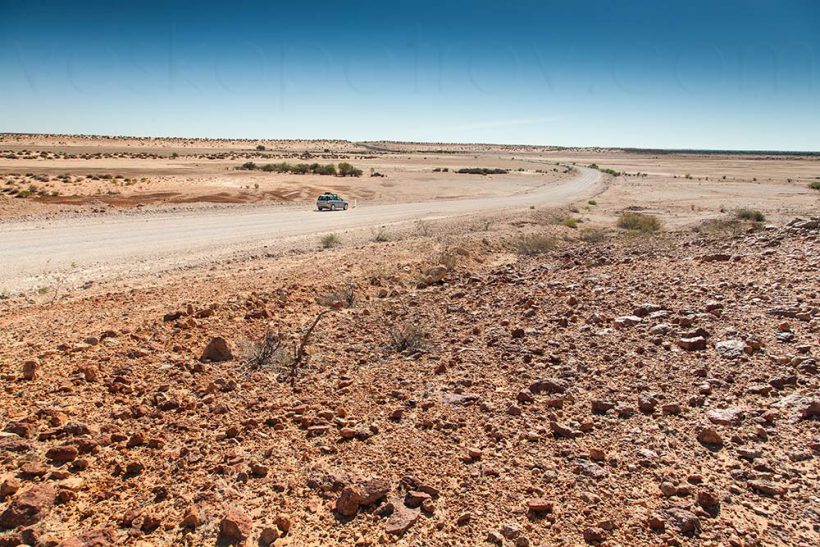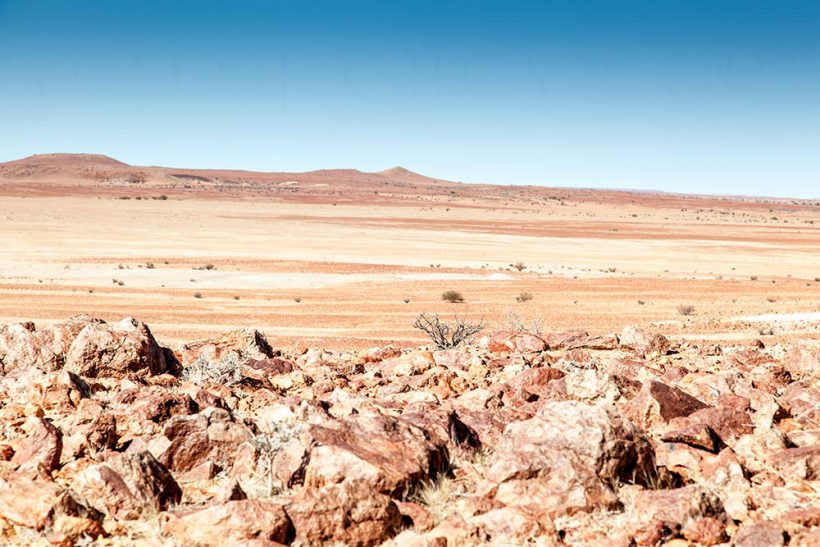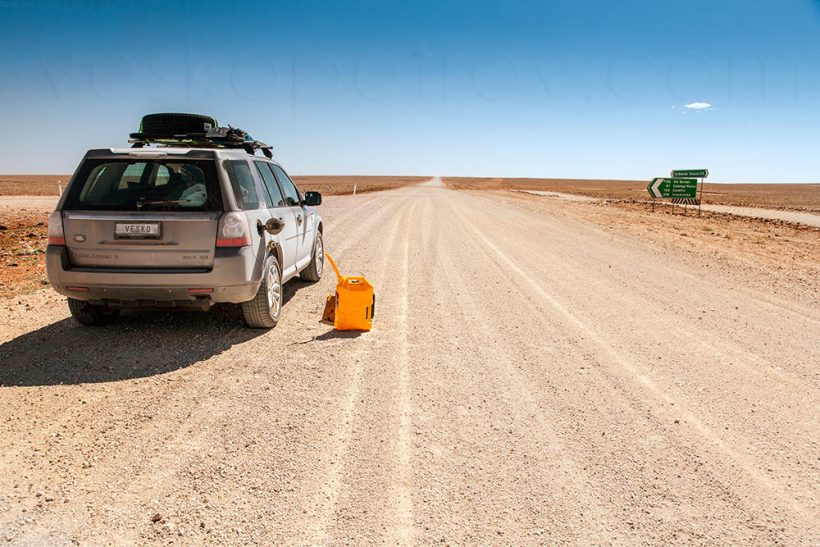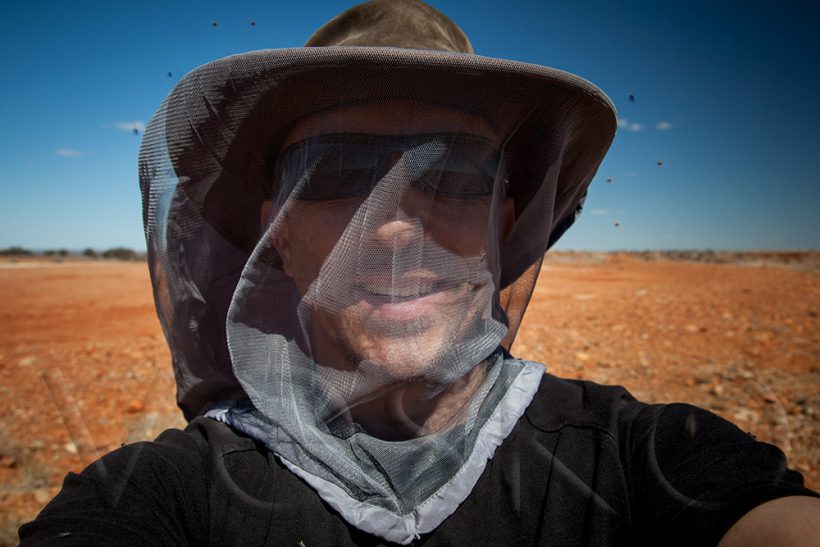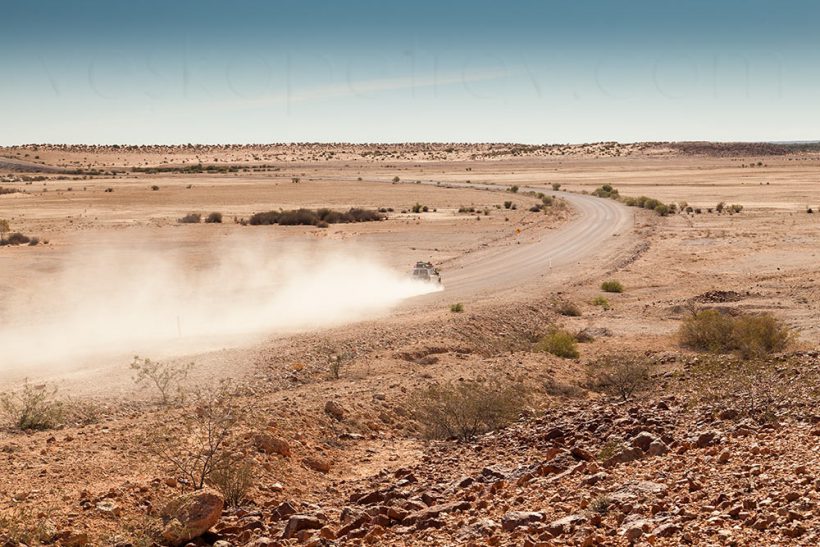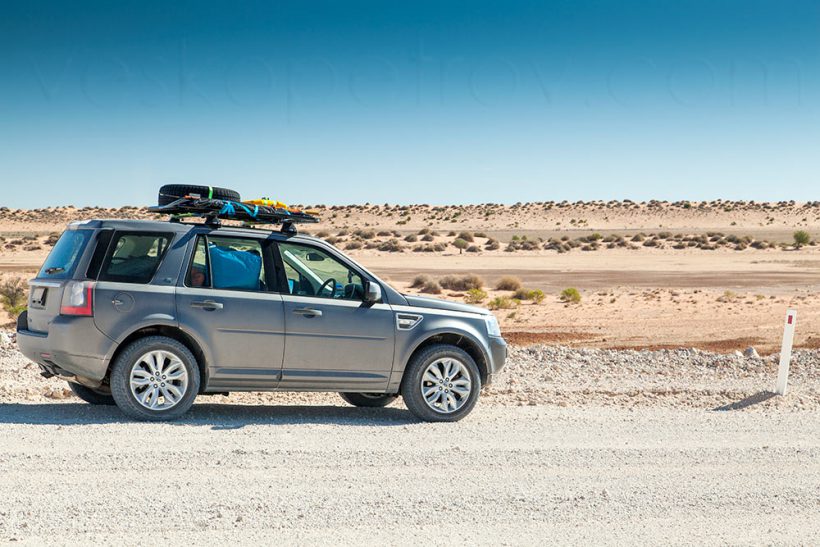 Birdsville is exactly what I have expected – an outback town straight from anybody's imagination. My first urgency is the fuel. The petrol station has definitely "pumped up" pumps – ticking 23l for filling up my 20l diesel jar. I don't protest the obvious rip off – replenishing my fuel is a miracle I cherish. My only rebellion is not paying them cash; instead I use a credit card ($130).
In Birdsville I realise for the first time that there is something wrong with my car. The vehicles around are different: massive metals in the front, raised suspensions, big rough tyres and ugly snorkels sticking up. Back in Sydney I thought my Landie looks tough and capable. Here it just looks small and somewhat inadequate. I am seriously intimidated and feel out of place. Nevertheless, I head for the pub.
I am not thirsty, but you don't get to Birdsville without having a schooner or two at Birdsville pub. The bartender is apologetic to my request for "Carlton Cold". I say it wrong; I am thinking about (and should've said) "a Carlton Drought", but he is patient, he puts up with my confusion and my ridiculous hat. The beer isn't great to my taste, but I enjoy it, admiring the numerous real hats left by famous locals to hang down the roof.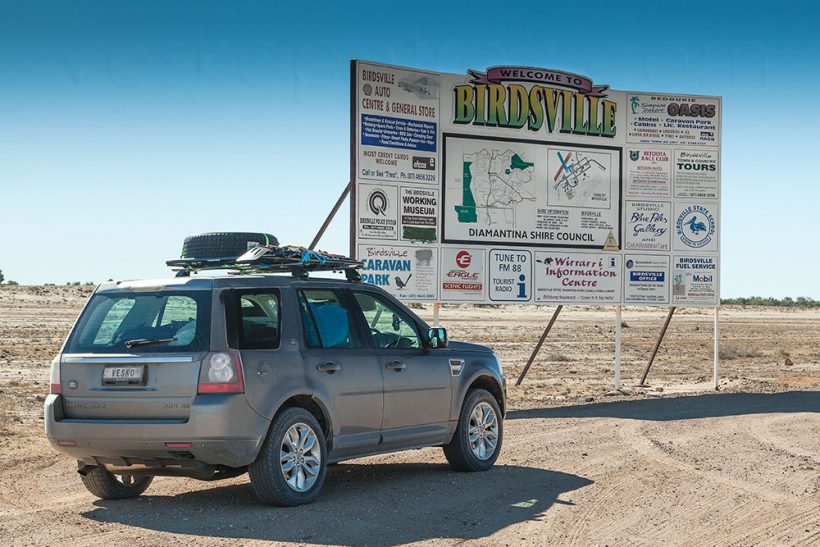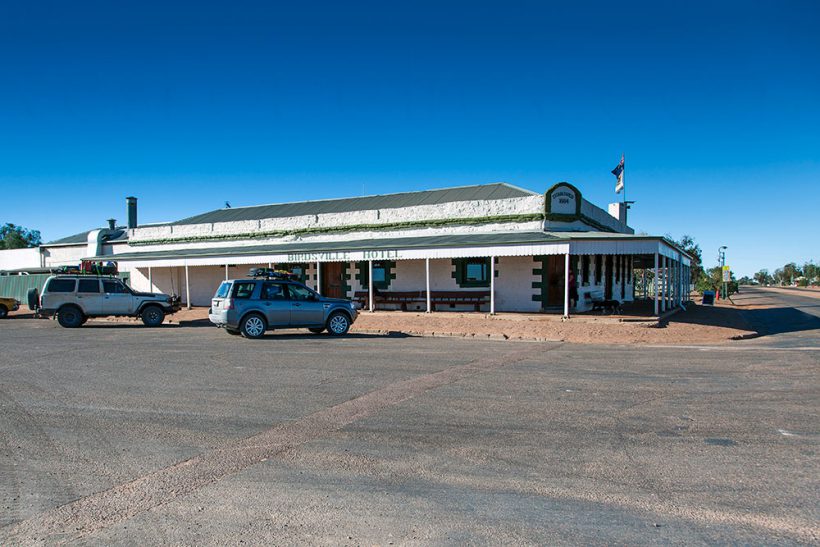 Looking at those hats I notice something (in comparison to my hat). They don't have stitches; they are all made as one piece. They also look thinner and lighter. I realise that the real outback dwellers wear hats made from different material which is not leather like mine (no wander mine is so heavy). Later Google will tell me that this material is formed using rabbit fur and the hats are called Akubra (see for yourself: http://www.akubra.com.au/creation.html) Heavy or not, I still don't give up my hat – later it'll prove very useful.
The beer is finished and I am faced with the inevitable decision what to do next: shall I curve down at the caravan park or shall I head to the Big Red? Rest or adventure? Even though it is very late in the afternoon, I decide to drive into the adventure. Some 40 km out of Birdsville the Small Red comes up. Here I drop the tyre pressure to 16psi and attach my old fishing rod with a red flag to the roof rack. The red flag will be spotted easier over the dunes to avoid collisions with incoming vehicles. Well, The Small Red is too easy for my Landie; I head for the Big Red. On the way I meet a convoy of six vehicles and my UHF radio is coming to life again, this time on channel 10.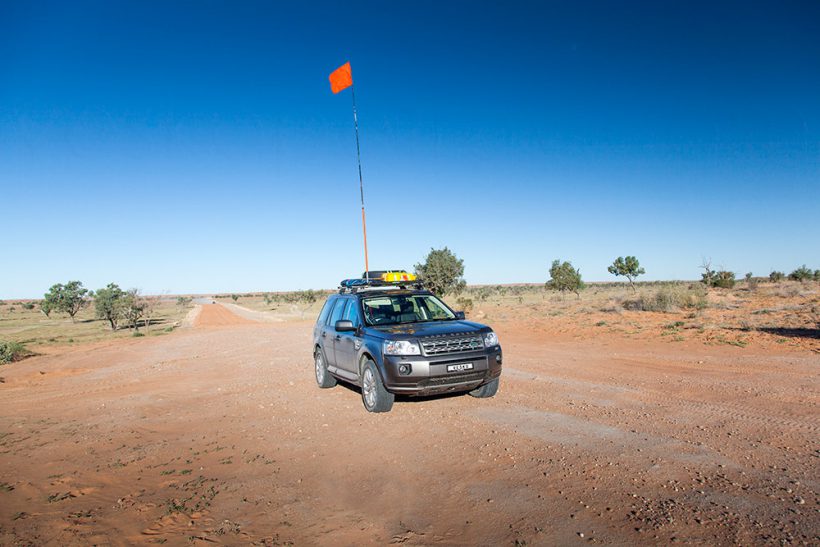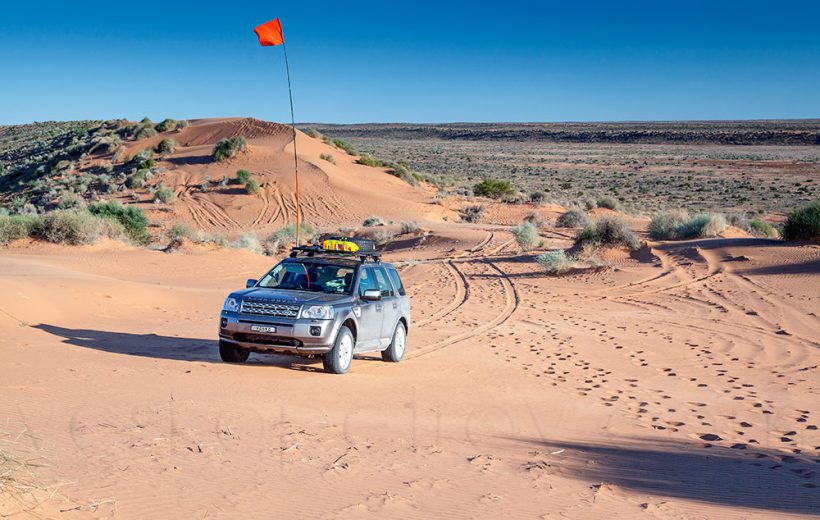 The Big Red is also easy. I am surprised – so many people on the internet debate how hard it is to climb the Big Red, how they needed a second or third go. My Landie doesn't even struggle – it just goes up and up without a worry. On the top I find a couple of guys drinking XXXX beer. They are meteorologists from Brisbane, traveling to check the weather station sensors around the country. Wow, driving thousands of kilometres as a working trip! After expressing my envy for their awesome jobs, I ask them for not rain, please and they promise to be dry "considering the logical patterns of the weather around these parts of the country". They are really nice guys.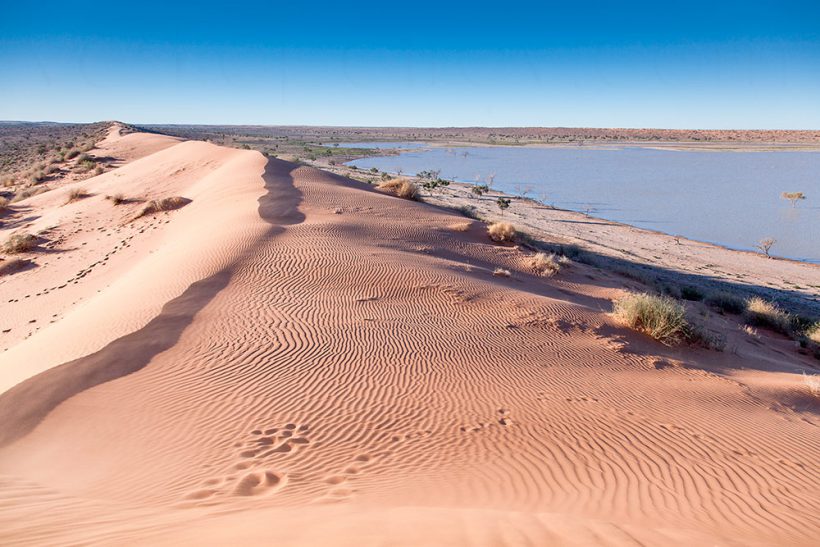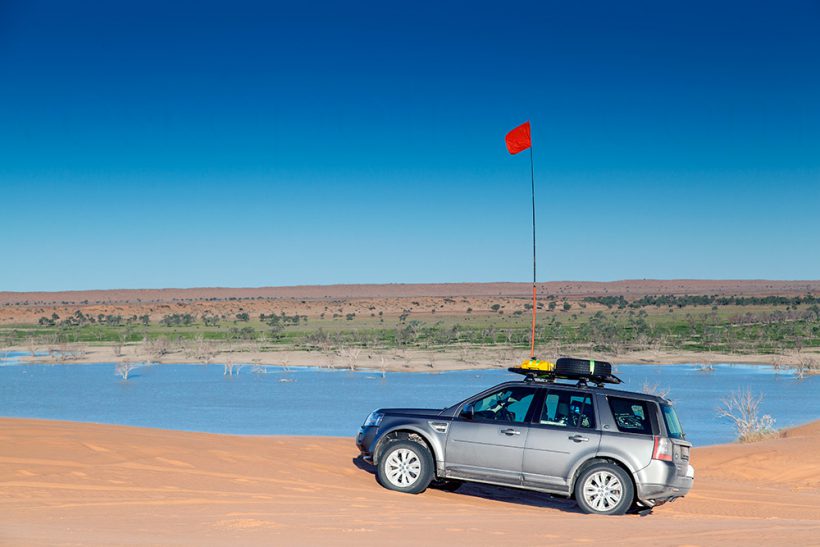 Under the setting sun on top of Big Red, I make a crucial change to my travel plan: instead of driving back to Birdsville and then the long Plenty Hwy (some 1400km) I decide to make a short cut into the Simpson Desert and cross the 1200 or so sand dunes lasting about 400km. I realise it is insane, I am crazy, but somehow there is no other way for me, especially after the intimidation I felt in Birdsville. Why not, I tell myself – I have plenty of fuel, plenty of water. I have the MaxTrax, a satellite phone and the trusty shovel. I have a lot of determination and most importantly I have my Landie – it might not be equipped with the heavy metals the big cars possess, but that would be his advantage – light as feather my Landie will dance on top of the dunes. At least this is the vision I have at the beautiful sunset hour on top of Big Red.
And just like that I start driving west, blinded by the low sun and comforting myself that if the going gets too tough, I can always turn back to Birdsville. Just a few dunes I tell myself, just this one and the next, but the Landie climbs them so confidently that I keep going – dune after dune, until it is very late, I am so deep in the desert – turning back finally becomes pointless.
Somewhere in the desert, I find clay flats and decide to stop for the night. This is probably the bottom of a dry lake. I hope it doesen't rain tonight, well the nice meteorologist guys promised to be dry… most likely, "considering the logical patterns of the weather around these parts of the country".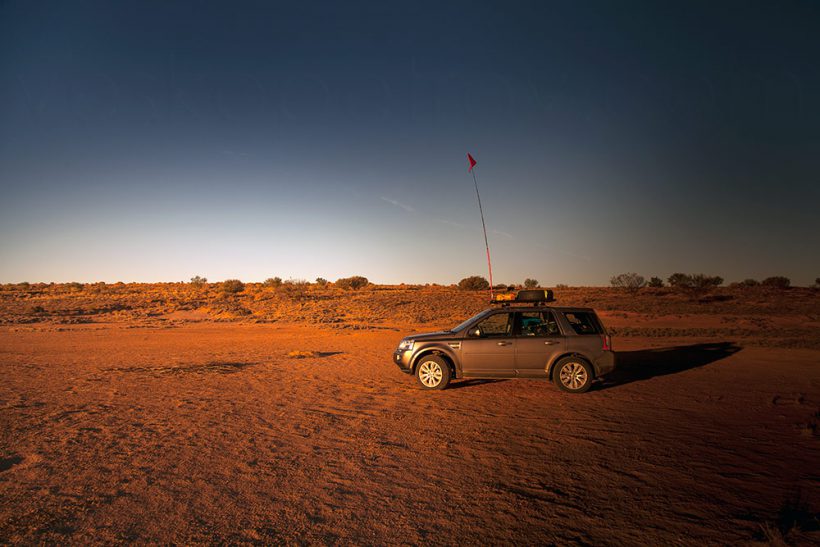 I set up my camp, trying to be fully occupied with the numerous little tasks, but actually to keep the fear away. Yes, I am real scared of this ultimate desert loneliness and of my reckless decision to cross Simpson Desert against all the odds, but soon the annoying flies disappear, the world becomes totally quiet and I am finally able to see the amazing desert colours…
Stay with me my friend, tomorrow I will drive (and sometimes will be sand bogged) into Simpson Desert.